Editor's note: This is the first in a two-part series exploring Montana's nursing shortage and the challenge of increasing the number of nursing students. The second part will be published Monday, Oct. 4.
Mackenzie Mayhood, a nursing student in the ICU, leaned over to comfort her supervisor whose voice wavered and tears flowed while talking about the toll of the COVID-19 pandemic.
The supervisor is Christy Baxter, an RN and director of the critical care unit at Billings Clinic. She was recounting the heartbreaking story of 24 year-old Patrick Burshia, who died from COVID-19. Burshia's death was covered in news stories across the country as a tragic illustration of how deadly COVID can be, even for the young and healthy.
Burshia would have been 25 last Tuesday, Baxter said. Her own son is just a year older than Burshia was.
"They have so much life to live … and we're seeing parents leave their children," Baxter said. "There hasn't been a week in the last month I haven't seen people, with children living in their home, pass away."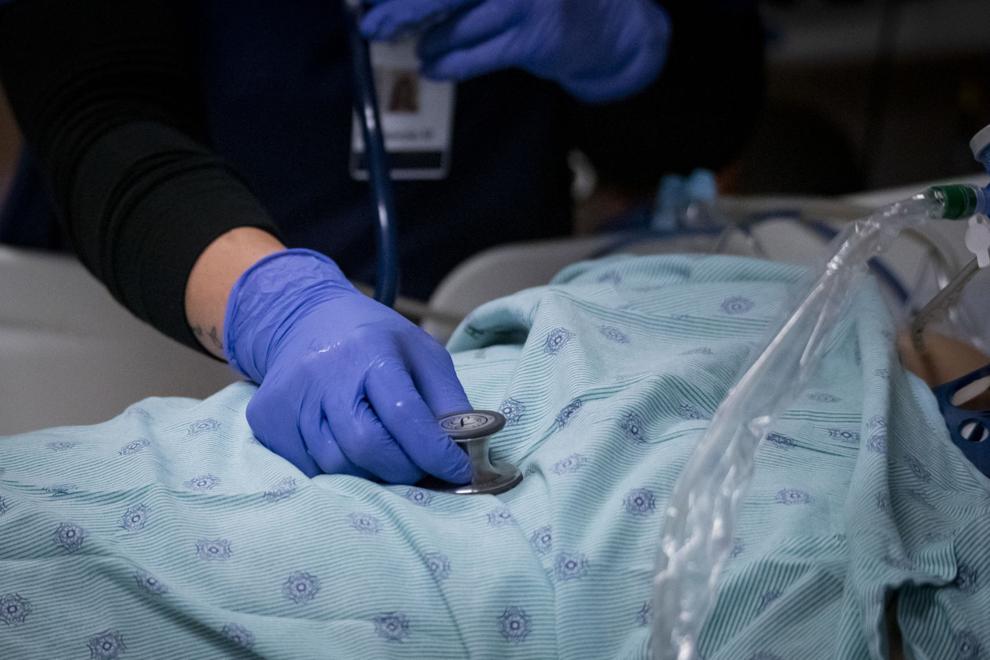 Critical care nurses are facing extraordinary challenges every day during the pandemic. But, the unwavering support and teamwork in hospitals has also been a mark of the pandemic, according to Mayhood, who will graduate in December from Montana State University College of Nursing.
The pace since the first COVID-19 admissions in March 2020 has been almost unrelenting, said Baxter. Between the waves of COVID infections, the number of trauma cases were usually high and medical conditions were worsened from patients putting off care.
Baxter says the best word for it is "depleted," as all nurses are seeing more death and suffering than they could have ever prepared for. And, for frontline workers, there is little relief from witnessing the evidence of the devastation.
In an ICU waiting room, a woman sits slumped in a chair, heaving with great wailing sobs of grief. Nearby, a loved one looks through the glass into the room of a COVID-positive patient, her hand on the window. Although they can see each other, they can only converse on the phone, as visitors are not allowed in the rooms. 
"That has been one of the hardest parts for me," the nursing student Mayhood said. "I've helped with those conversations with family members. We let them (on the floor) to say goodbye before the patient is intubated."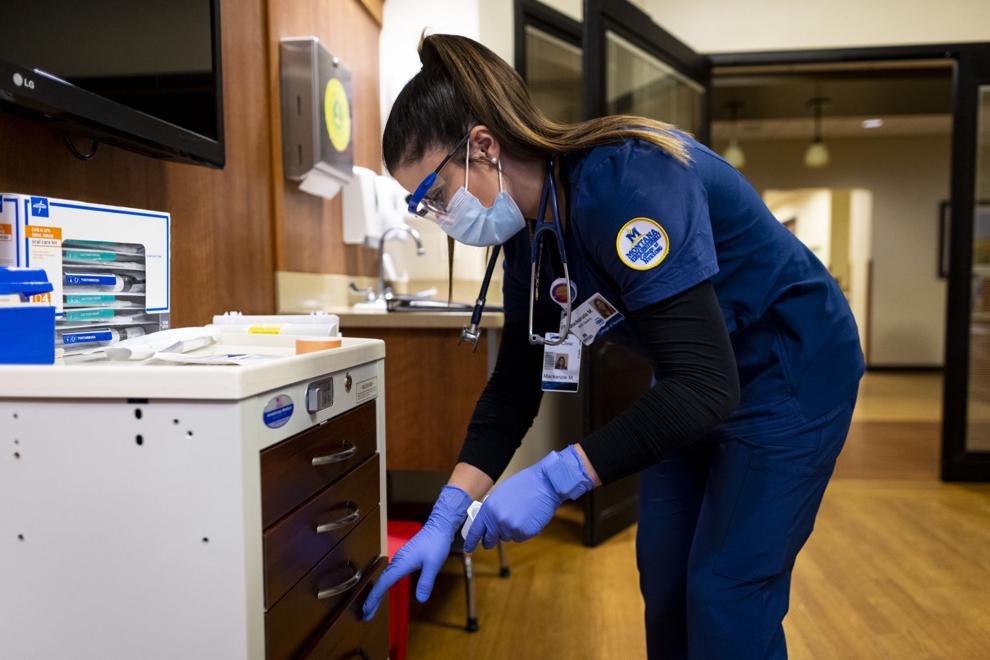 No easy solution
As overwhelmed medical workers continue burning out — a lot of senior nurses retired sooner than they had planned — one solution would be to increase the number of students entering nursing school, and to get the existing nursing students into the ranks as soon as possible. 
But paradoxically, the pandemic has created a shortage of staff available to shepherd student nurses through the clinicals and hands-on experience they need to graduate. 
Montana Hospital Association (MHA) CEO Rich Rasmussen sent a letter to Gov. Greg Gianforte in August asking to direct American Rescue Plan Act (ARPA) funds toward nursing education to help offset startup costs of new programs and provide assistance for others to expand.
Last year, about 370 qualified nursing students were denied a seat in nursing education programs because colleges had filled their classes, Rasmussen said.
And, simply expanding the size of the programs isn't as easy as it sounds because of the shortage of clinical sites where students gain real-life experience, and a shortage of nursing educators.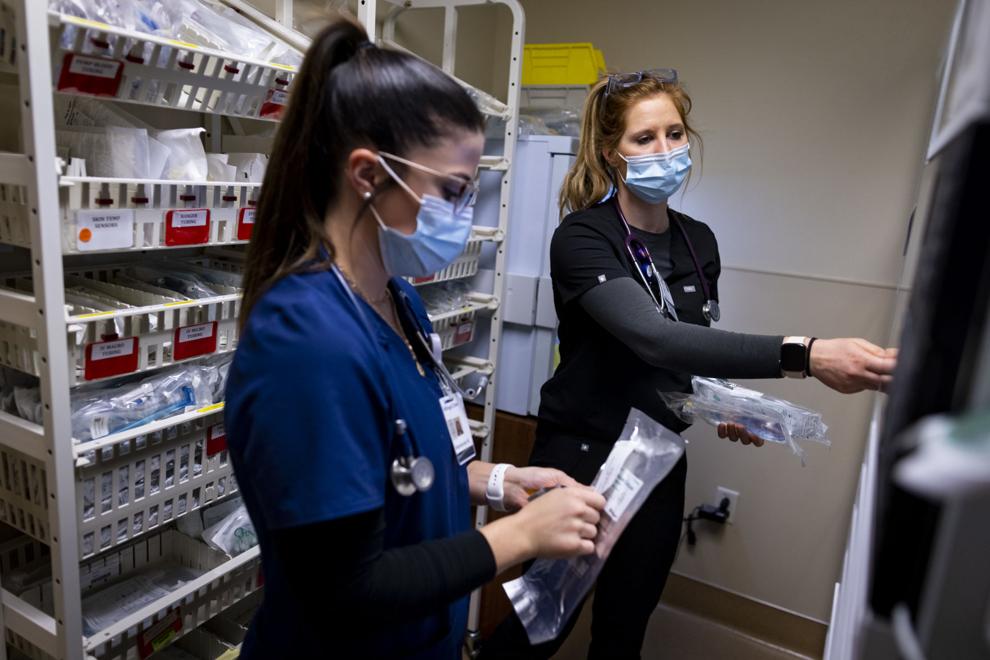 Nursing shortage
With Billings Clinic's ICU capacity reaching up to 160%, acute care patients have been moved into hallways and occupied floors that normally don't treat critically ill patients. Patients are now surging into the cardiovascular unit at the clinic.
In 2019, the ICU prepared for having 19 patients a day in its 24-bed unit. With the pandemic, the number of ICU beds has expanded to 28.
"We thought that would fix the problem," Baxter said. But now, the ICU is averaging 27 patients per day.
"Nurses are having to do just-in-time training to learn how to care for higher acuity patients that they don't usually have to deal with," said Dania Block, Billings Clinic education and development coordinator and director of nursing practice and quality.
Mayhood has seen nurses caring for up to three patients at once in the ICU, something previously unheard of. There were times when nurses would address one patient that was crashing while another patient suddenly began to decline.
Hospital staffing has been an issue for decades with overworked nurses becoming a symbol of the profession. As the pandemic bears down with no end in sight, hospitals across the nation have started hemorrhaging senior nurses, adding to the growing gap of nursing experience.
The American Association of Critical Care Nurses surveyed 6,000 ICU nurses, with 66% responding they would consider leaving the profession.
Baxter has had one colleague leave the floor to work at a surgical center, saying as she left, "COVID has broken me."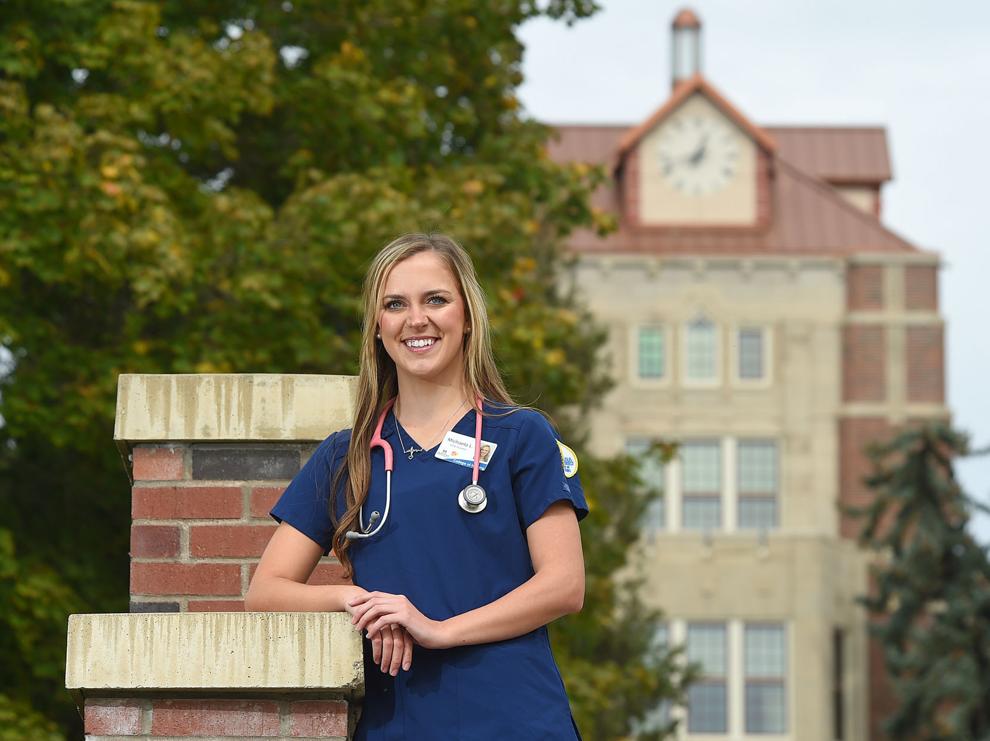 Spring 2020 shutdown
Michaela Larson, a nursing student at Montana State University College of Nursing's satellite campus in Billings, was in the middle of her medical-surgical clinical, where nurses care for a variety of patients having surgery, when the pandemic hit. The rotation is an exciting time for nursing students where they are learning the basics of patient care such as conducting patient assessments and distributing medication.
A shortage of personal protective equipment in March 2020 and the unknowns of the virus meant that nursing students were shut out of the clinical sites where they gain hands-on experience with patients.
Larson understands why students were shut out of their clinical sites, but at the same time being deemed non-essential was frustrating.
"My biggest frustration was that we are the future of nursing and we want to know how to care for people," Larson said. "We (weren't) getting that patient interaction. Not fulfilling that part of nursing that a lot of people are passionate about."
When clinical sites shut down, MSU was able to purchase online simulation software where students practice decision making skills when faced with different patient scenarios, said Debbie Fischer, director of the Billings campus.
The Montana Board of Nursing normally puts a cap on how many clinical hours can be substituted for simulation. At minimum, half their clinical hours must be in-person learning. Up to half of the required hours are allowed for simulation. During the start of the pandemic, these caps were lifted so universities could keep graduating nurses that are sorely needed.
But there are some things lost in simulation that can only be gleaned through learning in a hospital setting, according to Lindsie May, St. Vincent Heathcare educational coordinator and RN.
"There's something about the relationship you build with a patients. You establish that therapeutic rapport. That extra time to walk them in the hall and sit with them when (patients) are at their lowest and most vulnerable really helps them learn and helps the patient."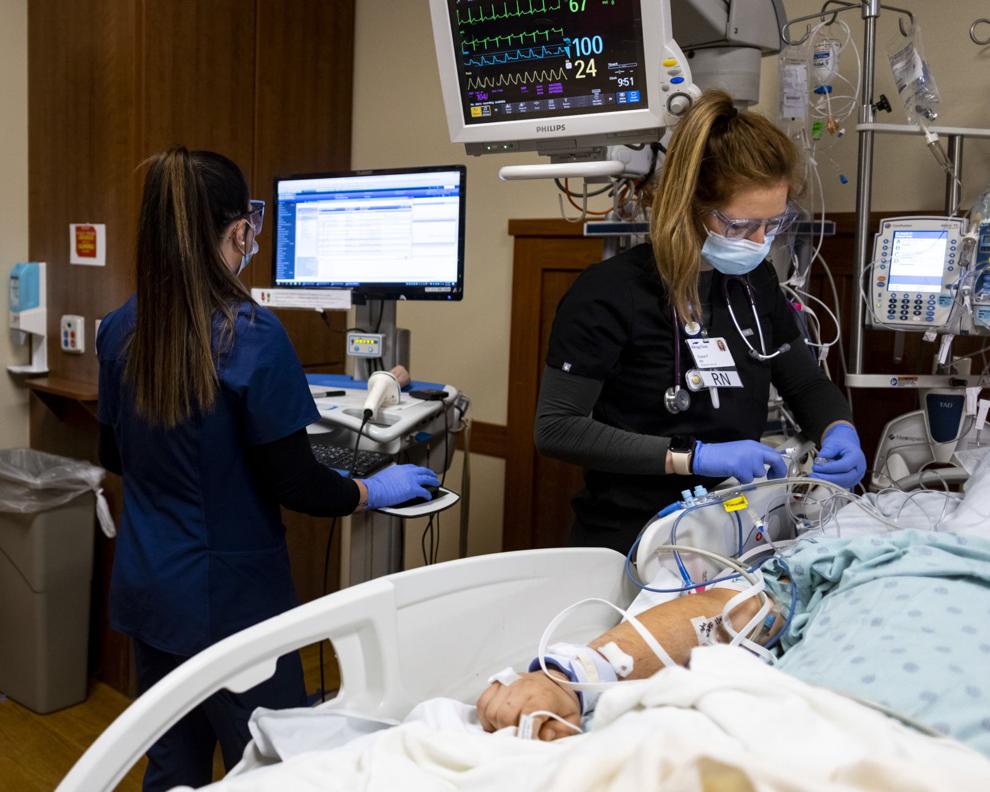 Larson said that from on-site learning she gained time management skills and learned each patient's unique story while doing assessments.
"When we were working in critical care we learned so much including the 'why' behind medications," Larson said. "Online you aren't paying as close attention to that because you're not seeing the outcome."
Those who were nearing the end of their education when the pandemic hit still were able to sit for their exams because of efforts by MSU to identify adequate simulations that would count towards their clinical time, Fischer said.
New graduates started work at Billings Clinic with slightly less real-life experience than others.
"They were having to care for patients they had never worked with," said Block, the director of education and development coordinator at Billings Clinic. "It took longer to get them comfortable with diagnosis, so orientation was lengthy."