After barely three months of use, the newly constructed U.S. Highway 212/310 from Laurel to Rockvale has already seen two fatal crashes, and Carbon County officials are asking the department of transportation to finish the "widely unpopular" redesign.
On Oct. 1 the Carbon County Board of Commissioners sent a letter to Montana Department of Transportation Director Mike Tooley imploring the department to prioritize completing the highway, citing safety issues, recent fatal crashes and local frustrations with the design.
The letter was signed by all three county commissioners, as well as several county officials, including Carbon County Sheriff Josh McQuillan and Joliet Fire Chief Melvin Hoferer.
Highway 212/310, which was completed in late June, meant to accommodate increasing traffic volume and make the 11-mile stretch of road safer. During the summer the highway was shifted from the old highway, which now operates like a frontage road for local access, and widened the highway to four lanes. But the project, which cost about $40 million, ran out of funds.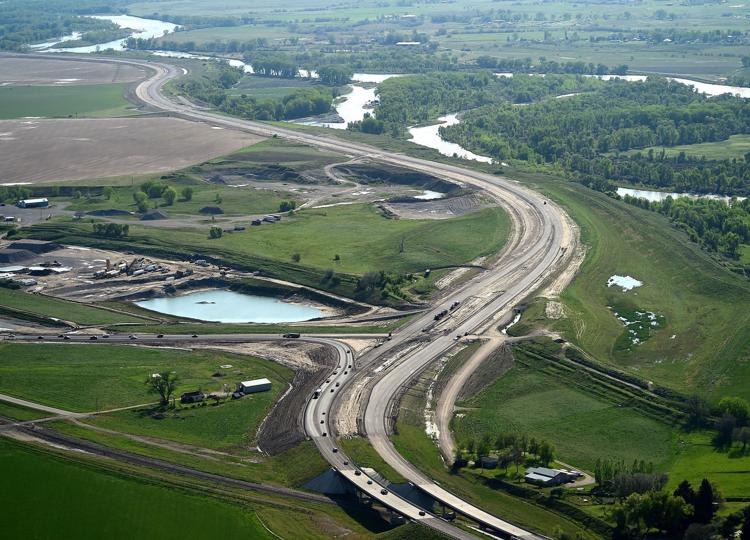 As the highway sits now, passing lanes have been built-out for the 11-mile stretch, but only portions are paved. Those paved sections act as passing lanes, before merging back to a two-lane highway. There are three passing lane transitions during the 11 miles. 
"It's like building a garage and not building doors on it," County Commissioner Scott Blain said, referencing the partly built but unpaved second lanes.
Initial scheduling for construction of phase four, which will widen the entire stretch to four lanes, was 2022, said Lori Ryan, MDT public information officer, in an email. Phase four would cost roughly $8 million.
But, most recent funding estimates could see construction starting by 2020, Ryan said. That date is still highly contingent on acquiring the $8 million.
"This is very dependent on funding at the federal level, and could change as Congress continues to work on different transportation bills," Ryan said.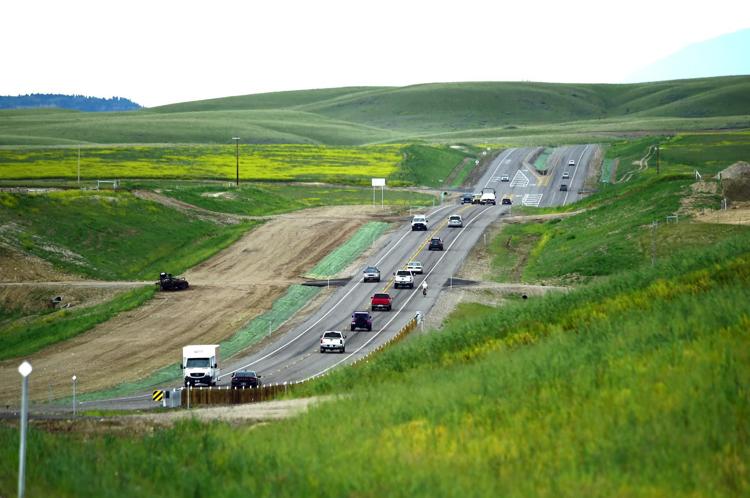 The high rate of crashes, including severe injuries and fatalities, was in part what motivated the MDT to rebuild the highway.
Initial proposals for the new highway accommodated increasing traffic volume on a highway that had already seen a high number of fatal crashes, and separated the new highway from the old, now dubbed Clark's River Road.
That was aimed at easing tension between regional and local traffic, as a majority of crashes on the old highway occurred at intersections with driveways and local roadways, Ryan said. 
According to an environmental study of the project, crash rates involving trucks on the original roadway were twice the state average, and the old roadway saw eight fatalities in four years during the study period.
"Too many people have died or suffered serious injury in crashes" on Highway 212 between Laurel and Rockvale, MDT Director Tooley told the media during a press event to revamp the highway in 2015. "There is an average of one white cross per mile on this stretch, and we don't want to place even one more."
The newly constructed highway has seen five crashes since opening, including two fatal wrecks in September, according to Ryan. In 2018 the highway saw 31 crashes, but no fatalities on the 11.5 miles stretch from mile markers 52.5 to 44.
The Billings Gazette reported on three fatal crashes that happened just north or south of that specific section on Highway 212/310 in 2018, including two just north of the Highway 212 bridge south of Laurel, and one crash near the intersection of 212 and 310 near Rockvale. The bridge was redone in 2014, as phase one of the Rockvale to Laurel project. 
As of Friday, 154 people have died on Montana roadways, according to the Montana Highway Patrol. The Billings district, which includes five counties, saw 33 fatalities this year — the highest number of the seven MHP districts.
Fatal
The first crash that would turn fatal on the new roadway happened on Sept. 16. William John "Trey" Tweddle III was involved in a "near-head-on" collision near the intersection of Whitehorse North Road, according to MHP. Tweddle, 35, of Cody, had to be extracted from his car and was airlifted to a Billings hospital where he died nine days later.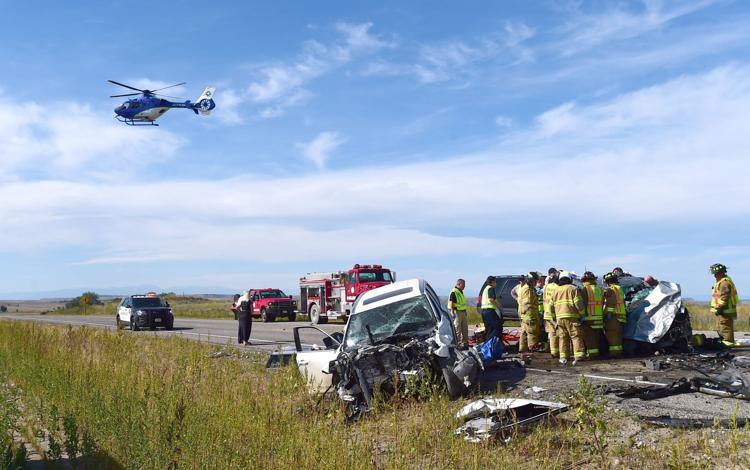 A crash that also happened hours later on Sept. 16 turned fatal 12 days later. Lyle Forrester, 70, from Billings, was hauling gravel in a dump truck when it overturned on Highway 310 north of Rockvale; one of his tires has blown out causing him to lose control of the truck. He died on Sept. 28 in a Billings hospital. 
The wreck that killed Forrester could have happened anywhere, the county commissioners' letter states. But Tweddle's head-on collision was directly related to the new passing lanes, they say.
The crash that killed Tweddle was "one of the worst crashes they (first responders) have been on" because of vehicle damage that required extraction of crash victims, the letter said. 
"All wrecks are human caused," Blain acknowledged. "But that one in particular, if it was four lanes (the crash) almost definitely wouldn't have happened where it had happened."
The location of Tweddle's crash occurred just after a four-lane section of the highway merged into two lanes. An SUV tried to pass a semi-truck on the two-lane highway when it struck Tweddle's car nearly head-on.
A wood cross now stands for Tweddle near the intersection of Whitehorse North Road and Highway 212.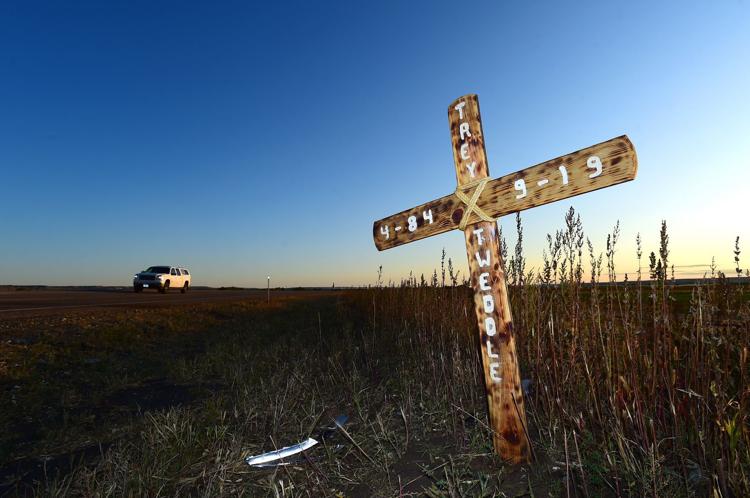 The Yellowstone County Board of Commissioners is also in the process of drafting a letter supporting Carbon County's position, said Commissioner Denis Pitman.
"It's an important corridor," Pitman said, adding that it's important the highway is completed before it costs more to redo it. Portions of that 11-mile stretch are within Yellowstone County.
Blain has seen commuters avoiding the new highway and driving instead on the old highway, which he thinks defeats the purpose of the new highway. 
"Local community's frustration is that you can see the other two lanes waiting to be paved," he said, adding that in part commuters need to get accustomed to the new highway. "I think with this weather they choose to take the old road because they know what to expect on it."
Local drivers using the old highway was always part of the plan to distance the discrepancy of regional and local traffic, according to MDT.  
"(The highway) improves safety for local and regional traffic needs where local traffic typically is using the old highway, and regional traffic is using the new highway," Ryan said, in an email.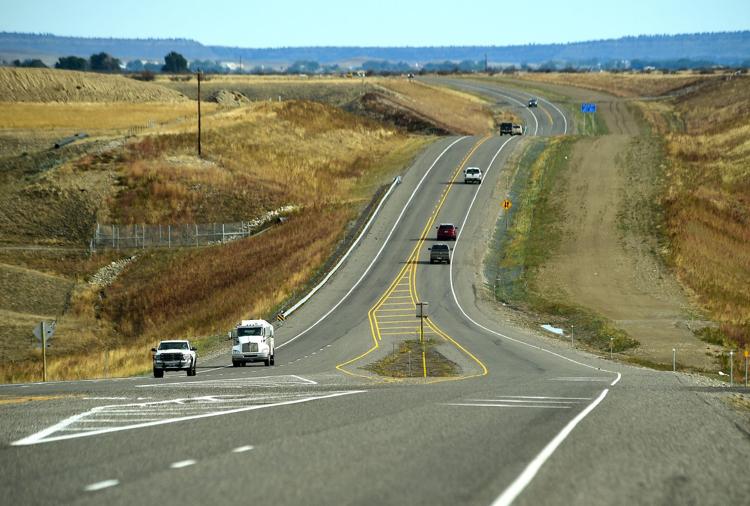 CarolAnn Schilz has been a near-daily commuter from Red Lodge to Billings for almost 30 years. She's driven Highway 212 more times than she could count. More could be done to improve the safety of the highway, she said, including improved signage for the merging lanes.
"I really liked it at first, and then I got disappointed," she said.
Schilz is concerned that winter conditions will make the passing lanes more hazardous and hard to navigate — something she's already noticed as an issue at night when visibility is low.
"But I don't know if it's because we're not used to driving it," Schilz said, adding that she would like to see light-up or flashing signs for merging lanes.
Signs for the highway meet a national standard, and are consistent with other Montana highways that shift between two and four lanes of traffic, Ryan said.
Rumble strips were not installed in the two-lane section of the highway, another concern of Schilz, because they would need to be removed during the fourth phase, Ryan said.
But, Schilz still thinks the passing zones do improve safety, barring distracted or negligent driving.
"What I saw on 212 (before) was people passing in no passing zones, passing five or six cars, making people stop and pull over," she said.
Be the first to know
Get local news delivered to your inbox!