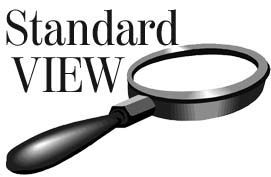 Must our politicians' knees jerk so predictably, and so thoughtlessly?
U.S. Sen. Steve Daines, R-Mont., clearly believed he was correctly reflecting the will of his constituency – and his donor base – when he sent out a news release Tuesday headlined "Daines Statement on Obama's Unlawful Gun Grab."
It took another few minutes for U.S. Rep. Ryan Zinke, R-Mont., to weigh in with "Statement on President Obama's Gun Grab."
To be clear: We do not believe executive action is the optimal or even correct way to make such changes. This is clearly the purview of Congress – although it's equally clear that the Capitol is where even the most innocuous gun regulation goes to die.
Yes, you can debate the wisdom of President Obama's executive actions Tuesday. And you can debate their legality or illegality. But absolutely nothing in Obama's executive actions can rationally be considered a "gun grab."
"President Obama is jeopardizing the Constitutional rights of law-abiding Americans with his latest efforts to undermine the Second Amendment," Daines said in his statement. "It is a gross abuse of executive authority for the President to unilaterally move forward his ineffective, anti-gun agenda with the stroke of his pen. As Montana's voice in the United States Senate, I will continue to fight against President Obama's endless assault on Montanans' Second Amendment rights."
"No surprise given his tyrannical record," Zinke contributed.
While it may be popular among some gun groups to use such overheated rhetoric to describe absolutely any attempt at gun regulation, we believe it's pure demagoguery that's beneath the offices Daines and Zinke hold.
It is a perfect example of why no progress has been made on this issue, despite the fact that the number of Americans supporting background checks for gun purchases is north of 80 percent in poll after poll. A large majority of gun owners themselves support background checks. But with such language setting the baseline for discussion, it's unsurprising nothing has happened on the issue in Congress.
Let's look past the inflamed language at exactly what Obama did Tuesday.
One of his actions included a more detailed definition of which gun sellers must apply for federal dealer's licenses – meaning they would need to conduct background checks, as the sellers in about 60 percent of the nation's gun transactions do now. Will that "close the gun-show loophole?" Perhaps partially. But requiring a background check is not "a gun grab."
Obama's orders also create new requirements for reporting guns lost or stolen in transit. How, exactly, does that undermine the Second Amendment? Sounds like common sense.
Also, one of his measures allows more mental health records to be submitted to the federal background check registry. That also does not seem to jeopardize any Constitutional rights.
Guns are a huge part of Montana culture and life. We understand that. We also understand that gun violence is a huge problem. Just as responsible gun ownership requires safeguarding guns so that children cannot access them – Butte's spate of student suicides is unhappy evidence of that – responsible gun regulation requires efforts to keep guns out of the hands of clearly dangerous individuals like convicted felons, terrorists and the mentally ill.
Nobody's guns are being confiscated by Obama's executive actions, and it is the height of political irresponsibility to suggest otherwise.
We know one organization that didn't view Daines' statement as demagoguery, and that's the National Rifle Association.
Rather, the NRA leadership looked upon it as return on investment.
The NRA gave Daines more than $100,000 in his 2014 campaign alone. And clearly, they are getting what they paid for – knee-jerk rhetoric that's politically expedient and slides right past the facts.