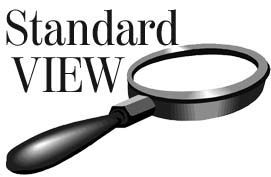 Must we have partisanship over common sense, time and time again?
As we see protesters sucker-punched by lawless racists in the name of patriotism at Trump rallies, vicious infighting in both political parties, and the House of Representatives paralyzed by what would have been considered the lunatic fringe a few years ago, is there no time for anything but posturing and positioning?
And while we're asking, must Montana be subjected to the same hack politics that afflicts the rest of the country?
Judging from our Republican lawmakers' reaction to the president's nomination of an absolutely impeccable candidate to the Supreme Court, apparently the answer is yes.
Sen. Steve Daines chose politics over doing his job when he marched in lockstep with Majority Leader Mitch McConnell and pompously announced that he would not even meet with Merrick Garland, a centrist and a formidable legal scholar who has been almost universally praised for his judgment, hard work, judicial temperament and even-handedness.
And Rep. Ryan Zinke, not to be outdone, announced that President Obama's nomination of Garland was "clearly beyond his Constitutional authority."
That's not only untrue, it's a ridiculous caricature of the truth.
The President has not only the authority but an obligation to put forward a nominee when there is a Supreme Court vacancy. The Senate is obliged to confirm or reject. Nowhere in the Constitution does it specify that either the President or the Senate gets the last year of the presidential term as a vacation from those responsibilities. The whole argument that the Senate should "let the American people decide" is a chimera. The American people elected President Obama for eight years, not seven. And the voters elected senators to do their jobs, not turn their backs and hope that Ted Cruz or Donald Trump will pick somebody more to their liking – and more Scalia-like -- for the Court.
Sen. Jon Tester, D-Montana, isn't rushing to approve Garland. But he has expressed a willingness to meet with him, and an understanding that refusing to hold a hearing or take a vote is not in accordance with the Senate's Constitutional responsibility.
It's interesting that Republican senators deemed most vulnerable – Kelly Ayotte of New Hampshire and Mark Kirk of Illinois – have agreed to meet with Garland. They must understand that the voters want jobs done, not politics played.
If Trump or Cruz is beaten as soundly as polling suggests they would be in a general election, Senate Republicans may well find themselves back in the minority, unable to stop a Supreme Court nominee far less palatable to them than Garland would be. Right now, it appears they are willing to play that political Russian roulette, with the option of confirming Garland in the lame duck session after the election and before a new President takes office.
That's a pretty shoddy way to do business. And nobody should be confused as to who is shirking their Constitutional responsibilities.