An officer is being hailed a hero after he quickly saved a 3-week-old baby who was struggling to breathe.
The Sterling Heights Police Department in Michigan posted the dashcam video of the heroic act on its Facebook page Monday.
Officer Cameron Maciejewski is seen rushing to a call concerning a 3-week-old baby who isn't breathing on July 9. He is bombarded by the family when he arrives at their home and the mother is frantic. Maciejewski calmly assures her and the rest of the family before asking for the baby girl.
He checks for signs of life before realizing something is caught in her airway. He turns her over as the baby's mother hovers over him and preforms a few back thrusts before the child starts to cry.
The officer assures the family that the baby is okay as the mother falls to the ground in relief.
The baby was then turned over to the Sterling Heights Fire Department so the child could be taken to the hospital for evaluation.
"If it wasn't for Officer Maciejewski's quick, calm, lifesaving actions, the outcome of this incident could have been tragically different," the police department said.
"Not only did the officer save the baby, but the officer did an outstanding job consoling the family."
Maciejewski attributes his quick thinking and ability to stay calm to his training.
---
Other remarkable stories from the past week
Hole in wall allows more than 20 snakes to enter woman's apartment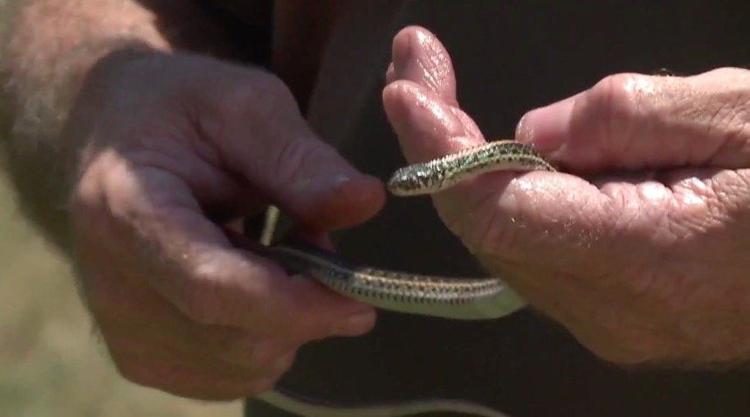 AURORA, CO (KDVR) — An Aurora woman says dozens of snakes invaded her apartment following building renovations.
Charlotte Moore tells the FOX31 Problem Solvers snakes have been getting into her home at the Fitzsimmons Junction Apartments since June 2 when balconies were moved at the complex.
"We noticed the smell was really bad and that's when we started seeing the snakes," Moore said.
She says at least 25 snakes have appeared along baseboards and under furniture, causing her to stay up for most of the night.
"I am up at 4 in the morning and I stay up until I literally fall asleep," Moore said.
Moore has a distinct dislike and fear of snakes.
"To me, snake is Satan and I don't deal with him. You feel me?" she said.
Moore, who has a disabled son, wants to be released from her lease.
The Problem Solvers reached out to the complex's corporate office.
Representative Lauren Richardson explained that a hole was discovered inside of a wall in the unit and has now been repaired.
The company issued a statement to FOX31 saying:
"The safety and comfort of our tenants is our highest priority. We take any presence of snakes very seriously and have worked with our professional pest control provider, who has assured us the issue has been adequately resolved. In addition to working with pest control, we have offered to accommodate Ms. Moore by relocating her to another unit or by releasing her from her lease with the return of her deposit. Ms. Moore chose to decline our offers and remain in the unit as the situation was addressed and ultimately resolved."
Colorado's law of habitability states landlords must provide a space that is safe, clean and does not pose health risks.
No screaming, please: Japan amusement parks issue new Covid-19 guidelines
Thrill seekers in Japan will soon get to enjoy their favorite roller coasters again now that amusement parks around the country are reopening.
But there's one request they might struggle with: No screaming.
With Japan lifting the state of emergency this week, a group of major theme park operators has introduced a set of guidelines on how to ensure the safety of both guests and staff in the face of Covid-19.
Many of the items are to be expected, recommending increased sanitizing measures, regular body temperature checks and face mask use while emphasizing the importance of social distancing.
But some items will likely take visitors by surprise. Namely, a suggestion that theme parks encourage visitors riding outdoor attractions, including roller coasters, to avoid shouting or cheering -- a tough ask, given how wild some of the country's rides are.
The guidelines also say that if it's difficult for some employees to wear masks due to the nature of their work -- for example entertainers, such as haunted house staff -- they should keep at least one meter away from visitors.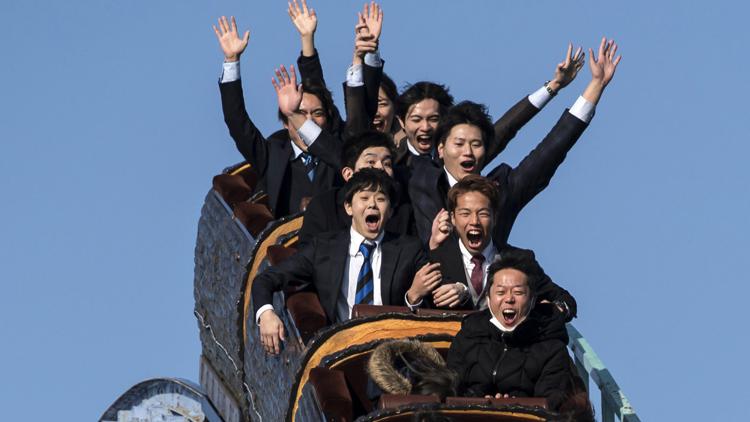 Customer service may also be compromised, note the guidelines, as conversations should be kept as short as possible.
"As a new style of customer service, even when you're wearing a mask, you can use a combination of smiley eyes, hand gestures, etc., to communicate with visitors," says one of the suggestions.
The guidelines were issued by the East and West Japan Theme Park Associations, which are made up of more than 30 major amusement park operators in Japan, including Oriental Land Company (operator of Tokyo Disneyland and DisneySea) and Universal Studios Japan.
Aside from the published guidelines, some amusement parks have implemented their own rules.
Fuji-Q Highland, a theme park at the foot of Fuji Mountain that's famous for its haunted house experience, is only opening its outdoor attractions and only allowing entry to visitors living in Yamanashi, Nagano, Niigata and Shizuoka prefectures.
Major theme parks in Japan have been closed since as early as February to combat the spread of Covid-19. Though some Japanese theme parks are beginning to welcome guests again, Tokyo Disneyland and Universal Japan have yet to announce reopening dates.
CNN's Yoko Wakatsuki contributed to this report.
Doggy deliveries help Colombians shop during pandemic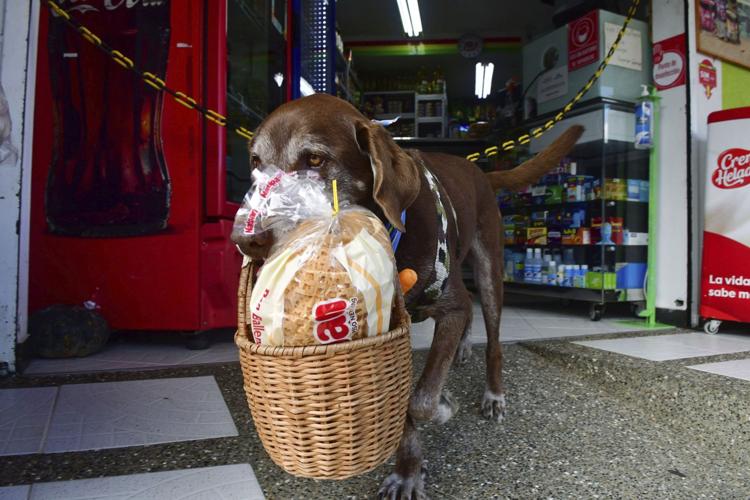 MEDELLIN, Colombia (AP) — Eight-year-old Eros trots through the streets of this hilly city several times a day with a straw basket in his jaws, taking vegetables, fruit and packaged foods to customers of the El Porvenir mini-market. The chocolate Labrador retriever is paid with treats and massages of his furry head.
"He helps us to maintain social distancing" says Eros' owner Maria Natividad Botero. "And people love it when we send the dog."
Eros wasn't always a star. He was accepted into the family begrudgingly by Botero after repeated requests by her son to adopt a dog.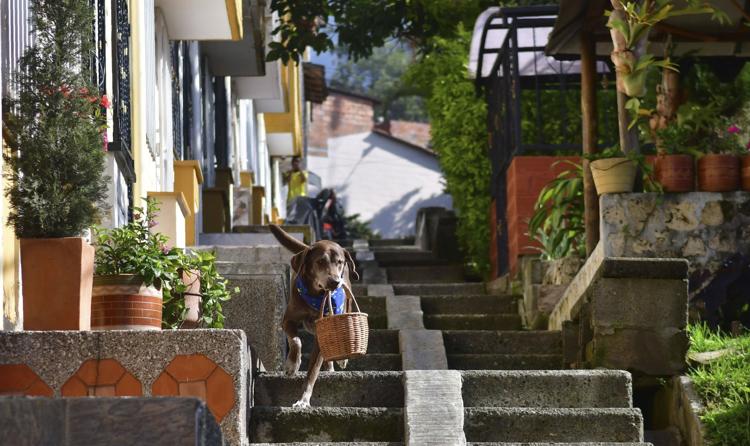 But Botero and the rest of the family quickly fell in love with the pup. And when they opened a mini market four years ago in the hilltop neighborhood of Tulipanes, he started to accompany Botero and her kids to make deliveries.
Eros doesn't know how to read addresses. But he remembers the names of customers who have previously rewarded him with treats. And with some practice, he has learned to go to their houses on his own.
"He knows the names of five or six of our customers" Botero said. "So I send the merchandise with a receipt in the basket, and my customers pay me through a bank transfer."
As COVID-19 cases in Colombia have climbed to more than 3,000 new infections each day, city governments are imposing social distancing measures, and limiting the number of days per week that people can go shopping.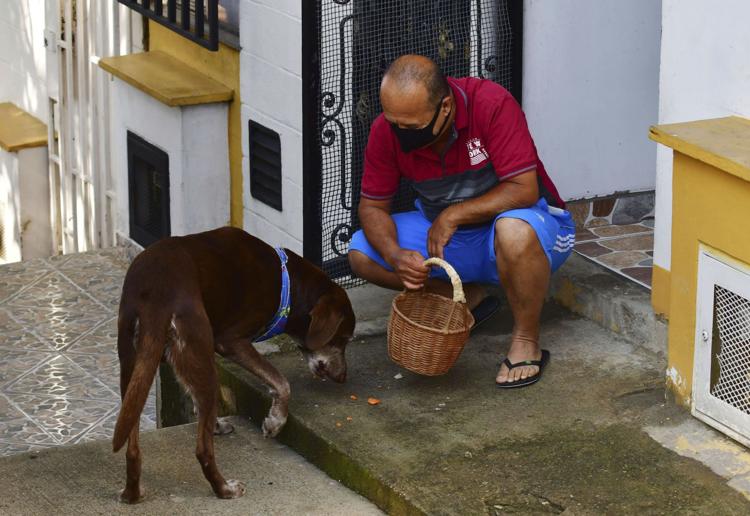 That's turned delivery workers into an increasingly important part of the economy.
Eros might not know that he's become an essential worker. But he is happy to help his owners and collect his daily pay.
"He's quite a glutton" Botero said. "He won't leave your house until you give him a treat."
—By LUIS BENAVIDES and MANUEL RUEDA, Associated Press
Woof Warning: Dog alerts owner to house fire next door
FRANKLIN, Tenn. (AP) — A dog in Tennessee became a hero on the Fourth of July by alerting her owner to a house fire next door.
Roux, a 3-year-old Belgian Malinois, woke her owner Jeff LeCates with "frantic and unusual barks" on Saturday night, a Franklin Fire Department press release said.
When LeCates opened his door to investigate, Roux burst out and LeCates saw his neighbor's home on fire, officials said.
LeCates banged on their door, waking the family of three and their pets, and then used a garden hose on the fire until firefighters arrived. No one in the home was injured.
Franklin Fire Marshal Andy King said video evidence shows the homeowners throwing away fireworks and other combustibles near their trash can. Consumer fireworks are illegal in Franklin.
The woman whose home caught fire has a special place in Roux's heart.
The press release said the woman is a dog groomer and the reason why LeCates adopted Roux 15 months ago. She knew LeCates had lost his German Shepard and Roux is a similar breed. She helped with the adoption, knowing Roux needed a home.
Be the first to know
Get local news delivered to your inbox!