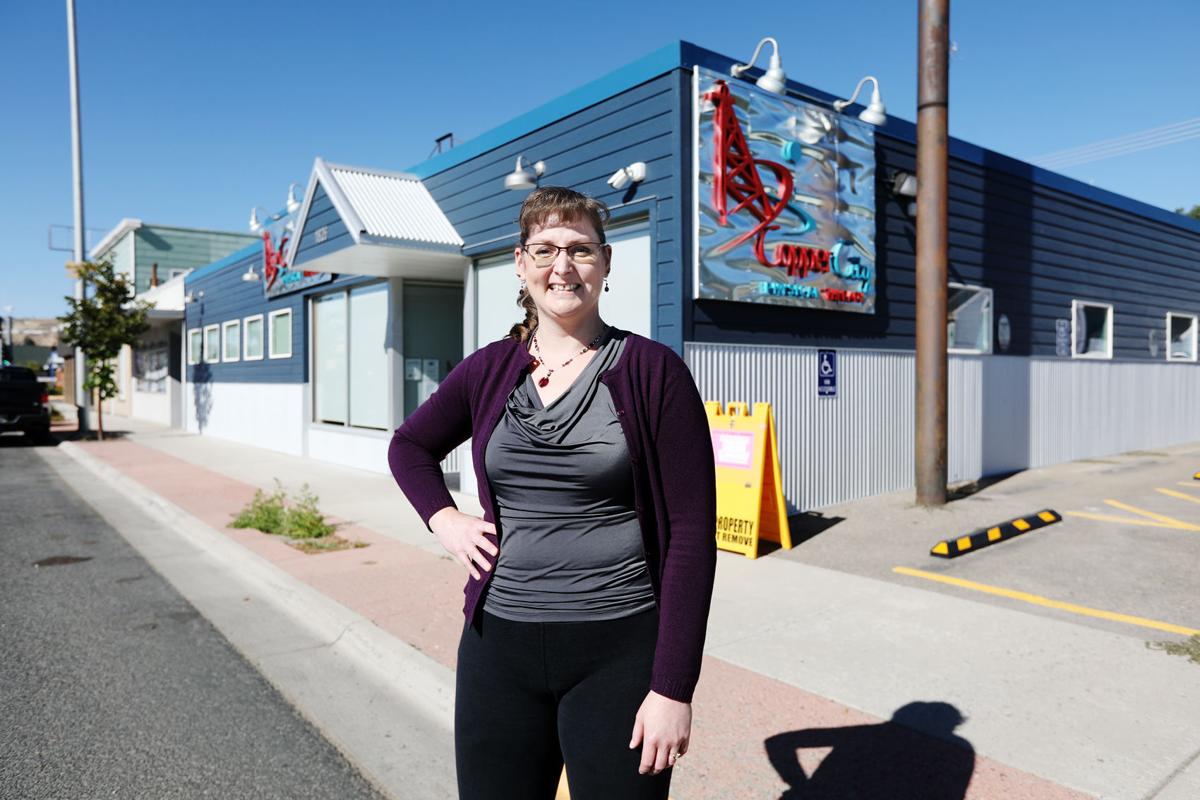 Members of the Butte-Silver Bow Zoning Board say they don't believe county officials were singling out a woman's business when they told her a sign on the side of her building violated a local ordinance.
But they approved Jacqueline McAdam's appeal of that decision Thursday night and granted her a variance so she can keep both Copper City Physical Therapy signs on the building at 1826 Harrison Ave., including the one on the side.
Board Chairman David Wing noted the public support behind McAdams, which included numerous letters and emails backing her. More than a dozen people also posted comments on an online story about the sign by The Montana Standard — all supporting her.
Given that, Wing said he had no doubt the board would have supported a variance for the sign had McAdam simply sought one in the first place. A couple of board members even complimented the sign and the lights to illuminate it.
But they also said, as county officials contended, that planning staff was simply applying a zoning ordinance and not targeting McAdam.
"This is not selective enforcement," Wing said during a videconference meeting on the dispute. "The planning staff has an obligation to enforce the ordinances as written and I believe they do that job with fairness and without selective enforcement."
Planning staff said a business sign on the frontage of the building facing Harrison was permitted under a local law, but a wall sign on the side facing the parking lot was not. The ordinance is designed in part to prevent a proliferation of signs in Butte.
They gave McAdam other options, such as putting the additional sign on the roof or a free-standing pole. She rejected them, saying she had already spent lots of money on the sign and lighting for it, and appealed the decision outright.
She noted that numerous businesses along Harrison have frontage and side signs, and says many of them could not have been grandfathered in when the ordinances took effect in 1986 and 1992 because they are newer than that.
The board approved her appeal 4-1 and granted her a variance, meaning she can keep both signs where they are, as long as she obtains a sign permit, follows rules on lighting and doesn't put up additional signs.
Wing joined board members Loren Burmeister, Todd Collins and Sylvia Cunningham in voting to approve the appeal and variance. Garrett Craig voted against doing that.
Burmeister said staff was rightfully trying to step up enforcement of zoning laws, and that "has to start somewhere." But he also said that given the controversy, several commissioners told him the ordinance should be changed if it's not routinely applied.
Commissioner Jim Fisher, who sent an email in support of McAdam, is one suggesting that.
"If the ordinance needs to be changed, let's start the process," he wrote in the email.
Former Commissioner Charlie O'Leary also weighed in, noting that McAdam had invested big money in the building.
She said she spent $500,000 acquiring a partially vacant and rundown building and making major renovations and was operating a good business there, but was now catching heat from county officials over a simple sign.
O'Leary, like McAdam and many others, also noted that many businesses up and down Harrison Avenue have frontage and side signs.
"I support this business and any others that add to our tax base for schools and local government," O'Leary wrote. "I hope you do, too. And frankly, we have a lot more bigger problems to solve in Butte than a four-foot square sign."
McAdam used to operate her business at Big Sky Senior Living, but bought the space on Harrison Avenue in January. After making major renovations and improvements, including the wall signs, she opened in June.
She said a code officer with Community Enrichment visited in July and told her the side sign was out of compliance. The county cites ordinances that say one or more wall signs per building "frontage" facing a public right-of-way are permitted. Therefore, they say, those are the only wall signs allowed.
Planning officials acknowledge that other businesses have frontage and side signs, but say many were "grandfathered in" under the ordinance, took advantage of an unwritten department practice of allowing people to swap frontage signs for side ones, or have received variances.
Thursday night, McAdam reiterated points in her appeal, saying among other things that the ordinance wasn't clear, the sign helped people locate her building and dozens of businesses along Harrison were doing the same thing.
"I am told not to feel like I am being singled out, but I feel very much like I'm being singled out," she said, adding that she has lost money because of COVID-19 like many businesses and did not want to spend thousands of dollars relocating her sign and lights to the roof or a pole.
County officials say they track commercial projects as they are undertaken and in doing that with Copper City Physical, learned of the side sign, so it was not a case of singling anyone out.
Board members, including Collins, agreed with that. He said county staff had a tough job and said McAdam would have known about the violation if she had sought a needed sign permit before having it placed.
He also suggested, seemingly half-jokingly, that the violation stuck out because she made "too nice of a sign."
"Your signs are beautiful, by the way," Collins said before making the motion to approve her appeal and grant her the variance. "I think they're great and I am not opposed to the location at all."
Get local news delivered to your inbox!
Subscribe to our Daily Headlines newsletter.