A new Butte police officer and a new Butte firefighter were sworn in by Judge Robert Whelan on Wednesday afternoon.
Dozens of county and law enforcement officials gathered just after 1 p.m. in Whelan's third floor District Courtroom as Whelan asked the police officer and firefighter to raise his right hand and take the oath of office.
But this wasn't just any swearing-in ceremony.
The new police officer and firefighter were the same person, Michael "Hulk" Schow, a 4-year-old Butte boy who has dreamed of being in law enforcement since he could talk — and who is also battling stage three childhood rhabdomyosarcoma, a rare cancer that attacks the body's muscle tissues.
As Whelan read Hulk a special honorary oath of office, Hulk pressed his right hand into the right hand of Judge Jerome McCarthy.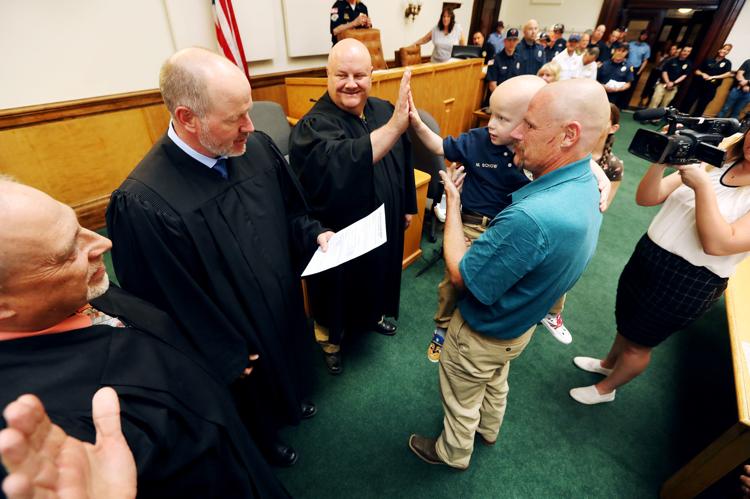 Then, Hulk was presented with a police badge by another honorary police officer, Annalyn Halvorsen, a 9-year-old girl battling advanced heart failure who was sworn in just over four years ago.
"Hey, she has a police officer shirt just like me!" Hulk exclaimed as he met Halvorsen for the first time.
Both Hulk and Halvorsen wore matching navy police polos, hugged after the induction ceremony, and then went off to fight crime.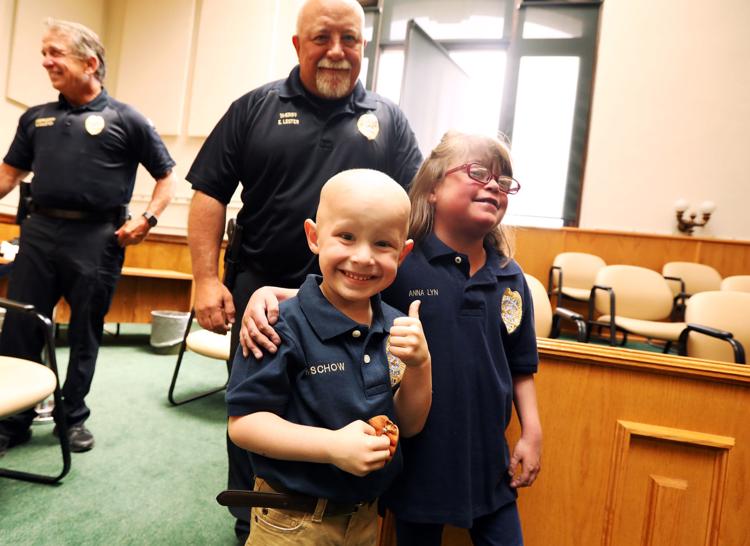 Halvorsen was assigned as Hulk's training officer. Her mom, Lisa Rooney, said she put her "police face" on for the training day event and was extremely excited to help her new colleague out.
First stop: Emma Park where two criminals were found driving in a silver car. The young officers and their adult partners activated their patrol car lights, put the off-duty-police-officer-criminals into handcuffs, and celebrated with the small crowd watching nearby.
"This is the single best day of our lives," said Michael Schow, Hulk's dad. "We just want everyone to see how special he is."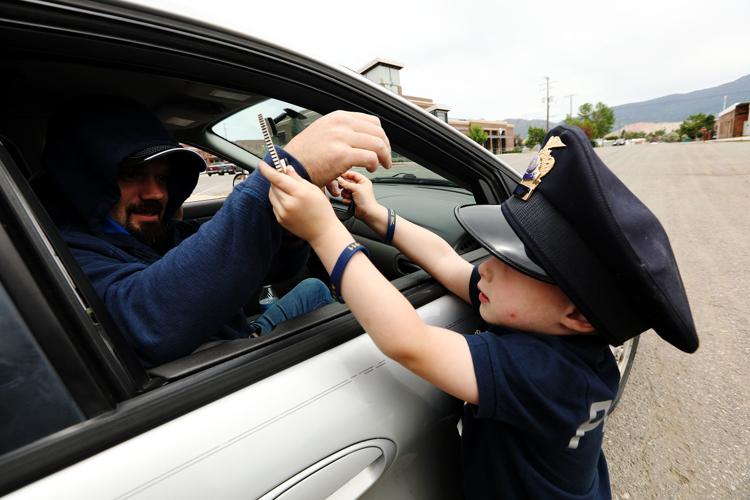 Schow explained that Hulk got his nickname before he was diagnosed with cancer because he acted like the Incredible Hulk. And the way he's been battling the disease further exemplifies Hulk's superhero-like capabilities, his parents said.
After making the park arrest, Hulk made his way to the Butte-Silver Bow Fire Department on South Idaho Street, where he was welcomed by firefighters and shown the ropes of his new job. Hulk received two firefighter shirts, a red firetruck and his own fire department badge.
But this was just a formality. Hulk has visited the fire department on multiple occasions, including on Monday afternoon, where he talked about why he wanted to be a police officer and firefighter in the first place.
"They help people … They help people and they put out fires," Hulk said.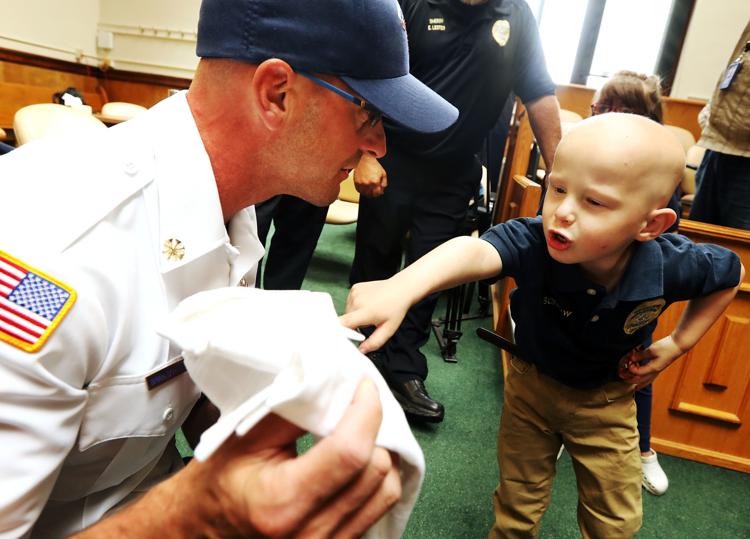 He also said he felt that's why these law enforcement officials are so important — because of the help they provide to others.
And for Butte-Silver Bow police officer Ryan Hardy, that's exactly why he felt it was important to give Hulk this Wednesday law enforcement experience, which he hopes will help him continue to beat cancer.
"The fact that the kid wants to be a police officer and a firefighter, well this is paying it forward," Hardy said. "Maybe it can give him the push he needs to go over the top and beat this cancer, and if he does become a police officer or firefighter when he gets older, he'll remember this and give back, too … it keeps the Butte spirit going."
Hardy said he worked with both the Butte sheriff and undersheriff to make Wednesday's ceremony and mock arrest a reality after his wife, who runs the Butte RE/MAX Premier reality agency's "Hero of the Month" program, received a message from Schow about Hulk and how the 4-year-old was his dad's hero.
"My wife called me bawling and asked if there was something the police department could do, so I ran it up the flag pole and set something up," Hardy said, noting that as a parent he can't imagine what Hulk's family is going through.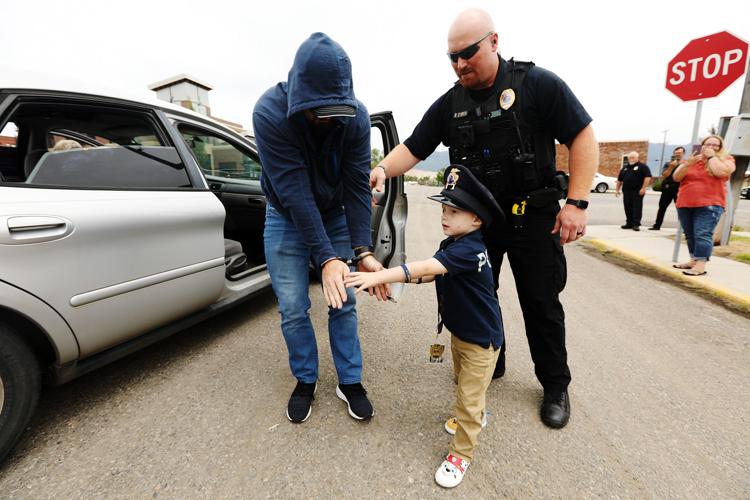 In August 2018, Schow and Lisa Whittington, Hulk's mom, noticed a lump in Hulk's leg. The young boy told his parents it hurt and kept saying he had bumped his leg, so they didn't think much of it. 
Until one morning when Whittington said Hulk could hardly walk.
"We took him up to St. James and they sent us to Utah," Whittington said. "He was diagnosed in September in the Salt Lake City Primary Children's Hospital."
Since that childhood rhabdomyosarcoma diagnosis, Whittington said she, Schow and Hulk have been making weekly visits to Rexburg, Idaho, and monthly visits to Salt Lake City for Hulk's radiation and chemotherapy treatments.
Hulk is about halfway through his treatment and was deemed disease free last month, Whittington said, but doctors say there is a 60 percent chance the cancer will come back.
"He's so upbeat, you wouldn't even know," Whittington said of her youngest son. "We don't want people to feel sorry for him because he's kicking butt … he is one of the survivors."
As Whittington talked about her family's journey fighting Hulk's cancer on the afternoon just days before the induction ceremony, Hulk ran around the Uptown Butte-Silver Bow Fire Department station, climbing on the fire trucks, talking with the firefighters and trying on the protective gear.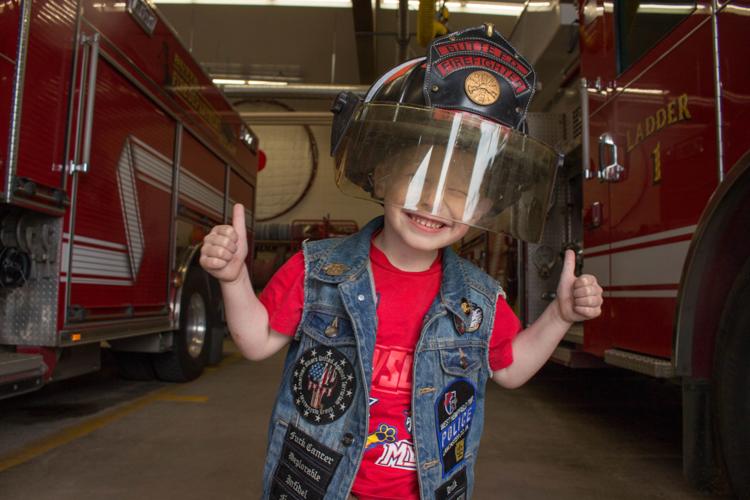 Hulk seemed right at home in the station garage. And a few hours earlier, he was just as comfortable writing his mom a ticket for only having one shoe on, Whittington said, laughing.
"I don't know why he was drawn to police officers and firefighters so much, I think it's all of the YouTube videos he watches and PAW Patrol (a popular cartoon show). Definitely PAW Patrol," Schow said. "This is what he's dreamed about."
Schow acknowledged that the past 10 months have been a roller coaster of ups and downs, but also emphasized the great community support his family and Hulk have received.
Roughly $7,000 was raised for Hulk during and leading up to the Homecoming fight night in Butte on April 20, organized by local MMA fighter Monty Klistoff, and Schow said dozens of people have shared their love and prayers for Hulk, especially through Facebook. There's even a bank account that was set up to collect donations for Hulk at the Mountain West Federal Credit Union.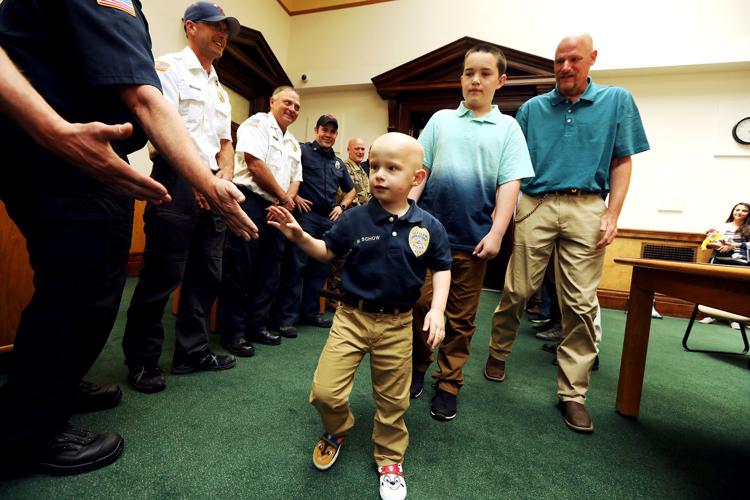 Wednesday morning's ceremony was just another "up" to add to Hulk's journey battling cancer and has helped him believe he can live, Schow said.
"He's not supposed to survive, but he wants to live because of what everyone is doing for him," Schow said. "He's making huge memories … he hurts and is in pain every day, but what the fire department, police department and doctors are doing for him gives him the will to live and excitement for tomorrow, which is important."
Get local news delivered to your inbox!
Subscribe to our Daily Headlines newsletter.