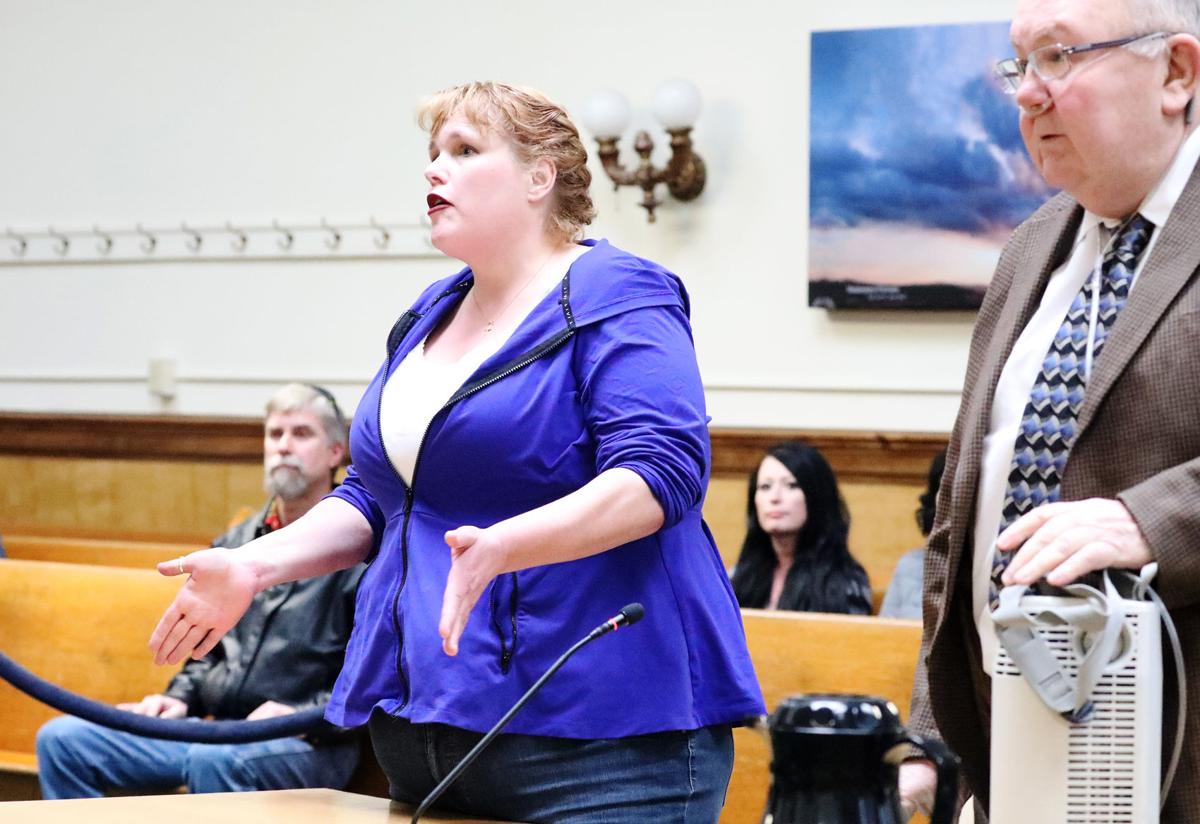 After a legal setback in her case, a woman has admitted providing marijuana to a teenager while living in an apartment at Butte Central High School.
Amy James Kadrmas pleaded guilty Wednesday to a single felony count of criminal distribution of dangerous drugs on or near school property, which is punishable by up to life in prison and a fine up to $50,000.
But if District Judge Robert Whelan goes along with prosecutor's recommendations in a plea deal, Kadrmas, 45, would receive a three-year suspended sentence.
Whelan accepted the guilty plea, ordered a presentence investigation and set sentencing for Aug. 4. Judges typically go along with plea agreements but they don't have to and sometimes don't — something Whelan noted to Kadrmas Wednesday.
Kadrmas, through her Butte attorney Kevin Vainio, had previously sought to suppress evidence in the case, saying police illegally entered her residence at the school without a warrant, among other things. Whelan rejected the claims in April.
Kadrmas is also named as a defendant in a civil lawsuit claiming she targeted the teenager for abuse by providing him with marijuana, among other things. The suit also makes negligence claims against Butte Central High School and its Catholic governing entities.
The high school and other entities deny negligence and other claims and want the case dismissed, but it is still pending. As of Thursday, Amy Kadrmas had not yet responded legally to the civil claims.
Kadrmas was initially charged by prosecutors in January 2020 with two counts of criminal distribution of dangerous drugs at or near a school and two misdemeanor counts of endangering the welfare of a child.
According to prosecutors, Amy Kadrmas and her husband, Brad Kadrmas, were living in a fourth-floor apartment at Butte Central High School in 2019 with a 14-year-old boy and she provided marijuana to him and a 14-year-old friend. Brad Kadrmas was a math teacher at the school.
The misdemeanor charges, punishable by up to six months in jail, alleged she also encouraged the youths to use alcohol and cigarettes. She initially pleaded not guilty to all the charges and Vainio later sought to suppress evidence.
According to facts relayed by Judge Whelan, a school administrator gave police detectives access to the school and fourth floor on Nov. 28, 2019. They exited the elevator on the fourth floor, which has a hallway and doors leading to the apartment and a chapel.
They knocked on the apartment door at the end of the hallway, Amy Kadrmas answered and they told her they were investigating a matter. She agreed to accompany them to the police station for questions and when they returned, she let them back in the apartment and they retrieved evidence.
Kadrmas claimed the officers illegally entered her residence just by stepping off the elevator without a warrant, saying she had an expectation of privacy on the entire fourth floor.
She also said she didn't knowingly and voluntarily agree to the interview because she had taken cold medicine prior to their arrival and was not able to consent. The state disagreed with those claims and Whelan agreed with the state.
"There is no reasonable expectation of privacy to the hallway on the fourth floor of Butte Central High School," he wrote in an April ruling. "Defendant was not required to answer the door and was not forced or coerced by the detectives to accompany them to the police station."
Whelan also said Kadrmas was read her Miranda rights and then agreed to speak with detectives, and he reviewed body-camera footage and interview footage taken by police.
"If defendant was under the influence of cold medication on the day in question, it did not rise to the level of impairment that would suggest defendant was unable to offer her consent," he wrote.
Besides a three-year suspended sentence, prosecutors are recommending that Kadrmas have no contact with the teenage victim or his family and she take a parenting course at the direction of probation officers.
The teenager's parents do not agree with the state's sentencing recommendations.