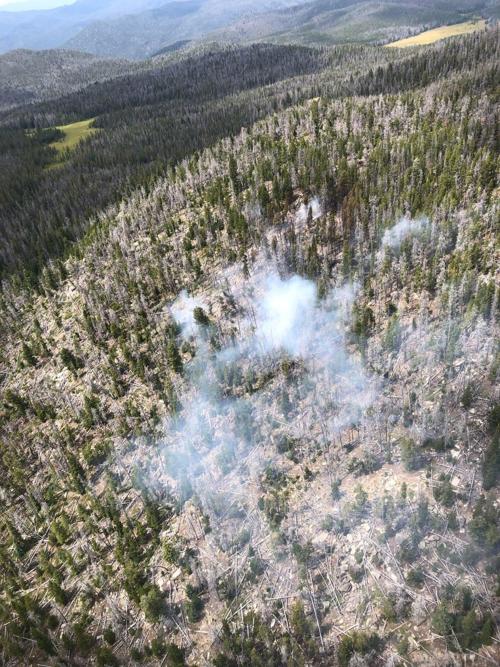 A wildfire is burning in steep, rocky terrain about 3 miles northeast of Delmoe Lake and 13 miles northwest of Whitehall, and the extent of dead trees is adding to frustrations for firefighters, authorities say.
The lighting-caused McClusky Fire in the Beaverhead-Deerlodge National Forest was detected early Friday afternoon and has been creeping since then. It was about 25 acres as of Monday afternoon with none of it contained.
Fifty to 80 percent of the trees in the area are dead but some are still standing. Once they are scorched, it only takes a little bit of wind to bring them down, said Leona Roderick, a spokeswoman for the U.S. Forest Service.
"Just because of the safety issues and wanting to keep our firefighters safe, I can anticipate this (fire) going on for some time," Roderick said. 
There were 27 personnel and one helicopter working the fire as of Monday afternoon and they were trying to identify opportunities to engage the fire. officials said. 
They were also developing a plan to protect 14 structures in the Gillespie Basin area east of the fire. Of those structures, two were primary residences. On Tuesday, they planned to start building a fireline along the Gillespie Road.
The weather could complicate matters.
A high-pressure system over the Northern Rockies is expected to last at least through Wednesday, with highs each day climbing 3 to 5 degrees with decreases in humidity of 3 to 5 percent. Winds will be terrain-driven but blustery ridgetop winds will prevail in most locations.
The terrain alone was difficult to deal with, Roderick said.
"It's rocky and steep and they (fires) tend to last while in there," she said. "You will see some for some time."
Get local news delivered to your inbox!
Subscribe to our Daily Headlines newsletter.