Editor's Note: The Montana Standard recently toured the Montana State Prison and met with some of the correctional employees who work there. This feature story is reflective of that experience.
"Through these doors pass the finest correctional employees in the world."
That's the message Montana State Prison employees are greeted with every day on their way into their 68-acre secure office area.
As they go through the administration building's airport-like security line then a vestibule with two sets of secured doors and out into the main compound's stone courtyard, these roughly 600 corrections officers become one of the only constant human connections over 1,000 male offenders have to the world that lies outside the prison — a role and responsibility many officers thrive in and a very few abuse.
"People are so quick to point out the negatives, which gives us a bad rap, but there is so much that goes on here that's so good for these guys...the public just doesn't see it," said Ron McDonald, a top corrections sergeant who has worked at the state prison for over 14 years.
On a recent afternoon in his office on the low-security side of the prison compound, McDonald acknowledged the fact that there are some "dirty" staff members. A former MSP nurse was recently charged for reportedly smuggling drugs and a cell phone into the prison, and a top Montana Correctional Enterprises supervisor allegedly embezzled state funds to purchase parts for his personal vehicle. 
But McDonald also stressed that those alleged crimes committed by prison staff are not reflective of the majority of employees that spend day in and day out of the largest correctional facility in the state. He stressed that not all staff are perfect but many prison employees and programs are working to make a positive difference in the lives of the men serving time there.
The Montana State Prison feels like its own incorporated city.
Although it's technically in Deer Lodge, just over 3 miles west of the small southwest Montana town, the state prison has its own distinct campus, for obvious reasons.
Yet some things about MSP and its vibe are hard to place and do not fit into the stereotypical prison definition, including the whitewashed rock on a hill that spells out "Montana State Prison" as one drives up to the prison's initial traffic security booth.
The hillside message is not unlike the mountain monograms displayed in towns across the state, aiming to promote a sense of place and community.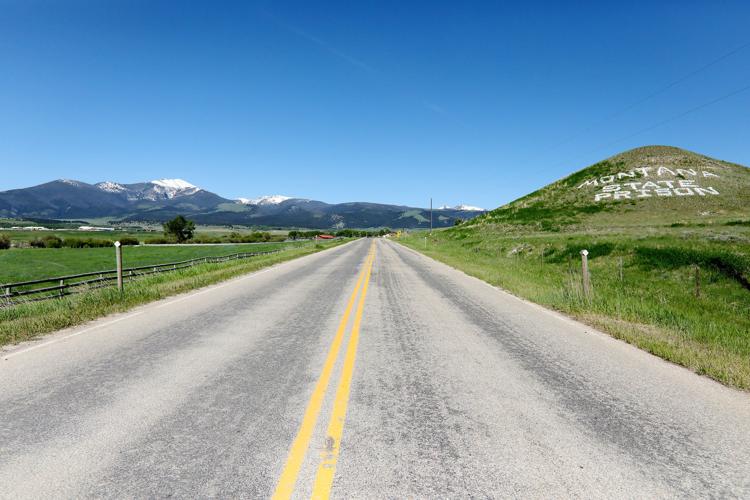 At the traffic booth, an officer asked a few questions then allowed passage through the first layer of fencing and onto the expansive prison grounds.
Hundreds of cows grazed the green, hilly landscape. Inmates were visible as tiny blue dots working among the livestock. A few turns later, the main compound came into view, first as a series of basketball courts surrounded by massive chain-link and barbed-wire fencing then as a large lot with well over 100 cars parked outside the Wallace building, which is the compound's main entry.
After making it past this main control point, colorful murals were visible on the wall of an otherwise grey stone courtyard. Here, a fable-like scenario presented itself. There were three general options or "doors" to choose from.
The main control room could buzz you through to locked housing, where inmates in maximum security are located; high-side housing, where inmates in high or medium security are located; or low-side housing, where inmates in the low security and various working programs live.
First choice? Low-side housing and the Montana Correctional Enterprises' industries program.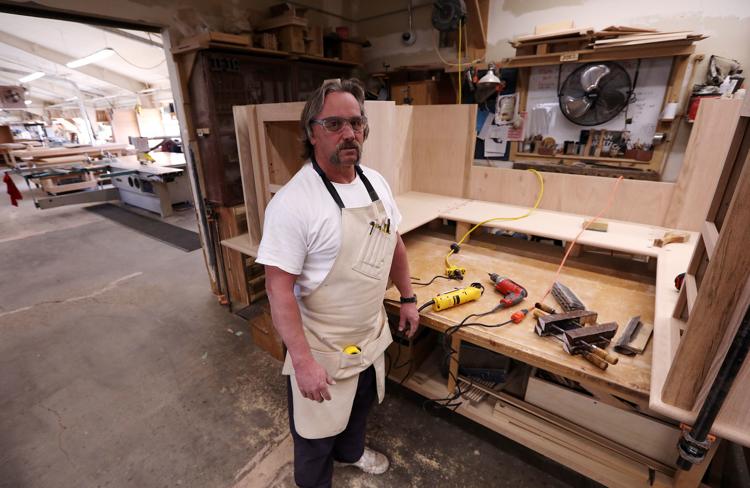 Any everyday piece of furniture one can think of, the MCE industries workshop can craft it.
From custom desks and four-post bed frames to casino chairs and generic office equipment, dozens of low-security inmates construct a variety of furniture items at workstations in the large industries warehouse.
If these men weren't wearing blue, scrub-like clothing, it'd be all but impossible to identify them as convicted offenders.
As the they worked, Joe Acebedo, production manager for the industries program, showed off the inmates' finished pieces. He explained that the MCE industries program can sell its furniture to all state agencies and nonprofits, along with specified dealers who can then sell items to the general public.
"A big thing we do is build furniture and do upholstery," said Acebedo. "But the biggest thing we do is mold the inmates who are in minimum custody and will eventually get out and live by you and me."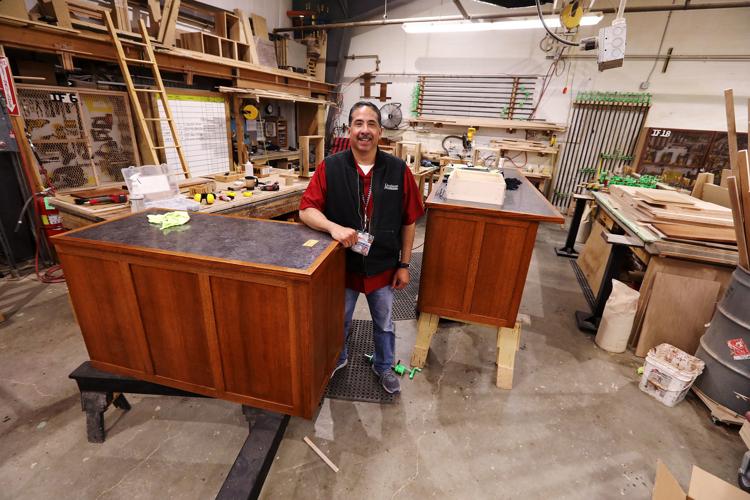 For over 30 years, Acebedo has worked on molding inmates at the state prison. He started out as a general corrections officer on the graveyard shift, bringing his college class material with him every night to study. He said he thought it'd be a temporary job to help him get through school, but corrections at the prison quickly turned into his career.
Acebedo worked his way up the ladder to where he is as production manager, meaning he oversees all of the MCE industries program operations.
MCE is a division of the Montana Department of Corrections that operates in conjunction with both the men's and women's state prisons. Its goal is to train inmates to perform a variety of jobs that keep them active while incarcerated and benefit them after they are released from prison.
Acebedo said the MCE industries program at MSP is self-supported, meaning all of the money it makes goes toward staff and inmate worker wages.
"They're the biggest players here," Acebedo said of the program's inmate workers.
Inmates in low-security housing may apply to work with MCE programs through a standard application and interview process, Acebedo said. His workers make between $.40 and $.80 an hour, depending on their knowledge, skills, and abilities and can receive incentive pay bonuses if they stick with the program for an extended period of time.
Over the past three decades, Acebedo said he's received calls from former inmates he's employed in his warehouse who had started their own businesses or were working in a similar production environment as free men. Some have even used program staff as job references. 
"We teach them the trades and work ethic it takes to make it," Acebedo said. "They learn how to work in a productive work environment."
Acebedo explained that teaching inmates how to build, design, and upholster furniture teaches them how to survive without relying on crime. He said sometimes it's hard for inmate workers with different crime backgrounds to get along and work together, and sometimes workers with previous production experience have a hard time doing things a way other than their own.
But overall, Acebedo feels the 70 workers in his warehouse are learning productive, positive skills that will help them once they are released from the state prison compound — which is extremely rewarding for him and his colleagues, Acebedo said.
"Seeing their sense of accomplishment when they finish a project? It's — it's an amazing feeling you get," Acebedo said. "I hope this program grows and prospers, because it really does help."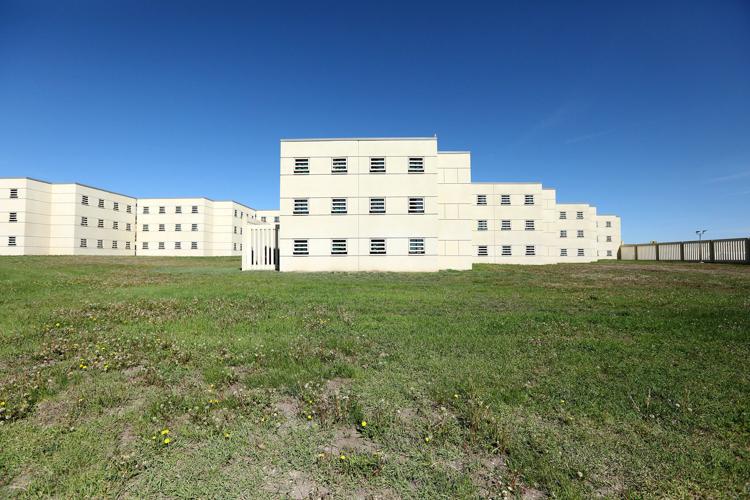 The inmates employed with the industries program don't live far from their workplace.
MSP's low-side housing, which includes four units where about half of the total prison population lives, is a short walk from the industries warehouse.
One step inside the "C" unit felt like walking into a secure apartment complex. The inmates live in a two-story building with large windows facing a grassy courtyard. Some inmates were gathered here, chatting at picnic tables. Others were gathered in the enclosed reception-like area on the opposite side of the yard, talking on phones and video chatting with people on the outside of the compound.
This area is where the unit control station; a bulletin board with upcoming prison activities; and a recreation room with murals, a pool table, and TVs are located.
It's also where Sergeant Ron McDonald's office is located.
McDonald has worked at MSP for over 14 years, serving nine of those as a top corrections sergeant. He said he's always enjoyed being involved in corrections.
"I want to help people and to be a part of their rehab," McDonald said. "I have empathy toward these guys... Some people deserve to be here, and some are good people who just made bad decisions and you hope they all get the help they need."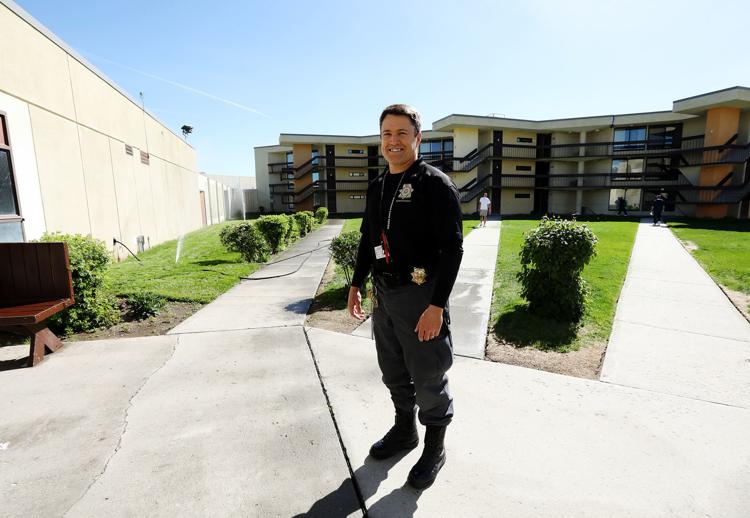 As a MSP sergeant, McDonald oversees all inmate movement within his housing unit and helps enforce the unit rules, but he said he does not feel it's his or his colleagues' job to remind the men of why they were sentenced to prison in the first place.
"Even though we see people who have committed gruesome, horrible, sickening crimes, it's not our place to remind them every single day," McDonald said. 
Instead, McDonald tries to make the negative prison environment as positive as possible by striking up conversations with the inmates in his unit about how they're doing on a daily basis and by working to understand them as people.
But that's not always easy, McDonald said. He sees a lot of men leave the prison on parole and come back a short time later for a new crime or violation. He said he has to keep an eye out for gang activity, which is prevalent at MSP but "laughable compared to other states." Dangerous drugs like meth and opiates even make their way inside the prison.
"Some (inmates) have been rebels to authority their whole lives...some guys try to use you. They need us for all of their day-to-day things," McDonald said. "I've learned that you can't help everyone; they have to be receptive of being helped."
When he can help an inmate, McDonald said it makes the hard part of his job worthwhile. Regardless, he said he tries to remain positive and offer guidance to offenders as much as possible.
"You see a lot of turn-around and guys coming right back in here, but I try to remain hopeful," McDonald said. "It feels pretty good when you know you had something to do with someone else succeeding. That's why I stay optimistic."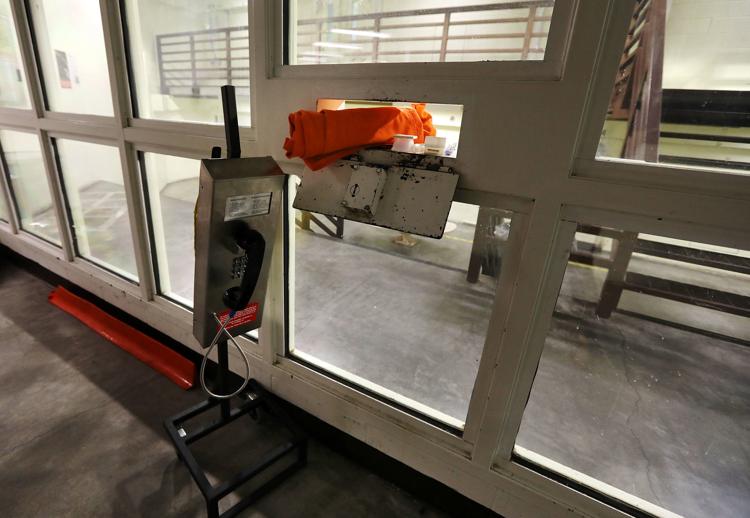 At the prison, an offender's housing and security clearance doesn't necessarily reflect the charges they were originally booked in for.
Every six months, inmates living in the low-side and high-side housing units have the opportunity to be reclassified based on their behavior. This means, depending on how they follow the prison rules and interact with their peers, they could either move to a higher or lower security living area or stay put.
There was a clear difference between the three branches of housing at MSP.
In the high-side living space, inmates had fewer movement freedoms and were housed in a more stereotypical, barred, and sterile prison environment than the low side.
One of the two high side unit's control centers was in the middle of the two-story building, which was split into pods that had general recreation areas and sleeping quarters all behind one door.
Many inmates were gathered at the windows of their pod doors, looking out into the control center reception space and blowing kisses or waving at any unfamiliar face.
But the most drastic change in living environment was from low-side housing to the locked housing unit, where the prison's maximum-security population stay, along with any inmate in isolation for breaking a rule or misbehaving.
Locked housing was much darker than any of the other living areas and fit the menacing stereotype one may have in mind for an entire prison. Inmates here were confined to a single cell, only allowed into their pod's recreation area for meetings with an officer or therapist.
Some of their faces were pressed against the small, rectangular cell door windows and wore blank expressions.
Corrections plans for locked housing inmates are reviewed every 30 days and can be altered by a team of staff depending on an inmates' behavior, similar to the reclassification meetings that take place for high-side and low-side offenders.
One of those team members is Amie Garland, unit manager of the locked housing unit. She oversees all of the functions of locked housing, including all of the unit's day-to-day operations.
Because Garland's unit is maximum security, she said it's hard to discipline the locked housing inmates when they act out. Garland described her unit as the end of the road at the prison.
She said working in locked housing is very mentally challenging for her and all of her staff.
"The way that some inmates can treat the staff — assaults and verbal harassment — can be hard... They start the day running and don't stop," Garland said. "I do my best to support them (the staff) to try and make the lasting effect as low as possible."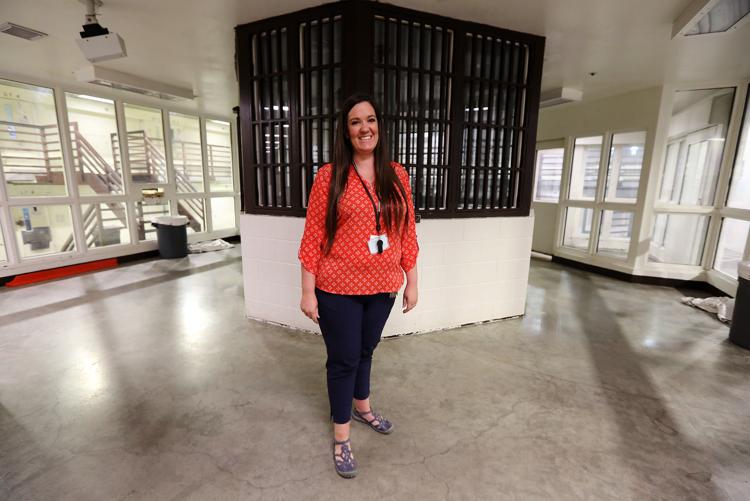 Garland started working at MSP about three years ago. She was working with kids as a mental health professional and saw the clientele at the prison as a new challenge.
For about a year, Garland has been in locked housing which she described as a culture shock from the two years she spent on the low side with low-security inmates.
"What you can do here is much smaller, but you have to take the little victories," Garland said.
To persevere through this often difficult working environment, Garland said she focuses on building a team culture with her staff, which she sees as the brightest spot within the unit.
"I go out of my way to ensure the staff know I support them... Everyone here supports one another."
The three housing and security levels within the main compound are only a fraction of MSP's operations.
Outside of the compound, there are some inmates who live and work out of what's known as the working dorm, and within there is a religious activities center, numerous sports fields, and even rooms where inmates can take various classes or earn their high school equivalency diploma. Dozens of corrections and support staff work in these other areas, too. 
But just a glimpse of this fraction of MSP—from its operations and offenders to its corrections and support staff—highlights the somewhat surprising diversity that exists within such a confined and secure place.