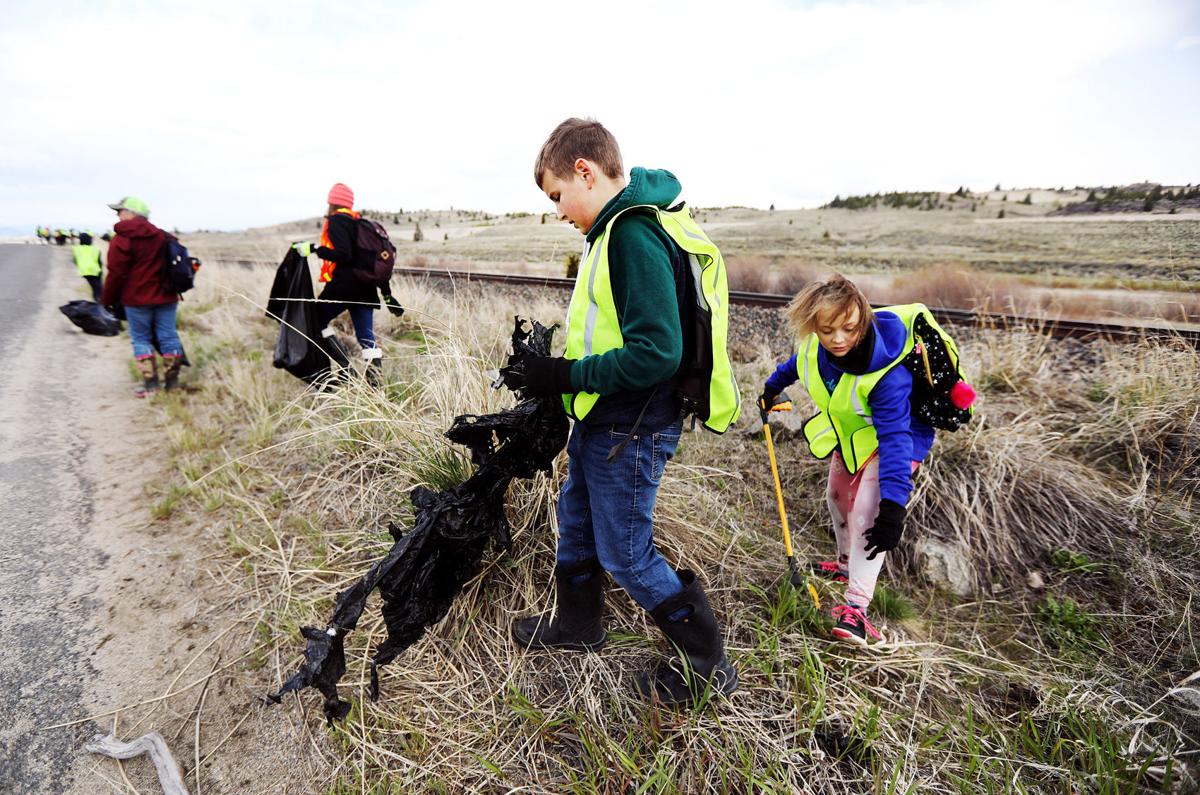 Roughly 400 students helped clean the banks of both Blacktail and Silver Bow creeks in Butte on Thursday morning.
This year's edition of the annual cleanup, hosted by the Clark Fork Watershed Education Program, took place at 14 sites that stretched from near Father Sheehan Park all the way to Rocker and included the historic first mile of Silver Bow Creek as well as the creeks' confluence near the Butte Silver-Bow Chamber of Commerce. 
Students from Whittier, Emerson and West elementary schools along with East Middle School students and high school students from the Butte Career Center and the Bozeman Field School all helped pick up trash at the designated sites, learned about caring for their watershed, and had a pizza party at their locations after the three-hour cleanup.
And according to Arlene Alvarado — better known as Dr. A — this was the biggest CFWEP cleanup day yet.
At the volunteer sign-up table in Father Sheehan Park, Alvarado talked about how the annual event has grown over the past six years.
She said CFWEP, which works statewide to educate people about the environments they live in, started the Butte creek cleanup in 2014 with two sites and 50 students from Whittier Elementary School.
Five years later, more than seven times as many students and sites were involved.
"One thing we know about people in general is that if they are somehow involved in improving the cleanliness of their environment, they'll become better stewards overall," Alvarado explained as she hustled groups of elementary students to their respective cleanup areas.
After earning her PhD in animal behavior from the University of California, Davis, Alvarado moved to Butte in 2004 to work with Montana Tech's hantavirus project and to serve as an associate professor. 
Four years later, the New York City-native discovered her true dream job was teaching kids about science and how to be good environmental stewards through CFWEP, where she has worked in a variety of roles ever since.
As CFWEP's education coordinator, Alvarado helps educate kids in the classroom about the Clark Fork and other local watersheds and also helps teachers develop watershed-science curriculum they can teach on their own.
"I love watershed science because it incorporates nearly everything," Alvarado said.
She explained that she's able to attract kids interested in all subject areas by talking with them about how people interact with the physical, chemical and biological aspects of our local waterways.
According to Alvarado, one of the best ways to start educating kids about these interactions is to get them to participate in events like the annual creek cleanup.
As dozens of elementary students ran around the walking trail near Father Sheehan Park Thursday morning wearing blue rubber gloves and carrying big, black trash bags, a few 10-year-old girls stopped collecting garbage to talk about their experiences.
The three Whittier students said they liked the cleanup day because it helps improve the environment and prevents animals from being harmed from eating plastic — and also because it's fun.
"I really, really like this because we're actually helping the environment," said Abbi Wright.
"But it is gross," said Jera Kurilich.
Since CFWEP started the annual cleanup, Alvarado and Kayla Lappin, CFWEP communications and events coordinator, said there's been a shift in how much trash is found in and along the creeks.
Lappin said the educational nonprofit has noticed the parks and some of the stream banks are cleaner than they used to be.
But they also noted that there is still a consistently large amount of trash, particularly at their Butte Chamber of Commerce and Civic Center sites. Over 100 bags of trash are collected at these two sites most years, Lappin said.
And along Santa Claus Road and other roads near the Whiskey Gulch and Rocker areas, Lappin said students collected about 70 bags of trash and found 12 discarded car tires this year.
"This was the first year we cleaned the entire stretch from Whiskey Gulch to the Rocker station, and we realized we definitely need more students working along Santa Claus Road next year," Lappin said. "It was horrible. Imagine what it would be like if we hadn't pulled all of the trash out."
This year, CFWEP was awarded a $5,000 Superfund Advisory and Redevelopment Trust Authority grant to help expand its impact.
"We are so thankful for all of the volunteers and local businesses that support this," Lappin said.
But while Lappin and Alvarado believe educating local kids about watershed science is one of the best ways to promote a larger community understanding of local watersheds, the future CFWEP envisions for the cleanup day goes way beyond the local schools.
Alvarado said she'd like to see the creek cleanup shift from an early spring event for students to a summer event for the entire community that would kickoff festival season and serve as a springboard to improve Butte's overall environmental and mental health.
According to Alvarado, gathering evidence of a connection between environmental and mental health has led researchers to examine what's known as "solastalgia." The term refers to the pain a person can experience when they recognize the place they live has experienced or is experiencing physical destruction.
This pain often manifests as depression and anxiety, Alvarado said. Some of the research on solastalgia looks at this pain in relation to climate change, while other research looks specifically at this pain related to areas affected by mining.
"There's so much good data that shows seeing damage in your home environment can cause higher rates of depression among the community," Alvarado said. "But if you understand that damage and are involved in fixing (it), it alleviates some of that anxiety."
Alvarado believes that the high suicide, domestic violence and drug abuse rates in the Butte area may correlate with the fact that Butte is a major Superfund site. She was quick to point out, though, that this correlation is purely her opinion, as no research has been conducted locally that would confirm her hypothesis. 
Whether or not these social ills are connected to environmental issues, Alvarado says that bringing the community into direct contact with the Mining City's scarred ecosystems could help create a healthier, more educated and more aware community.
"We (CFWEP) are at our limit of what we can do," Alvarado said. "Now we need more people to join in. It needs to be community owned and community driven."
Get local news delivered to your inbox!
Subscribe to our Daily Headlines newsletter.