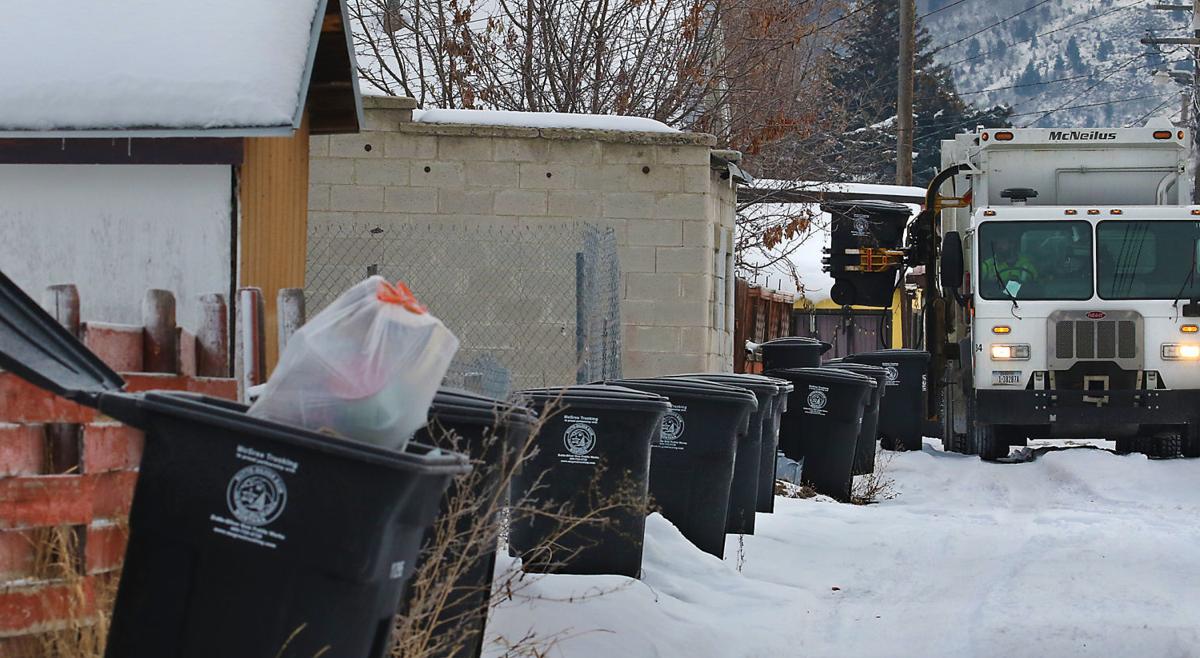 This might finally be the year the town of Walkerville joins the garbage collection system that covers most of urban Butte, but the town's homeowners will still get a chance to weigh in.
Walkerville officials have sought for three years to opt into the service that McGree Trucking, in a contract with the county, provides to more than 12,500 customers in a solid waste district covering most of urban Butte.
The move could save residents money and lead to a cleaner Walkerville, town officials say, but there were problems with previous petition-driven attempts to join.
Now they're asking for Butte-Silver Bow's help in expanding the district to include Walkerville, though the new process would still allow the town's homeowners to weigh in.
"The purpose of the expansion would be to have the residents of Walkerville have their garbage fee included on their taxes as do those currently within the garbage collection boundaries," Walkerville Mayor Tom Ries said in a recent letter to Butte-Silver Bow commissioners.
Butte-Silver Bow's charter prohibits the city-county from performing a municipal function within the town of Walkerville without its consent.
In Butte's solid waste district, residents get standardized, 95-galllon garbage bins that are picked up weekly. The cost to homeowners is $93 a year, which is included in property tax bills, though the cost to the county is about $101 per unit per year.
The county pays the higher amount to McGree and has made up the difference in recent years by tapping reserve funds. County officials and McGree are negotiating a new five-year contract and a proposed agreement should come before commissioners in April, said Budget Director Danette Gleason.
You have free articles remaining.
The cost to homeowners will likely be at least a little higher under a new deal because of inflation and other factors, Gleason said. But a lot of Walkerville residents could still come out ahead if they join Butte's solid waste district, town officials say.
Many Walkerville residents pay individually to have McGree pick up their garbage and they also get 95-gallon bins, but the cost is $19 per month, Ries said. If they were included with Butte under current rates, they'd pay only about half that.
As it is, some residents who don't have McGree's service let garbage pile up for weeks before hauling it away themselves, Ries said. Some renters don't care where their trash goes. If every house had a lid-covered bin, much of that would change.
Walkerville used to have two private garbage collectors but that ended years ago, and McGree is the only state-licensed major trash hauler in the Butte area.
Over the past three years, town officials have tried two versions of a petition process to join Butte's district. One sought signatures from all homeowners and another from owners of all parcels, but there were problems with both. Gathering signatures was difficult in part because some properties had multiple owners and not all of them could be tracked down.
Under the method that will be used now, the county will send letters to all property owners in Walkerville who would be assessed garbage fees explaining the proposal and stating about how much those fees would be.
If property owners who would collectively pay 51 percent or more of the total, combined fees object to the plan, it would not take effect. If that threshold for opposition is not met, it would go into effect.
If the latter occurs, all households in the expanded district would be charged for the garbage service on their property tax bills even if they didn't want the service. That same thing has applied in Butte's solid waste district for years.
The county won't know approximately how much fees would be until they have a new contract with McGree, so letters probably won't be sent out until then, officials say.