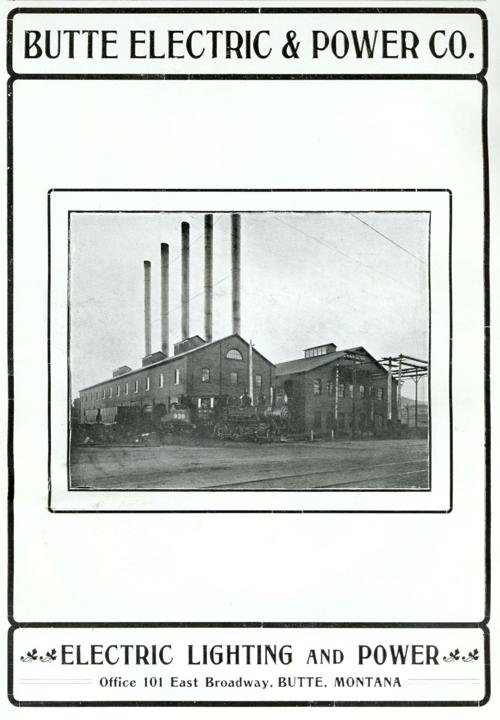 Among the many "Butte brags" is the claim that Butte was the first — or third, or whatever — city to be electrified. Like so many claims, there's some truth and some myth in there.
Butte (well, technically, Walkerville) almost certainly had the first electric light bulb in Montana, installed at the Alice Mine in November 1880, about a year after Thomas Edison invented his electric light. Steam power drove the engine that generated the electricity to light a Brush Arc Light — not an Edison light.
Brush's dynamo powered arc lights rather than Edison's incandescent filaments, and Brush lamps were lighting the streets of New York, Boston, Philadelphia, Baltimore, Montreal, Buffalo, San Francisco and Cleveland by the end of 1881, months before Edison's first New York power plant began lighting Manhattan. European cities boasted more than 1,500 arc lamps when that first bulb was lit at the Alice, "like a ball of fire rolling in the heavens, notwithstanding a blinding snowstorm was raging." Ultimately, the Edison bulb proved more efficient and cheaper — or maybe just better marketed.
By 1882, a Brush generator at the Burlington Mill was powering 25 bulbs in businesses along Main Street, including four at the Bonner & Company store at Granite and Main. The first public electric company in Butte was organized in 1882 by William Clark, his brother J. Ross Clark, and businessmen Harry D'Acheul and Michael Connell. It began providing electricity for lighting in 1884 from the plant on Mercury Street, behind today's Blue Range building. The incandescent lamp installed at Parchen & D'Acheul's drug store at 32 N. Main became something of an attraction when it was lit in September 1884.
Through the 1880s, Butte's electrification was mostly a matter of light-bulb count, so it really isn't reasonable to think of the city as electrified in any comprehensive way. The first street lighting began November 27, 1885, creating "a marked improvement in the general aspect of things," according to the Butte Miner. The street lamps, on 28-foot masts, were installed in the western and southern "suburbs," probably as far west as Washington Street and as far south as Porphyry.
Electric lighting in homes was most definitely a luxury in the 1880s. William Clark's mansion has light fixtures with two settings — one that turns up, for gas jets, and one that turns down, for electric bulbs.
Butte was booming so much by the early to mid-1890s that it's probably reasonable to think of most of the business district and at least the upscale west side as electrified. Electrification had become commonplace enough that it really didn't make the news, at least not like it had in the 1880s. The Butte Electric Light Works plant on Mercury Street was "to be removed" in May 1890, and by 1895, lighting was supplied by Butte General Electric, the Montana Electric Company, and the Phoenix Electric Light and Steam Heating Company in the Owsley Block. All three of those companies eventually became part of the Montana Power Company, NorthWestern Energy today.
Local historian Dick Gibson has lived in Butte since 2003 and serves as a tour guide for Old Butte Historical Adventures and a trolley-tour driver for the Butte Chamber of Commerce. He's active with the Mai Wah Museum and Butte Labor History Center and can be reached at rigibson@earthlink.net.
Get local news delivered to your inbox!
Subscribe to our Daily Headlines newsletter.