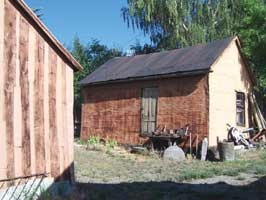 Editor's note: The following is one of a series of columns to run throughout the summer from the Butte Citizens for Preservation and Revitalization.
The vernacular — most of us know the term as applied to the nonstandard, common, dialectical language of a region. But I recently learned that it is used for architecture, too — and if any place has nonstandard architectural styles, it is Butte.
Vernacular architecture means using local materials or the building style typical of a place. The ultimate in Butte is the remnant of the Cabbage Patch on the near east side, our historic shanty town once ruled by "King" McNamara until he was blown up by his own moonshine still in the 1920s, the story goes.
Cabbage Patch shacks, with walls of discarded corrugated iron sheets and wallpaper of linoleum or newspaper, harbored down-on-their-luck residents, bootleggers, drug dealers, and retired prostitutes. Carrie Nation reportedly brought her reform program to the Cabbage Patch in 1910, but with no visible success.
The Cabbage Patch was largely bulldozed in 1940-41 to make way for Silver Bow Homes, but many of Butte's surviving higher-end structures count as vernacular as well. Thanks to an early city ordinance, enacted after devastating fires in the 1870s, brick dominates our cityscape, from high rise office buildings to middle-class west side homes.
Non-mainstream architects like Herman Kemna designed single-family homes and business buildings from Butte to Deer Lodge, including the Thomas Block and Phoenix Building on Park Street. Ohio-born Henry Patterson's 25-year architectural sojourn in Butte can still be seen in 30 or more structures. Local architects like Kemna and Patterson are important to the overall vernacular look and feel of Butte.
Another connotation of vernacular architecture is the building styles that characterize a place. Many of the flat-topped brick homes and duplexes between Montana and Excelsior streets are in the Italianate style, simple to build and popular in the boom period of 1890-1910. Although not unique to Butte, this style flavors the architecture of historic uptown residential neighborhoods — part of Butte's "vernacular." Who cares? A national organization, the Vernacular Architecture Forum, is planning to bring its annual conference to Butte in 2009 — and our well-preserved eclectic buildings are the draw for 200 or more attendees. Local organizers will be on the lookout for interesting structures — from miner's cottages to Queen Anne homes — and if your house has an interesting story to tell we'll want to hear from you.
Dick Gibson is secretary and webmaster for Butte Citizens for Preservation and Revitalization, and tours and guidebook chairman for the 2009 Vernacular Architecture Forum. For more information about CPR, visit www.buttecpr.org or stop by the office on Thursdays from 10 a.m. to 2 p.m., 405 W. Park St., Suite 200.