The sight of mule deer bounding across the foothills of the jagged Pintlers can enchant human witnesses. But an urbanized mule deer in Anaconda resembles a large, mangy, doe-eyed dog.
These citified animals' domesticated complacency threatens to lure mountain lions into town. And the close quarters in which these townie deer congregate could introduce and spread chronic wasting disease.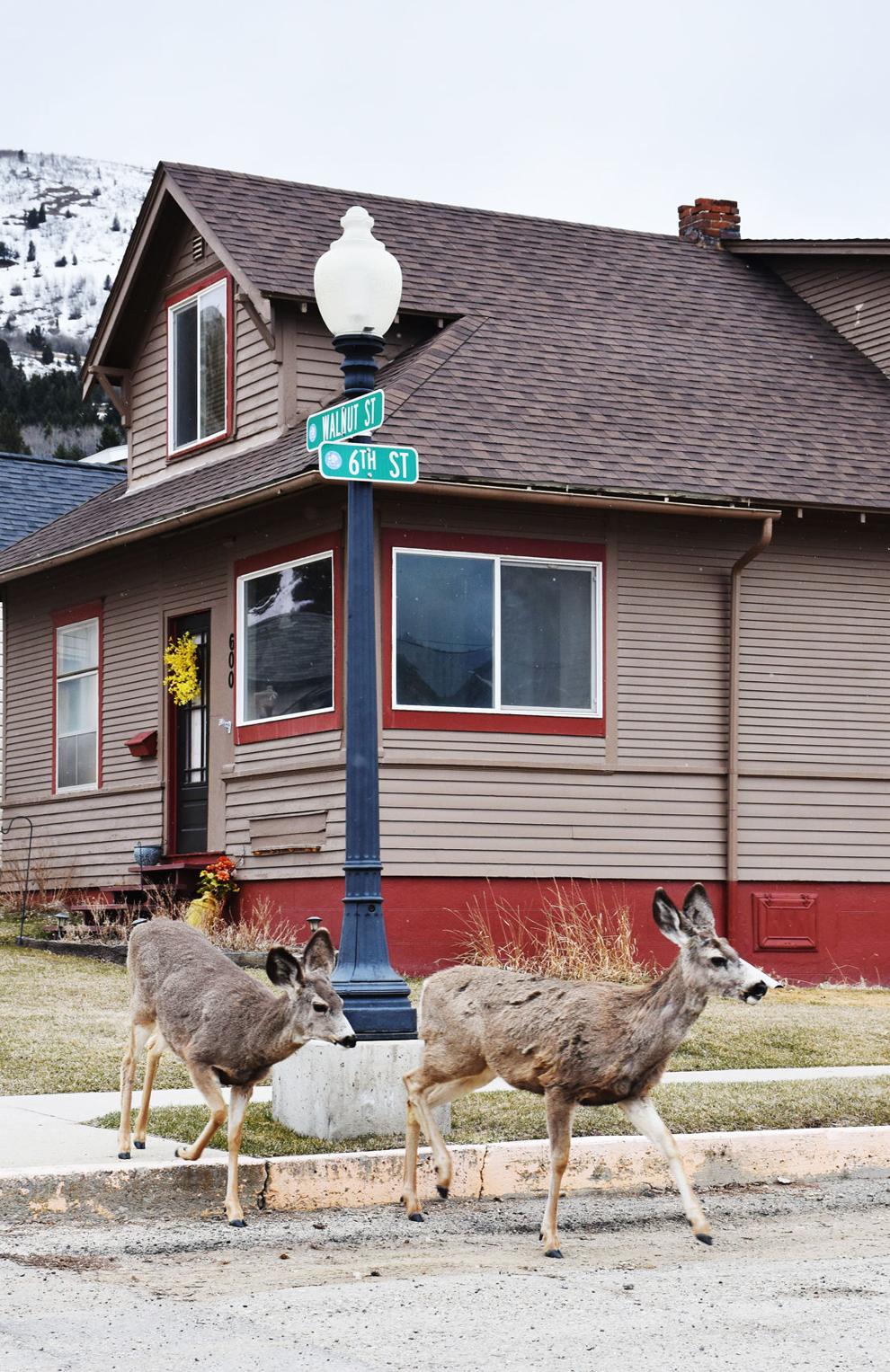 "It's just a matter of time before trouble happens," said Julie Golla, Upper Clark Fork Wildlife Biologist for Montana Fish, Wildlife and Parks.
Separately, in the proper context, a honking skein of migrating Canada geese flying overhead yields a thrilling display. But geese that don't embrace the risks and rigors of seasonal migration and loiter instead in urban gaggles become defecation machines and clamorous pests.
"They are a huge, major nuisance," said Mark Fisher, golf pro and manager at the Highland View Golf Course in Butte.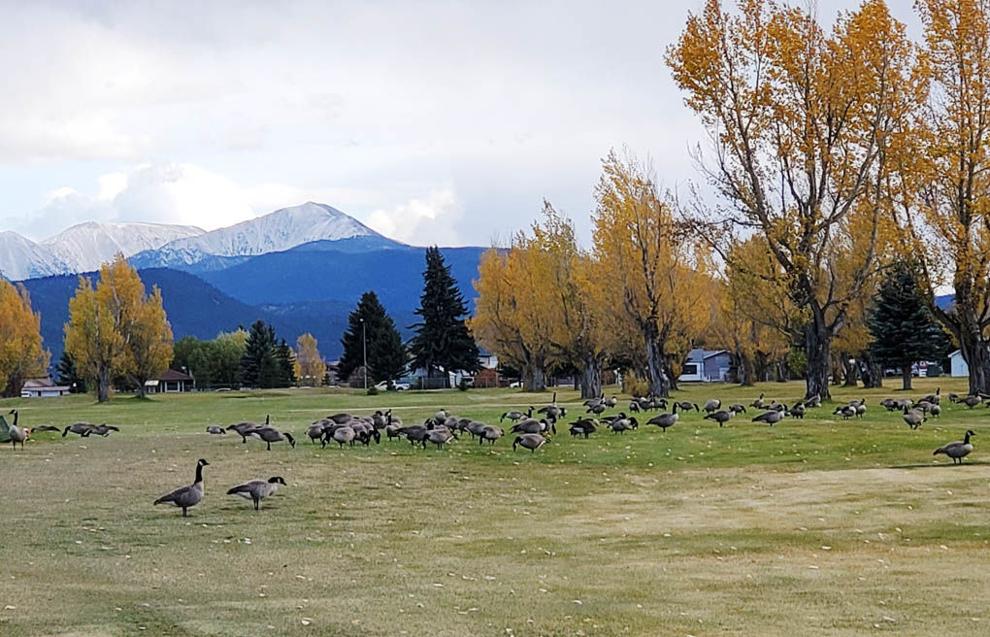 The bottom line, according to experts?
Golla, who is based in Anaconda, said mule deer that come to rely on human foods such as corn and bird seed take a big hit nutritionally. Not to mention that feeding deer is illegal in Montana.
Experts say human foods can even cause Canada geese to defecate more. Fisher said the resident Canada geese at the golf course get fed during the day by people using nearby walking trails.
Of deer, Golla has observed, "Raising fawns on offerings of corn is synonymous with raising children on ice cream."
She said she has no hard numbers but estimates there are probably 100 to 150 mule deer roaming Anaconda from Main Street west. Those numbers include deer lingering in Washoe Park. Many people who venture over to feed the park's ducks also feed the deer, she said.
In this scenario, the focus for biologists like Golla becomes people management instead of wildlife management.
"It's always people with their hearts in the right place," she said. "But there's a general consensus that whatever is going on isn't the best."
At the Highland View Golf Course, Canada geese peck holes in the course's greens. The large, noisy birds, notorious for copious droppings, make a remarkable mess, Fisher said.
He said migratory Canada geese come and go but that the population of resident geese stubbornly stays put. Efforts to haze the geese or otherwise discourage their presence on the golf course have had limited success.
"If we chase them off they fly over to the Butte Country Club. If the country club chases them off the birds fly over to Montana Resources," Fisher said. "All we are doing is chasing them around Butte. They won't leave."
He said the Highland View Golf Course has tried siting decoy predators, including a fox and a coyote, to scare the geese. A dog was somewhat effective in years past at dispersing the birds. The golf course once sprinkled a sample of grape seed extract on a green and found that it seemed to deter the geese from grazing, but Fisher said mowing removed the extract, a substance he said wasn't cheap.
"I've chased them off with a drone but the geese get used to the drone," Fisher said.
Experts say that feeding Canada geese is bad for the birds and the urban environments where they congregate. This is especially true when the birds are fed human foods instead of their natural diet of grasses, aquatic plants, small insects and fish.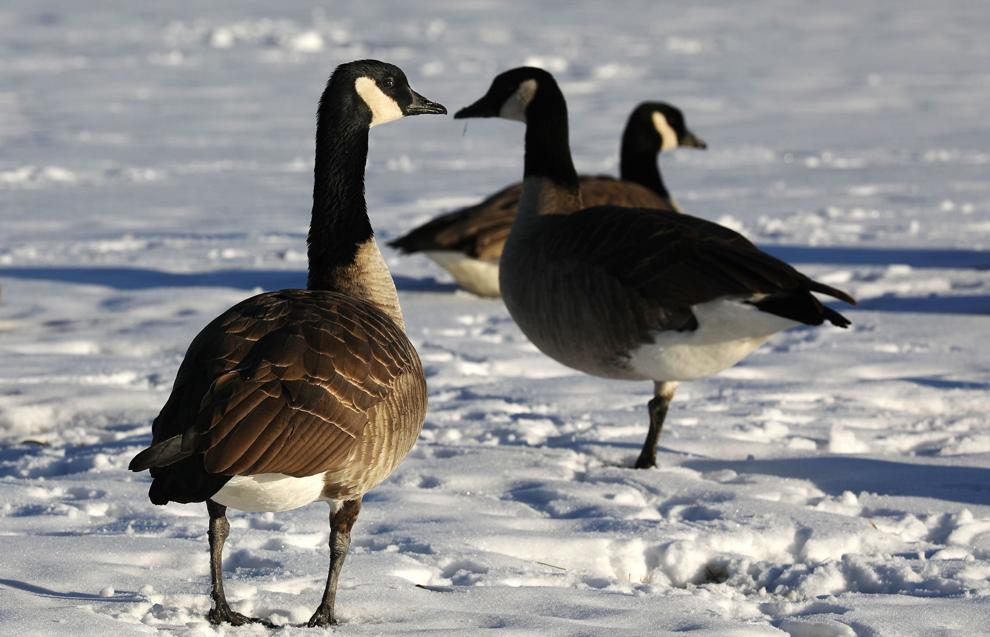 "A diet rich in simple carbohydrates also causes the birds to experience increased defecation," reports the Center for Earth and Environmental Science at Indiana University.
Bottom line: Don't feed the Canada geese.
Fisher said the population of geese that frequents the golf course has more than doubled during the past six years.
Biologists say that the number of resident geese is rising.
The Cornell Lab of Ornithology reports that "resident Canada Geese have adjusted well to living near people, with few significant curbs on their numbers. Resident geese in cities and suburbs are safe from most predators, many people like to feed them and they are less vulnerable to hunting because they tend to live in settled areas where firearm restrictions often apply."
Cornell notes that Canada geese "are one of the few bird species that can digest grass, so they do well on the large expanses of lawn in parks, back yards, golf courses, farm fields and airports."
Canada geese are a protected species under the Migratory Bird Treaty Act. That protection requires permits before lethal means of population control are embraced.
The Cornell Lab of Ornithology says it supports using humane lethal methods to reduce the overpopulation of resident Canada geese.
Paul Curtis at Cornell University has focused for some 30 years on reducing human-wildlife conflicts in agricultural and suburban landscapes. His work has examined urban conflicts with animals that have included deer and geese.
He said populations of resident geese that are considered nuisances are typically a sub-species of migratory Canada geese. He said research has shown that a variety of hazing techniques generally have limited and temporary utility.
Border collies trained to disperse geese proved to be effective for short-term dispersals, he said.
A research study he co-authored found, "Border collies alone and border collies used in conjunction with remote-controlled boats were our most successful hazing techniques during daylight hours."
Meanwhile, the mule deer or white-tailed deer that find refuge in places like Anaconda and Libby hope to escape a bloodier demise.
Golla said the animals seek safety in town from the teeth of mountain lions and other predators.
"That's part of what brings mountain lions closer to town," she said.
Urban deer create other hazards. Their unpredictable dashes across roads and streets often yield repair work for auto body shops. The deer tend to cluster and their proximity to each other increases the prevalence of parasites.
And their concentrated numbers risk the spread of maladies such as chronic wasting disease.
An urban herd of white-tailed deer in Libby has been known to have high numbers of animals infected with chronic wasting disease, for which there is no known cure. CWD is a "transmissible spongiform encephalopathy" specific to deer, elk and moose. To date, there has been no documented case of CWD jumping species to humans.
The deer also created conflicts in Libby by eating homeowners' plants and flowers and by colliding with vehicles.
In January and February, FWP technicians helped cull 100 of the urban white-tailed deer in and around Libby. Seven animals were found to be infected with CWD. Eighty nine carcasses that were not infected were donated to the local food bank.
The technicians lured the deer to collapsing traps baited with apples. The animals were then dispatched with a livestock bolt gun and also promptly bled out to ensure death had occurred.
Curtis was a co-author of a study published by Cornell University Cooperative Extension that focused on managing white-tailed deer in suburban environments. It found that sterilization of does and other non-lethal interventions were not effective.
"Some form of lethal deer management (e.g. hunting, sharp shooting, capture and euthanization) will be needed to reduce deer numbers in an acceptable time frame," the study suggested.
Tonya Chilton-Radandt, an FWP area biologist based in Libby, said there were no known cases several years ago of CWD in the city's dense deer population.
"But we were ripe for it," she said.
The closest case of CWD discovered to date near Anaconda was in white-tailed deer in the vicinity of Twin Bridges and Sheridan.
But Golla said CWD is destined to reach Anaconda eventually. And when it does the urban deer in the Smelter City will be especially vulnerable to the disease, she said. They congregate in tight herds, and the animals' compromised immune systems, affected by eating the wrong foods, will leave them especially susceptible to CWD.
And that vulnerability increases the ultimate risk of transmitting CWD to elk and moose in the vicinity, she said.
In Libby, the city council formed a Wildlife Management sub-committee to work with FWP to develop strategies for tackling the city's urban deer problem.
One thing the committee wrestled with early on was how the community might react to wildlife officials killing deer. The committee emphasized that carcasses that did not test positive for CWD would go to local food banks.
Chilton-Radandt said the Libby community and surrounding residents of Lincoln County have been supportive of the culling campaign and that the city council's wildlife sub-committee has been very helpful.
She said the culling effort has been a challenge and will need ongoing financial support.
Golla said the situation in Libby and Lincoln County is a cautionary tale.
"Libby is where I don't want to end up," she said.
Golla said she hopes FWP and county commissioners for Anaconda-Deer Lodge County will identify ways to collaborate to address the mule deer resident population in the Smelter City.
Vanna Boccardi is FWP's Butte Area Wildlife Biologist. She said she believes "there is a smaller scenario of urban mule deer in Butte than what Anaconda is experiencing.
"To the best of my knowledge, Butte's deer population is centered on Timber Butte, near the Pit, and a few along the walking trail along the interstate," Boccardi said.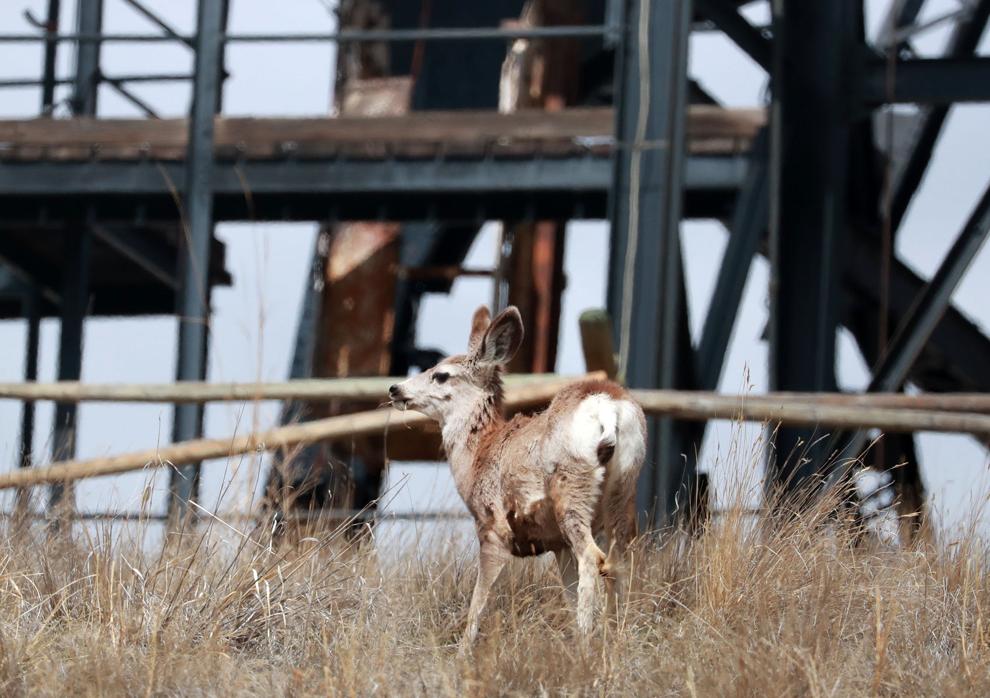 "Other than the occasional temptation to poach a buck with large antlers, there doesn't seem to be too much concern from residents," she said.
Curtis said his experience suggests that local governments wading into managing urban populations of deer should do three things: Involve local stakeholders in developing the management plan; identify clear and measurable objectives; and, accept that deer management will be a line item in budgets for years to come.
"It's like mowing the grass," he said. "You have to keep doing it."
Curtis said one successful deer culling approach in the Northeast has recruited volunteer archers with bows and crossbows, trained them and then deployed them to shoot deer at night. The volunteers can keep or donate the carcasses, he said.
The deer management study he co-authored advised: "Begin managing deer populations before impacts become excessive. If deer are in your community now, there will likely be many more in a few years. Save expense and prevent negative impacts by managing proactively rather than reactively."
Meanwhile, in Anaconda some residents enjoy seeing and feeding the mule deer and others bemoan the animals devouring their gardens and ornamentals.
"I have neighbors living right next to each other who will complain about the other," Golla said.