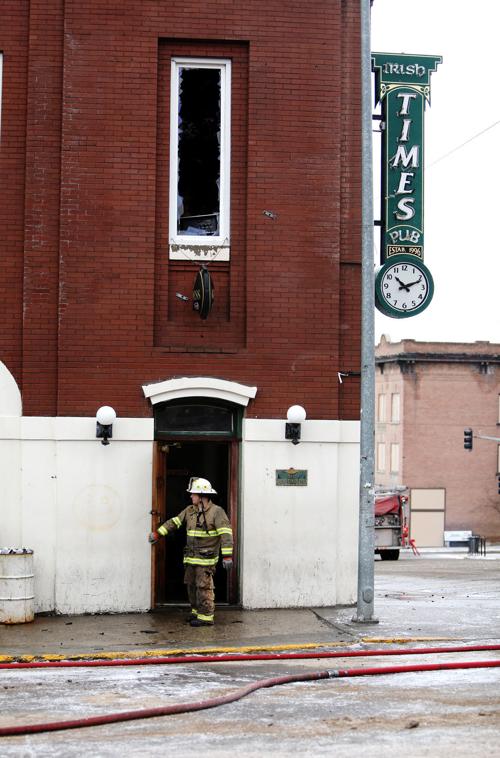 The fire that badly damaged the historic brick building at 2 East Galena Street last month was accidental, caused by an electrical fault involving a portable heater, the Butte-Silver Bow Fire Department said in a press release Wednesday issued by Brian Doherty, assistant chief/fire marshal.
The building, constructed in 1922 to house the Butte Daily Post newspaper, was the home to three bars — the Irish Times Bar, the Post Bar, and the Muddy Creek Brewery.
The Fire Department's report said that the blaze started in a storage room on the second floor that separated the Post Bar from the Muddy Creek Brewery.
That area stored an ice maker, microwave, refrigerator and a portable heater behind the ice maker, used to keep the ice machine from freezing up as it apparently had done in the past.
You have free articles remaining.
Fire investigators found a burned electrical cord with the plug melted, a burned-up portable heater and a burned power strip with several melted plugs still attached.
Each of the appliances should have been plugged into wall outlets, which still may have overloaded the available circuits, according to the report.
The report concludes that the fire was started by "an electrical incident just east of the ice maker" and adds that it is "difficult to eliminate" the burned-up power strip as the likely cause of the incident.
The report notes that "exterior damages include total roof collapse into the second story of the building" and that damages to the interior of the structure "are extensive," including water and smoke damage to the entire interior.
The multi-agency investigation was conducted by the Butte-Silver Bow Fire Marshal's Office, the State Fire Marshal's Office, with assistance from the federal Bureau of Alcohol, Tobacco, Firearms and Explosives.