Twenty movers and shakers from communities throughout southwest Montana were honored Monday to commemorate their inclusion in this year's Montana Standard 20 Under 40 publication, an annual listing of people under 40 who have made strides in business, civics and other spheres.
Here are the honorees in The Montana Standard's second annual 20 under 40 awards. More than 50 nominations from the public were received, and …
Individuals included in the publication, now in its second year, are nominated by members of their communities. This year The Standard received more than 50 nominations.
On Monday, more than 200 people gathered in the large ballroom at the Clarion Inn Copper King Hotel & Convention Center to acknowledge this year's winners during a luncheon, co-hosted by the Butte Young Professionals club, the Butte Chamber of Commerce and The Standard.
Standard Advertising Director Jenean Kujawa gave opening remarks, while Pam Haxby-Cote — former executive director of the Butte Local Development Corp. and current commerce chief for the state of Montana — gave the keynote address.
Haxby-Cote called the young leaders in the room "the blueprint for southwest Montana's future."
"The 20 Under 40 awards are for individuals considered to be (the) most influential young leaders," said Haxby-Cote. "So you're kind of a big deal."
Haxby-Cote went on to discuss the notion of influence, describing influence as a state steeped in ethics and noting that the ability to influence others comes with responsibility.
She described influence as the ability to affect a person's character, development or behavior — but what it isn't, she said, is manipulation or coercion.
Influence, she continued, is based on trust, the ability to make commitments and also on the capacity to recognize others.
"No one is successful on their own. Someone always contributes," she said.
She concluded by expressing gratitude toward honorees.
"I hope you are as proud of yourselves as I am of you. You are the future and we're in good hands. You've chosen to lead. You're the person others choose to follow. You provide a vision for the future. You provide inspiration. You make others feel important and appreciated. You live your values. You behave ethically. You seek continual improvement. You provide opportunities to grow both personally and professionally. You care and you act with compassion. You are being true to yourselves. You are using your influence to help people."
Standard editor David McCumber handed out the awards, telling audience members that the annual publication has been "an excellent way for us at The Montana Standard to build new relationships and strengthen some existing ones with the young people who are both the present and the future of Butte, Anaconda and all of southwest Montana."
Winners of the 20 Under 40 awards ran the gamut from small business owners and non-profit organizers to young professionals and government leaders.
Christine Martin, an artist and also the curator and building director at the Clark Chateau, was one of this year's winners.
"I had heard about the awards the year before and really admired a lot of those names on the list," said Martin, adding that she was honored to be nominated this year.
Jackie Freeman, artistic director at Butte's Orphan Girl Children's Theatre, said winning the award made her feel as though the Orphan Girl was being recognized in addition to her own achievements.
"It's really exciting that the community is recognizing that we're making an impact," she said.
Jennifer Plute, real-estate agent and entrepreneur, was also honored Monday, and she said that recognizing the achievements of young people is important because economic development depends on future generations. She noted that many of this year's winners have chosen to grow roots in the Mining City, have purchased homes and started families.
"That's what's going to keep revitalizing Butte," she said.
Dean Bentley right at home as NorthWestern Energy labor relations analyst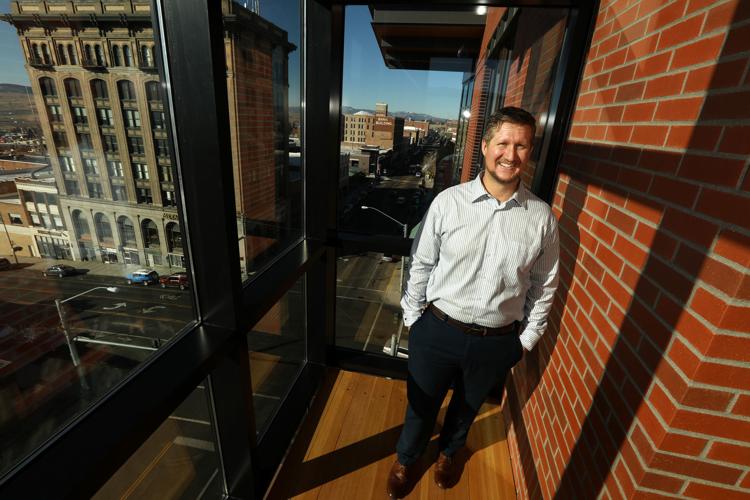 When Dean Bentley started work five years ago at NorthWestern Energy as a labor relations analyst, it felt like coming home.
Of course, he was home. That was the idea.
Dean and his wife Marissa are both Butte natives. They started dating as seniors in high school and when it came time for college, they both wanted to stay at home.
"My Mom told me I could go to college wherever I wanted, as long as it was in Butte," Bentley says with a smile, and that was just fine with him. Both Dean and Marissa have Montana Tech degrees in business information technology with a management option, and Marissa also finished her accounting option.
There's another reason the job feels so right. Bentley is part of a two-person team responsible for the company's relationships with its craft employees, represented by several unions, including the International Brotherhood of Electrical Workers, the United Association of Journeymen and Apprentices of the Plumbing and Pipe Fitting Industry, the International Brotherhood of Teamsters, the Operating Engineers Union, and others.
He grew up in his family's third-generation business, Bentley Construction Company, founded by his grandfather, which he said has always been a union contracting company.
"I grew up with respect for unions and the hard work of craft workers," he said. "I know that it comes down to relationships, and our overall goal is maintaining our good relationship with our employees."
Bentley is thrilled to be working for the utility. "It's an awesome company to be a part of," he says. "The company cares about the safety and well-being of its employees and its customers, and it cares about Butte."
Bentley has maintained very close ties with Montana Tech, serving soon after his graduation on the Alumni Association's governing board, and eventually on the Montana Tech Foundation board, of which he is past president. Also, he and Marissa started a local Tech alumni association chapter, and they have organized football-game tailgating to raise funds for a scholarship for a Butte student.
Meanwhile Dean has also served on the state Workforce Innovation Board, and then was asked to chair the state Apprenticeship Council, working to connect industry, apprenticeship options and prospective craft workers.
"I guess you could call those extracurricular," he says with a smile.
One other thing: He's just 32. He's looking forward to many more years of a bright career. 
Joe Willauer loves angling for Butte's economic development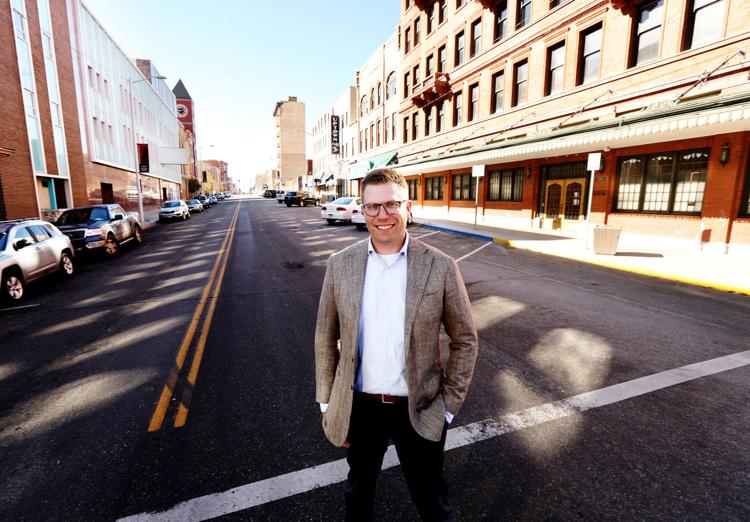 Joe Willauer is a fisherman to the roots of his soul. And that's a pretty good passion for a southwest Montana economic development leader to have.
The Washington state native who succeeded Pam Haxby-Cote as the executive director of the Butte Local Development Corp. and Headwaters RC&D has quickly developed a reputation for bold and innovative thinking, an ability to bring people together and an unquenchable belief that success lies just around the next bend in the river.
Willauer has taken several steps to market Butte's attractiveness to young people looking for a great place to raise a family. He points out that the very things that attracted him to southwest Montana make it attractive to many young people — including reasonable housing prices and access to a wide variety of world-class outdoor recreation.
One of his initiatives is Basecamp Butte, which is a web site — and a philosophy — designed to promote Butte's location as a perfect jumping-off point for fishing, hiking, biking, skiing, birding, hunting, camping and more.
Willauer also loves what Butte has to offer in terms of an urban environment in the middle of all that.
"I've been all over the West," he says, "and as an urban environment in the middle of great outdoor opportunities, nothing touches Uptown Butte." 
Willauer is very proud of his staff at BLDC and Headwaters. "The energy is just fantastic," he says. "They tend to go out and bite off more than they can chew, and then go chew it."
But the longtime fishing guide with a master's degree in urban and regional planning wants to make sure the economic development that Butte needs happens in just the right way.
"We're going to get the growth," he says. "But we want good steady, controllable growth. That's better than rapid, less controllable growth."
Willauer said the team approach in Butte is producing a feeling of progress and optimism. His organizations, he says, are working hand in hand with Butte-Silver Bow, the state and the private sector to make things happen. He also credits Haxby-Cote for "so much mentorship and leadership."
BLDC, he says, works with existing Butte businesses to help retain them and help them expand. But his angler's instincts kick in when he talks about landing that big fish — a significant new employer.
"As a fishing guide, the mindset is you have to fill the net," he says. "And we have a lot of nice fish in the net here already.
"But when the big one comes along, you have to be ready to set the hook."
Julia Crain's passion for her hometown inspires role as urban planner in Butte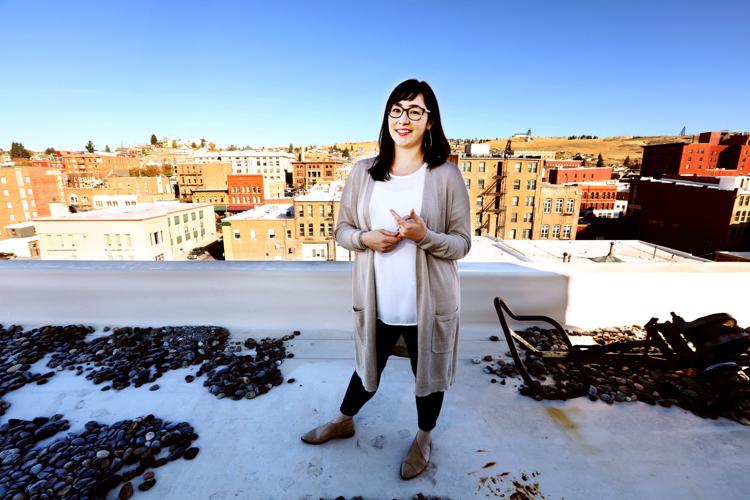 In her much younger days, Julia Crain thought she would be a lawyer.
Her interests and school work took her in a different direction, so after getting a bachelor's degree in public affairs at Seattle University, she pursued a master's degree in urban and regional planning at Portland State University.
For some time then, she thought she would put her masters to work in a big city — maybe Portland, maybe Seattle — and perhaps return someday to Butte.
But while gravitating toward courses focused on communities and neighborhoods, she found herself writing about places back home like Centerville and Chinatown. And it hit her.
"I realized that not only did I want to be an urban planner, but the place I wanted to be an urban planner was here," said Crain, now 34.
In different capacities, she's been doing that for the Butte-Silver Bow Planning Department since 2011.
She's worked on zoning issues, helped enhance open spaces such as the Big Butte, and handled programming aspects of Butte's Superfund process through the Natural Resource Damage Program and other avenues.
Her formal title is special projects planner, which can encompass most anything that enhances the Butte area, including land uses for specific areas and improving the Silver Bow Creek and Blacktail Creek corridors.
When told she can do what most people involved in the complex, technical and acronym-filled world of Superfund cannot do — put things in terms average folks can understand — she downplayed the compliment.
"I have been doing this work now for seven years and through that experience, I talk to a lot of people and I'm able to listen to them and maybe understand where some of the miscommunication is," Crain said.
Among other things, she's currently helping redesign the web page for PitWatch, an organization that educates Butte residents, students and visitors about the Berkeley Pit and related issues.
A few years ago, Crain helped jump-start Butte Elevated, a coordinated campaign to market and promote Butte as a unique place with the "perfect balance of small-town charm and big-city feel."
No matter what the cause, Crain is passionate about Butte. It runs in the family.
Her grandfather was a miner here, her father a boilermaker and her mother, Ellen, is director of the Butte-Silver Bow Archives. Julia will pass all that on to her 22-month-old daughter, Thea.
"I love what Butte has contributed to me, given me in my life," she said. "I love that there is a place like Butte where you can be at home … and take all of the little bits of gold you have in yourself — and it's not just me, but everyone — and make it a better place."
Chateau curator Christine Martin donates her time to mentor Butte kids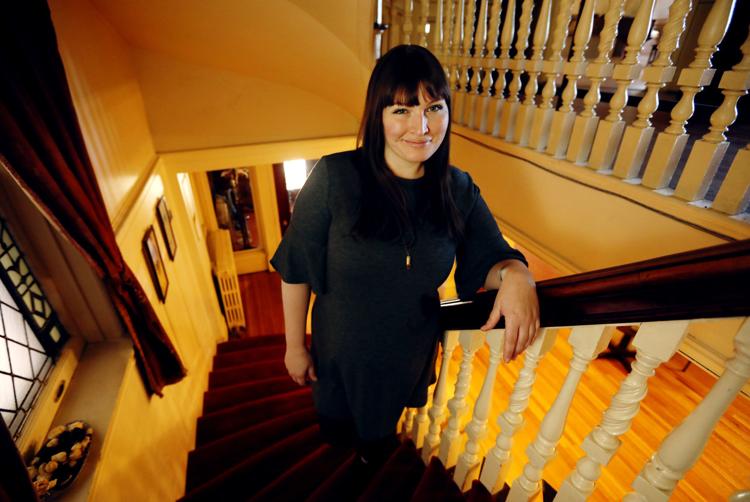 The environment is very much on 34-year-old Christine Martin's mind.
The Pittsburgh native very intentionally moved to Butte five years ago because its gritty, industrial feel and working-class ethos remind her of her eastern hometown roots.
It's also a town that inspires the environmental-minded artist.
Martin cites Rachel Carson's 1962 book "Silent Spring" as inspiration for her painting and print-making, which is relentlessly fixated on birds. "Silent Spring" is frequently pointed to by critics as a book that woke up the nation to the repercussions of crop-dusting pesticides.
In addition to keeping her eye to the sky looking for feathered friends to paint or draw, Martin is the curator and building director at the Historic Clark Chateau. She replaced Callison Stratton last year after Stratton relocated to her native New York City.
Martin has overseen five exhibitions and 38 public programs at the Chateau over the last year and keeps the Chateau accessible to the couple thousand people who have toured the 1898 house built by William Clark for his son.
Through the Root and the Bloom, a nonprofit organization that operates the Chateau for the county, Martin volunteers her time by working with kids. She traveled with five Butte High School teens over the summer to New York City where the children spent 10 days visiting a wealth of museums while researching their own projects themed with water and the environment.
The kids presented their work at the Chateau in August.
Besides documenting the environment through chiseling out bird feathers on canvas and other media, Martin's other passion is youth programming. She has expanded the Root and the Bloom's outreach to kids by enhancing the nonprofit's internship program for high school teens with an after-school arts program. Kids aged 5 to 11 learn not just how to draw and paint but they get art history lessons built into the lesson.
An upcoming class on printmaking will involve a history presentation on the work of Spanish painter Pablo Picasso who began the artistic movement called Cubism.
Martin says a health survey recently filled out by Butte High School students overwhelmingly named the Chateau as a place where kids in Butte feel both welcome and safe.
Martin should know how mentoring youth can shape the next generation.
"I like focusing on birds because I went bird watching with my grandma as a kid," she said.
Jackie Freeman uses theater to give back to the Butte community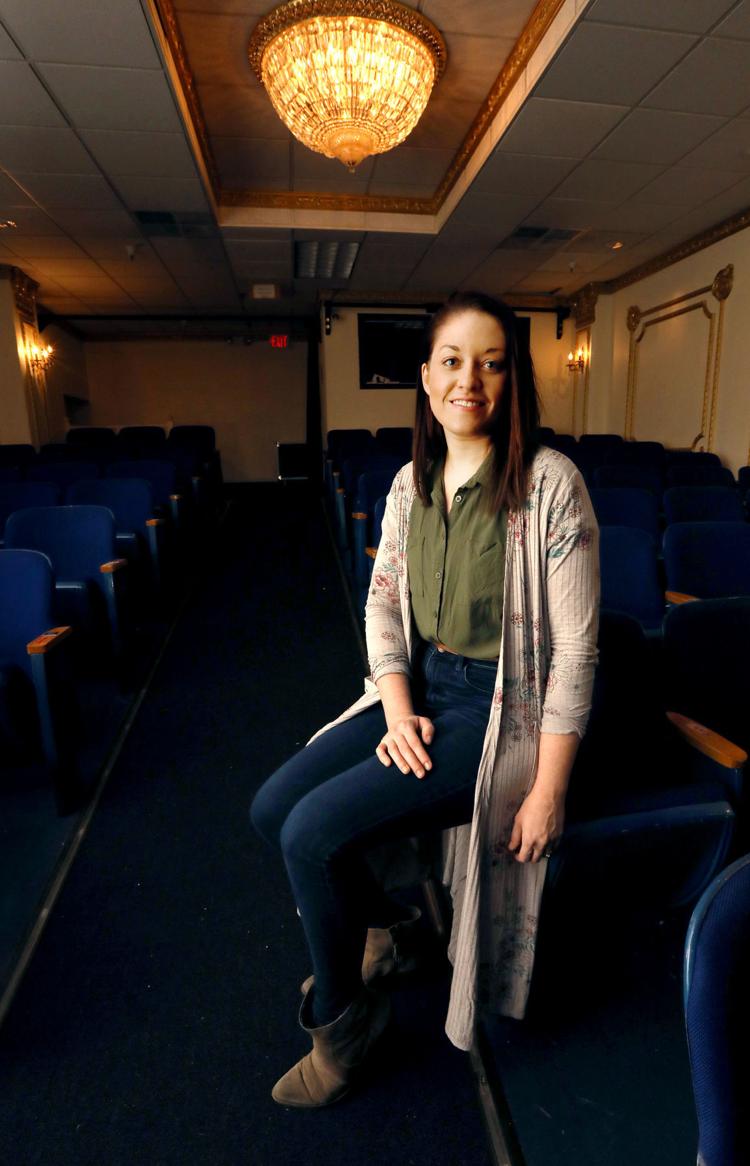 When it comes to 31-year-old Jackie Freeman's vision, she thinks big —whether she's planning her own wedding or an Orphan Girl Children's Theatre show.
Freeman's biggest production to date at Orphan Girl was a play called "The Emperor's New Clothes" that she and partner Elizabeth Mangham Crase wrote last year. It featured 68 of Butte's children on the stage last spring.
Freeman's wedding next year to Riley Vetter, 34, will have 300 guests.
Freeman says she's been in theater for 26 of her 31 years. That experience comes in handy for the actress turned children's theater artistic director because she constantly juggles putting on large productions involving 1,200 kids throughout the year, while also raising around $75,000 annually and overseeing close to 70 volunteers.
She also offers theater classes to Butte's youth. A class this fall enables 9- to 17-year-olds the chance to read serious plays written in the 1800s. Such classes enhance the children's education because Freeman engages the students in discussions on the language, history and society's ills of the period, all while having fun.
When Freeman isn't fixing a kid's stage makeup or picking out props or handling a theater emergency or passing out a donation bucket during a show's intermission, or planning her 2019 wedding, she uses adult theater through the nonprofit The Root and the Bloom as a way to give back just a little bit more to the community.
Freeman starred in two very challenging performances at the Historic Clark Chateau this year. She played a sexually abused daughter in "Five Kinds of Silence," by English playwright Shelagh Stephenson last spring. That weekend performance was a benefit for Safe Space, a nonprofit that helps victims of domestic and sexual abuse.
"That was a tough character to play," Freeman said of her role. "I didn't get much sleep."
Freeman believes in taking on such roles because, she says, such plays "start a conversation about tough topics."
Freeman didn't stop there. She volunteered again to act earlier this fall in another emotionally charged role in "Gruesome Playground Injuries," by up-and-coming American playwright Rajiv Joseph. Freeman took on the role of a character who starts as an 8-year-old abused kid who turns into a self-cutting teen to morph into a challenged woman struggling with adult relationships.
That production was intended to raise awareness during Suicide Awareness Month.
But most of the time, Freeman can be found in the basement children's theater on S. Washington Street in a sea of children's costumes and play props channeling a lot of kid energy into productive, focused activity.
"Our objective is to build confidence. That will carry these kids through no matter what they do later on," Freeman said.      
Desire to make a difference fuels Mandi Kambic's success with Butte's Big Brothers Big Sisters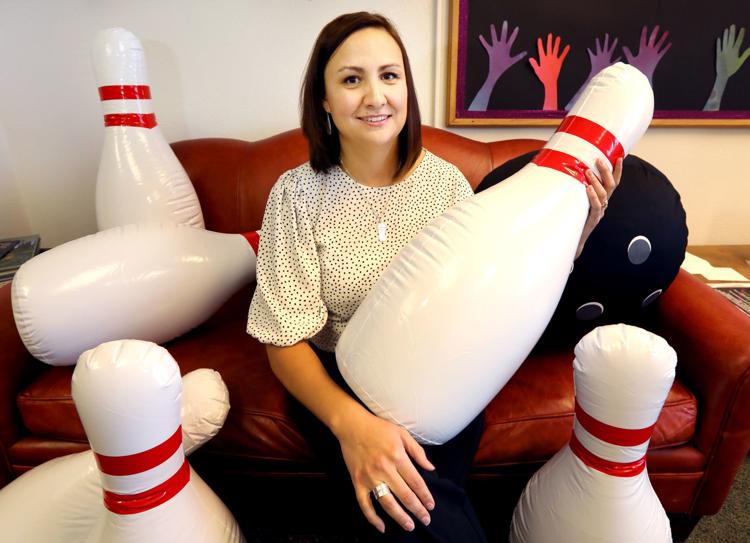 Mandi Kambic always knew she wanted to make a difference.
That's why the Melrose native worked as a child and family specialist at AWARE Inc. for eight years, and it's why she's now the executive director for Butte's Big Brothers Big Sisters.
"After eight years, I decided it was time for a change," Kambic said. "I still wanted to help kids, so I applied to work with Big Brothers Big Sisters."
Three years ago, Kambic, 37, said her sister recommended her for the job. Since then, she and the office have experienced a lot of change.
Her first year, Kambic came in with all-new staff and focused her efforts on learning all about the program through other offices across the state. Her second year, the office successfully passed its onsite audit. Over the past six months, she's been working to implement a national re-brand targeted at bringing older kids into the program.
"I am so excited about our re-brand because it's about empowering all kids," Kambic said. "Everyone we serve has potential, which we help them reach and protect."
According to Kambic, the Butte office has been around for 50 years and was the first Big Brothers Big Sisters program in the state. Last year, there were 160 pairings through both the school-based and community programs.
"I wanted to be a part of this program because of the number of children our organization impacts," Kambic said. "That impact lasts a lifetime."
Outside of Big Brothers Big Sisters, Kambic is involved with one of Butte's Toastmasters groups, which meets every Tuesday to practice public speaking. Kambic said this helps her and other community members better communicate, and teaches her how to be a better leader. 
While Kambic and her coworkers give back to the community through Big Brothers Big Sisters and beyond, they also rely heavily on community support. All of the "big" mentors are volunteers, Kambic said, and the program gets most of its financial support through community fundraisers, like its November Bowl for Kids' Sake event and traditional dinner auction in March.
"We are all about serving the community," Kambic said.
Dan Villa: 'No partisan label' on getting things done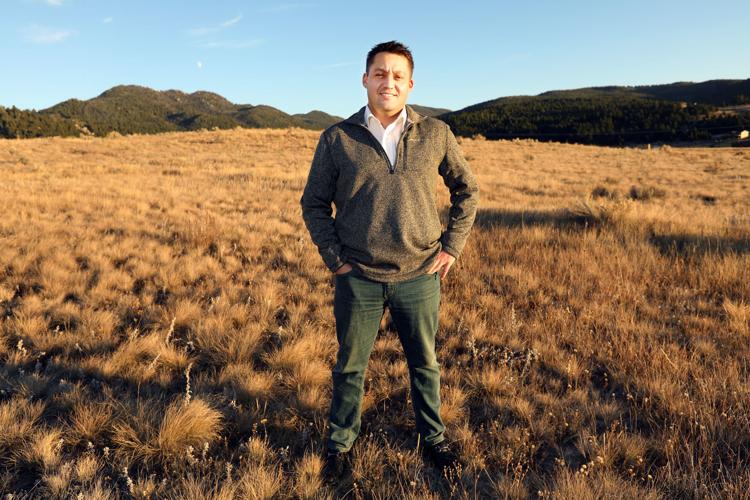 Dan Villa was 21 and still going to college when he was debating bills and taking stands with 99 others in the Montana House of Representatives.
The Anaconda native has since served as Gov. Brian Schweitzer's education adviser and directed Montana's budget for Schweitzer and his successor, Gov. Steve Bullock. And he now oversees nearly $15 billion in state investments.
He's been a trustee on the Anaconda School Board, chaired the Deer Lodge County Planning Board, served on the Montana School Boards Association and handled government relations for the Montana Elks organization.
There's more, too, and he's just 35.
He got some "what does this kid know" grief from a few lawmakers when he first joined their ranks in 2004, but it quickly faded and hasn't really surfaced again since. Ages are often just numbers on paper.
"Credentials are one thing and experience is another, but the ability to be solutions-oriented and be smart and wise enough to implement solutions is really what counts," Villa said.
He looks at those who work under him the same way.
"I don't care what the piece of paper on the wall says. I want to know what you are capable of," he said.
Villa is an Anaconda native who has commuted to and from Helena for years, often staying in the capital city for days at a time when the Legislature was in session.
He and his wife, Brandie, moved to Butte with their two children — 12-year-old Reese and 6-year-old Dane — in February to carve out more family time. Brandie is an accountant at Butte-based Community Counseling and Correctional Services.
"I live off Continental so I can just hop on it and the interstate to Helena," Villa said.
Villa became Schweitzer's education adviser in 2009 and was named budget director in 2011. Bullock stuck with Villa after winning his first term in 2012 and he held the post until Oct. 1, when he became executive director of the Montana Board of Investments. 
The budget director not only oversees the state's cash flow, he or she also plays huge roles in crafting two-year budgets that are proposed to legislators and negotiating final deals.
In good financial times and bad, Villa said he came to understand that there are two types of lawmakers — those who want to be for or against something and those who want to get things done.
Villa is a Democrat but says, "There is no partisan label on who wants to get things done."
As to his civic involvement at the local level, Villa said it runs in the family. As just one example, he said his mother headed the PTA at Fred Moodry Middle School in Anaconda for six years.
"It's part of who the family is," he said.
Butte CrossFit-gym owner Anthony Fields aims to offer 'positive outlets'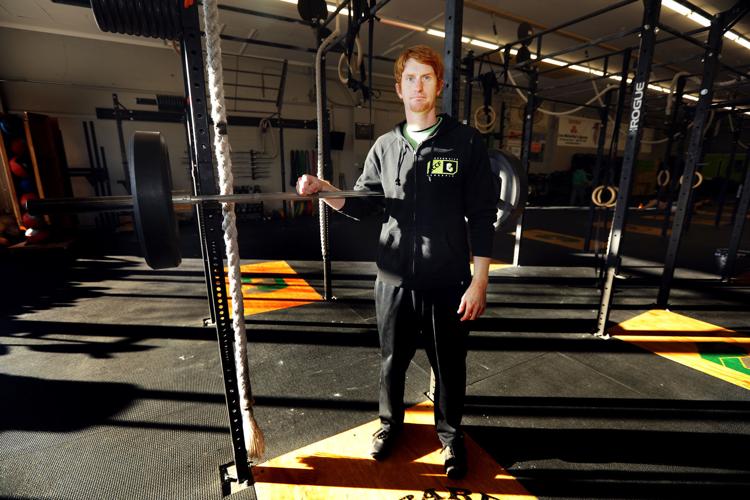 For Anthony Fields, 36, CrossFit started as a hobby. Six years later, he's leading two high-intensity training programs in one Butte building: Copper City CrossFit and the Butte Barbell Club.
Fields said physical fitness has always been important to him. In 2008, he was working for Minuteman Aviation in Missoula and spending several hours every day at the gym.
"I was doing classic body building workouts, and the time I was spending at the gym kept increasing," Fields said. "I was bored. It took forever to get done what I wanted."
Then, one day, Fields saw eight or nine people at his gym doing what he assumed to be CrossFit.
"They were loud, rowdy and seemed to be having a good time while getting a good workout in," Fields said. "So I went home, did some research and realized, wow, this is wildly different."
Fields started doing his own body weight CrossFit-style workouts. He said he was exhausted and spent in way less than an hour, which helped him preserve more time to spend with his wife and kids. Soon after, Fields joined a CrossFit gym in Missoula and got really into it, he said.
"That was the beginning of the end," Fields said, laughing.
In 2011, Fields pitched the idea of opening a CrossFit gym in Butte to his wife, Tara Callaghan. He said she laughed at him at first but that she encouraged him to really look into it when she realized he was serious. After several months of late-night research and business planning, Fields and Callaghan opened Copper City CrossFit on South Montana Street as co-owners.
Over the past six years, Fields said the gym has been dedicated to forging a fit community. Through their CrossFit and barbell programs, they've helped train high-level athletes from 10 to over 60 years old.
"We really pride ourselves in what we do and believe we provide top notch training to all walks of life," Fields said.
Fields said through the gym, he, his colleagues and his athletes have participated in charity workouts, demonstrated CrossFit-style workouts in all of the district schools to get kids active, and created an obstacle course for kids involved with Big Brothers Big Sisters, among other community outreach events. Fields has also been a part of Butte's Snöflinga festival since its inception.
"Providing children as many opportunities to move and be fit is one of our main drivers," Fields said. "Butte, like most other communities, struggles with depression and substance abuse, so we want to help provide as many positive outlets as we can."
'We're there to help': Being a State Farm agent runs in Mike Paffhausen's family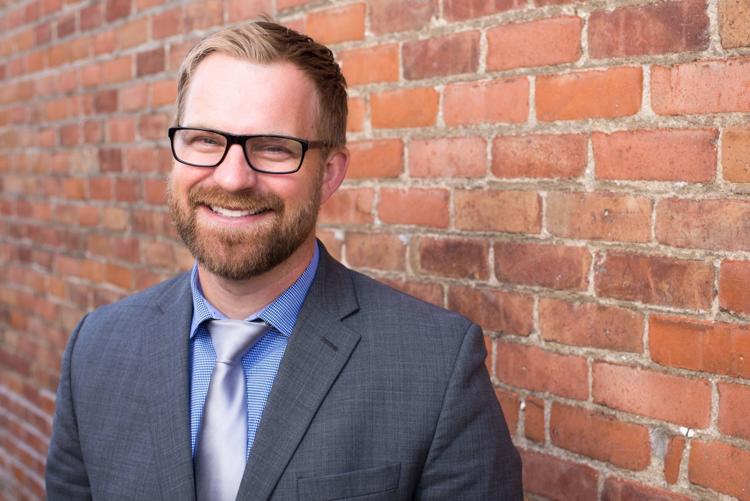 Mike Paffhausen grew up in the State Farm Insurance culture. His dad has been with the agency for about 40 years.
So in 2014, when he decided after six years of civil engineering he wanted to make a change, Paffhausen said he aggressively started pursuing State Farm Insurance.
"I didn't feel like I was doing my life's work," Paffhausen, 32, said. "And like most sons, I wanted to be like my father."
Although Paffhausen grew up in Bozeman, he said most of his family, including his mom and dad, are Butte natives. In March 2015, he opened the doors of his State Farm Insurance agency, one of three in Butte. Since then, he has helped provide various insurance-based educational opportunities to better inform the community.
"Insurance is an interesting field. A lot of people look at it as a monotonous chore, like changing the oil in your car. But we don't," Paffhausen said. "As a company and agents, we prepare to show up in the absolute worst moments of life. When people are at their worst, we serve them at their best."
As part of this service, Paffhausen teaches a first-time homebuyers' class through the Headwaters RC&D program, the insurance portion of driver's education and financial literacy courses at his church.
Outside of his business, the former Carroll College football player coaches his daughter's soccer team, his son's baseball team and used to coach football for Butte Central High School. He's also been on the Chamber of Commerce board for three years.
"Helping children love the world of sports, like I do, is also something I am passionate about," Paffhausen said, "and something Butte fiercely aligns with." 
Paffhausen is also the president of the southwest Montana sector of the National Association of Insurance and Financial Advisors, the founder of Butte's only business network group and has been a guest lectern at both Anaconda High School and Montana Tech finance-related classes.
"I just want people to know we're there to help," Paffhausen said, referring to himself and the three other full-time agents in his office. "The more we know and understand our clients, the more positive impacts we can have on their lives."
Art teacher River Newman takes a can-do mentality to elevating young people in Butte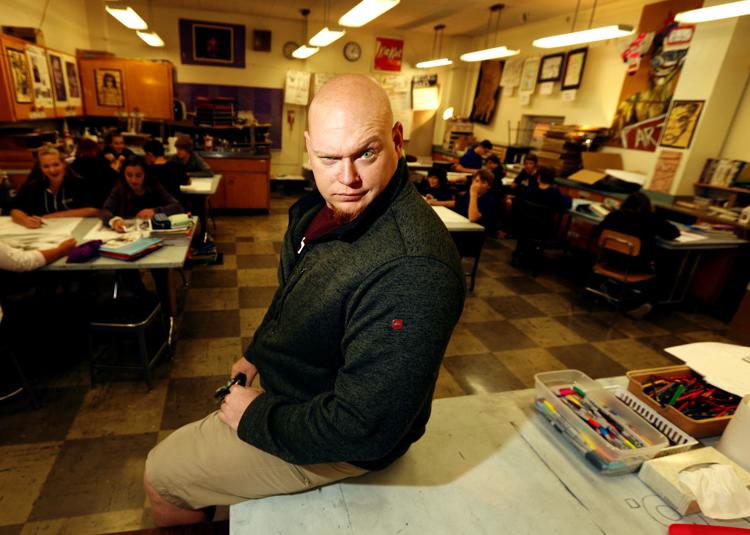 For River Newman, 30, art is more than just an outlet — it's a way to elevate the entire community.
To reach those new heights, the East Middle School art teacher said he pushes his students beyond their limits.
"The tenet of how I teach art is you have to be competitive, confident and do something no one else has ever done before," Newman said. "I want my students to change the world every time they pick up a pencil."
Newman grew up in Elliston, but much of the rest of his family is from Butte (one of his brothers is former District Court Judge Brad Newman). Newman started with Butte School District No. 1 in 2014 as a traveling elementary art teacher, then moved to the middle school in 2017.
"Art is the only thing in school that uses the whole brain. It requires you to both think and feel on parallel lines," Newman said. "That's why if we make art the best, we will have the best schools."
Although Newman is very passionate about teaching art, he didn't want to teach it at first. When he started school at the University of Montana Western, the walk-on football player wanted to be a physical education and shop teacher. Then in 2007 after taking a glass-blowing class, he switched his major to art education.
In a local coffee shop, Newman reminisced about the art program at Western while he was there. 
"If you weren't in the studio until 4 a.m. working, you weren't buying into the program," Newman said. "If you weren't doing something to shock your professors and peers, you weren't trying hard enough."
After graduation, Rivers thought he wanted to be a professional glass blower, living out of a van in Seattle until he "had the misfortune of meeting Mike Kujawa," Butte High School's art teacher.
"I saw what he was doing and decided that if I wanted to be the best, I needed to go where the best things were happening. And that was in Butte," Rivers said. 
Newman uses the can-do mentality his college mentors taught him to teach his students. More importantly, Newman said his students and colleagues use this can-do mentality to give back to the community.
For five years, Newman has helped make bowls for Empty Bowls, an annual dinner event in Butte that supports the Butte Emergency Food Bank's backpack program. He's also expanded East's annual community art show, which featured about 300 student pieces last year, and he is adamant about after-school art clubs in the district.
"Butte is a town with a lot of pride and with a lot of issues. If everyone knew what the young people were doing in the classroom, that pride would be tenfold," Newman said. "As an art teacher, I want to take the belief and hope in my classroom to the community."
Anaconda auto-repair shop owner Derek Cook carries on his father's legacy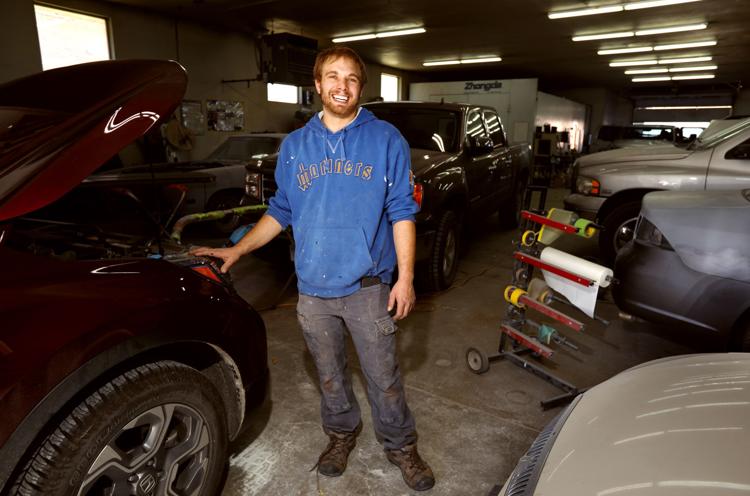 For Derek Cook, operating Cook's Collisions auto repair is a family legacy.
Cook's father Kenny started the business in 1988 at 412 E. Park Ave. in Anaconda, where the shop has provided body-repair, windshield-replacement, paint and restoration services for 30 years.
For Cook, repairing cars has been a way of life, and growing up he could often be found helping his dad out around the shop.
"I was kind of bred into it," said Cook, noting that his love for auto repair and refurbishing classic cars runs deep.
Cook always thought he would one day take over the family business, but that day came sooner than the 28-year-old anticipated.
On Oct. 14, 2014, Cook's father Kenny died unexpectedly at age 52.
"Nobody had seen it coming," Cook said, describing how his father's death shocked everyone who knew him as Kenny had seemed to be in good health.
Cook was working for the Port of Montana at the time. But when his father died, Cook dropped everything and took over the responsibility of running his father's business.
"I decided to come back," Cook said. "I didn't want to see anyone else running it."
This summer Cook and other members of his family honored Kenny's memory by helping to organize the First Annual Kenny Cook Memorial Scholarship Car Show.
According to Helena resident Stacey Smith — Cook's aunt, who nominated the 28-year-old for 20 Under 40 — the scholarship is the brainchild of Kenny's best friend Jim Bellandi, who envisioned a scholarship in Kenny's name that would go to a student studying in the trades.
Bellandi put on the car show for the first time this summer. Smith said the event attracted over 90 participants and raised about $3,000 for the scholarship fund. Cook and other family members volunteered to help run the show, and Cook even submitted an entry in the form of a refurbished GTO.
Smith said she nominated Cook for 20 Under 40 because of his character and his ability to move forward during hard times.
"He's hardworking. He's honest," she said. "He would give you the shirt off his back if he could."
As for Cook, he said taking over Cook's Collisions is a way to keep his father's legacy going.
"I feel close to my dad here," he said.
Smelter City Brewing owner Luke Carlson aims to brew more than beer in the Smelter City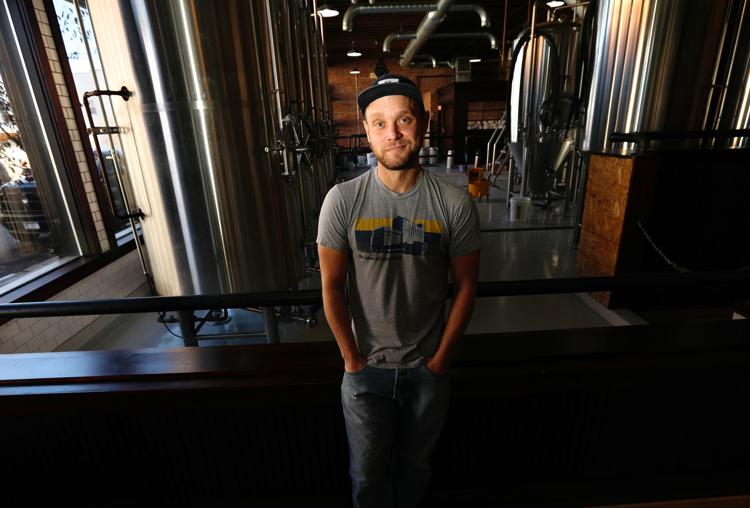 Anaconda resident and brewery owner Luke Carlson is all about the big idea.
A few years ago, a light bulb went off in Carlson's head when he purchased Anaconda's historic Electric Light Building at 101 Main St.
His vision: turn one of Anaconda's architectural gems into a brewery — one that would not just be a watering hole for locals but could also serve as a family-friendly gathering place.
Built in 1895, the Electric Light Building once housed several departments of the Anaconda Co. and received its moniker after the company fashioned a row of lights on the building's exterior, advertising the Smelter City as one of the first electrified towns in the state of Montana.
But flash forward to the year 2014, when Carlson purchased the building, and the once iconic structure had fallen into disrepair, having gone through several owners and architectural fads until eventually sitting vacant for years with a for-sale sign out front.
The building would arguably pose a challenge for even the most experienced developer. But slowly over the years, Carlson, also a carpenter who restores historic homes, toiled away in the building, tearing down walls and plaster, refurbishing old woodwork and peeling away years of alterations, among many more improvements.
Smelter City Brewing opened for business in July 2017 and since then the business has been a draw not only for Anaconda residents but also for tourists and residents of neighboring communities.
In addition to beer, the brewery has an art gallery that has regular exhibits. The gallery is run by Carlson's mother, Kathy Carlson. Kathy, along with Carlson's dad Gary, also have a stake in the business.
Carlson, meanwhile, has more ideas in the works.
He's purchased the neighboring lot to the south on Main Street — the former KANA 580 AM radio station that was destroyed by arson in 2017 — where he's installing an outdoor beer garden that's set to open in the spring. There he has a vision that includes vines of climbing hops, outdoor seating and possibly a mural, though he'll have to jump through a few hoops with the county for the latter item.
The 38-year-old has also purchased a food truck that he hopes to operate on site as a separate business.
Having a successful business is a reward in itself, but Carlson said his greatest point of pride is being able to serve Anaconda.
"It's really nice to be able to create jobs and I hope that if we ever decide to expand that's going to be a big part — not so much pushing our beer but creating more jobs for the community," said Carlson.
Real-estate agent Jennifer Plute helps Butte residents find a place to call home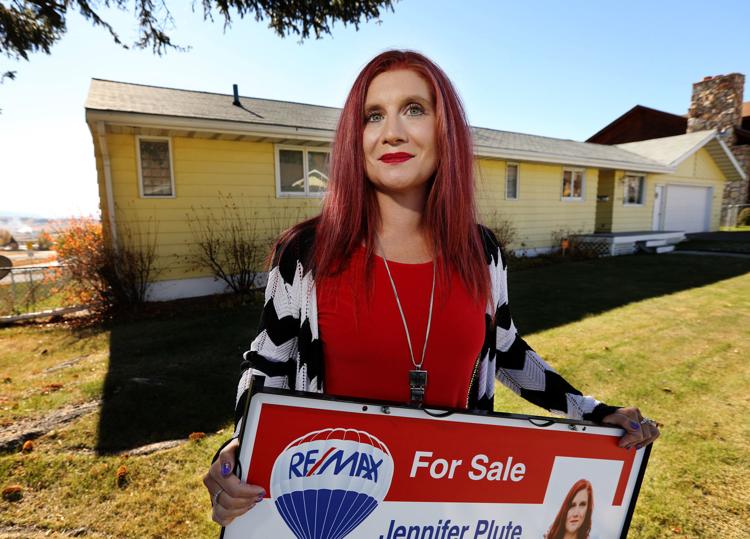 Butte real-estate agent Jennifer Plute helps people achieve what for many is a lifelong ambition: owning a home.
Hailing from Missoula, Plute hit the Butte scene in 1997, when she moved to the Mining City with her husband Corey.
Since arriving in Butte, the two have delved into various entrepreneurial enterprises. They purchased Munchkins, a retail store catering to children, in 2008 and later started Bounce Off The Wallz, an indoor family entertainment center. Plute and Corey eventually consolidated the two enterprises into just the family-entertainment business. They sold that business, Off The Wallz at 2005 Farragut Ave., in September.
In addition to being an entrepreneur, Plute has 6 years of experience in the real-estate industry.
She's an agent with Re/Max Premier of Butte and says that the freedom the job affords is a definite perk.
"I love the flexibility that comes with it," said Plute, noting that each day on the job is different.
Working in real-estate can sometimes be a lot of work, but Plute says it's a career with many rewards.
One of those rewards is helping Butte residents find a place to call home.
"Owning a house is still the American dream," said Plute, noting that, despite changing cultural trends, homeownership is something people continue to strive for. "It's so rewarding to help someone with that journey," she added.
Plute is a mother of two and, in addition to her volunteer activities through Re/Max, she can often be found volunteering at her children's schools, Hillcrest Elementary School and East Middle School.
For instance, she volunteers as a coach for Butte's Battle of the Books program for schools, which is sponsored by the Butte-Silver Bow Public Library.
Battle of the Books is a nationwide reading-incentive program that involves teams of students reading around five or six books. Teams then compete to see which team can answer the most questions about the books. Winning teams can go on to compete in regional and statewide competitions.
Plute also volunteers during language-arts classes so that students can have a one-on-one reading session with an adult.
Literacy has been an important issue for Plute.
As a child, her parents had an extensive collection of books and the family took weekly trips to the library. Those experiences instilled a lifelong love for reading for Plute, something that she hopes to pass down to her children.
Plute said she's honored to have been nominated for the 20 Under 40 distinction, adding that the Mining City has welcomed her with opened arms.
"I enjoy living here and working here and owning businesses here," she said.
St. James' Kacie Bartholomew helps families in times of need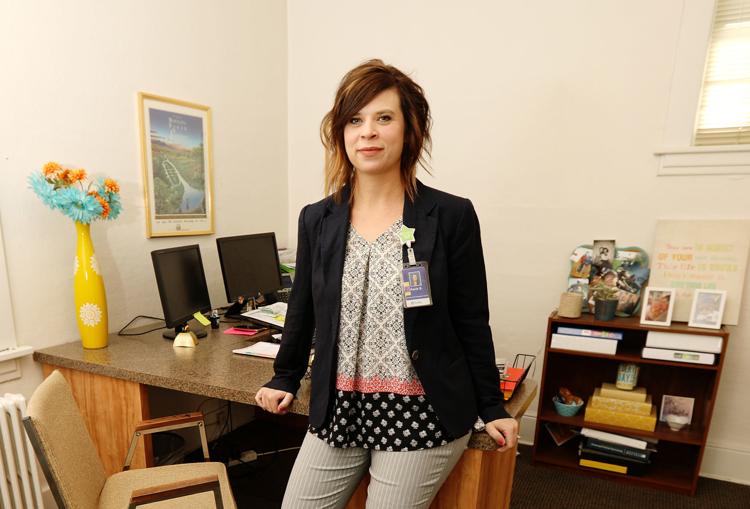 Kacie Bartholomew is touching lives.
As an events and development coordinator for the St. James Healthcare Foundation, Bartholomew, 37, not only manages events and campaigns for St. James but is also responsible for overseeing the foundation's funds, including those that help patients and staff in times of need.
One of those funds is the Patient Compassion Fund.
Bartholomew said she works with a team of social workers to administer the fund, which helps patients and families with things like travel expenses, co-pay, lodging and a whole lot more.
Bartholomew explained that a medical emergency can be a trying time in a person's life and often catches families off guard, resulting in unexpected expenses. The fund, therefore, is intended to help those families who need assistance through a sudden crisis.
In addition to the Patient Compassion Fund, Bartholomew helps oversee the Associate in Crisis Fund, which assists St. James employees in times of need.
"It's a fund intended to help our own," said Bartholomew, noting that St. James cares about its staff and works to ensure that employees are cared for.
In addition to their other duties, Bartholomew and her co-worker Michele Steele organize fundraising events each year.
"As the foundation we are the fundraisers," said Bartholomew, who described Steele as a colleague and a friend.
In early October, the duo organized St. James 4th Annual Fall Ball, which raised money for a new-moms support group that's being spearheaded by St. James physician Dr. Laura Twist. Last spring, the two also put on St. James annual Spirit Gala.
The gala, which sported a Mardi Gras theme last spring, drew more than 500 people and helped the foundation raise over $125,000, which went toward renovations and new equipment for the hospital's labor and delivery department.
As a member of the St. James Healthcare Foundation team, Bartholomew helps the hospital identify and fulfill its needs. But perhaps more importantly, she is also tasked with cultivating relationships with the people of Butte by supporting funds and initiatives important for community-wide health.
A Butte native, Bartholomew studied communications at the University of Montana. She went on to work as an event planner for the Las Vegas Convention Center. After marrying a "Butte boy," she returned to the Mining City and applied for her current role at St. James.
"I felt passionately about it and I kind of went for it," said Bartholomew.
Bartholomew said the best part of her job is the people, adding that she feels blessed to have a job where she can make a difference in the lives of others.
Deputy county attorney Patrick Moody gives back to Deer Lodge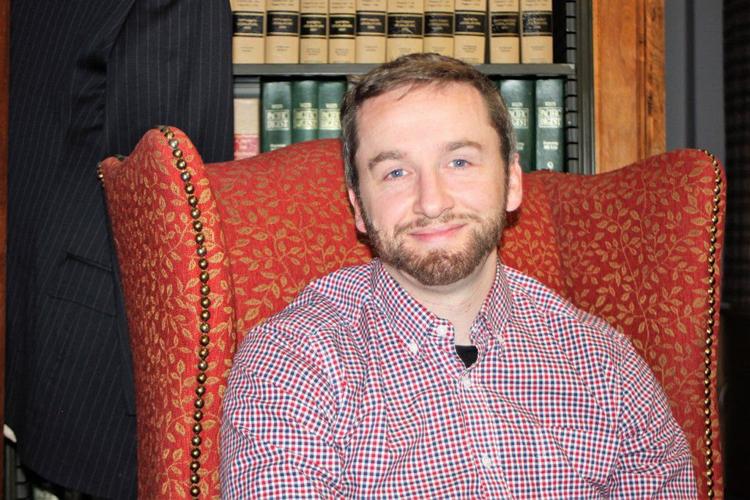 Living in a poor, multicultural community in the Denver area as a child shaped Patrick Moody's perspective on life and justice. For three years the 32-year-old Deputy Powell County Attorney in Deer Lodge has successfully prosecuted criminal cases from Montana State Prison and those originating locally.
Patrick said his childhood experiences in a community with all economic classes and a high school where 54 languages were spoken was one of the better experiences for learning about different people. He grew up working on a ranch during the summers teaching kids how to ride, set up tents and move cattle. He graduated from high school, and while attending college managed a small mountaineering business in the mountains west of Boulder.
Initially Patrick earned a degree in history education but after teaching high school students for six months, he realized teaching was not for him.
A compassionate man who desires justice for all, Patrick enrolled in law school and found it fit his personality trait. He received a Juris Doctorate from the University of Montana Law School in 2014.
While in law school he gained a wealth of experience during internships in New Mexico, Bozeman and Missoula. After graduation Patrick clerked for United States District Court Judge Sam E. Haddon in Helena.
Patrick said, "He is a fantastic judge, and it was a great experience in my life." 
About his current role, he said, "The prison is a unique population of people trying to pay their debt to society, but there are incidents of homicide, assault, staff corruption, and significant conspiracies. As a young attorney this is the best opportunity to challenge myself. I like that."
County Attorney Lewis Smith said, "Patrick has taken charge of whatever I've given him to do, particularly all the prison cases. He isn't afraid to ask questions, and I'm very pleased with his work."
Patrick is active in the community. Smith likes this "because it is important for people to realize that we are real people and not just attorneys."
An outdoorsman, Patrick teaches sports conditioning, strength, and fitness classes at the community gym, and works with the Trail Committee.
He is on a committee of Hotel Deer Lodge Preservation, Inc. working on the historic hotel restoration — a slow process, but with progress being made in the past few months. He also participates in high school career fairs, volunteers at the community garden and community events.
Patrick said, "I don't sit still for long and hate being bored. Three years ago Deer Lodge welcomed me with open arms. I have a lot of close friends and relationships here and love my job."
Dr. Nathaniel Readal works to make healthcare in the Mining City better and more accessible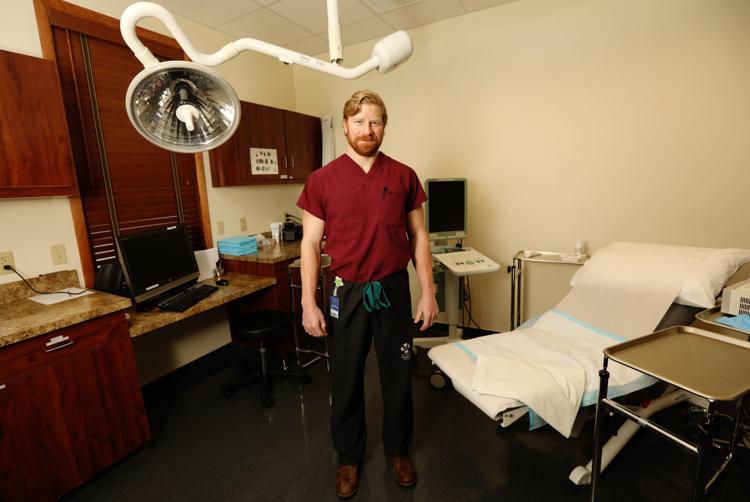 You could say that Nathaniel Readal represents the future of Butte. You could also say he's busy helping to make healthcare in the Mining City better and more accessible.
Readal, a urologist, and his wife Krissy came to Butte a couple of years ago. A western Pennsylvania native from near Pittsburgh, Readal took advantage of his football prowess to attend the renowned Johns Hopkins University in Baltimore, where he completed his pre-med, his medical degree and his residency.
He played fullback for the Blue Jays. While the Division III program did not offer scholarships, "It gave me an enrollment preference" to the prestigious school, Readal said.
When it came time to pick a place to practice, Readal said, he was interested in finding a place in the mountains. After looking at the mountains of West Virginia and Western Pennsylvania, he said, he decided to "go big or go home," and check out the Northern Rockies.
When he found out a urologist was needed in Butte, he visited and the headframes and the mine workings reminded him of Pittsburgh — in a good way — and he immediately developed an affection for the Mining City.
"I think this town is more like a Rust Belt city like Pittsburgh or Cleveland than it is Missoula or Billings," he said. "Right away I liked the people, who are hard-working, blue-collar. They are friendly and welcoming and take you for who you are."
St. James Healthcare, he said, is a great place to practice medicine. "The hospital has been great. The other surgeons, the anesthesia, the nursing care, all of it has given me great confidence to be able to include every aspect of urology in my practice. It's rare to have to send anyone anywhere else. We can take care of 99 percent of the cases."
Readal always loved fishing as a kid, and he has taken to fly-fishing for trout with a passion, becoming involved in the George Grant chapter of Trout Unlimited. His time for volunteering is limited because of his long hours and workload, so "I try to make up for that financially where I can, buying tables at events and such," he says.
He and Krissy are enthusiastically involved in CrossFit, where he says she already possesses "three Montana state weightlifting records."
As a young professional attracted to Butte for its physical features and its outdoor recreation, Readal is a prototypical example of how many expect the town to grow. And after two years, Butte has met all of his expectations. Asked if he expected to stick around long-term, he grinned and said, "That's the plan."
Katie Green: A friend to Stodden Park and all of Butte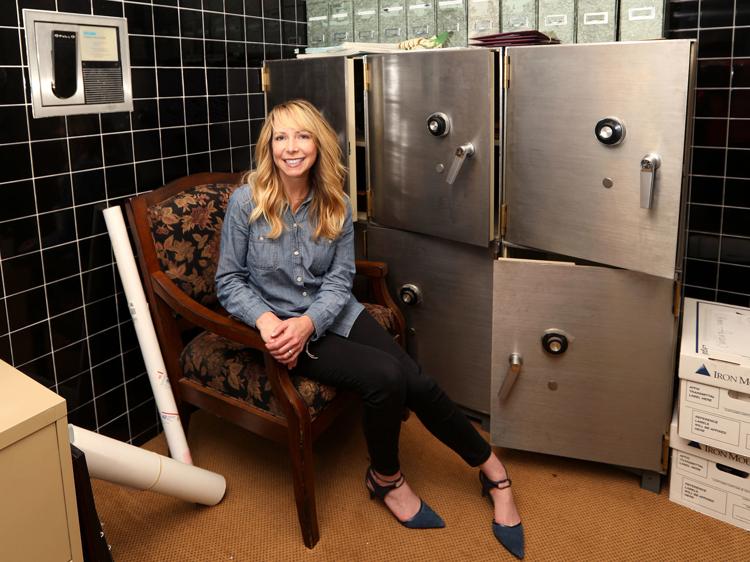 Katie Green was born in Scottsbluff, Nebraska and came to Butte first as the daughter of Bob Green when he started his legacy as football coach at Montana Tech in 1987.
She lives here by choice, now, and her folks never left when her dad stepped down after 24 years at the helm.
"My parents have lived here longer than any other place they have lived," said Katie Green, who is now charting her own professional course here practicing family law for Poore, Roth, and Robinson, P.C.
Green was raised in Butte and one of her middle-school friends — Dan Panisko — is now her husband. They started dating while students at the University of Montana, where Green earned a degree in English literature.
"He doesn't remember us being friends when we were younger," Green said with a laugh.
After graduating from UM, she returned to Nebraska, attending law school at Creighton University in Omaha, then became a public defender in Missoula, defending clients in criminal, juvenile and dependency and neglect cases.
The caseload was challenging, she says, but she loved it and the almost instant and intense courtroom experience she got.
"There were so many experienced attorneys in the office," she said. "We had a good mentoring system."
Green remembers spending time at Butte's public pool at Stodden Park, so when the opportunity came along to push for a new pool, she took it.
She and others rekindled a non-profit group called Friends of Stodden Park to raise money for backing a ballot question and helping defray taxpayer costs for a new pool. They established a Facebook page and raised more than $25,000 on their own to push for passage of a $7.2 million bond issue in June 2016.
With big help from Town Pump, another $1.5 million was raised to go beyond a "plain old pool" that many believed would be the only thing voters would accept.
"Instead of just saying, 'Hey, the footprint of the (old) pool is sitting there, why don't we just revamp Stodden and make it a normal municipal pool,' we said no," Green said.
"We have this opportunity where we could have a waterpark," she said. "It was going to be neat, it was going to be affordable."
The pool opened this past summer and was a huge hit, far surpassing predicted attendance and revenue.
Green and others have kept Friends of Stodden Park going, and they received more than $4,500 in unsolicited donations they used to give pool passes to kids from families with limited incomes.
Now, they're aiming beyond Stodden.
"We are here to promote all recreation and parks," she said. "We want to branch out. We want to involved the biking community, the skiing community, all kinds of recreation. The opportunities are amazing."
Green and Dan have two boys, 9-year-old Eddie and 6-year-old Jack. She also serves on the board overseeing the Mother Lode Theatre and volunteers for the "Third" and Fourth of July festivities in Butte.
Jon and Cassie Wick create ripples of energy with Uptown store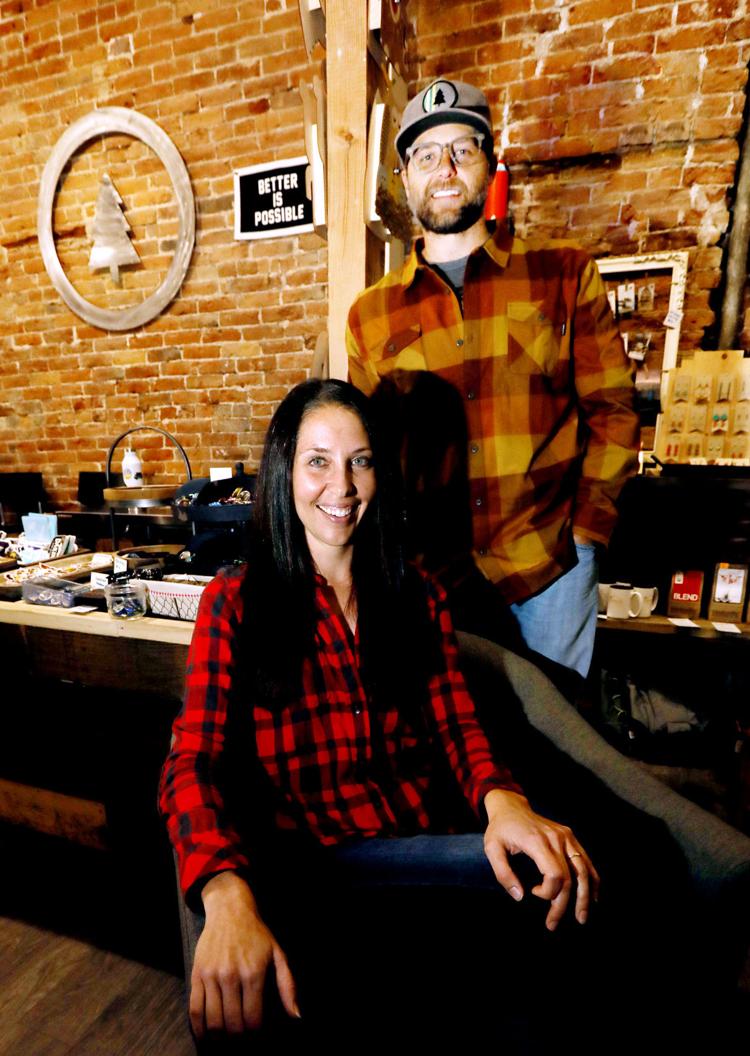 Jon and Cassie Wick's 5518 Designs shop is pretty tiny compared to its across-Main-Street neighbor, NorthWestern Energy. But it's a big energy producer in its own right.
As a source of positive energy about Uptown Butte and outdoor recreation in the area, the unique little shop is unrivaled — and the Wicks themselves are a powerhouse of ideas, optimism and enthusiasm.
The store, which opened two years ago in November, is still being "discovered" by people in Butte. "We get people who live on the Flat who come in and say, 'I didn't know this was here!" Cassie says.
5518 offers the outdoor-recreation-inspired art and designs of Jon Wick on a variety of apparel, accessories and paper products, along with products from other leading outdoor-recreation brands like Dakine, Chaco and Mizu. "We set out to create something fun and fill a space in Uptown Butte," Jon Wick says. "We never anticipated how great the response would be."
The store has created community. It is a gathering-place of sorts. "Such a supportive, cohesive community," Cassie Wick says. "Supportive in a million ways."
Wick's images are vibrant, vivid, colorful, joyful. "It's positive messaging," he says. "It changes the conversation."
The Wisconsin native was teaching fifth grade in Philipsburg when he met Cassie at Georgetown Lake. They've been through a lot — Jon was diagnosed with cancer a few years ago — and they've come through, smiling.
Cassie works as an advocate for people with disabilities at the Montana Independent Living Project. "I meet people where they are and help them reach goals and live independently," she says simply. She loves the job, which she's been doing for nine years. "It's amazing to get paid to help people," she says.
As members of the business community, they take their responsibility to their Butte colleagues very seriously. "We want to live here, and we want to make it better to live here," Jon says.
Jon, who formerly served as executive director of Mariah's Challenge, is still on the board and volunteers for the organization. "It's another one of those great things — how could you not want to be involved?" he says.
Meanwhile, the store is his passion and occupies a great deal of his time. Because of her work, Cassie is there less frequently, but still contributes.
Both of them hope that the store's success will inspire others to start Uptown businesses.
"We're like a pebble on a pond," Cassie says. "We're creating ripples. We may not see them all, but they're there."
Shane Reilly takes the reins of First Citizens Bank of Butte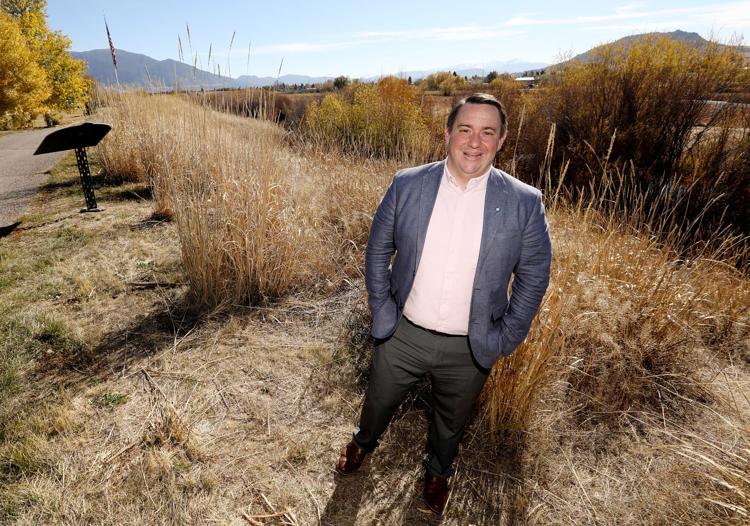 Shane Reilly isn't quite a Butte native, but that doesn't get in the way of his deep passion for the Mining City and its hardworking people.
"I grew up in Butte. Butte is home. And I hope Butte is home forever," Reilly says. "I love it here."
And his passion — and his presence in — Butte is intimately bound up with his other great passion: his work at First Citizens Bank of Butte, where the 36-year-old was named president on Sept. 1. 
"I love being in banking," Reilly says. "I truly do believe it's what I was put on this earth to do."
Reilly moved to the Richest Hill on Earth from Missoula when he was in first grade and when his father, Casey Reilly, bought First Citizens. 
An athlete who participated in football, wrestling and track while attending Butte High School, Reilly went on to play college football at the University of Montana-Western. 
But after five semesters in Dillon, Reilly says he found himself at a "crossroads," trying to decide whether to continue to use his eligibility on the gridiron or to transfer somewhere where he could "have better access to the banking world and pursue that career."
So it was that he made his way to the University of Montana in Missoula. But even there, he says, his ties to Butte were strong, as he lived in a house with six other members of Butte High's Class of 2001. 
While studying business and finance at UM, Reilly says he came to back to Butte on every break to work at his father's bank. 
Though he knew early on that he wanted to be in Butte and at First Citizens, Reilly spent time working for a Wells Fargo branch in Wyoming "to get some different experience."
He also spent two stints in Colorado, where he attended the Graduate School of Banking at the University of Colorado as well as an executive management program. 
But for the past three years, Reilly has been back in Butte, working his way up the ranks at First Citizens to his current role.  
"I've worked extremely hard to be president of the bank," Reilly says. "It has not been easy. The road has not been easy."
While Reilly acknowledges his "life really, truly does revolve around (his) work," he makes time to serve on six boards, including those of the Chamber of Commerce, the Butte America Foundation and the Colt Anderson Dream Big Foundation. He's also president of the Exchange Club and, as of Jan. 1, will be president of the local Big Brothers Big Sisters of America chapter. 
As much as he's passionate about his work with these groups, Reilly has big plans for First Citizens. 
"From my standpoint, the goal is really just a change in culture, change in reputation, change in the brand of the bank," Reilly says. "I think the bank is underutilized, for what it can be in the community." 
As he takes the bank's reins and juggles his various charity work, Reilly says he has no doubts about what he's devoting his life to. 
"I don't want to be doing anything else," Reilly says. "I'll tell you that much."
Work ethic, family roots lead to success for Dillon mine manager, ranch hand Ben Raffety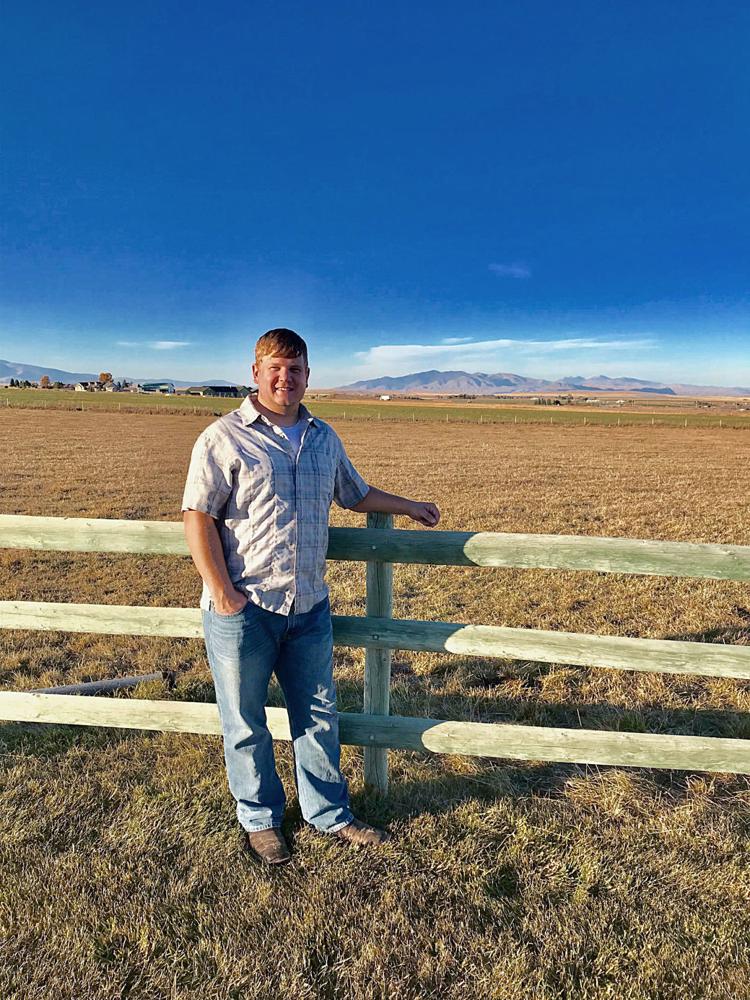 For a couple of years, Ben Raffety was commuting 3,000 miles a month, from Salt Lake City, where he had a job at the Kennecott Utah Copper mine, to see his wife, Cassie, in Dillon, their hometown. 
So when a job opened up at Barrett Minerals, a talc mining and milling operation in Dillon, Raffety leaped at the opportunity and soon after was hired on as the mine coordinator.
That job gave him direct supervision over Barrett's two talc mines, all at the ripe old age of 23. 
Five years later, Raffety has risen to become Barrett's operations manager, meaning he oversees about two-thirds of the entire operation, including not only the mines but also the plant production. Of the operation's approximately 90 employees, Raffety says about 65 report to him. 
For a guy who's still just 28, Raffety has accomplished a lot.
And the roots of the work ethic that have so quickly led him where he is can be traced to the family-owned cattle ranch where he grew up outside of town and that his father and uncle still run. 
While in high school, he met Cassie. And for college, he traveled up Interstate 15 to attend Montana Tech. There, he majored in general engineering, with a focus on the mechanical engineering option, and spent his summers in Salt Lake, getting his feet wet at Kennecott. 
After graduating, he and Cassie married but spent the first two years of their marriage living apart, with her in Missoula pursing a pharmacy degree and him in Utah, where a pair of internships had turned into a full-time job.
Hence, all those miles commuting. 
Now that they're both back in Dillon — and expecting their first child next month — Raffety says it's an exciting time in his young life, both personally and professionally. 
"There's a lot of opportunities to further our business and security for our employees that I just want to focus on," Raffety says. "And there's a lot of exciting growth here. It's good time to be a part of the company and the community."
That exciting growth at Barrett's includes plans for a mine expansion. With the permitting process likely to last another year and a half or so and construction slated to start after that, Raffety will help guide the company through the expansion. 
Meanwhile, he's got to keep the talc coming, as the mineral is used in everything from healthcare products to paints to high grade ceramics to Wrigley's gum. 
As for what he does when he's not at work, Raffety says he does "anything outdoors," including hunting and camping, and "quite a bit of woodworking." 
But even in his free time, Raffety tries to find time to work. 
"I try to help out on the ranch when I'm available," Raffety says, "which is not as often as it should be."