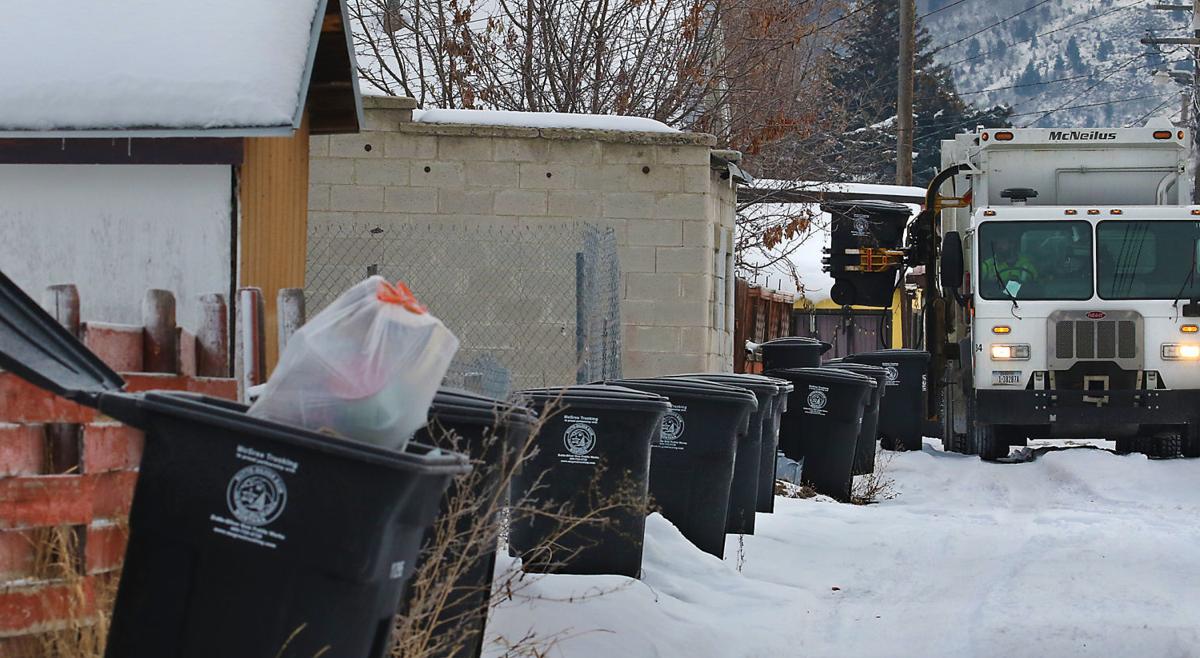 Change doesn't always go over well in Butte, Montana.
That's why local officials spent months and months pitching major changes to the way trash is collected here as well as a voluntary recycling program before setting the new programs in motion two years ago.
Among the officials' selling points for the new garbage system were cleaner alleys and a cleaner city, since large, standard-sized trash bins with hinged lids would usually keep animals and the wind at bay.
Matt Vincent, the county's chief executive at the time, described the decades-old system in place in 2015 like this:
"When you drive down those alleys and you see all those rickety-rackety garbage cans with seven or eight cans and none of them with lids, I mean, it's an all-you-can-eat buffet if you're a stray dog and the wind blows the debris around," he said.
Recycling would divert tons of material from the county's landfill and would be completely voluntary, supporters said. Those who didn't want to take part didn't have to take part.
There was pushback, for sure, and plenty of predicted problems.
Those big trash bins would be hard to wheel around in the snow and impossible for older folks to maneuver, critics said. People could actually be injured, opening up the county to lawsuits.
When empty or only partially full, the bins are light and top heavy and would be blown around with their lids opened, littering neighborhoods, some suggested.
The new garbage trucks, which have mechanical arms that grab the bins from the side and dump their contents into the back, wouldn't have enough room to maneuver in alleys.
Opponents said recycling, including curbside pickup, wouldn't catch on and wouldn't last.
It's been two years this November since the new trash system and recycling were rolled out, and there have been some hitches and ongoing challenges.
But the pros outweigh the cons, officials say, and with a little help from residents, the challenges can be overcome.
Here is a look at how both programs are faring at the two-year mark:
Garbage collection
Although there was wholesale change in the way trash is picked up, the collector in Butte is the same local outfit that's been doing it for years — McGree Trucking.
McGree ordered and distributed the new trash bins to more than 12,500 households in Butte and bought four new trucks with the mechanical arms.
They tried the new system on a limited pilot basis months before expanding it to everyone in the county's solid waste district, which covers most of urban Butte. Everyone had new bins by June 2016.
The company's vice president, Jim McGree, said there have been some problems, "but I don't think they were as large as some suggested."
Folks sometimes have to push or pull the wheeled bins in the snow, he said, but McGree's drivers and crews have helped those who are unable.
"We have many customers who ask for help in the winter that don't need it in the summer," McGree said. "The steep streets have been a minor problem for the trucks, but we are coping. We use tire chains often.
"There are also many customers who, we stop the truck, move the can, dump the can, and return it to its original spot," he said. "Lawn and leaf clippings are a problem, but people are adapting by hauling some of those items themselves or waiting for open space in their bins."
Critics said the previous system worked and was among the cheapest in Montana. Residents provided their own trash cans, and the county, through fees, paid McGree's crews to come by and dump them, all for a reasonable price.
It's true that a few months before the new system was approved, commissioners rescinded a price break that had lowered the annual trash fee on tax bills from $93 to $73 a year. The break was designed to ease the pain of water rate increases enacted a few years prior, and the county tapped landfill revenues to pay for the subsidy.
But under the new system, all households got a new, large bin at no added cost, and the annual fee is now the same as it was before the subsidy — $93.
County officials had considered doubling trash fees for people who wanted a second bin, tripling them for a third, and so on, but they nixed the idea. Customers only pay for the extra bins — not for pickup.
McGree said they have been selling the extra bins at cost, which is $60 for the 95-gallon version, and 191 households have purchased them.
Although residents can "scale down" and swap out their 95-gallon bins for 65-gallon ones, all but about 400 households have the larger size, he said.
Commissioner Cindy Perdue-Dolan, citing concerns from constituents at the time, was among a few commissioners who voted against the new trash system and questioned the recycling proposal.
But she said this week that nobody has called her with complaints since the change was made. Some consider the large bins around town unsightly, she said, but that's just a price that comes with trash collection.
"I'd have to say the automation seems to be working well," Perdue-Dolan said. "One thing I worried about was we'd get a lot of folks with broken bins that would have to be recouped (and replaced), but that hasn't happened."
Most sizable cities in Montana — and many across the country — have had similar collection systems for years.
Dave Schultz, the county's Public Works director, said the promised benefits have borne out. About 30 percent of households under the previous system had garbage cans without lids, he said.
"The new garbage carts have an integral lid, and this retains the garbage so wind and animals can't scatter it," he said. "The cleaner alleys are noticeable, especially on windy days."
Dave Palmer, Butte-Silver Bow's chief executive, voted for the changes as a commissioner in 2015 and believes most residents like the new system.
One common complaint, he said, is about people wheeling bins to the curb on collection day and just leaving them there. But he called that a minor problem that he hopes will get better in time.
"I think overall the process is much better and the alleys are cleaner and the whole city is cleaner," he said.
McGree had trucks and crews go down numerous alleys last summer to help clear messes left from the previous system, and they could still use a little help in that regard.
"If we could get the residents to remove old trash-can racks from the alleys, that would help tremendously with our access issues," McGree said. "We still offer help to those residents if they want us to come and dispose of the old cans or racks — they just have to call us."
Recycling in Butte
Butte's recycling program has fulfilled its biggest promise, backers say, and that's saving space in the county's landfill by diverting tons of materials elsewhere so they can be used again.
Over the past two years, about 1.5 million pounds of paper, cardboard, and plastic have been shipped to recycling facilities, thereby extending the life of the landfill.
But the program in Butte, like many across the country, faces some big, market-driven challenges. Those can be overcome, officials here say, but the county needs help from the public.
Specifically, people need to stop putting anything and everything into recycling containers.
"This past Monday, someone put an entire deer carcass into one of the community bins," said John Cote, who oversees the AWARE recycling center at 640 S. Arizona St. "Not just the hide and bones, the guts and everything. It contaminated the whole load."
AWARE didn't become a partner in the program to make big money. The non-profit corporation provides community-based services for people with mental, emotional, or physical disabilities, and it has eight disabled workers among its staff at the recycling center.
The center makes some money by selling aluminum cans it takes at the center, but much of the material it collects is co-mingled and baled as "single stream" because it takes too long to sort.
AWARE actually pays for that material to be shipped to a facility in Tacoma, Washington. Because the market for recycled plastic and cardboard has dropped dramatically in recent months, the shipping costs have gone up.
It used to cost $35 per ton to ship co-mingled material via large semis, Cote said. Now it costs $26.50 per ton just to pick up and $40 per ton to ship.
AWARE gets materials three ways: through community bins it has at three locations in Butte, from direct drop-offs at the center, and from curbside collections.
The community bins are at the corner of Platinum and Excelsior, the Civic Center at 1340 Harrison Ave., and the National Center for Appropriate Technology at 3040 Continental Dr. Each site has four large bins where people can drop off cardboard, plastic, and paper 24 hours a day.
Because of the tighter market, contractors have started rejecting loads that have items they cannot take. They can take cardboard, paper, and #1 and #2 plastics — generally empty soda and juice containers, milk jugs, and laundry detergent jugs.
Not plastic toys or car bumpers or hoses or dirty diapers or anything organic, including leaves and animal carcasses. (See info box for what is and isn't OK.)
"We get plastic packaging, yard waste, food, clothing, pet waste, all kinds of organic material," when none of those things can be recycled, Cote said.
One thing is especially off limits: those flimsy sacks you get at Walmart and grocery stores. That's because they get caught up in conveyors and machinery at the large recycling facilities.
"Grocery bags are the most taboo thing in that type of recycling," Cote said of co-mingled material. "They come in by the thousands every day. We have to sort out every single one of them."
Cote said he and his staff can educate folks who drop off materials at the center, but even though the community bins have labels saying what is acceptable, many people ignore them.
Meanwhile, curbside recycling hasn't taken off like predicted.
The county pays McGree $6,470 a month to collect materials from the community bins and take them to the recycling center, but curbside is a private arrangement between McGree and AWARE.
When the program began, about 300 households began paying $15 per month to have their recyclable materials collected at the curb. Cote and McGree predicted 2,000 to 3,000 people would eventually sign up based on participation rates in other cities.
But two years later, the number is still about 300.
"It does increase monthly by a few, but the demand is not large," McGree said. "I think the recycling drop sites around town take the majority of the customers."
County officials did not want to mandate recycling, but they wanted to encourage it, so both options are available as well as dropping material off at the center. People can do that from 9 a.m. to 3 p.m. Monday through Friday.
Cote said AWARE did not aggressively publicize the curbside program in the beginning because it was unclear how much material the center might get.
"We didn't want to bite off more than we could chew," he said.
Now, they want more folks to know it's available so more will sign up.
"The more fees we get, the more sustainable we can make the program," Cote said.