The weekend before national suicide prevention week, Butte hosted two public walks to help spread suicide awareness.
On Saturday, the Butte Civic Center rang with traditional tribal music as Native American dancers moved to the rhythm of the drum at the North American Indian Alliance's 44th annual pow wow. However, before the dancing and cultural celebration, the alliance hosted a more somber event. At 8:30 a.m., about 30 people gathered in the event center parking lot for Butte's NAIA's first "Walk Out of Darkness," a walk or run to promote suicide prevention and awareness.
Usually, the annual pow wow hosts an AIDs awareness and prevention walk. This year, the NAIA board felt suicide and mental illness was a more pressing issue, so they took action by mirroring the American Foundation for Suicide Prevention's national Out of the Darkness campaign.
"Everyone here has lost a member of their family to suicide. Everyone is affected," board chairman Dan Gardipee said.
At the walk's sign-up table, easels held poster boards with suicide statistics. According to the data, 1.2 percent of the United States population is Native American or Alaska native. Among Native Americans and Alaska natives, 44 percent are under frequent mental distress and 28.3 percent of adults live with mental illness. Both of these percentages are at least 5 points higher than white Americans.
"There are a lot of contributing factors to suicide among Native Americans," Gardipee said. "But mental illness seems to run a little more rampant."
Gardipee, a Little Shell tribal member born and raised in Butte, walked the 3-mile loop alongside NAIA Executive Director and Blackfeet tribal member Dale Good Gun. Both men feel socio-economic status and broken homes contribute to mental illness and suicide among Native Americans along with long cycles of abuse. Both share different perspectives based on their upbringings, Gardipee from an urban area and Good Gun from a reservation setting, where he said high rates of unemployment for people who want to work often lead to substance abuse and depression. But both agree that pow wows and cultural tradition help fight mental illness.
"Through our culture, people feel proud. They find their identity," Good Gun said.
Good Gun explained that young children and teenagers, who are most vulnerable, can't control the environment they are raised in. But if they can develop their own sense of self and pride through their tribal culture, their identity can comfort them and help them overcome negative circumstances. However, Good Gun says to truly make a difference, the NAIA has to focus on families and community, not just kids.
"People get so focused on the children instead of their environment. We have to offer help for whole families and build better relationships with our community," Good Gun said.
Good Gun said his elders always told him his community had the answers. That's why NAIA hired a community needs assessment analyst through state grant money last year to go into Butte's Native American homes to talk about problems and solutions. Good Gun also plans to go up to Alaska at the beginning of October to look at how native communities there integrate and provide for their people.
Education and outreach is key, Good Gun said, and the NAIA wants to provide top-of-the-line health care services to its people. The alliance has a mental health counselor, and once it puts more services in place, he believes mental health will improve. But Gardipee said the NAIA also wants to join the Butte community as a whole in fighting suicide.
You have free articles remaining.
Keep reading for FREE!
Enjoy more articles by signing up or logging in. No credit card required.
"This is not just a problem within the Native community; it affects everyone in Butte," Gardipee said. "We want this to be a collaboration; we want the whole community to know we're joining forces."
So the following afternoon, some Native Americans showed up for a second walk. On Sunday, Montana's branch of the American Foundation for Suicide Prevention hosted their fourth annual Out of the Darkness walk in Butte, one of six other walks across the state this month.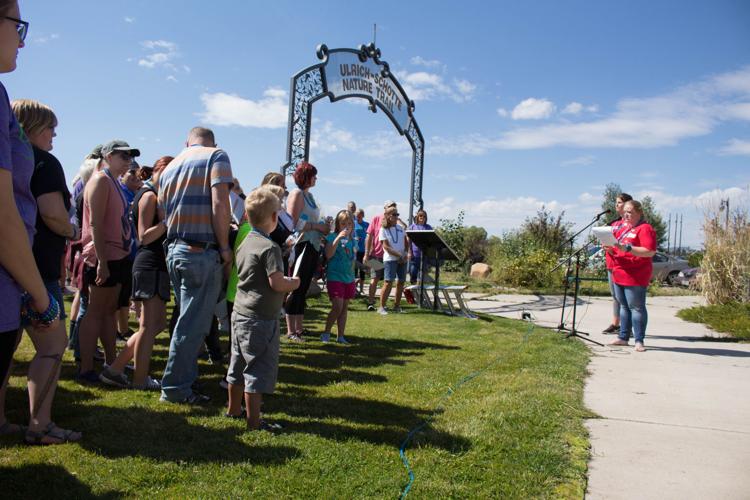 Almost 300 people gathered near the Ulrich-Schotte Nature Trail arch by the Chamber of Commerce. Many wore colored beads around their necks to symbolize why they were there: white for the loss of a child, gold for a parent, purple for a relative or friend, and green for personal struggle, among other colors. Most were in groups formed after the death of someone they cared about.
Tanya Macadam Qualls and Betty Jemmings lost their children just three weeks apart in 2015. Their children, Justin and Natasha Qualls, were married to each other. Qualls, Jemmings, and others wore shirts to remember the couple — including the 3-year-old son they left behind.
"Many people are afraid to ask for help, but there is hope. We can prevent it. Life is precious," Jemmings said.
"They don't just take their own life; they take their family's lives with them," Qualls said.
Several other families and friends walked for similar reasons, sporting shirts that said Team Pam, Eddie's Crew, Team Pratt, Team Kimberly, and more. One group, Kiel's Konnection, formed a mental health nonprofit a year ago in memory of Kiel Podgorski, who died in a car accident. Podgorski's mom, Kandace Konola, started the group to connect people through mental health education, awareness, and shared experiences.
"We want to help others know they are not alone," Konola said.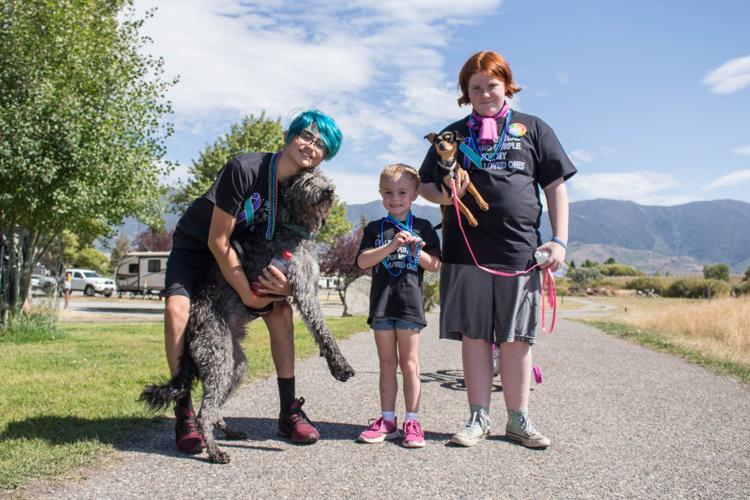 At about 2:15 p.m., the groups headed down the trail to Harrison Avenue for a 3-mile out-and-back walk or run. Montana American Foundation for Suicide Prevention chapter chair Dorea Wilmoth said this year's event raised about $14,000, but it isn't all about the money. Overall, the Out of the Darkness campaign is about encouraging connection and community.
"These things are hard to talk about, but once you are ready, it's therapeutic. If you're struggling, say something. And if you see someone else struggling, ask them about it," Wilmoth said. "Small conversations make all the difference."