The two men recently elected to the Butte School District No. 1 school board were sworn in as trustees on Tuesday afternoon.
Kelly Lee, a firefighter for the Butte-Silver Bow Fire Department, and Quinton Queer, the training coordinator for the Plumbers and Pipefitters Local 41 union, were voted onto the board during the annual Butte-Silver Bow County school board elections May 7, according to unofficial vote counts.
A week later, the public school district trustees met to canvass the votes and swear Lee and Queer into their elementary seats. The final counts showed Lee received 2,717 votes, Queer received 2,610 votes, and the third candidate, Christy Zimpel, received 2,471 votes.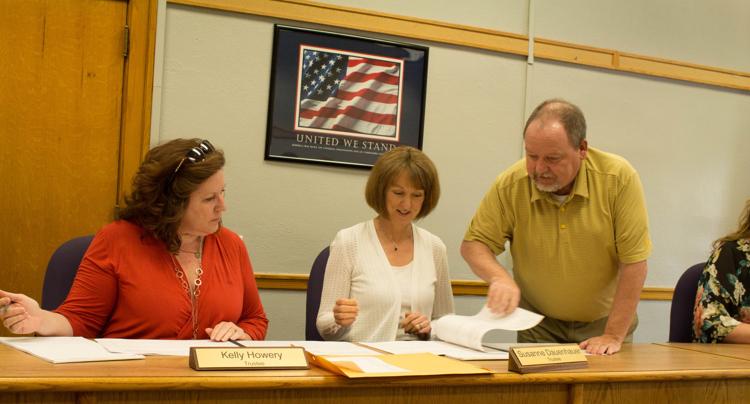 As the incumbent trustees present Tuesday canvassed these final vote counts, both Lee and Queer chatted in the back of the school boardroom gallery. The men said they were both excited when they found out they'd won the election, and plan to do their best to learn how to carry out the trustee positions.
"I think I need to take time to learn the position and learn the process, then I can start to give input where it is needed based on my strengths," Lee said.
Queer expressed similar thoughts.
"I'm really happy about it," Queer said about winning the election. "I hope I can make a difference."
After the school board votes were canvassed, Cathy Maloney, Butte-Silver Bow superintendent of schools, led Queer and Lee in taking their trustee oath.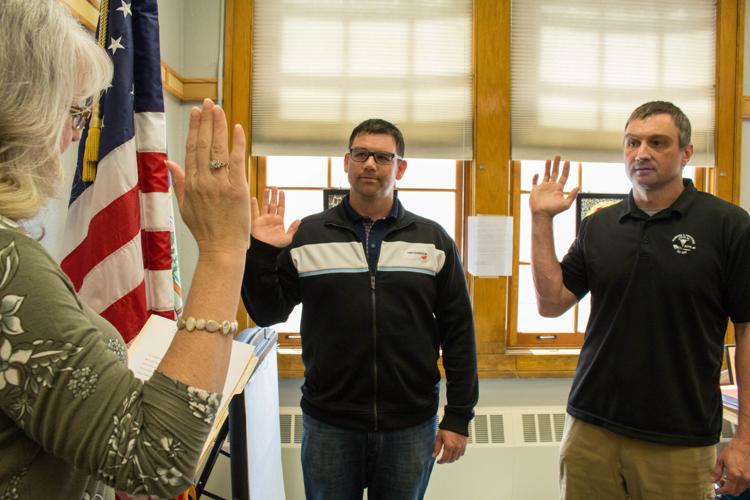 When their right hands dropped to their sides, the rest of the school board members clapped and the two men were invited to sit at the oval-shaped desk where they will appear in their first public school board meeting on May 20.
But while Tuesday afternoon was a happy day for Queer and Lee, it was bittersweet for trustee Kelly Howery, who has served on the board for over three years and did not seek re-election. A plaque was presented to her as a token of gratitude.
Over the years Howery served on the school board, she said she learned things about the district and its processes that she never would have known as a parent.
"It's so important for parents to get involved and to stay involved," Howery said, noting she was a part of the Kennedy Elementary School parent-teacher group before joining the school board.
J.P. Gallagher was the other trustee who did not run for re-election and who will not return to the school board. He was not present at Tuesday's meeting, but a plaque and cake with his name on it sat on a table in the board room. Howery had a cake with her name on it, too.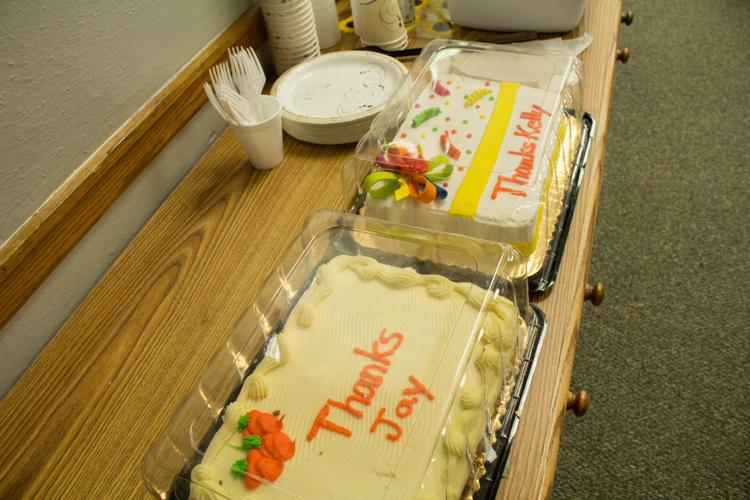 At Tuesday's meeting, the school board also officially declared vacant the high school trustee seat that Jay LeProwse gave up and no one ran to fill.
That means the district can now advertise for the open seat and begin a recruiting process similar to the one it would undertaken when hiring a new employee.
If a high school trustee isn't selected after 60 days, Maloney will be required to find someone to fill the seat, according to Dennis Clague, district business director and school board clerk. 
The board also re-appointed Ann Boston as chairperson and Patti Hepola as vice-chairperson.