On a recent Wednesday morning, Shantel Broadhead's preschool classroom bustled with hands-on, play-based learning. While two young girls painted on an easel, three boys played with plastic insects in a large tub of water. As a few 4-year-olds built imaginative, Lego-like creations, a few more cooked and shared a meal together in the classroom's play kitchen. All 16 students moved from one activity to the next with little to no down time, talking and interacting with each other and their teachers as they went.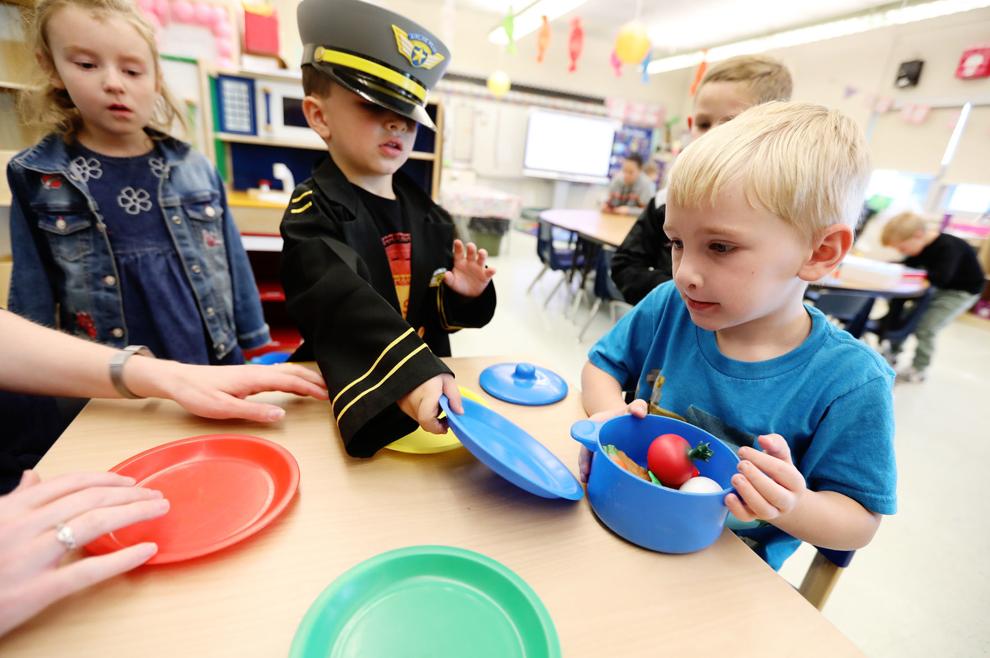 At a recent school board meeting, Broadhead shared data to back up the play time in her classroom. In her presentation, Broadhead noted that child development expert Dr. Karyn Purvis found it takes 400 repetitions of something to create a new synapse — or communication pathway — between brain cells, unless those repetitions are done during play — then it only takes 10 to 20 reps.
"Every day students get about one-and-a-half to two hours of free choice time, which really helps them get to a higher level of thinking," Broadhead said days after the meeting. "Everything we do is play-based."
Broadhead is one of two teachers in Butte School District No. 1's preschool program. Based in Emerson Elementary, the program provides education to 32 four-year-olds from mid- to low-income families. The preschool program is one of two in Butte federally funded through the Montana Preschool Development Grant.
In 2015, Montana was one of 18 states to receive a development grant, which put $10 million a year for up to four years toward improving access to quality preschool education in high-need communities across the state. From there, the Montana Office of Public Instruction helped determine which preschool programs were eligible and could commit to meeting the grant's high-quality requirements.
"We looked at high-need districts that weren't making adequate yearly progress, had high dropout rates and a high percentage of students involved in the free and reduced lunch program," said Tara Ferriter-Smith, the preschool grant director with Montana OPI.
There are 22 Montana preschool programs funded through the grant, with two of them in Butte. Both Butte School District No. 1 and Butte Head Start were eligible and interested in receiving this grant money, Ferriter-Smith said.
"Both programs have unique challenges and strengths," she said. "Through the grant, our goal is to meet every program wherever they're at."
During the one-year training and planning process, Ferriter-Smith said Butte Head Start and the public school district worked closely to ensure they collaborated, not competed for students. Then in fall of 2017, the two groups implemented the grant to support four-year-old children from families whose incomes are at or below 200 percent of the Federal Poverty Line, with Head Start serving the lower income end.
Between both of its schools, Butte Head Start teaches 186 preschool students. Three of their classes are funded through the Montana Preschool Development grant, but students in these classes who are not four-years-old are supported through Head Start funds, Ferriter-Smith said. 
Kristy Pennock teaches one of these classes. In a classroom environment similar to Broadhead's, 20 preschool students played during their free choice time on the second floor of Head Start's Arizona Street location. Music and conversation filled the room as Pennock's students grew crystals and played dress up, among other activities.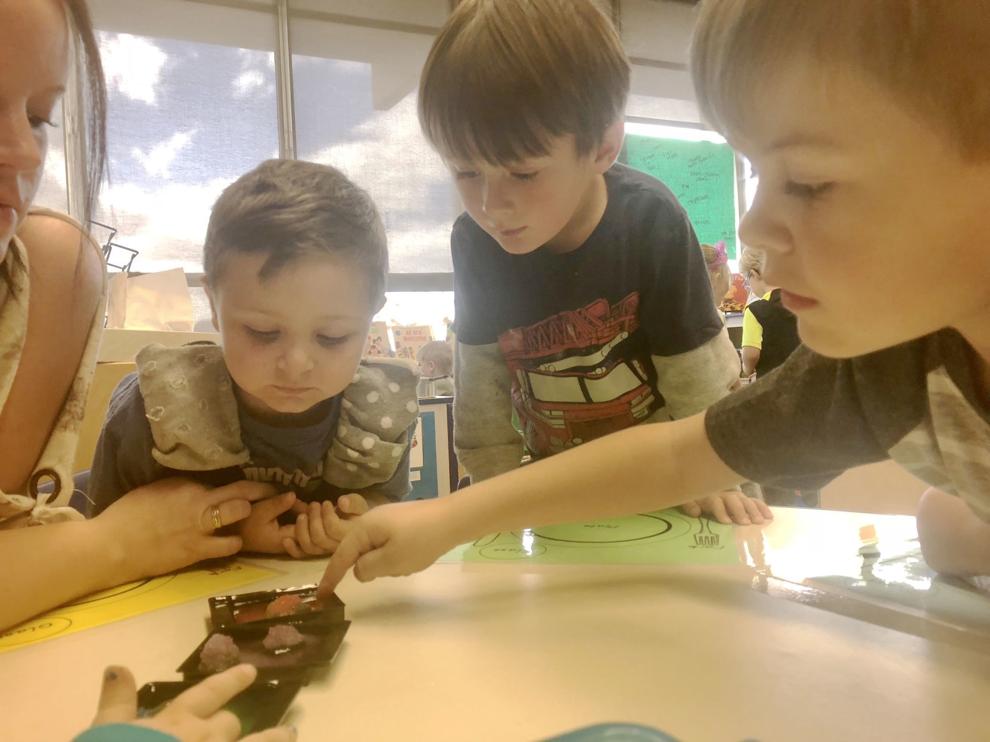 Since Butte Head Start has implemented the grant, Pennock said she's gone from teaching four to six hour days, and different environmental requirements have been placed on her classroom.
"Now that they're here more, they can learn more," Pennock said.
Pennock and other Head Start teachers have also received more professional development opportunities and feedback from instructional consultants through the grant. These consultants work with both the Head Start and school district programs to help teachers better implement their curriculum and meet the needs of their students, Ferriter-Smith said.
"The consultants can model lessons for teachers and look at their classroom data to help make instructional decisions," Ferriter-Smith said. "We're trying to build as many high-quality classes as possible."
However, this is the last year of funding through the grant, Ferriter-Smith said. Her office is working on obtaining an extension that would use leftover money from the grant and continued professional development opportunities to support its participants for one more year. There are also other grants that could support Montana preschool programs in the pipeline at the state and federal levels, Ferriter-Smith said, but she can't project what will happen during the next legislative session.
Regardless, Ferriter-Smith said great things are happening in Butte, and she said the data proves it. After the Butte School District No. 1 program's first year, 100 percent of their preschool students were determined ready for kindergarten, according to their Developmental Indicators for Assessment of Learning (DIAL-4) scores. They were the only preschool program in the state with a perfect score.
Broadhead is proud of this statistic and is determined to keep improving. After working in early childhood education for 10 years, she said she is right where she wants to be.
"I love what I do, it's a hoot. This is what I've always wanted to do," Broadhead said. "I know this program could do well long term. We're here if they need us."