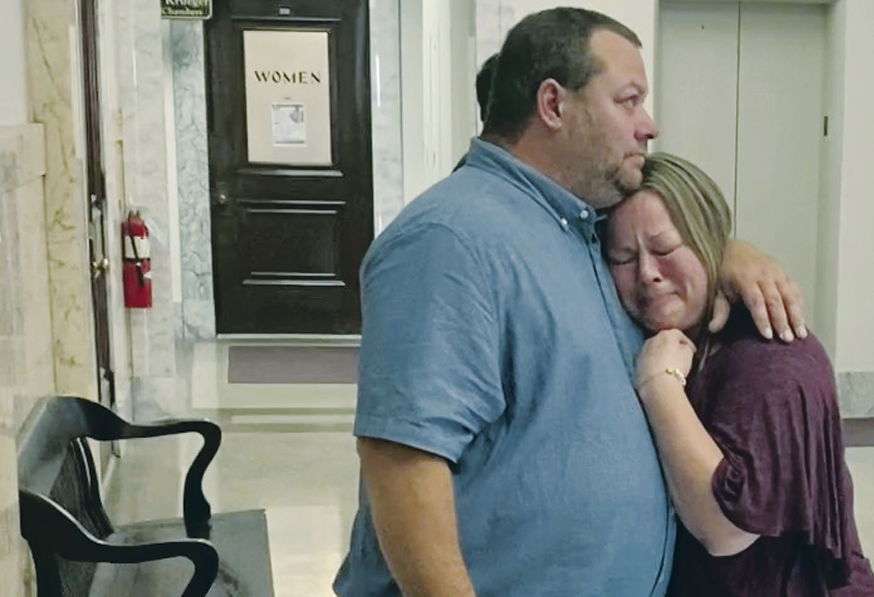 An Oklahoma man says it started over a Montana man's slights about Oklahoma football and cowboy boots.
The Montanan says the Oklahoma guy started it by saying, "This state sucks and this town is a rat hole."
It was trash talk all the same, and District Judge Kurt Krueger got final say Thursday by sending 41-year-old Beau Ulvick of Lone Pine, Montana to the Montana State Prison for eight years for pulling a gun and beating the victim at a motel in Rocker last year.
Krueger said he also oversees a youth court, and when doing that, "I'm accustomed to hearing seventh and eighth graders get into altercations in school yards over things such as that, on trivial matters."
"This is not a schoolyard fight," Krueger said. "The mere fact that we're getting into an altercation — an aggravated assault — over such trivial matters where we're drawing guns and threatening people, the court clearly sees this as a very serious crime."
Ulvick had previously pleaded guilty to aggravated assault, but he disputed the victim's account of events during a Thursday sentencing and said he attacked out of fear. His attorney, Scott Hilderman of Kalispell, urged Krueger to impose probation only.
Prosecutor Ann Shea recommended 10 years with another 10 suspended.
"We do not need people like Mr. Ulvick out in bars and trash talking other people and assaulting them because he may not like your boots," she told Krueger. "That isn't the kind of character that makes this world better."
Krueger sentenced Ulvick to 15 years at the state prison, suspending seven of them, and ordered him to pay $5,240 in restitution for the victim's medical bills. Ulvick hugged friends and his female partner before an officer took him into custody.
According to prosecutors, the two got into an argument in the bar at America's Best Value Inn in Rocker on the night of March 4, 2020. The victim was working on a job in Montana and Ulvick said he was driving a logging truck and stopped at the motel.
A bar worker told both to leave and shortly afterward, police were called about a disturbance. The victim told officers that as he approached his motel room, Ulvick was standing at the door holding a gun.
He said Ulvick pointed the gun at his head, ordered him to his knees, then beat him in the head and face before he crawled to his room.
Ulvick told police he left the bar after the argument and never saw the victim again. But officers saw blood in the hallway and it appeared Ulvick had blood on his hands that he tried to wipe away.
No weapons were found on him but after obtaining a search warrant, police found a 9mm handgun in Ulvick's work truck. Prosecutors charged Ulvick with one count of aggravated assault and one count of assault with a weapon, both carrying maximum 20-year terms.
In a deal with prosecutors, Ulvick pleaded guilty to aggravated assault, admitting he had repeatedly hit the victim causing serious injury.
On Thursday, the victim said he and a coworker also from Oklahoma were in the motel lounge eating pizza and drinking beer when Ulvick "decided to get into our conversation about Oklahoma football."
"He commented that, 'Oklahoma don't know anything about football,'" the man said via a video link. "So there were a few words over that."
"Then he decided to take a poke at my cowboy boots," the man said. "He asked me, 'Where did you get those (expletive) blue boots?' and I replied, 'From your mom.'"
The conversation got uglier, he said, Ulvick told him to go back to Oklahoma and they were both asked to leave.
He said when he was walking to his room, Ulvick came up, hit him across the nose with a pistol, pointed it at him, told him not to move, then punched him in the face and kicked and beat him.
He said he suffered three broken ribs, a broken jaw and nose, lost work time and still had problems with one eye.
"To have someone hold a gun to your face and beat you under duress — who does that?" the man said Thursday. "I swore to my wife and everyone I know, I'll never put another foot in Montana."
Ulvick took the stand Thursday and said the argument started when the victim said Montana "sucked and this town is a rat hole." He said he was walking to his hotel room, overheard the Oklahoma man say he was going to kill him, so he pulled out the gun.
He did that out of fear, he said, but never pointed the gun at the victim. He said he never hit him with the gun either but did punch him, kicked him in the ribs, and punched twice more.
He acknowledged that he lied to police about having a gun and saying he had nothing to do with the fight, but said it all started because he was scared. A friend and a boss also testified Thursday, saying the events were totally out of character for Ulvick.
But Shea balked at his claims of being afraid, noting he weighed 245 pounds and was 20 years younger than the victim, who was 59 and weighed 130 pounds.
"And he will have you believe that while holding a gun, he was in fear of this person that was just trying to make it to his room," Shea said.
She said there had to be serious consequences for someone who could blow up on somebody "just because they didn't like where they were from or because of what they were wearing."
The judge said what began as a very trivial matter ended with a very serious crime, and while Ulvick offered explanations for what happened, he showed no remorse.