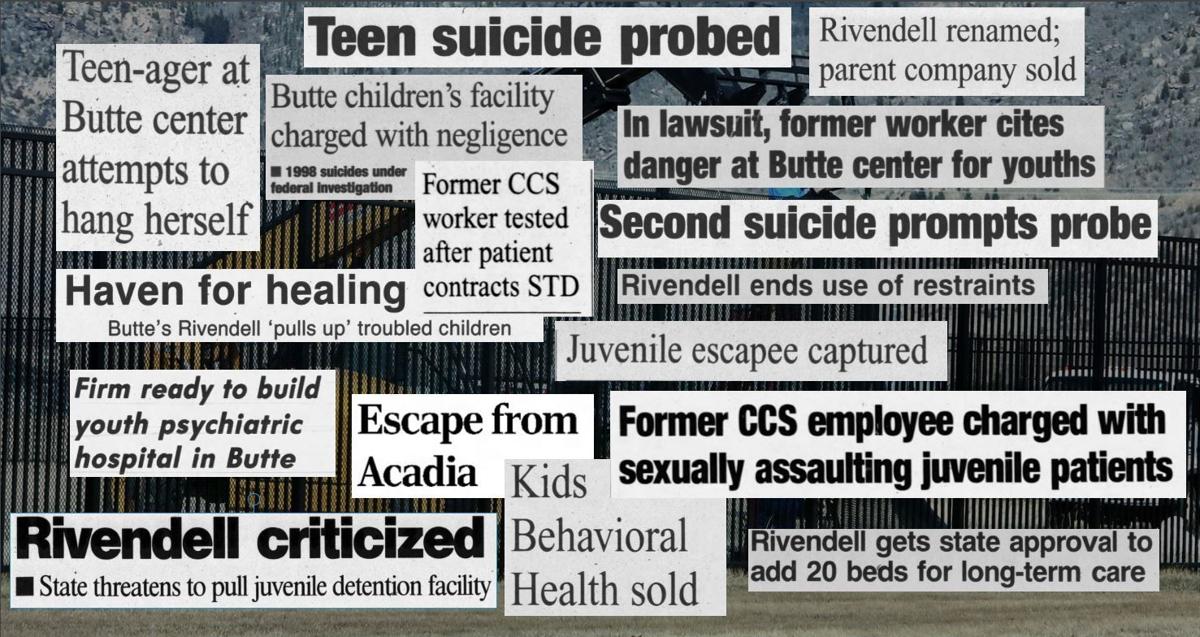 When an outcry erupted earlier this month in Oregon over the use of injected medication to chemically restrain a 9-year-old girl at Acadia Montana, it was not the first time the Butte psychiatric residential treatment center for kids and adolescents has faced allegations of mistreatment. 
The facility opened on Sept. 16, 1988, and since then it has changed names and owners several times. During those three decades, investigators have documented suicides, sexual assaults, physical assaults, problems with reporting abuse and neglect, failure to maintain a safe environment, overuse of emergency medication, a "culture of violence and cynicism," lack of supervision, failures of treatment, lack of staff training, deficiencies in staffing, overuse of restraint and seclusion.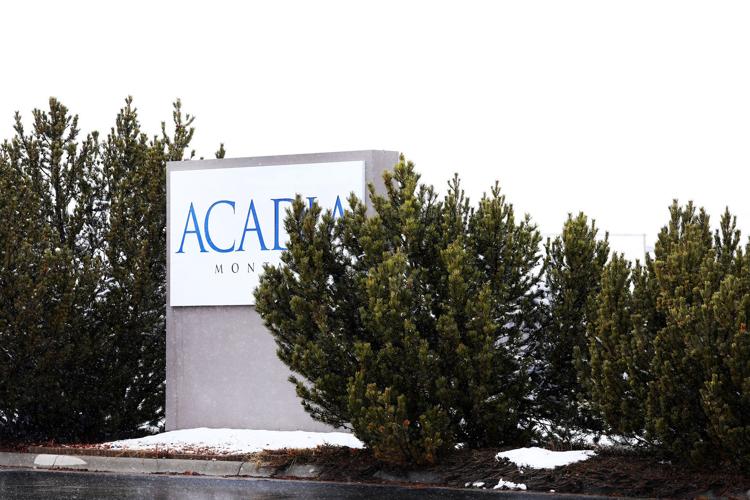 While some things have changed, much has stayed the same over the decades.
For one thing, it has never deviated from its mission to help children in desperate need.
"The 48-bed hospital is specifically designed to serve emotionally disturbed children and adolescents between ages 5 and 18," according a story published in The Montana Standard the day the $5.7 million psychiatric hospital opened its doors under the name of Rivendell of Montana. 
For another thing, it has always been run as a for-profit institution.
The first owners, Rivendell of America, promised to provide not only long-term residential care for children with psychiatric and emotional disorders but also 90 local jobs and $1 million in annual payroll. 
But less than a decade later, in 1997, Rivendell of Montana declared bankruptcy after it was found the company owed the state's Medicaid program $2.6 million "for past residential treatment payments it had not earned," according to contemporary reporting in The Montana Standard.
And Rivendell's problems weren't only financial. 
In 1995, the Montana Department of Corrections rebuked the facility's managers, threatening to pull the facility's license to serve as a holding facility for juvenile detention unless it corrected numerous issues that left it "in poor condition and substantially out of compliance in several areas." 
According to the DOC's report, youths were being placed in mechanical restraints at Rivendell against department policy and were being left unattended when emergencies occurred elsewhere in the facility. The report also found that the detention facility was severely understaffed, that there was no system for dispensing medication to detainees, and that there were security and building code problems, including a suspended ceiling that posed "an extreme suicide risk." 
The department gave Rivendell six months to fix the problems in the area where youth offenders were detained, and the facility complied.
When Nashville-based Children's Comprehensive Service Inc. took over in 1997, Carter Anderson, who had already been serving as Rivendell's director of planning and development at the time, told the Standard that there would be "no changes" at the facility as a result of the sale. However, in 2000, CCS stopped serving as a juvenile detention facility, according to previous reporting. Currently, the facility can "theoretically" hold kids on behalf of the DOC, but it is very rare, a department spokesperson said.
Then, in May 1998, tragedy struck CCS when a 13-year-old girl killed herself at the facility. 
The same day, another patient attempted suicide and workers were put on alert for other copycat attempts. Over a 15-day period, there were reportedly four more attempts. 
And in June, a second resident, this time a 15-year-old girl, killed herself at the facility. 
After the two suicides and the rash of attempts, the state launched an investigation into the facility and a year later, in 1999, the Montana Department of Justice's Medicaid fraud division charged CCS with negligent endangerment of the girls' lives. In their complaint, the Justice Department listed various deficiencies related to insufficient staffing, training issues, and management problems, according to contemporary reporting. 
According to court documents, a nurse told investigators that the facility was "chronically short-staffed, with fewer mental-health workers and nurses than were needed to keep the patients and the staff from being hurt." But state prosecutors agreed to drop the charges against CCS if the company adhered to the company's policies for dealing with patients at risk of killing themselves. 
According to the terms of a deferred prosecution agreement, the staff was required to take emergency first aid, CPR and suicide prevention training, while the facility was ordered to undergo an audit to determine appropriate staffing, training and policies for facility going forward. 
CCS apparently made the necessary changes but did not admit guilt in the matter and continued to treat children without interruption. 
Three years later, in January 2002, a mental health worker at CCS resigned after police contacted him about allegations of illegal sexual conduct with two 15-year-old female patients at the facility. Days later, Heath Griffin was charged with sexual intercourse without consent and sexual assault of the two teens. And in February, a second charge of sexual assault was added after a third 15-year-old girl came forward to accuse Griffin, 26, with touching her breasts and engaging in "simulated sexual intercourse" with her, according to court documents. 
Griffin pleaded guilty in December 2002 and was sentenced to four years of intensive supervision and 26 years of probation. In 2015, District Judge Brad Newman revoked the suspended sentence and sentenced Griffin to 12 years with eight suspended after he was arrested for driving under the influence and was found to have committed numerous other probation violations. 
CCS became Kids Behavioral Health of Montana in 2002.
In 2005, KBH was sued over Griffin's conduct by the parents of two alleged victims. The suits each alleged assault and battery, negligent supervision, breach of custodial duty, intentional and negligent infliction of emotional distress, punitive damages, misrepresentation and fraud. 
Then, in mid-2005, after receiving several complaints from parents whose children were being treated at KBH and noting a rise in "non-accidental" injuries to patients and staff at the facility, the Mental Disabilities Board of Visitors, a state board that reviews Montana's public mental health programs and assists those receiving services from these programs, conducted a scheduled site review of KBH. What the BOV reviewers found appalled them, according to the report they prepared afterward. 
"Halfway through the first day of its August review, the BOV team was shocked by the chaos in the treatment environment, by the negligence of the clinical leaders to address the breakdown in the treatment environment, and by the absence of awareness of the grave problems by administrative leadership," the reviewers wrote. "BOV abandoned its usual review procedures and shifted to assessing the scope of the problems, focusing on the safety of the residents." 
Among many troubling findings was that the use of emergency medications had risen sharply over the previous year.
"Staff reported they are not able to use less restrictive de-escalation techniques and have stated they are responding immediately with physical restraint followed by emergency medications such as Benadryl and Zyprexa," the BOV report stated.
"Since January 2005 the use of physical restraints and emergency medications has increased dramatically," the report continued. "In January 2005, Kids' staff used physical restraints 122 times. In July 2005, staff used physical restraint a total of 347 times. An increase in emergency medication use during this same period went from 53 in January, up to 147 in July."
A subsequent DPHHS investigation found that injuries to residents and staff had "increased dramatically" over the previous year; that the use of physical restraints, anti-psychotic medication and Benadryl had increased since the beginning of 2005; and that there were 113 incidents of aggressive resident behavior toward other residents and staff within a 30-day period. As a result, DPHHS ordered Kids Behavioral Health to increase the size of its staff and stop taking new patients as of Sept. 2, 2005.
Meanwhile, the BOV recommended the facility "(a)nalyze the causes of and immediately put into place resources, procedures, and interventions to eliminate the occurrence of resident-on-resident assaults."
A month later, a follow-up report from the BOV found that:
"KBH does not properly detect, report, or investigate allegations of abuse and neglect.
"The treatment environment at KBH is so dysfunctional that appropriate treatment and related services are severely compromised."
"KBH has not established and does not maintain a humane and safe environment for residents."
"KBH direct care staff are too poorly trained and supervised and the treatment environment is too chaotic for engagement with residents to ensure that less restrictive approaches are used before physical interventions, and that when physical interventions are used, that they are used properly."
And in identifying the "primary causes" of these deficiencies, the BOV noted:  
the "presence and acquiescence of a culture of violence and cynicism and a 'corrections' atmosphere that has desensitized both staff and residents precludes the possibility for therapeutic engagement because the environment is not safe;"
that the "staff are not in control of the treatment environment;" 
there was a "lack of a coherent, clearly articulated treatment paradigm;" 
"the resident mix at KBH is a volatile blending of children/adolescents who are either passive and/or victims of abuse and violence and children/adolescents who are perpetrators of abuse and violence against others;"
that "(d)irect care staff are under-prepared, unsupported, inadequately supervised, do not have a treatment role, are unsafe in the treatment environment, and do not stay at KBH very long;"
that that there was an "absence of anyone in a leadership position at either the Butte or corporate level who has demonstrated awareness or insight into clear evidence of pervasive dysfunction and related safety and treatment issues over a number of months, who has called out for an explanation of this dysfunction, who has demanded solutions and empowered others to seek them, who can see beyond the data and statistical trends, who can be truly present in the milieu and form relationships with the staff in the trenches, and who can rally the staff at all levels." 
The same month, October 2005, the center's executive director resigned. 
Just a month later, the BOV conducted another site review, observed "significant improvements in the treatment environment," and lifted the moratorium on admissions. 
Another follow-up site review in January 2006 found that "KBH has recognized the deficiencies in its handling of abuse/neglect allegations and has corrected its process." The follow-up review also found that the "treatment environment has turned the corner from a negative, reactive, and punitive to a positive, supportive milieu." 
But within months of the BOV praising KBH for its improvements, a former safety officer at the facility sued the company, alleging a "lack of training and staffing made the work environment so dangerous he had to quit" after 16 years on the job, according to a June 2006 article in the Standard. 
Soon after, in September 2006, KBS was sold to Acadia Healthcare and renamed Acadia Montana. 
In its 13 years as Acadia Montana, the psychiatric and behavioral treatment center for children has received mixed reviews from regulators, patients and former employees. 
In 2007, the BOV found that the facility's new management had made "fundamental changes" to address the "serious concerns" found in 2005.
According to the board's 2007 site-review report, "the staff are now under competent leadership and the residents are receiving effective treatment in a safe environment. The Board of Visitors commends the veteran staff who have persevered and worked for positive change through this period, and looks forward to a collegial relationship with Acadia Montana as it continues to improve its treatment for the children it serves." 
In 2011, Acadia Montana embarked on an 11,000-square-foot expansion of its facility on Basin Creek Road that allowed the facility to add 24 beds to serve more young children. 
A year later, the BOV wrote a positively glowing report of the facility, its staff and its program, determining that the "program at Acadia Montana is impressive, an exemplary program for children who have severe mental illnesses or behavioral disturbances; the leadership is well informed, concerned and dedicated." 
But in July 2014, DPHHS' Centers for Medicare and Medicaid Services conducted a review of the facility and found a number of deficiencies at Acadia Montana, most of them having to do with how patients were restrained and secluded. 
CMS observers found that the staff's handling of various incidents violated the facility's Seclusion and Restraint Policy, which states that "Restraint and seclusion are considered extraordinary interventions to be used only by professional staff in an emergency, after less restrictive methods have been attempted unsuccessfully."
Observers also found that the facility did not meet standards designed to ensure that "each resident has the right to be free from restraint or seclusion, of any form used as a means of coercion, discipline, convenience or retaliation," that "restraint or seclusion must not result in harm or injury to the resident," that "locked seclusion" be lifted when a resident has "ceased displaying the emergency safety situation," that the facility "be free of potentially hazardous conditions" and that required staff take part in post-intervention debriefings.
In the course of the CMS survey, observers found instances of that children were left in locked seclusion rooms after calming down for periods of up to 40 minutes and that while secluded "kids peel paint off the walls in the seclusion rooms" and the paint "gets under their fingernails and they complain its painful." One child in locked seclusion reportedly used "a tiny piece of plastic to scratch his belly and (was) shrieking very loudly." 
Beginning in August of 2014, Acadia Montana administrators began taking a number of correction actions, as required. Those actions included meetings, trainings and audits. 
The next year, Acadia embarked on a second 11,000-square foot expansion, increasing its capacity by another 16 beds.
The same month — March 2015 — the State of Alaska's Department of Health and Social Services conducted a review of the facility, which accepts Alaska Medicaid recipients.
That report praised the facility for bringing about a "significant decrease in physical restraint and seclusion by strengthening the quality and frequency of training for de-escalation skills, developing visual aids to reinforce the ideology of de-escalation on the unit and working to improve the therapeutic sophistication of direct care staff through trauma informed care and other therapeutic training."
On Dec. 10, 2015, DPHHS issued a State of Deficiency report to Acadia Montana that cited a record of 132 patient assaults and 38 incidents of resident-caused property damage during a 13-week period to support its claim that the facility was not providing a safe environment for residents. 
While the facility submitted a plan of correction two weeks later that outlined a path toward minimizing the number of incidents resulting in injury, a site review conducted by the State of Alaska just a few months later, in March 2016, found significant problems at Acadia Montana. 
Since that time, the pattern of problems, reforms and more problems has persisted. (See related stories.)
TUESDAY: Acadia's current CEO attempts reform.
Get local news delivered to your inbox!
Subscribe to our Daily Headlines newsletter.