For some people in Butte this St. Patrick's Day, the holiday didn't start in a bar — it started in a Catholic church.
Just after 9 a.m., St. Patrick's Catholic Church was filled with people dressed in various shades of green. A large Irish flag stood at the front of the church, and members of Butte's Ancient Order of Hibernians wore green, white, and orange sashes to match. The mass seemed to start as usual, until Father Patrick Beretta stood to give the daily sermon.
Beretta started by talking about the Vikings of Ireland and how Viking men preferred Irish wives.
"Many people have asked me why that is," Beretta said to the church. "The answer is simple: They were very intelligent men." The church erupted in laughter.
As Beretta continued, his message took on a more serious tone. He talked about the importance of silence for Irish Christians in life and faith and said that even though it seems that people in Ireland are moving away from the Irish Catholic church, he sees a spiritual revolution ahead.
"What Saint Patrick brought to the people is too deep, too beautiful…it just has to be recovered and reconquered. And you do that by serving people. That's the beginning and end of our purpose," Beretta said to the church.
Other words and prayers were said to honor St. Patrick, the patron saint of Ireland credited for bringing Christianity to the country and who is celebrated every year on March 17.
About two hours later, St. Patrick was honored again, this time in human form at Butte's annual Uptown parade. Patrick's impersonator joined a pack of hounds, horses, bagpipers, and over a dozen other parade entrants in making a U-shaped march through Uptown Butte.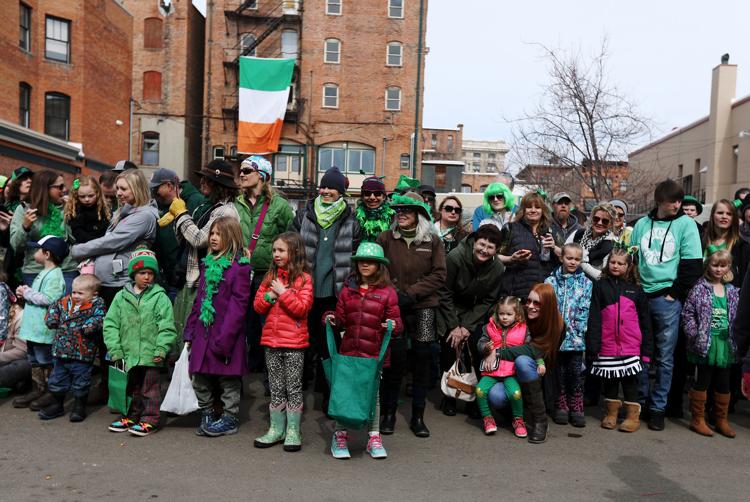 And even though it was a Sunday, the parade participants were met with enthusiasm from hundreds of people, decked out in green tutus, beaded necklaces, hair, and more. Even dogs were showing the holiday spirit.
"I like the dressing up," said Maddie Beck, 11, who wore a tiny green top hat, a shamrock sweatshirt, and gold jewels on her face.
After the roughly hour-long parade, many of the spectators stayed Uptown to visit their favorite bars, listen to live music, or watch the Butte Wolf Tones' inaugural hurling match. Others went to private family or friend gatherings, and still others went elsewhere to enjoy the various St. Paddy's Day events around town.
But regardless of what Butte has to offer for the annual holiday, it's the people that keep Buddy and Judy Mergenthaler coming back every year from Helena. They've been driving down to Butte for over 20 years for St. Paddy's Day and said they wouldn't miss it for anything.
"There isn't a better day on earth," Judy said.
"Nope, it's the happiest day of my life," Buddy said right after.