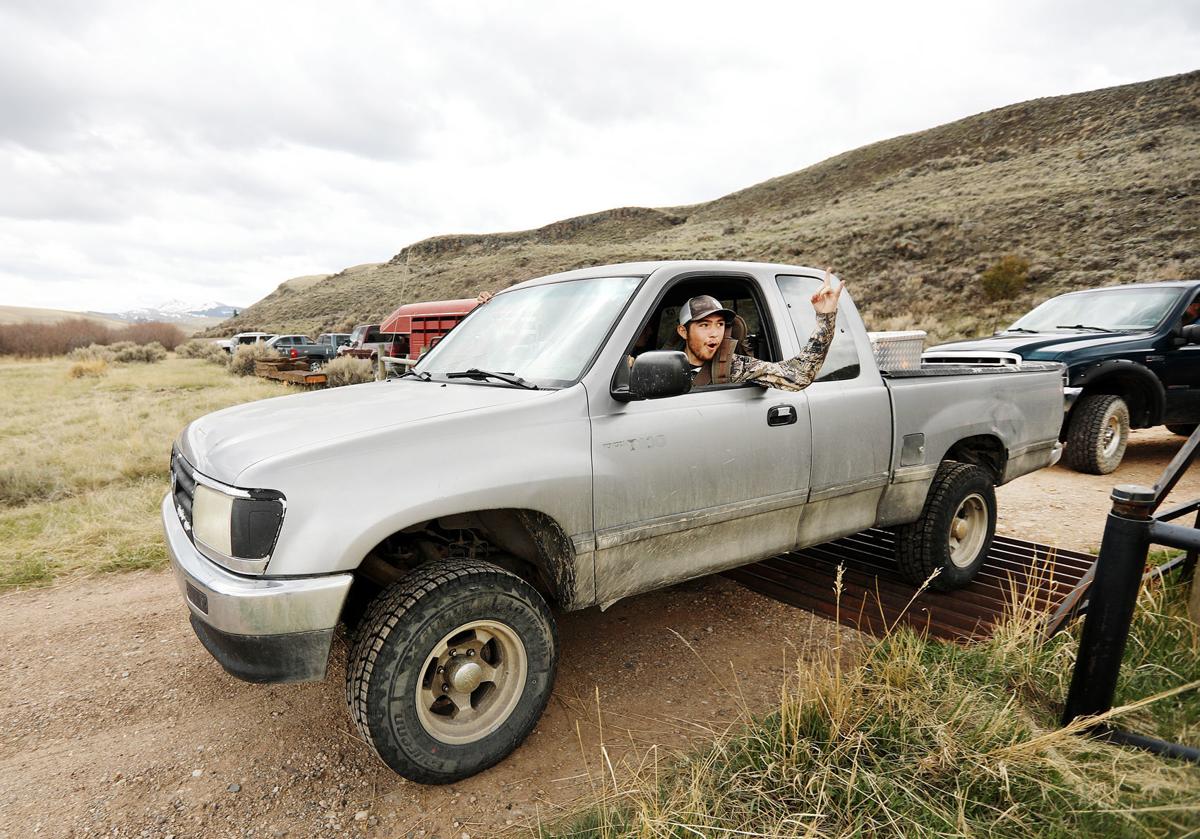 While a bowl of Big Sky rolled overhead, everyone kept their eyes on the ground looking for the prize.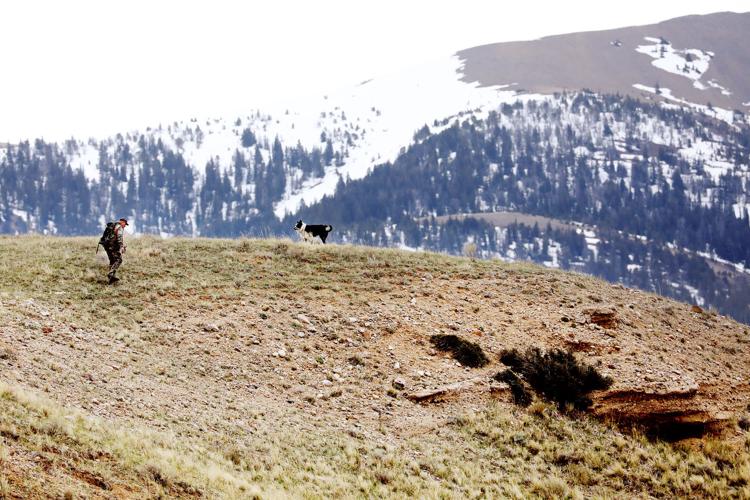 The Easter egg hunt for elk horns was a week away when Bill Walker pulled up at the green gate off Blacktail Road in his pickup and left it pointing east at the Snow Crest Mountain Range, southeast of Dillon. The 65-year-old, ready on Wednesday morning in his chaps and cowboy hat, was the first in line because his truck had been his placeholder at the gate.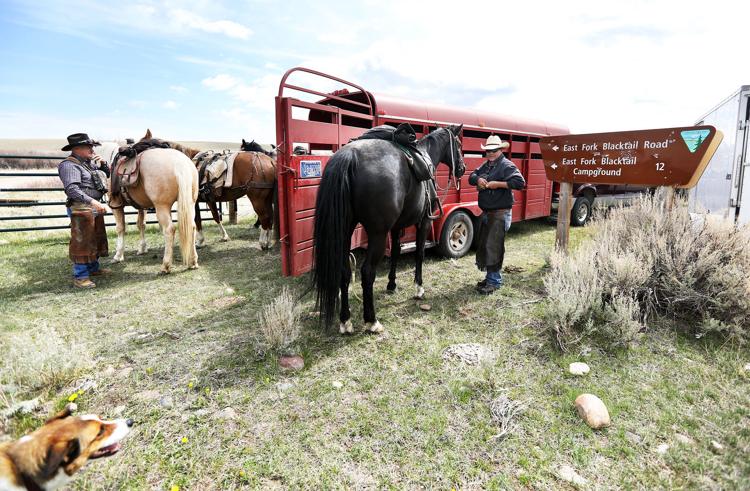 Standing near his horses, Walker said he has been driving over from Dillon to the green gate since 1972. Behind it is the East Fork Blacktail Road and public land. He used words like "exhilarating," when describing what the hunt is like. The biggest elk horn he has found over all these years was an 11½ pounder. He is a serious shed hunter. Not waiting until May 15, when the Fish, Wildlife and Parks game warden opens the green gate, Walker looks for deer horns from Christmas until the end of February on public land. But starting in March, he sets his sights on the horns of elk.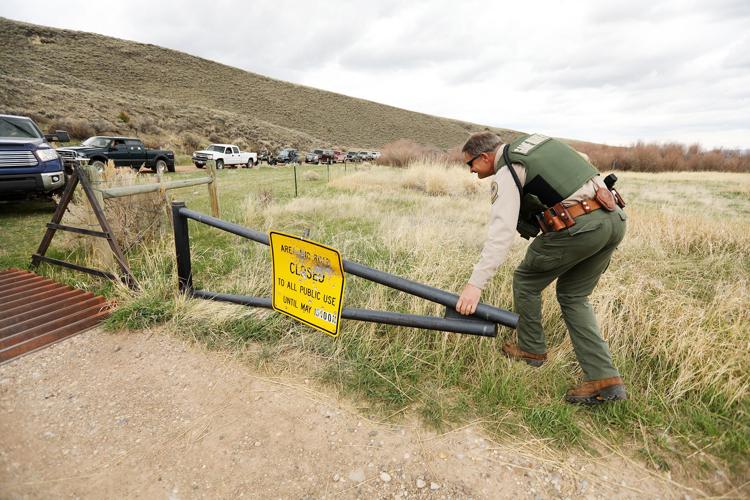 Walker says he's kept some big horns, but he's mostly there for the thrill of the hunt and to sell what he can. Although there was some disagreement from the mostly courteous crowd as the roughly 50 people waited in line over how much shed hunting can bring in, Walker said he sells to a list of buyers and that he can make a couple thousand dollars off the hunt.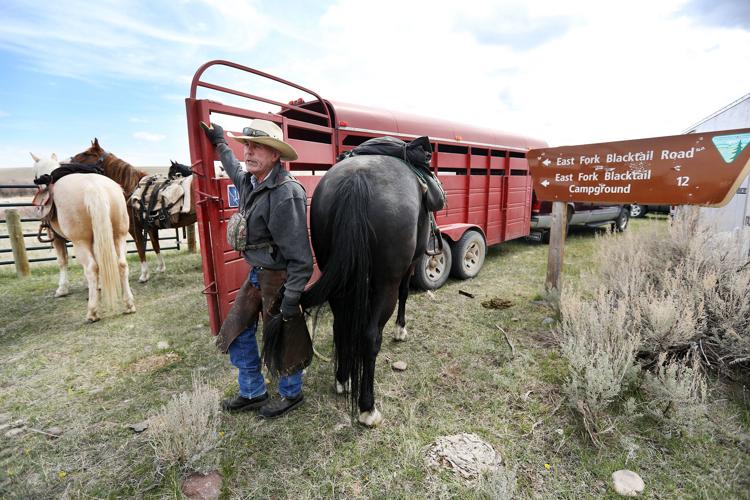 Kerry Wahl, FWP game warden, rolled up Blacktail Road in his state-owned truck and stopped to talk to a couple of men waiting in line before noon and said that a previous news story that said shed hunters could make thousands was incorrect. Dean Wedding, who also drove in from Dillon, said an elk horn can go for about $11 a pound.
Wedding said he doesn't do it for the money. He called it, "something to do."
Pam Nielsen, 65, doesn't do it for the money either. She came to celebrate her 43rd wedding anniversary.
Pam and her husband, Ron, 68, also drove in from Dillon. They have been coming every year since 1977.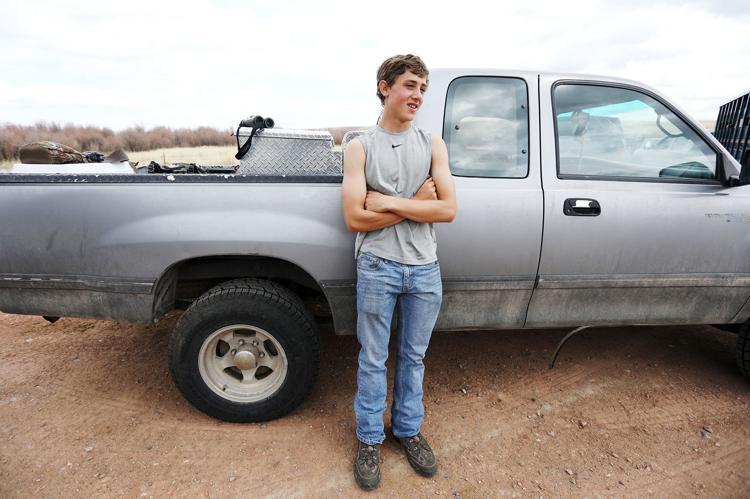 Cory Galle, a 13-year-old middle school student from Anaconda, said he missed baseball, as well as school, to go shed hunting with a family friend, Derrick Wetzstein, 36. Wetzstein also called it a "race" and "fun."
Wetzstein and Galle both said they intend to sell their elk horns, but Wetzstein said he makes art with some of his.
Another serious elk horn hunter, Jonathan Kirkley, 14, took a day off from Beaverhead High School and adorned his lanky frame completely in camouflage for his shed hunt. Kirkley can tell when he's found a pair of horns that have come from the same elk and, based on the patterns on the horn, he can tell when he's found horns that have come from the same animal across multiple years.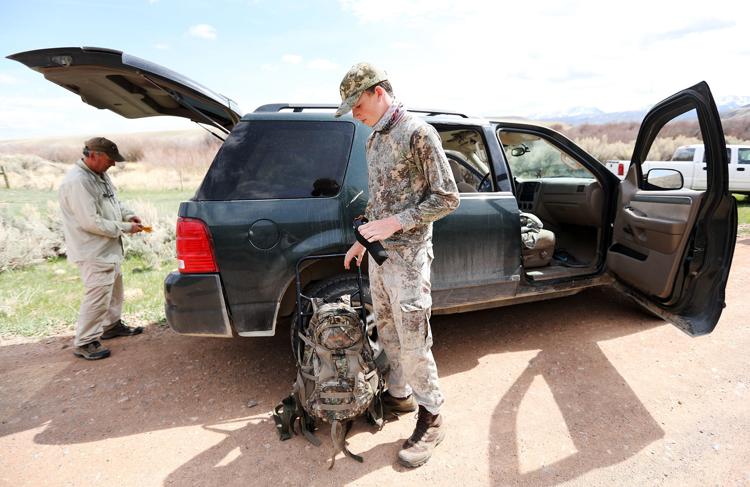 Kirkley says the land will be picked over by shed hunters by the weekend.
The gate remains closed during the winter to allow wildlife to descend from the ring of mountains that surround the valley seeking habitat during the winter months.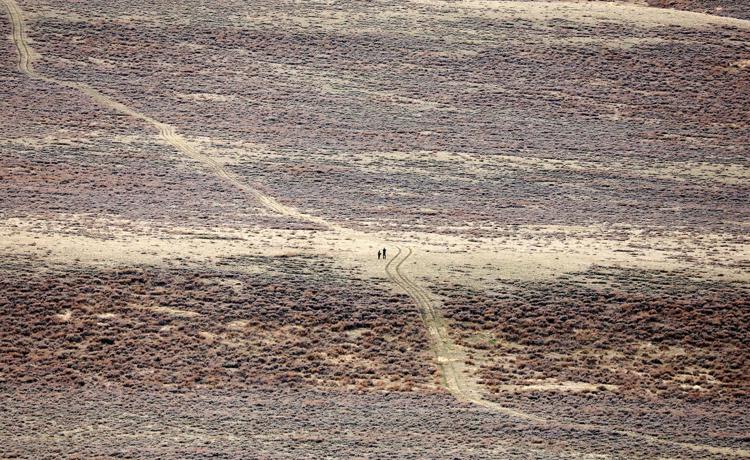 Dan Nottingham and his 9-year-old son Joey, were near the end of the line. They have spent more time shed hunting in the Tendoy Mountains to the west. Joey said he's seen a wolf while shed hunting in the Tendoys.
But after Wahl opened the gate and the trucks and all-terrain vehicles raced across the dirt East Fork Blacktail Road, which led them up long hills and down into deeper valleys, Jim Sheridan veered his pickup off to a dead end on a high hill and began a long hike with his border collie, Boomer. A light rain shook from the clouds rolling in from the east, but the droplets failed to dampen the fresh smell of sage and grass that welcomed the horn hunters. Sheridan stopped and rested on his walking cane and looked out through binoculars from a rocky vantage point, peering down at a creek curling and uncurling through the valley far below. Sheridan, who drove down from Butte for the hunt, said he hadn't found any horns yet. But it was too soon. The hunt had just begun. Despite the belly-rumble of thunder that forced some attention to the dark clouds shape-shifting in the west, Sheridan pushed on with his dog in the sagebrush that clung to the hillsides, looking amongst the elk scat.
Boomer, he said, helps him look for his prize.
"He goes and sits on the horns," Sheridan said.   
Get local news delivered to your inbox!
Subscribe to our Daily Headlines newsletter.