Mississippi Blues. New York Hip Hop Beatbox. Italian traditional. Caribbean reggae. 
Thousands of people from across Montana trekked to Butte to see the 20 scheduled musical groups over the free weekend outdoor music festival. The world art sampling has existed here for 12 years now and many of the people who attend have made it an annual July tradition. 
But the folk fest is just three days. About 30 hours of music. Roughly .3 percent of an entire year's worth of time. It features musicians from around the world, across the U.S. and a few based in the Big Sky, but seldom any Mining City-based performers. 
So, who are some of these local musicians? And what does Butte sound like the rest of the calendar year outside of the weekend it's heard by most?
In a small underground recording studio behind a house off of Montana Street known by its patrons as "the Ghetto," the raspy, full-bodied vocals of Sonya Batterman projected into a recording mic and handful of headphones pinned to the ears of her three bandmates. 
"Broken down, broken down hero. Tormented by the demons in his head," Batterman sang behind big sunglasses and beneath a ceiling of tie dyed tapestries. 
Ghetto Recording studio owner and veteran Dory Ritrovato was wiping away tears by the end. 
Ritrovado and Batterman have known each other for over a decade. Ritrovado is an abstract jazz musician and has welcomed local area musicians into the Ghetto Recording studio to create high quality recordings for affordable prices since 2004. 
"There are people that have come through here that would blow your mind they're so talented," Ritrovado said. He pointed to a large board of musician signatures and recorded albums hanging in the entryway of the studio space. 
Batterman is one of those musicians, Ritrovado said, noting that she's recorded singles and now albums in the Ghetto with her year-old rock band. 
But although Batterman and Synplicity acknowledged how lucky they are to have an affordable space where they can record high quality music, they are still searching for their place within Butte's live music scene. 
Since they formed, Batterman said they've played 6 or 7 shows in Butte, including the recent Rock Against Rape event at the Butte Depot and a show at the Staggering Ox restaurant. Yet as the band members talked, they expressed their desire for more local shows featuring more of Butte's original local bands—and the desire for more locals to come out to hear them. 
"Butte is an artsy town, but the city doesn't involve itself in music as much," Batterman said of the bulk of Mining City locals. "And it's hard to explain why it doesn't." 
…
Batterman isn't the only Butte musician who feels the local music scene involves only a small percentage of the community and is just a fraction of what it could be. 
Most of the 16 artists and venue owners The Montana Standard spoke with expressed feelings of disconnect and inconsistency related to both the availability of live music gigs and support of local musicians—and most had trouble putting a finger on why they had these feelings. 
"The local music scene is kind of lacking," said Clark Grant, station manager of Butte's KBMF public radio. "I think there's an absence of a real venue for all ages and all music … and I don't quite know why." 
Since KBMF public radio went on air in 2015, it has grown into a natural gathering place for musicians and music lovers. The Butte station offers free DJ trainings once a month and has retained at least 75 people who can be heard on 102.5 FM. 
"From the beginning we've had some pretty hilarious scenes in our tiny studio," Grant said, recalling local bands hauling full drum sets into the station's Carpenter's Union Hall space. "Our station has always been music focused and the connecting fabric for people who love music of all different kinds." 
To highlight his point and the diversity of musicians in Butte, Grant ran down the bill of the last live music show KBMF hosted in the Carpenter's Union Hall as the culmination of its annual pledge week fundraiser. 
First, there was an acoustic act. Then, groove metal enthusiast and KBMF DJ Shawn Roxx Hoskins and his band, My Fist Your Face. And lastly, the 7-person, Wu-Tang-inspired rap crew, The Arsonists. 
"We thought it'd be easier to form a bigger group of people so that there's someone for everyone," said Will Osmun, or 2 Dolla Will of The Arsonists. 
Osmun has been rapping since he was in high school. He said he was originally drawn to parody rap, like that of The Lonely Island, which comes out a little bit in his music today. 
"The big thing I like to do is look at the stuff that feels crazy to me," Osmun said. "I talk about anything I see, like insane meth heads on the street or just about the city (Butte) itself." 
Osmun said most all of the other rappers in his crew have Butte-based lyrics that people from the Mining City can really understand. 
"Some of the stuff would blow Butte away because people would never expect to hear it in a song," Osmun explained. 
At least 3 times a week, Osmun and his crew members meet in rapper Milo the Pryo's Uptown apartment and work with each other to develop their own individual voices, Osmun said. 
When asked how he would describe Butte's local music scene, Osmun said he feels the community is generally supportive of the city's musicians and mostly unaware that he and the rest of the Mining City's hip hop artists even exist. 
Osmun said he hopes to book The Arsonists more shows in town, which he's heard isn't too hard to do, and to help the crew reach a point where its members can make more money off of their rhymes. 
He also said he hopes to inspire a greater number of locals and hip hop lovers to care more about Butte's musicians—and realize that there are a wide variety of them that exist. 
"I'd like to see the scene grow as a whole. I still feel like a good amount of the population in Butte doesn't care (about local music) in general," Osmun said. "But I guess I'm not sure if it's that they don't care as much as it's that they don't know." 
…
If The Arsonists represent Butte's rap, Synplicity its hard rock and The Ghetto its underground recording studio, then Russell Nelson represents a little bit of everything the Butte music community has to offer. 
From teaching guitar and overseeing the pep band at Butte Central High School, to playing in both the Knee Jürk semi-acoustic cover band and Shellshock Lullaby punk-alternative rock fusion band, to recording and producing music in his own studio, Nelson does it all. 
And since he started playing in groups and as a soloist around Butte as a young teenager, Nelson said he's seen a lot of change for the better. 
"Before, there were more cover bands that played for extreme lengths of time. There wasn't a whole lot of original music," Nelson said of the Butte music scene. "Now there are a lot more original musicians playing shorter sets in more coffee house and brewery settings … there's just a greater variety." 
Register for more free articles.
Stay logged in to skip the surveys.
Nelson said he's never had any trouble playing live in the Butte area. He spends a lot of his summers touring the state pretty aggressively, and has even had the Butte Central rock-style pep band open up for his personal bands before. 
"You just have to get out there and do it," Nelson said of performing in the Butte area.
On one end of the spectrum, there are venues like Slainte Butte America Pub on East Park Street and the Staggering Ox restaurant on South Main Street. 
Both establishments have small floor stages and both benefit the most when local musicians perform on them. 
"It seems there's the biggest draw to the local stuff," said Mike Potts, co-owner of Slainte. "Most of the musicians who want to play reach out to use and 9 out of 10 times we say of course ... the challenge is paying them what they should be paid without putting ourselves in a hole."
Kevin Skocilich, co-owner of the Staggering Ox, told a similar story. He said he has a lot of newer touring bands reach out to play on his stage but usually won't book them for a show without a local band on the bill too. 
"Most people don't come unless there's a local band to generate some buzz," Skocilich said of the touring out-of-town musicians that come to the all-ages shows at the Ox. "Without the local bands, they are a lot smaller shows." 
But in bringing local bands to their stages, both Skocilich and Potts ran into an obstacle they didn't know existed: performing rights organizations. 
Performing rights organizations ensure songwriters and publishers get paid for the usage of their music by radio stations, TV networks, venues and other organizations across the U.S. and the world. 
Both Skocilich and Potts said that soon after they started hosting live music, several of these organizations, including the American Society of Composers, Authors and Publishers, started telling them they needed to pay a steep yearly fee if any of these live musicians were to play cover music. 
For Skocilich, that fee was around $3,000. And each PRO represents a different batch of artists, meaning a businesses like Slainte and Staggering Ox would have to pay that steep fee to more than one performance rights group if they were to allow live cover music, he and Potts explained.
"I understand where they're coming from, but as a bar in a small town, we can't afford to pay all of those fees," Potts said. "So, we focus on bringing in musicians who play their own original music and make them sign a waiver." 
Skocilich said the Staggering Ox is the same way—the restaurant only allows bands with original music. And like Slainte, the Ox is open to letting original bands of all genres play at their establishments if they are willing to put themselves out there. 
"Our goal is to ultimately have bigger shows and to continue to bring original music to Butte," Skocilich said. 
Both Skocilich and Potts said they plan to continue hosting live music and hope to create more consistent live music schedules for all ages in Butte to enjoy as they move forward.
…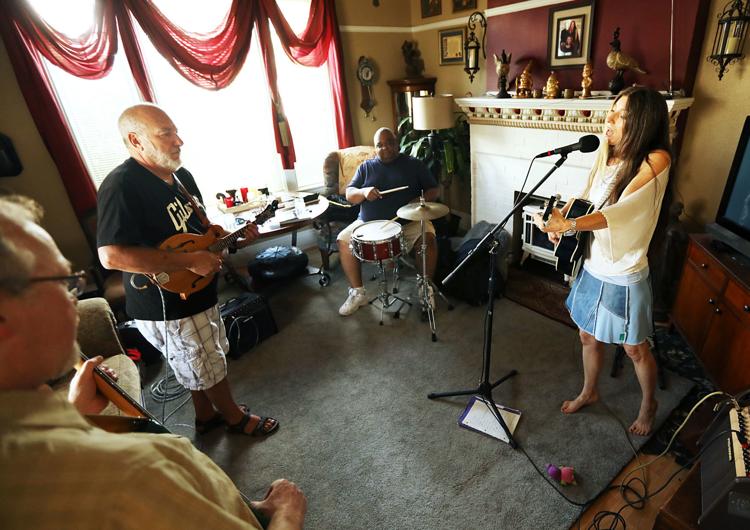 On the other end of the spectrum in Butte there are more event-based, larger music venues, like the Butte Depot, which try to book local openers for their more prominent headliners. 
Recently, the Depot hosted popular country singer Craig Morgan at The Original headframe stage with local openers Andy Larson and the Ken Rich Band. 
"I think these bigger shows give the local artists quite the opportunity to play in front of bigger crowds," said Bill Fisher, owner of the Butte Depot. 
And in the middle of Butte's venue spectrum falls the Covellite Theater, which can host bigger name shows with local openers as well as local headliners. 
"We're open to anyone and try to give locals a good deal so they can get into this space," said Matt Frey, owner and manager of the Covellite Theater. "We're trying to bridge that gap between the big venues and the more bar-type shows." 
But although Butte is described as venue-rich, there is one venue not generally open to local musicians: The Montana Folk Festival. 
"We've had musicians from Butte play in the festival before but it's just not in the cards to have a local stage," said George Everett, Montana Folk Festival director. "It doesn't fit the program and anyone who comes to the festival can see that." 
Some local artists understand this logic. During the festival, they will busk for festival goers at various street corner posts in the Uptown area and can sometimes get gigs at some of the Uptown establishments to take advantage of the large number of people visiting the Mining City for the weekend.
But others feel the festival could really benefit from having a local stage featuring Butte area and Big Sky talent exclusively, as it would really give visitors a sense of the place they are in and the people who live there. 
"A local stage would contribute to the experience of the listeners and work to cultivate support of local music," said local singer-songwriter Chad Okrusch. "It would give citizens a glimpse of the talent that exists here." 
Both Okrusch and Heather Lingle, another local singer-songwriter, have played at the Montana Folk Festival before on the Montana Traditions Stage and said it was an incredible experience.
Lingle has even busked at the festival, playing informally on a space near the Uptown stages for tip money, which she plans to do again this year. But she said she missed the local music that was a part of the festival at one point. 
"The very first year of the folk festival there was the coolest local stage on South Main Street. People loved it," Lingle said. 
That was one of the National Folk Festival years, 2008, and the only year a local stage like that existed, Lingle continued. 
Regardless of there being a local music stage or not, Everett, Lingle, Okrusch and the other artists interviewed for this story enjoy the Montana Folk Festival and feel it supports the local music scene that continues for the rest of the year in one way or another. 
"I'll soak in the musicians one day and the next day I feel inspired to write a song," Lingle said of the annual festival. 
When asked what these artists hope for the future of music in Butte, each had different words of wisdom.
Nelson encouraged musicians to get out and teach in hopes of building the next generation of artists. 
"If you know something, teach it," Nelson said. "There are a lot of people who have done really cool things and I think it's important to pass it to the younger people any way they can. Teaching is the key to building." 
Lingle urged aspiring musicians to create more of a global audience for themselves by continuing to develop their online presences and to utilize all of the talent that exists right here in Butte.
"If you're a local artist you need to utilize other locals when you need stuff done … there's more than enough talent here to supply your needs," Lingle said. 
Overall, most artists praised Butte's diverse music scene and said it's on the right path to becoming a more vibrant, prominent part of the community. 
"I'm proud of how far we've come and am hopeful we will continue on this trajectory," Okrusch said. "But there is more work we need to do to create a sustainable and vital music culture."