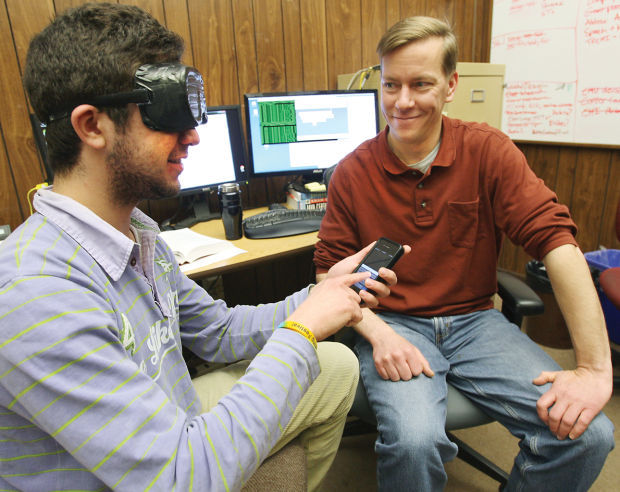 A professor at Montana Tech and one of his students are working on a research project that may lead to a cell phone application for blind users.
Keith Vertanen, assistant professor in computer science, and his student Haythem Memmi hope to create an application that would allow the visually impaired to swipe their cell phones in the shape of letters in order to send text messages.
Vertanen, 38, is originally from a suburb of St. Paul, Minn., and he's in his second year of teaching at Tech. He earned his Ph.D. from Cambridge University, and said the project interests him for a couple of reasons.
Not only does Vertanen hope to help people, but as a scholar he's interested in how users interact with their electronic devices, especially in terms of speech and error recognition.
"I think it's great to work on stuff that has an impact on society," Vertanen said. "And academically it's very interesting. Building interface that works with noisy input and limited feedback is a challenging problem for me as a computer scientist."
Vertanen said the problem with current hand-held devices is they have no tactile features that would help a blind or visually impaired user. Hence the ability to swipe a letter on a screen to make words would help those users to send text messages.
At this point, Memmi is running tests only with sighted volunteers who enter letters and words on hand-held devices while wearing goggles that restrict their sight.
Vertanen hopes to use the data collected in these experiments to develop a prototype for a phone application that could be further tested. The actual app could be years in the making, but that's exactly what interests the professor.
"I'm excited that once we get this data running to see how good it is," he said. "It's research, and as we often say, 'we don't know.' I can't map it out. We have a plan, but we may have to adapt the plan as conditions change."
Memmi, 22, who is originally from Tunisia and has a triple major in computer science, software engineering, and mathematics at Tech, said he's found the chance to work with Vertanen quite rewarding.
"I checked his website and was interested in what he was doing," Memmi said. "I checked his publications too … It's very interesting. Especially when you have the feeling that what you are working on will help people in real life."
The pair is also working on the project with Per Ola Kristensson from the University of St. Andrews in Scotland.
Vertanen and Kristensson have written a number of papers together, and they're hoping to adapt a software program that Kristensson previously developed into their current project.
Vertanen said he's especially happy to have Memmi's help.
"The extra manpower is important and he brings a lot to the table as far as the project goes. He has good critical-thinking skills,'' Vertanen said.
When he's not busy with his research, the professor takes to the outdoors. But even when he's getting out of town, he thinks in terms of data.
"I'm not a big city person, so it suits me fine," he said. "I can get to the Continental Divide in three different directions in 15 minutes by car."