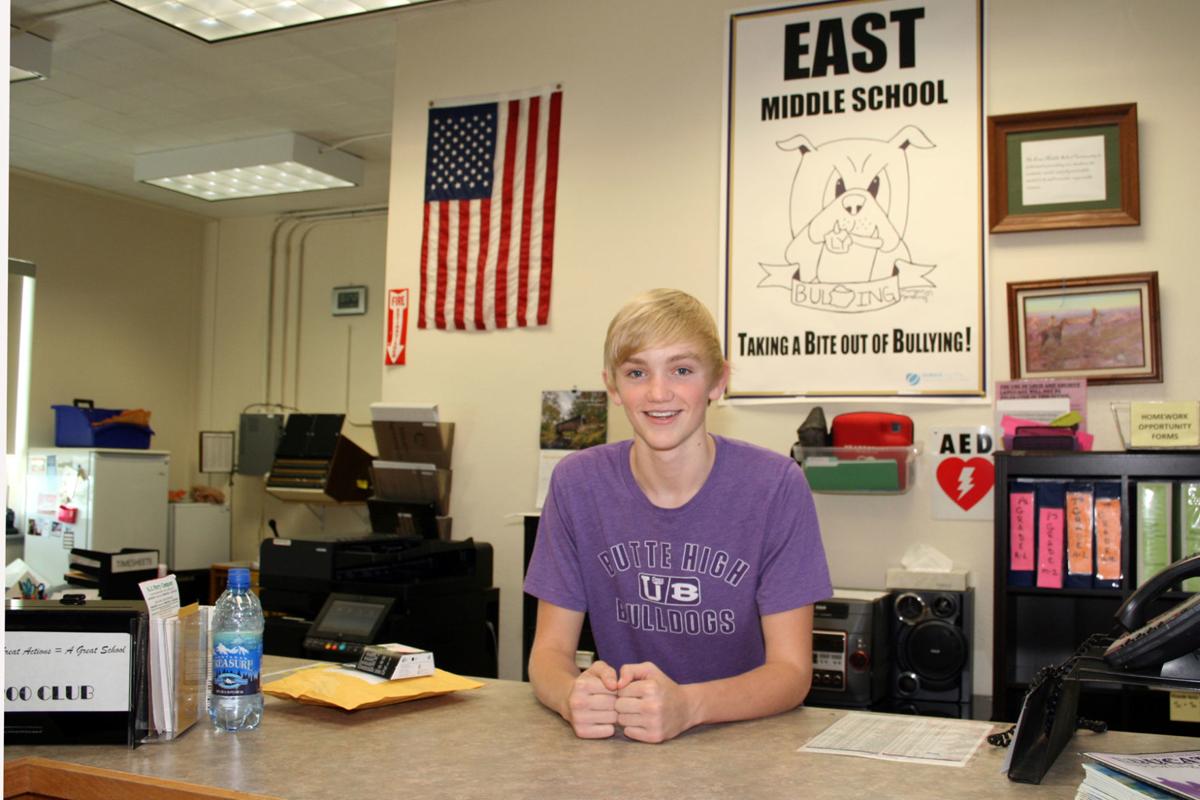 Bo Demarais' teachers use words like "conscientious," "intelligent," "kind," and "respectful" to describe this outstanding 14-year-old student and athlete. East Middle School Principal Keith Miller describes him as "humble," and "resilient." His mom, Melissa Demarais, said, "He's got a big heart."
Demarais is known around East for his kindness to other students. "He steps up and helps other students as needed," said Miller. "Bo is frequently among the first to help and mentor other classmates," his English teacher, Marc Gilboy, added.
No matter who you ask, it is clear Demarais exhibits exemplary behavior in all his classes. "As an eighth grade student, he emulates what a good citizen should do," said Kacey Queer, his social studies instructor.
Demarais has managed to shine academically, in spite of some difficulties he's been facing at home. Bo's older brother Max was diagnosed with a brain tumor last fall. When his mom, Melissa, was forced to travel with Max for treatment, Bo's father, Brian Demarais, said his son Bo stepped up to the plate with an amazing degree of maturity. While his mom and brother were gone, Demarais helped his father Brian and sister Mylee handle things at home. "He was very supportive," Brian said, with pride.
In spite of these adult-sized problems and additional responsibilities, Demarais has managed to maintain a 4.0 grade point average. His said his love of school goes back to his days at Hillcrest Elementary. "I like math and science," said Demarais, who is hoping to go into engineering. "You've got to keep good grades if you want to play sports," he added.
Demarais is an all-around athlete. "All my friends play and it's fun to do after school," he said. This fall, he's a quarterback for the East Middle School football team. This coming winter, his 6'1" stature will provide him a significant edge as he moves his game on to the basketball court. Spring will find him clearing hurdles, and circling the track in the 100-meter, 200-meter, and 400-meter relay. "I like to run," he said. Demarais said his dedication to school work and participation in athletics has helped him to manage the stress his family is currently facing. "It kind of took my mind off things," he said.
Demarais starts his school day in the East Middle School office, where he works as a first period office aide. Whether he's filling out admit slips, delivering supplies or making copies, he is glad to be of service. "I like being able to help people out," he said.
Demarais' outside interests include art, music, video games, and travel. He's a member of the East Travels America club, and is looking forward to a school trip to New York and Philadelphia this summer. The itinerary includes a trip to the 9-11 Memorial and a baseball game. "I'm excited," he said.
There's no question that Demarais is a teen worthy of acknowledgement. When it comes to Demarais' prospects, his health and physical education teacher summed it up best: "The future is bright for Bo Demarais and we are lucky to have him as a student at East Middle School."