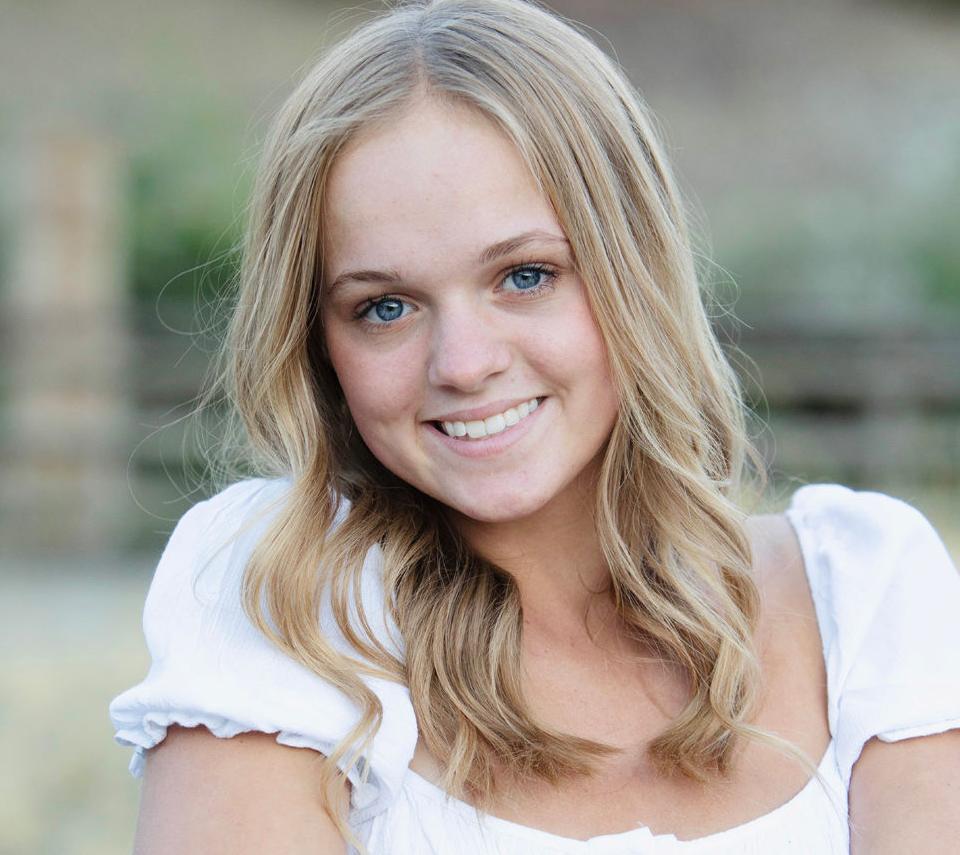 Editor's note: The following is part of a year-long series of Teen of the Month profiles. School officials select each student. At the end of the year, one of the students will receive a scholarship.
Butte High School senior Braleigh Garrett has no shortage of the drive and determination it takes to achieve success. After maintaining a 4.0 grade point average during her four years at BHS, 18-year-old Garrett will be attending the University of Montana Western in Dillon as a business major in the fall. She hopes to go on to law school after completing her undergraduate work.
Jennifer Hope, who teaches business at Butte High, has great expectations for her pupil. "She is so bright and on top of her work. She was an absolute joy to have in class and I can't wait to see what she does at Western — and in life," she said. Social Studies teacher Marian Paull had similar sentiments: "She is a very positive young woman. I really enjoyed having her in class because she is so personable, outgoing, and a good student."
Though she excels in all her classes, Garrett says her favorite subject is history, with a special interest in life in the Roaring 20s. "'The Great Gatsby' is my favorite book," she said.
Her success and interests at school are more than academic. Garrett has been involved in school government, clubs, and sports — serving as a vice president of the Student Council, performing community service as a member of the Butte Excel Club, and competing in track and field during her freshman and sophomore years.
Outside of school, Garrett has been involved in 4-H in the past and is currently an active member of the Silver Bow Youth Leaders. "It's another opportunity where I can help out in the community," she said, noting that chances to serve have been markedly decreased during the pandemic.
Diana Widhalm, Silver Bow Youth Leader director, said she has known and worked with Garrett since she was a small girl. "I think she has a really great work ethic," she said. Widhalm added Garrett shines in all her endeavors, whether it's cooking, showing animals, or raising quality market hogs. "She does her research," she said.
Perhaps Garrett's greatest passion and talent is her skill in rodeo competition. She's been riding since the age of four. She currently competes in barrel racing, pole bending, goat tying and break-away roping events with the Montana High School Rodeo Association, where she holds the office of student secretary. "Rodeo is so different from other sports. It's all on me and my horses," she said.
Garrett described her fellow rodeo competitors as a big supportive family.
"I have life-long friends because of rodeo," she said. Competitions have brought her all over the state of Montana from small town Circle to big city Billings, and as far away as national competitions in Tennessee and Oklahoma. Garrett commits one to three hours daily to exercising and training her horses. Her skill, dedication, and rodeo standings have already paid off, earning her a place on the UM Western college rodeo team in the fall. Her parents, Brian and Kristen Garrett, were happy to learn of their daughter's recognition. "We're extremely proud of her," Brian said.
Kristen described Braleigh as a responsible, dependable, and good-natured daughter who is a huge help to the rest of the family. "She's a really hard worker. She helps with chores and with her younger sisters," she said. Both parents have no doubt Braleigh will continue to succeed in life.
"She's very determined. When she puts her mind to something she gets it accomplished,'' Brian said.