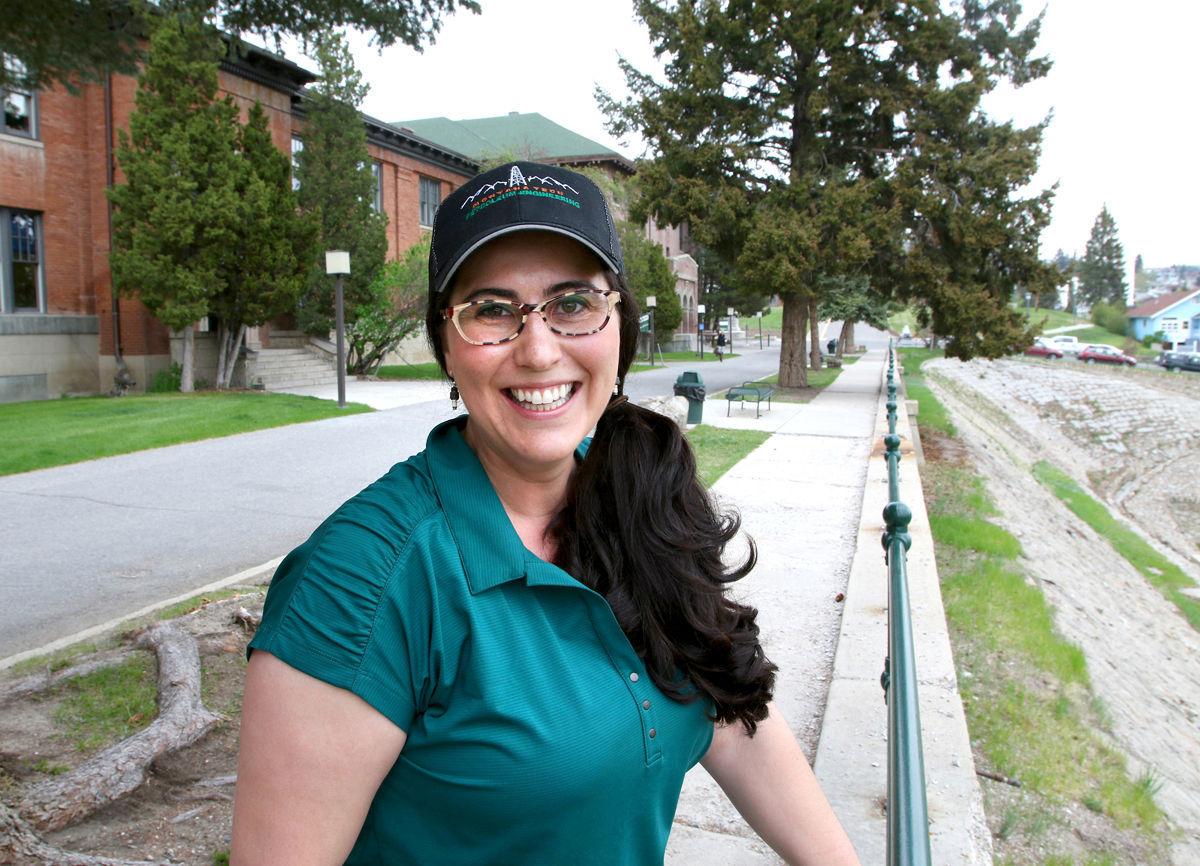 Brooklyn Vosen did whatever it took to get through college.
If it meant camping in the hills around Butte for a month after starting classes, she did that — until she found a room to rent.
If it meant pitching a tent on Bureau of Land Management land in New Mexico after starting a petroleum engineering internship, she did that.
Vosen is a nontraditional Montana Tech graduate — that is, after commencement Saturday at 11 a.m. at the Butte Civic Center. She is a can-do type of gal, one of a handful of women petroleum engineering majors ready to take the world by storm.
Next up: She already landed her first job in deepwater drilling on a Chevron Transocean Drillship, starting June 6.
Very little spooks the pumpkin-patch toddler turned rodeo cowgirl raised to tackle any project thrown her way at the family wheat farm in Wolf Point on the Fort Peck Indian Reservation.
Later she learned a tough work ethic as a wrangler in the Bob Marshall Wilderness.
Vosen started classes at Tech after recalling she tested highest in analytics, science and math on her high school aptitude tests in Power, Montana, where she graduated.
Between Power and Wolf Point, school counselors failed to point her in the right direction despite her obvious left-brained strengths.
"Growing up on a reservation, nobody ever said, 'Hey, you can be an engineer,'" she said.
After a stint at Montana State University studying pre-veterinary and horsemanship biophysics, she said the lack of mentorship made her drop out.
Eventually, over coffee with a friend in Missoula, Vosen was convinced that petro engineering school would result in the best "return on investment." So she applied to Tech.
"When I decided to go back to school, I had just enough money to pay for my first-year tuition — that was it," said Vosen, who scrimped and saved through a variety of office jobs. "I put everything on the line to come back to school — my entire savings — about $7,000."
Serendipitously, key scholarships and internships landed in her lap in the nick of time every semester when money was tight.
Ever since, she's quickly climbed the ladder in terms of leadership, mentorship and natural-born savvy in talking to all kinds of folks in the mostly male petroleum engineering industry.
"She's incredible, absolutely incredible," said David Nugent, adviser for the Tech chapter of the American Association of Drilling Engineers. Vosen served as chapter president this year.
"If I was going to make a mold, she would be the model," he added. "We have a lot of good students here at Tech, and she's at the very top of the group."
A 3.62 grade point average and a stellar reputation as a leader of underclassmen and women haven't hurt.
"She's such a great mentor," said Lexi Brandon, wrapping up her freshman year in petroleum engineering at Tech. "She's on the ball. She knows a lot about the industry, she's had a lot of interesting experiences, and she's also willing to help you out with anything you need."
Vosen guided Brandon, a Butte native, through resume writing; scholarship applications, and her election speech, which won her the AAAD vice president office.
"I'm not a good public speaker, but she really helped me out," Brandon added. "It's amazing all the stuff she has going on, but she always finds time."
Vosen volunteered with Brandon to mentor the younger Girls Excelling in Math and Science, a Butte club, and conveys a bright, laser-sharp charisma.
Her mother, Mary Lynn Vosen, has been in her corner from the start.
"I learned from her the importance of giving back to the community," said Brooklyn. "I think it's critically important."
She knows she'll be tested as a roughneck or roustabout on her first job on a drilling rig, especially because she may be the only woman on board. But her life experience has prepared her.
To any classmates who make snarky comments that she landed her first job on a drilling rig because she's a woman, she answers: "And what is your GPA?"
That usually silences the naysayers.
"I didn't come to Tech to be anybody's mama," said Vosen confidently. "I came here to be the boss."
Nugent said he expects she'll climb to the vice president level in the industry because she's the complete package.
"I've watched her operate," he said. "The leadership and management skills she has for someone at her experience level is really advanced. She delegates very well. She's going to do very well in this industry."
While she expects to take her lumps while training on a drillship, she has other goals:
"I'm grateful for the opportunity Montana Tech and its donors have provided me. I hope that by sharing my story, I will help young women imagine themselves as engineers and know that engineering is an option."
Nugent said Vosen can communicate to all types of people, serving her well in the male-dominated industry.
"She'll be a rarity out there," added Nugent, a 35-year engineer who worked in the field before teaching. "I think she can handle the guys — I don't think that will be a problem. The question is whether they can handle her."