Studying the various factors that contribute to healthy plant growth. Figuring out why Northern Spotted Owl populations are declining. Looking at the diversity and abundance of macroinvertebrates at beaver mimicry sites along Blacktail Creek.
These are just a few of the research projects 52 Butte, Anaconda and Helena area high school students presented on Friday at Montana Tech.
In three gathering spaces inside of the HPER Complex, the teens talked about their research findings related to topics ranging from wildlife and conservation, to robotics and sound composition, and answered questions from their peers, parents and advisors about their experiences when they finished.
But this STEM symposium wasn't just some sort of science fair—it was the culmination of the TRIO Montana Upward Bound Scholars' Summer Academy, which aims to introduce students from low-income families and with parents who didn't pursue college to the various opportunities higher education has to offer.
For the past 25 years, Montana Tech's Institute for Educational Opportunities has hosted the 5-week summer academy for Butte, Anaconda and Helena high school students as part of its year-round Upward Bound college resource program.
The academy mirrors a typical college block schedule and allows students to more rigorously explore the STEM fields, English, foreign languages and electives while also taking classes like adulting and student government.
Upward Bound and its related scholars' summer academy is just one of many programs within the Tech educational opportunities institute, and of federally funded TRIO programs established across the state that aim to increase the numbers of students who enroll and complete postsecondary education in Montana, regardless of their demographic backgrounds.
And at the local level over the past two years, this goal has expanded even more as the summer academy at Tech has amped up its STEM fields and research focuses with the help of a roughly $40,000 Unite grant and an Upward Bound Math and Science grant in hopes of encouraging students from groups historically underserved in the STEM fields to consider careers in math or science.
According to Theresa Rader, director of TRIO student support services for The Institute for Educational Opportunities, Tech is in the process of re-applying for the two-year Unite grant, which she said also awards participating students with weekly $100 stipends during the academy for their research with Tech faculty, graduate and undergraduate assistants.
This year, one of the students who took full advantage of all the Upward Bound summer academy had to offer was John "Mikey" Haldane, a rising junior at Butte High School.
Haldane explained that about two years ago, he wandered into the Upward Bound room at Butte High, learned about the college prep program and went all in.
"I said, 'Heck yeah I want to go to college!,'" Haldane said, noting that he's currently torn between pursuing law school or a psychology degree.
Since he started with Upward Bound, Haldane feels he's learned a lot about teamwork, time management skills, how to be a good person and how to open up more to people.
"This program makes you talk to other kids on a personal level and makes you feel like you're not alone," Haldane said of the summer academy specifically. "Being low income, it makes me feel like I have people to relate to and feel like no one will judge me for it."
This summer was Haldane's second Upward Bound academy experience, which he described as a good taste of college life.
Although he said he was involved in a STEM research project last year, Haldane said he especially enjoyed his experience working with Clark Fork Watershed Education Program researchers this summer to survey the macroinvertebrates living in the pond-like environments created by the beaver mimicry sites along Blacktail Creek.
"I loved every minute, no every second of the program, it's so much fun and you meet so many new people," Haldane said.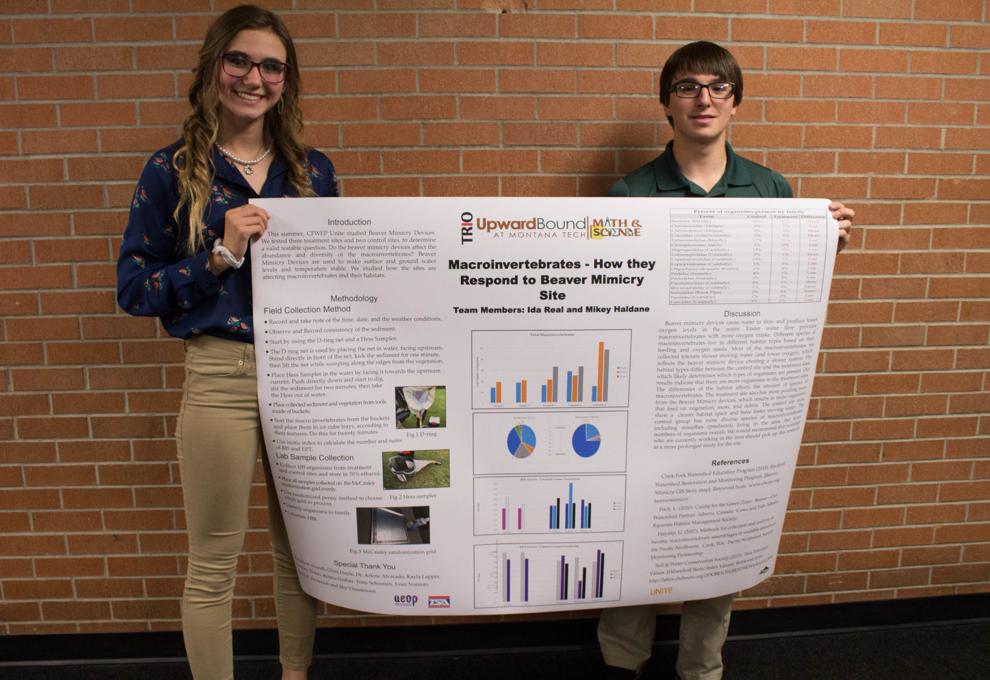 Students like Haldane aren't the only ones impacted by the Upward Bound summer academy—researchers like Rayelynn Brandl, director of CFWEP, have also benefited from having high school students actively participate in their science work.
Brandl said projects like the one with Haldane and his Butte High research partner, Ida Real, helped pioneer methods and gather preliminary data that will help further Tech students' research and degree work this fall.
CFWEP has always worked closely with The Institute for Educational Opportunities to inspire and educate students and teachers across the state, Brandl said, and she feels like the Upward Bound summer scholars' academy specifically helps show teens an obtainable future in the STEM fields.
"It shows students that science is totally doable, it's not scary at all … it also creates curiosity and builds resilience," Brandl said. "These students uplifted me all summer, I couldn't wait to come to work with them every day."
After Haldane and Real presented for about 15 minutes on their research findings, Brandl and her CFWEP colleagues congratulated them. 
The Butte High students will finish their summer academy experience in Portland, Oregon, next week and strongly recommended the Upward Bound program to their peers as a way to both prepare for college and become more confident people.
"It will change your life," Haldane said.