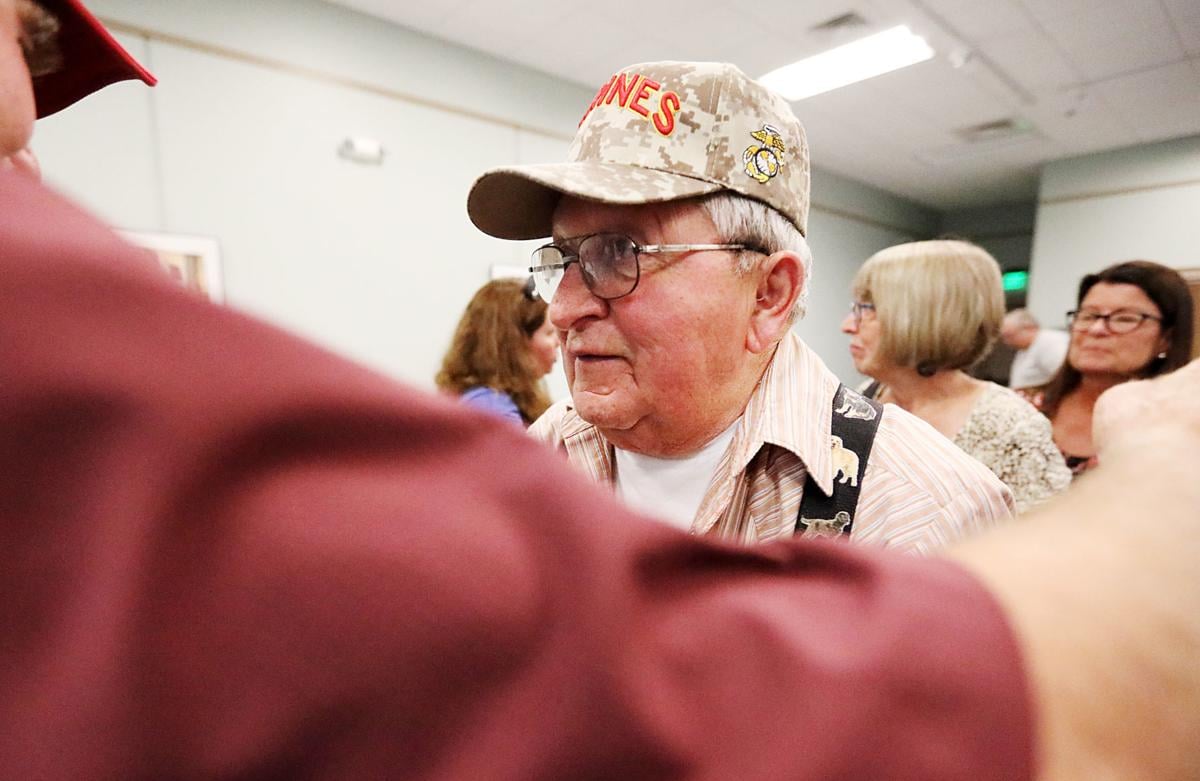 In a room at the Butte Archives, a woman stood in front of roughly 30 people. PowerPoint slides were projected onto a white screen behind her as she spoke.
"Myth: If somebody really wants to die by suicide, there's nothing you can do about it," she read, walking down the aisle between long, plastic tables. "That is a myth. Why?"
A man sitting at a table near the front spoke up: "There's always something you can do."
On Tuesday night, Juliana Hallows, a suicide prevention coordinator at Fort Harrison Veterans Affairs Medical Center in Helena, helped Butte residents in attendance better understand the signs of suicide and what they can do to help someone who may be suicidal.
While the need for this understanding never goes away, it gained a new urgency last month, when a young Marine Corps veteran from Butte died by suicide. That triggered a response from the city's veteran community. 
"Losing him really hit us hard," said Mike Lawson, commander of the Southwest Montana Veterans Council and the Marine Corps League in Butte. "That was the drive to get a workshop here."
Lawson says suicide, especially among veterans, is a real problem that many people are unaware of. He wants the Butte Marine Corps League to be a place people can come for help.
"Veterans that have been in combat often feel lost and just dumped back into society. Our goal is to be there when people get out, to help them get jobs, services and to just shoot the bull," Lawson said.
Most of the men and women in the room on Tuesday sported service pins, hats and shirts, and they were eager to participate. 
Montana not only has the highest civilian suicide rate in the country but also the highest veteran suicide rate. Veterans account for 1 in every 5 suicides in the Treasure State, according to a three-year study conducted by the Montana Office of Epidemiology and Scientific Support. From 2013 to 2016, researchers analyzed Montana death certificates to determine the prevalence of veteran suicide. Over the study period, the veteran suicide rate was more than twice the non-veteran rate, at 70.4 deaths per 100,000 people.
According to Hallows, suicide prevention and mental health services for veterans have increased immensely since she started in 2016.
In her presentation, Hallows talked about the VA's crisis hotline, coping and symptom-management smartphone apps, personalized safety planning and various other forms of therapy or counseling available in Montana. And last Friday, Hallows said, she received up to $1 million from the national VA office to help her further increase these services across the state.
With the grant money, which is already delineated, Hallows says she will be able to provide greater access to quality care, more marketing and advertising, and a library with mental health resources for VA staff, among other services. 
"We're doing everything we can to get people to talk about suicide and feel comfortable accessing care. And when they do get care, we want that care to be excellent," Hallows said.
During her presentation, Hallows said Montana had lost 42 veterans to suicide this year. While she detailed suicidal signs and symptoms, she stressed that often there are none. Twenty-five percent of people who completed suicide had no recognizable signs or symptoms, she said. As a result, it's important to trust your gut and ask someone who you think may be suicidal what Hallows says is the most important question: Are you thinking of killing yourself?
What happens next is key. If they say yes, don't freak out, she said. It's important to remain calm and to validate the person's experience as a veteran and their feelings as a person. Let them know that it must be hard to feel how they do, Hallows said. Yet, even with the right question and the right response, there are no guarantees, she said.
"There is no magic pill or magic step to keep someone from committing suicide," Hallows said in her presentation.
She said she talked several times with the young Marine veteran from Butte who recently died by suicide, and that it's important not to give up: "Don't feel tired and worn out, keep going. We've got to keep going and we've got to be there."
Get local news delivered to your inbox!
Subscribe to our Daily Headlines newsletter.