Military recruiters routinely trolled the shopping mall's soul-deadening, Muzak-saturated corridors. The savvy recruiters realized that young people snared in dead-end retail jobs could be vulnerable to a sales pitch: Uncle Sam Wants You!
A teen-aged Kimberly Yancey clerked at a cookie shop in the mall.
"I was bored," she said. "The recruiters got ahold of me."
In February 1993, Yancey enlisted in the U.S. Army. She was 19 years old. Her father had served three tours in Vietnam as a U.S. Marine.  
Today, Kimberly Yancey Fisk, 48, is an Army major, a licensed physician assistant, a wife and mother and an entrepreneur in Deer Lodge.
On May 1, she opened Mountain Sage Herbals in a small house on Pennsylvania Avenue near the old Montana State Prison. Her daughter, Liana Fraser, helps run the store. Kimberly's husband, Lance Fisk, manages the Burnt Hollow Ranch near Deer Lodge.
Nearly 29 years ago, Kimberly Yancey traveled to Fort Leonard Wood in Missouri for basic training. The Army sent her next to Fort Sam Houston in Texas for Advanced Individual Training to become a combat medic.
While at Fort Sam Houston she decided she wanted to change her status to active duty from Army Reservist.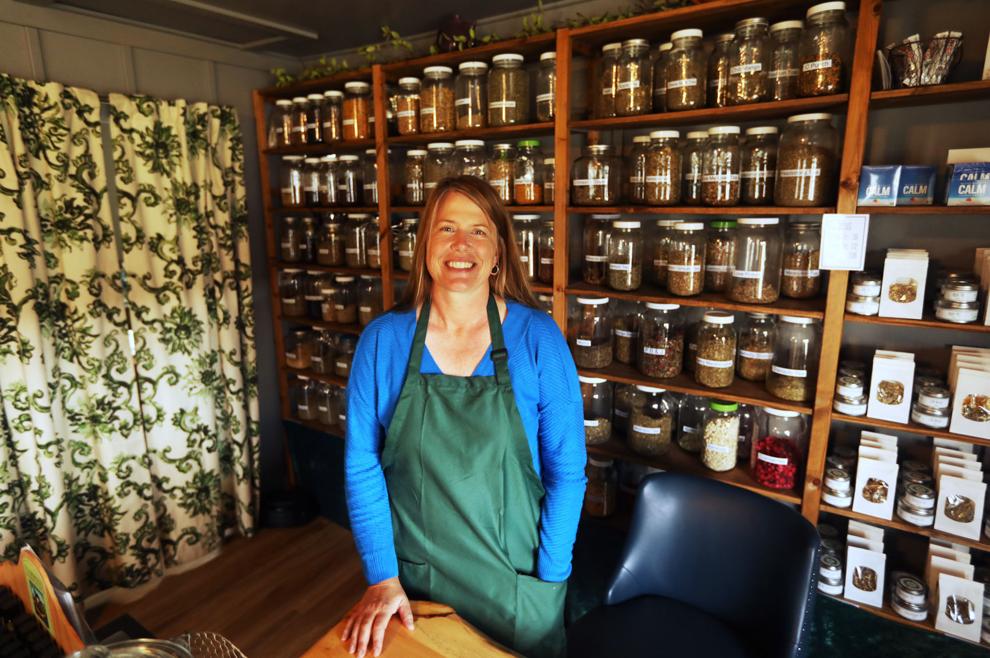 Yancey returned home for a stint and felt convinced that her time in the Army had been worthwhile. Her activities at home reflected the discipline acquired.
"I was getting up at 0600 and running around the neighborhood and keeping my room clean," she said. "The Army totally shaped me but I didn't realize that until now."
In 1994, she deployed to Saudi Arabia and Kuwait to serve at a desert camp in Kuwait with an air defense artillery unit. The Gulf War had ended in 1991 and Yancey's deployment did not include combat.
"I played more beach volleyball than anything," she said, smiling.
She is tall. She said she was better at blocking shots than hitting kill shots.
At one point during this deployment, Yancey bunked at the Khobar Towers in Saudi Arabia. Later, in June 1996, terrorists detonated a massive truck bomb at the site, killing 19 American airmen and wounding hundreds of people.
During this deployment, she met a special forces physician assistant who inspired her to pursue the same medical path.
In 1997, Yancey began school and training as a civilian at Rocky Mountain College in Billings to become a physician assistant.
In Billings, she met Lance Fisk, a Texas native who was traveling then as a rodeo cowboy. They married in August 2001.
His routine garb included a cowboy hat and boots.
When Kimberly's physician assistant work took her to the Yale-New Haven Medical Center in Connecticut, Lance was less than enamored with the urban congestion of the Interstate 95 corridor and the occasional New England snootiness. His cowboy hat and boots clashed with the Ivy League's buttoned-down formality. He became a curiosity of sorts.   
He felt grateful to rope a job in a stable, his wife said. Yet the horses he tended were pampered, mostly thoroughbred polo ponies instead of the hardy quarter horses of the American West.
Much to Lance's relief, the couple traded Connecticut for Texas once Kimberly's time at the Yale-New Haven Medical Center ended. Her work in the Lone Star State included service in an emergency room and a men's prison.
In 2011, she returned to the Army Reserve. In October of that year, the couple and Liana moved to Deer Lodge. Kimberly Fisk took a job as a physician assistant in the infirmary at the Montana State Prison.  
In 2013, the Army sent her to Fort Hood in Texas on active duty orders to help perform medical exams on soldiers returning from duty in Iraq and Afghanistan.
Later, Fisk returned to Deer Lodge. In 2017 she took a job at the Military Entrance Processing Center in Butte.
In September 2019, Fisk deployed to Africa. Her duties were tied primarily to civil affairs, working with staff from U.S. embassies in the African nations she visited. According to the Army, civil affairs teams "engage and partner with communities around the world to reduce the root causes of instability, enable local governments and improve the quality of life for civilians caught in crisis zones."
Fisk traveled during this deployment to Djibouti, Rwanda, Burundi, Ethiopia, Uganda, Kenya and Somalia. Her time in Africa stretched past her scheduled return because of shutdowns related to COVID-19.
Her work there was about as covert as a category 5 hurricane.
"A 6-foot-tall blonde woman in Africa is never incognito," Fisk said.
She returned to Deer Lodge, a community she said she respects because its residents tend to embrace hard work, personal responsibility and reliability.
Fisk, a certified herbalist in addition to being a physician assistant, launched Montana Sage Herbals in 2018 as a vendor at various markets and events. The business became brick-and-mortar in May.
The store in Deer Lodge sells a variety of goods. They include, but are not limited to: novel teas, elderberry syrups, magnesium oil, essential oils, candles, smudge sticks, salves and more.
Fisk's interest in herbal remedies began when Liana was a child and suffering from a persistent cough. As a last resort, she gave Liana some cherry bark syrup.
"I gave her a teaspoon and the coughing stopped," she recalled. "That was 20 years ago."
While working as a physician assistant, Fisk began to recognize how some traditional medical treatments aren't effective and can even cause harm. She began to research and adopt herbal remedies when appropriate in her treatment of patients.
That doesn't mean she has abandoned western medicine. She hasn't. But she is open to the potential efficacy of alternative treatments.
Her current job involves preparing soldiers for deployment. She works out of the National Guard Armory in Butte.
Fisk said her father, Kerry Donovan Yancey, did not disclose much to her about his three tours in Vietnam until he approached the end of his life.
She said he had battled for decades with the Veterans Administration for disability benefits tied to that service.
"He was angry, bitter," Kimberly said. "I actually think the VA hastened his death."
She said her father clearly demonstrated the symptoms of PTSD and the negative impacts of exposure to Agent Orange. He also served at Marine Corps Base Camp Lejeune in North Carolina and suffered, as others did, from the effects of exposure to contaminants in the base's drinking water, Fisk said.
He died in August 2017 while residing at the The Springs at Butte assisted living center. Fisk said the VA had finally granted him 100 percent disability toward the end of his life.
Meanwhile, Fisk said her experiences and high ranking authority in the U.S. Army have generalized to her home life.
She said the Army taught her to be responsible, reliable and mission-focused.
"My family is sort of militarized," Fisk said, smiling. "There are no excuses. You make it happen."
Fisk woke the morning of Sept. 28 to discover her vehicle had no brakes. She ultimately determined that her dogs, while eagerly hunting chipmunks, had chewed through the brake lines.
Yet she still made her 10 a.m. appointment. And was actually early.