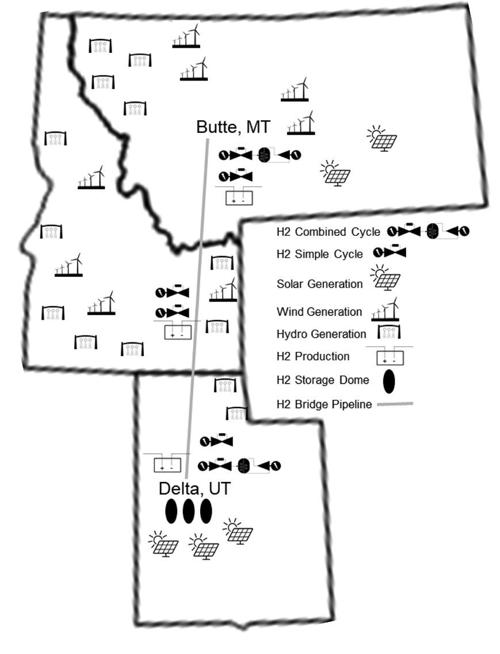 State and county officials were updated this week on Mitsubishi Power's proposal to convert treated Berkeley Pit water to hydrogen and use it to decarbonize a large part of Montana's electric-power grid.
The plan would involve the construction and operation of both an electrolyzing plant in Butte to extract pure hydrogen from the water, and a power plant next to it that would run at first on a mix of the hydrogen and natural gas, and eventually on 100 percent hydrogen.
Mitsubishi Power, a part of Mitsubishi Heavy Industries Group and formerly known as Mitsubishi-Hitachi Power Systems, is working on hydrogen power projects on four continents.
Butte-Silver Bow Chief Executive Dave Palmer hosted a teleconference in his office Thursday, with Lt. Gov. Mike Cooney and Patrick Holmes, Gov. Steve Bullock's natural-resources policy adviser, in attendance, as well as State Rep. Jim Keane. Several key Mitsubishi executives attended via teleconference, including Michael J. Ducker, vice president/renewable fuels; David Hunt, senior vice president/North America; and Yvan Moosmann, vice president for strategic sales.
Also participating were Kristen Rosa, administrator at Butte-Silver Bow's Montana Connections Business Development Park; Karen Byrnes, Butte-Silver Bow's community development director; former Butte-Silver Bow chief executive Matt Vincent, who is working as a consultant with Mitsubishi;  Kumar Ganesan, environmental engineering department head from Montana Tech; and Joe Willauer, president of the Butte Local Development Corp.
Holmes said, "We're excited to be together to continue conversations we've had for some time now on this project. It's a complicated project with lots of steps ... but opportunities are huge.  The Governor's Climate Solutions Council released its plan last week, which includes economic development clusters around clean energy."
Indeed, the governor's council plan discusses "deep decarbonization" of power production, and the Mitsubishi plan would seem to offer a pathway that could make achieving ambitious decarbonization goals possible.
Cooney said, "Any project of this scope and scale, first of its kind globally, requires thoughtful support. ... This is exactly the type of forward-looking approach we need across Montana."
He told Mitsubishi officials, "Don't hesitate to talk with Patrick and myself about how the state's capacity and resources can come into play," adding, "We continue to talk about how the energy market is transitioning. We can either bury our head in the sand or we can get ahead of it."
Increasingly, Western states are setting aggressive electric power decarbonization targets. Mitsubishi is already a partner in ACES, a massive hydrogen-storage facility in the salt domes of Utah, and if the Butte project is built it would include a 400-plus-mile hydrogen pipeline from Butte to the salt domes. Mitsubishi earlier this year won a contract to supply hydrogen turbines to a huge power plant being built near the ACES site to supply power to Los Angeles. While the pipeline from Butte would go to the salt domes, Butte hydrogen is not needed for the Los Angeles project but is instead projected to be used in the decarbonization of Montana's grid.
The Mitsubishi development comes at an opportune time, as Colstrip's projected closure dates have been moved up, and Montana and other western states will need to replace that power with green energy alternatives.
It would also mean a game-changing scenario for Butte.
In addition to the jobs and increased tax base the power and electrolytic hydrogen plants would bring, the giant project is envisioned to produce other spin-off economic development benefits. Montana Tech, too, is perfectly positioned to be a big winner in the process, as education in this emerging technology could mean new academic programs.
"We have a role to play with applied research and workforce development," Tech's Ganesan said. "There is great interest among the faculty. We're excited to be part of this project and we can envision a new center of excellence at Montana Tech."
"This is a great project from a truly credible company that isn't just in this for the short term," Keane said. "This is a long term  project with huge significance for both the hydrogen development and the power plant. It's a big deal, and Butte should be doing everything they can to facilitate it."
Mitsubishi's Ducker touched on the benefits to Butte and Montana, including both direct hydrogen production and indirect green business development.
"This offers the opportunity to provide affordable, reliable energy while supporting state and regional targets to reduce carbon emissions," Ducker said. 
He added the company is "ready to begin conversations with administration and key lawmakers to support legislative priorities around the Climate Solutions Plan and position Montana for success in this industry transition."
Back in May, Butte-Silver Bow commissioners approved an agreement that gives a Mitsubishi venture up to five years to purchase 160 acres in the Montana Connections park, north of the REC Silicon plant.
Under the deal, the county will reserve the parcel for the company, Oriden LLC, for an annual fee of $5,000 and the company can purchase the land outright within five years by paying $240,000, or $1,500 per acre.
At the heart of the company's many hydrogen initiatives around the world is its hydrogen-ready gas turbine development, which enables large-scale power plants to run on green energy.
While Mitsubishi is involved in using lithium ion batteries for storage of green-produced power, the storage of hydrogen in salt domes offers considerable scale benefits over batteries.
"These are not longshot ideas. The momentum is real today," Ducker said. "The multi-decade type of hydrogen hub and spoke strategy has the capacity to scale across industries."
"We appreciate you looking at Butte and the awesome state of Montana," Palmer told the Mitsubishi executives. "Please let us know anything you need in this process, and we will do anything we can."
Mitsubishi's Hunt said, "We are certainly motivated by the business-friendly atmosphere. Montana has been most supportive and we've much appreciated everything that you've done. We're looking forward to the best outcome, of getting this project pulled across the goal line."
While the timeline for the project remains uncertain, the release of the climate solutions plan has given it even more momentum at the state level. The parties to Thursday's discussion agreed to keep engaged and focused on the project.