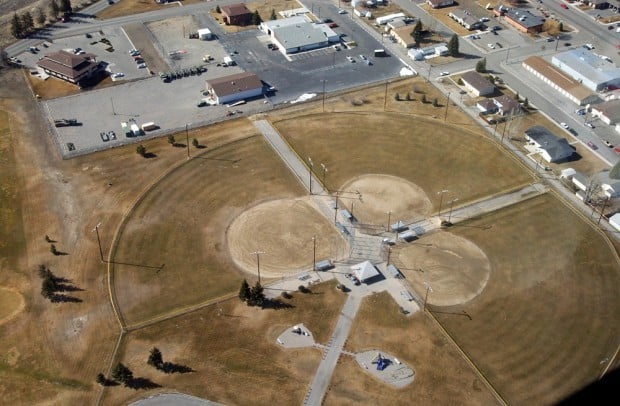 Two Butte men have filed a federal civil rights complaint against the school district over the condition of the softball fields on which Butte High girls play.
Sid deBarathy and Mike Foley said the dilapidated fields at Stodden Park are inadequate and the district is out of compliance with Title IX. That landmark federal law guarantees that girls at public schools and colleges get sports facilities on par with those provided for boys.
They filed their complaint with the U.S. Office for Civil Rights in Seattle.
DeBarathy said while he's working with the district to improve the girls' facility, he had a 60-day window under federal law to follow up with OCR after the district
reported it was not violating Title IX.
"We really didn't have a lot of choice," he said.
DeBarathy and Foley have pushed for months for Butte to improve its girls' softball facilities.
Last fall they filed a grievance with the district over conditions at Stodden Park, which they say includes poor fields, and lack adequate bathrooms, storage, scoreboards and other amenities. They are advocating a district-owned and maintained facility, preferably on a field south of Butte High.
Chuck Merrifield, athletic director, agreed during a hearing in December and the school board appointed a committee to come up with an improvement plan. The group has met three times and last month the district hired CTA Architects from Missoula to study fields at Butte High, as well as the possibility of improving Stodden.
The district has changes in the works at Stodden.
"We promised that we would in good faith look at the feasibility of those sites," said Linda Reksten, superintendent. "We are making substantial improvements with Silver Bow County at Stodden and we have followed through on everything that we have said we would do with the goal of improving girls' softball."
But deBarathy said while the district has taken steps, he and other softball advocates were left out of the process of crafting the scope of work for CTA. He said an initial look at Butte High by the district indicated they couldn't fit two, 200-foot fields there, but they've shown otherwise.
"We did have a different plan that we wanted to be certain CTA Architects was aware of," he said. "We had several really thought-out ideas that I don't think were considered."
He added they're not set on building fields at Butte High, but that is their preference because the fields would have the locker room and other amenities right there. Other possibilities are the old Longfellow School site east of Stodden, where there's a large, flat area, or the fields at East Middle School.
Meanwhile, he said the federal complaint had to be filed. But he's hopeful the committee will keep working to come up with a solution.
The OCR will determine within 10 days whether deBarathy has a legitimate complaint. If it is, the case will move forward and OCR will make a final decision.