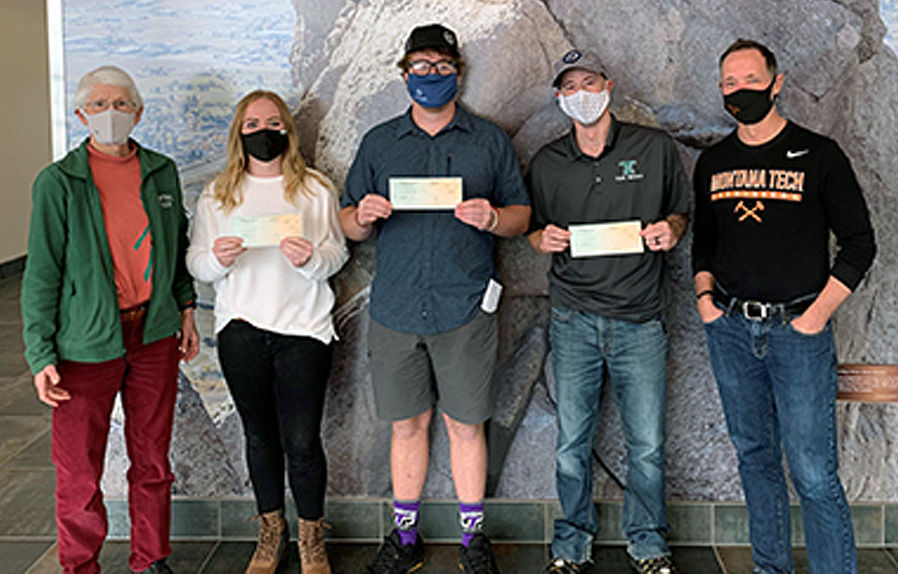 Tech's thesis challenge winners named
Montana Technological University held its first online 3-Minute Thesis Challenge on Oct. 28, where eight graduate students competed for cash prizes and entry into the regional 3-Minute Thesis Challenge competition in March 2021.
The national competition challenges students to communicate their thesis project to non-experts in three minutes or less using one slide, at most. 
This year's competitors were Carson Bechtel, Prakash Gautam, Paul Helfrich, Sydney Jennings, Amanda Marinovich, Marshall Metcalf, David Rathgeber, and Salah Uddin.
Competitors were judged by Dr. Les Cook, chancellor, Montana Technological University; Dr. John Garic, professor, Business and Information Technology at Tech; Dr. Jennifer Keane Dawes, former dean, graduate school, University of Maryland Eastern Shore; and Dr. K. Jodi Gear, equine veterinarian, medical illustrator (retired).
Rathgeber, a Materials Science doctoral student, placed first for his project titled, "CFD Modeling of Large Diameter Horizontal Wellbores to Study the Effects of Drill Pipe Rotation on Cuttings Transport Efficiency.''
Second place went to Ecological Restoration master's student, Paul Helfrich, whose project is titled, "T. bryosalmonae: The PKD Organism."
Sydney Jennings, an interdisciplinary master's student combining biochemistry, geochemistry and industrial hygiene, took home third place for her project titled, "Protein Expression in Mammalian Cell Lines after Low-Level Metal Exposure."
Honorable mention honors went to Marshall Metcalf, a master's student in General Engineering, for his project titled, "Development of Laser-Assisted Fused Deposition Modeling Process Using ABS."
Rathgeber will compete in the Western Association of Graduate Schools 3-MT Competition to take place virtually on March 24.
BHS seeking speech and debate judges
Butte High School is seeking judges for its virtual Speech and Debate season. Competition and judging will both be done via a user-friendly platform similar to Zoom and recommended by the National Speech and Debate Association.
Judges are needed for the following events: Dec. 4-5, Billings; Dec. 11-12, Kalispell; Dec. 18-19, Helena; Jan. 8-9, Bozeman; Jan. 15-16, Belgrade; Jan. 22-23, Great Falls; Jan. 29-30 (State), Butte; Feb. 12-13, NSDA West, Missoula; and Feb. 19-20, NSDA East, Billings
Young named Gaudin award recipient
Montana Tech faculty member Dr. Courtney Young has been named the 2020 recipient of the Antoine M. Gaudin Award for scientific or engineering contributions that further understand the technology of mineral processing. This premiere award is given by the Society of Mining, Metallurgy, and Exploration per recommendations of its Mineral and Metallurgical Processing Division.
The citation for his award reads: "For his contributions in advancing the understanding of mineral processing technology through problem-solving research in partnership with industry and for his passionate dedication to students and their careers."
Last month, Young was named a 2020-2021 SME Henry Krumb Lecturer for giving one of the best presentations at the 2020 SME Annual Conference & Expo last February. The Gaudin award recognizes his cumulative, lifelong efforts, particularly those that involved industry. 
Young is the Lewis S. Prater Distinguished Professor in the Metallurgical & Materials Engineering Department, where he teaches and conducts research in mineral processing and extractive metallurgy. 
The award will be presented virtually at the 2021 SME ACE Conference on March 1-5.
Be the first to know
Get local news delivered to your inbox!