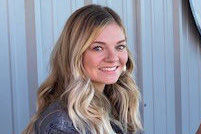 Rocky Mountain grants scholarships 
DILLON — Amber Sitz of Dillon is one of four Montana students to receive a $1,000 scholarship from Rocky Mountain Supply Inc.
Sitz is a fourth-year student in Montana State University Northern's nursing program. She is the daughter of Jim and Tammi Sitz of Dillon.
Rocky Mountain Supply's scholarship program aims to make a positive impact on recipients in their education, their community, and the industry within their field of study.
Visitor's bureau to meet via Zoom
The Butte Convention & Visitor's Bureau will meet at noon, Thursday, Jan. 14, via Zoom. To obtain the Zoom link, contact Maria Pochervina at mariap@buttecvb.com.
No action items are on the agenda. Discussion will be centered around the Montana Aware Campaign, FY20 reports and projects for FY21.
Republican Central Committee meeting set 
Butte Silver Bow Republican Central Committee's rescheduled meeting will be held at 6:30 p.m., Tuesday, Jan. 19, at The Math Place, 1460 Holmes Ave. If people are not comfortable meeting in person, there will also be a Zoom meeting option. Email Rob Dwyer, bsbrepublicans@gmail.com, to be linked to the meeting.