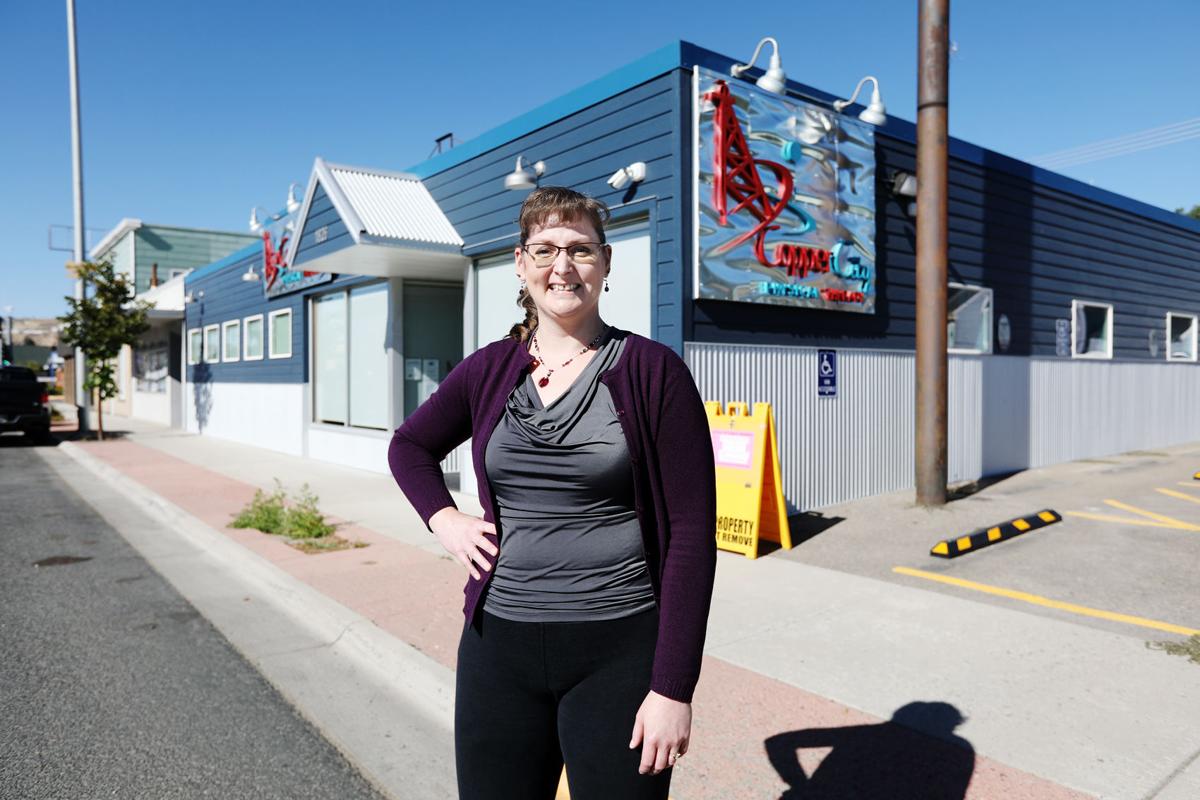 A physical therapist in Butte says she spent $500,000 acquiring and fixing up a partially vacant, run-down building on Harrison Avenue and is operating a good business there, but is now getting grief from county officials over a simple sign.
Jacqueline McAdam, owner and operator of Copper City Physical Therapy, also feels like she's being targeted because there are numerous businesses in the same area along Harrison Avenue alone that have frontage signs and side signs just like she does.
"We were really excited about this," said McAdam, who opened the new location at 1826 Harrison Ave. in June. "We wanted to make this a nice location and be supportive of the community and I'm both frustrated and surprised that it has come to arguing over a sign."
County planning officials say they are simply enforcing a zoning ordinance written in part to prevent a proliferation of signs, and gave McAdam three options to comply with local laws or policies, but she chose instead to appeal the matter to the county's Zoning Board.
They acknowledge that other businesses have frontage and side signs, but say many were "grandfathered in" under the ordinance, took advantage of an unwritten department "trade" practice or have received zoning variances.
There are still some violations, they said, and those only reinforce the need for the kind of stepped-up code enforcement Butte-Silver Bow has undertaken over the past two years.
"Code enforcement, especially on stuff like signs, has been an issue and we are working toward bettering that," said Senior Planner Dylan Pipinich, adding that "when they come to our attention, they are being enforced."
The bottom line, said Planning Director Lori Casey, is that McAdam is "out of compliance with the zoning ordinance."
McAdam has appealed that decision to the Zoning Board, which will hear both sides during a videoconference meeting at 5:30 p.m. Thursday. It can rule in several ways and if McAdam disagrees with the board, she can appeal to District Court.
McAdam used to operate her business at Big Sky Senior Living, but bought the space on Harrison Avenue in January, made major renovations inside and out, and opened on June 1. She has a Copper City Physical sign on the front of her building, the "frontage," and one on the side corner, facing a parking lot but visible to motorists heading north on Harrison.
She said a code officer with Community Enrichment visited in July and told her the side sign was out of compliance. The county cites ordinances that say one or more wall signs per building "frontage" facing a public right-of-way are permitted. Therefore, they say, those are the only wall signs allowed.
McAdam said the side sign helps people locate her business, she spent lots of money on it and lights to illuminate it, and there was nothing in local laws saying it wasn't allowed. She contacted Pipinich and was told it was a violation, she said, even without a written notice saying so.
She contacted attorney Angie Hasquet, who reviewed the code and didn't see a violation because it wasn't a frontage sign.
"There are no other provisions in the code that prohibit or regulate signs located specifically on the sides of buildings," Hasquet said in a missive that McAdam has included in her appeal.
McAdam said the county told her the ordinances in question took effect in 1986 and 1992 but there are numerous businesses in her immediate area with frontage and side signs, including some too new to have been grandfathered in.
"If you take a walk in a two-block radius, there are 10 signs facing north or south," she told The Montana Standard. "They are everywhere. It appears to me to be unequal enforcement."
Planning officials say they gave McAdam options that were acceptable, such as placing the sign on the roof or on a free-standing pole.
They also told her about a department policy that allows businesses to "trade" a frontage sign for a side sign, "as this does not add to the proliferation of signs within the community."
McAdam said she spent considerable money putting and lighting the side sign where it was. A roof sign would require more work and could lead to roof damage, she said, and a pole would require new mounting and lighting.
In her appeal documents, she included letters from nine people, including patients who said the side sign was helpful in locating the building. Others, including dentist Paul Sims, noted that McAdam had spent thousands of dollars remodeling an old building and creating a new business when there are so few in Butte.
"I cannot believe you are giving her grief about advertising her new business," Sims wrote. "You should be thanking her for spending her hard (earned) money establishing a business that serves and benefits so many residents of Butte."
Planning officials say they are simply trying to enforce an ordinance.
"We hope it doesn't come across like we don't appreciate development in Butte — that is 100 percent not the case," Pipinich said.
The department only looks to zoning compliance, not how much someone has spent or other factors, he said.
"We are a regulatory department in zoning," Pipinich said. "It is black and white."
The county's zoning laws, Pipinich and Casey said, specify what is allowed, not what isn't.
"In a residential neighborhood, just because it does not say you can't have an automotive repair (shop), does not mean that it's allowed," Casey said.
Like frontage signs, there are ordinances that allow business signs on roofs and free-standing poles, they said, and McAdam was told about those options.
"Our ordinances aren't any different than most other cities," Casey said. "It is where they want the signs located so there is not a proliferation of signs."
The option to trade a frontage sign for a side one isn't a written policy anywhere, Casey said, but the practice is an example of trying to work with businesses.
They said county officials track commercial projects as they are undertaken and in doing that with Copper City Physical, learned of the side sign, so it was not a case of singling anyone out.
"We do our very best to catch the ones that come to our attention and this is one we caught," Pipinich said. "Other ones have been caught in the same manner."
The ordinance has been enforced in past cases, too, and the county is trying to improve in that area going forward, they said. But violations are violations.
"I don't agree with the logic that if other people are breaking the law, I should get to break it, too," Pipinich said.
Get local news delivered to your inbox!
Subscribe to our Daily Headlines newsletter.