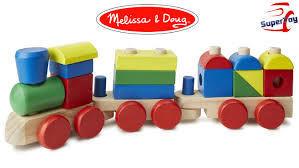 Christmas is for kids, they say, and "they" are right. And there's nothing more fun to give for Christmas than toys.
It's always a plus if the play items have some educational and developmental benefit — like the Melissa and Doug line, available locally.
Yes, there are plenty of toys available online, but when you buy from a local store, you will have the item you're buying right in front of you — eliminating Christmas Morning disappointments.
So channel your inner child and buy some toys! Buying a kid a toy is the most fun you can have as an adult.