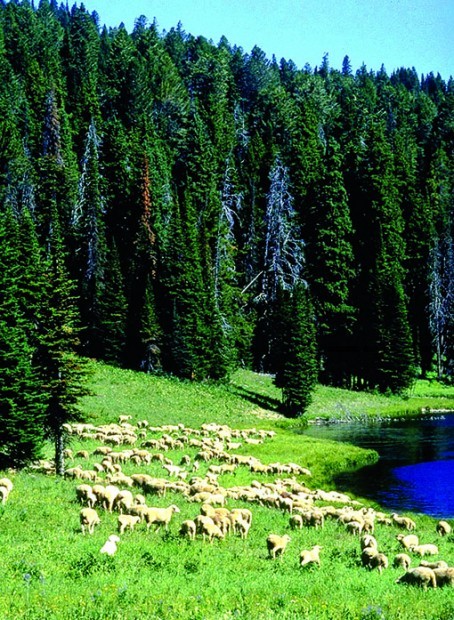 Federal and state agencies, sportsmen groups and environmentalists are calling for an end to sheep grazing on a federal research ranch in the Centennial Mountains, saying the decades-long practice is coming at the expense of grizzly bears and other wildlife. 
The land, on the Montana-Idaho border south of Dillon, is part of the U.S. Sheep Experiment Station, which was established in 1926 to conduct research on sheep breeds, grazing and rangeland health. 
Today, federal shepherds tend 3,000 sheep on more than 47,000 acres ranging from lowlands near Dubois, Idaho, to over 10,000 feet elevation on the property, which is run by the Department of Agriculture's Agricultural Research Service. 
But several government agencies, as well as environmental groups, say keeping sheep in prime grizzly bear, wolf and bighorn sheep habitat so close to Yellowstone National Park has become a major impediment for those and other species to expand their range. 
"We know that grizzly bears use that area; we know that bears eat sheep," said Marv Hoyt, Idaho director for the Greater Yellowstone Coalition. "If the Forest Service and the (Bureau of Land Management) have said that it's a problem there are bears on their lands, how can they say they're not on the adjacent lands?"
But Jim Brown, a Dillon lawyer and spokesman for the Montana Wool Growers Association, said the criticism of the station is misguided. He disputed that the station is a problem for grizzlies, noting that only one has been killed in recent years on the station. 
"Grizzly bears coincide with sheep everywhere," he said. "I don't believe that the grizzly argument is a valid one, because grizzlies are in no way impacted by sheep.
"This effort is less about protection of wildlife than it is about driving us off."
Sheep producers say the station provides valuable data that helps the industry nationwide. And they say the station has been there for years and wildlife has thrived in the area, showing that its management has worked for everyone. 
Brown said the station benefits far more than just a few sheep producers. It helps the public at large, as well as federal land agencies that lease land for grazing. 
"America has always proposed because we have cheap food and cheap clothing," he said. "The research helps food production in the United States and the research helps the federal government improve the grazing practices on other allotments that are leased by the government."
But environmentalists and wildlife groups counter that while deer and elk can coincide with the station, it's been a huge wall for predators and bighorn sheep. And they said with Congress considering deep spending cuts to bring runaway federal deficits under control, the sheep station is a waste of taxpayer money that benefits a small and shrinking industry. 
Glenn Hockett, spokesman for the Gallatin Wildlife Association, said the station may have been needed in the past. But after more than 80 years he said there's little research value. He called the station a prime candidate for elimination in tough budget times.
"They haven't said anything compelling as to why they have to do this research in primary grizzly bear and bighorn sheep habitat at taxpayer's expense," he said. "If we're looking to cut the federal government, this is a place that serves a very small clientele."
The station has been conducting an environmental impact study on its management. The move was forced when a pair of environmental groups sued in federal court, arguing the station has never conducted a thorough analysis of its impact on the land as required by the National Environmental Policy Act. A judge ruled in favor of the groups. 
A draft study was completed this year and the agency's preferred alternative was to continue using all its pastures. 
That has drawn criticism from not only environmentalists, but also several surrounding federal land agencies and the Montana Department of Fish, Wildlife and Parks. 
Tim Bozorth, Dillon BLM manager, said the station is strong grizzly habitat. He added that the Forest Service in recent years has retired roughly 20 sheep grazing allotments around Yellowstone to give grizzlies more room to roam. 
"The grizzly bear primary conservation area borders the sheep station, so while they're not technically required to follow everything in the grizzly bear recovery strategy, they are a USDA cooperating agency," Bozorth said.
Bozorth in comments on the station requested that all the allotments in the Centennials be retired. He said the station could cut its herd by 20 percent and graze them on the lower pastures while still doing effective research and keeping them out of the best grizzly habitat. 
The Montana Department of Fish, Wildlife and Parks also urged the retirement of the higher pastures to protect grizzlies, wolves and bighorns. 
"The lack of domestic sheep in these areas would eliminate the potential for contact between domestic sheep and bighorns and the subsequent risk of disease transmission," Pat Flowers, FWP Bozeman regional manager, said in a letter. 
Brown, however, said only one bear has been killed by U.S. Wildlife Services there after it got into trouble with sheep in recent years. The bigger impediment for grizzlies to move west is near Monida, he said. 
He noted that wolves are no longer endangered and can survive in all kinds of habitats. And Brown said MSGA supports research to determine whether domestic sheep transmit diseases to bighorns, as well as work to develop a vaccine for pneumonia, a fatal disease for bighorns. Brown added federal lands still have a multiple use mission and grazing fits into that. 
"We don't see why it's absolutely required that they put bighorn sheep in a place where domestic sheep have historically operated," he said.