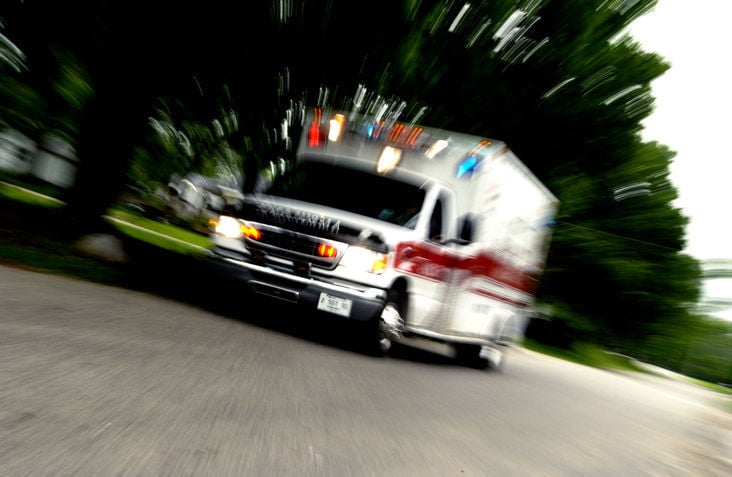 An event for kids took an unexpected turn Friday in Anaconda when at least one child was injured during a scramble for money that was being dropped from a helicopter.
Anaconda resident Herb Selvidge said his 11-year-old daughter was transported by ambulance to Community Hospital of Anaconda with a sprained knee and abrasions after adults and teenagers behaved aggressively during the cash giveaway.
The incident took place Friday afternoon in the parking lot of Stokes Fresh Food Market during Anaconda Day — an annual celebration for children that former Anaconda resident Joe Wren has been organizing for about six years.
As part of this year's celebration, Wren told The Montana Standard Tuesday by phone, a helicopter dropped plastic containers carrying a total of around $1,600.
Wren said the area where the helicopter was to drop the plastic containers was sectioned off with tape. The plan was for the children to enter the area after the drop, followed by the adults, Wren said.
Wren said he gave "explicit instructions of safety" via PA system to celebrants about how the helicopter drop was to play out. He said he didn't see adults misbehaving or anyone get injured, so he couldn't comment or reflect on whether adults were behaving aggressively.
"I actually didn't see anyone get hurt, (but) that doesn't mean they didn't," said Wren.
Selvidge said that as soon as the helicopter dropped the containers, a dash ensued to pick the containers up. He said some celebrants quickly pulled down the tape surrounding the drop-off point and that "people started pushing, (and) punching."
At one point, he said, his daughter fell and lay crying in the middle of the crowd as people stepped on and walked over her.
"Teenagers, adults, everybody just started going crazy," said Selvidge, adding that the vessels contained $1, $20, and $50 bills.
The helicopter made two drops altogether, Selvidge said.
Selvidge said he believed the event was to be for children only and did not recall hearing an announcement about rules governing the helicopter drop.
Selvidge said he has attempted to reach out to Wren on social media but so far has been unsuccessful.
"I would like to talk to Wren if he would like to speak with me," said Selvidge.
Anaconda Police Chief Tim Barkell said two ambulances were called to Stokes' parking lot around 1:30 p.m., but just one of those ambulances transported a child to receive medical attention.
Barkell said there doesn't appear to be "anything criminal" in relation to the incident and that there aren't any plans for an investigation.
Wren, who lives in Utah, said he grew up in the Smelter City and began organizing the event to give back to his hometown — particularly to the children of Anaconda.
Wren said he still has friends and family in Anaconda, visits the Smelter City often and cares deeply for the city's children.
Since Anaconda Day's founding, Wren said, each year his budget for the event has increased, and he's sought to bring "bigger and better things" to Anaconda Day, increasing the excitement each year.
This year is the first year, he said, he has included adults in the event's activities.
Wren, at TV news sports reporter, is known for his book "Heavenly Being" in which he describes undergoing a spiritual experience after nearly dying of a heart attack. Since that experience, he said Tuesday, he has sought to give back, including finding ways to improve the lives of children.
Wren said also part of Friday's celebration was a candy table, bins filled with coins that children could grab and keep, and cash giveaways of $10 and $5 for the first 40 people standing in two lines for the event.
Wren added that he contacted the Anaconda Police Department about his plans for Anaconda Day and that officers were present.
Wren said he doesn't want Friday's events to tarnish what's supposed to be a positive event. He believes he took necessary precautions and doesn't believe he could have altered Friday's outcome.
"The whole part of what I wanted to do is to have great happiness and joy for every child, certainly, and for the parents too," said Wren.
"By and large everything went terrific but there were a couple of bad eggs that apparently, it would seem, that definitely pushed too hard," he said.
Selvidge said he's looking into taking civil action and hopes to obtain security video of Stokes parking lot to see who may have hurt his daughter.
Get local news delivered to your inbox!
Subscribe to our Daily Headlines newsletter.