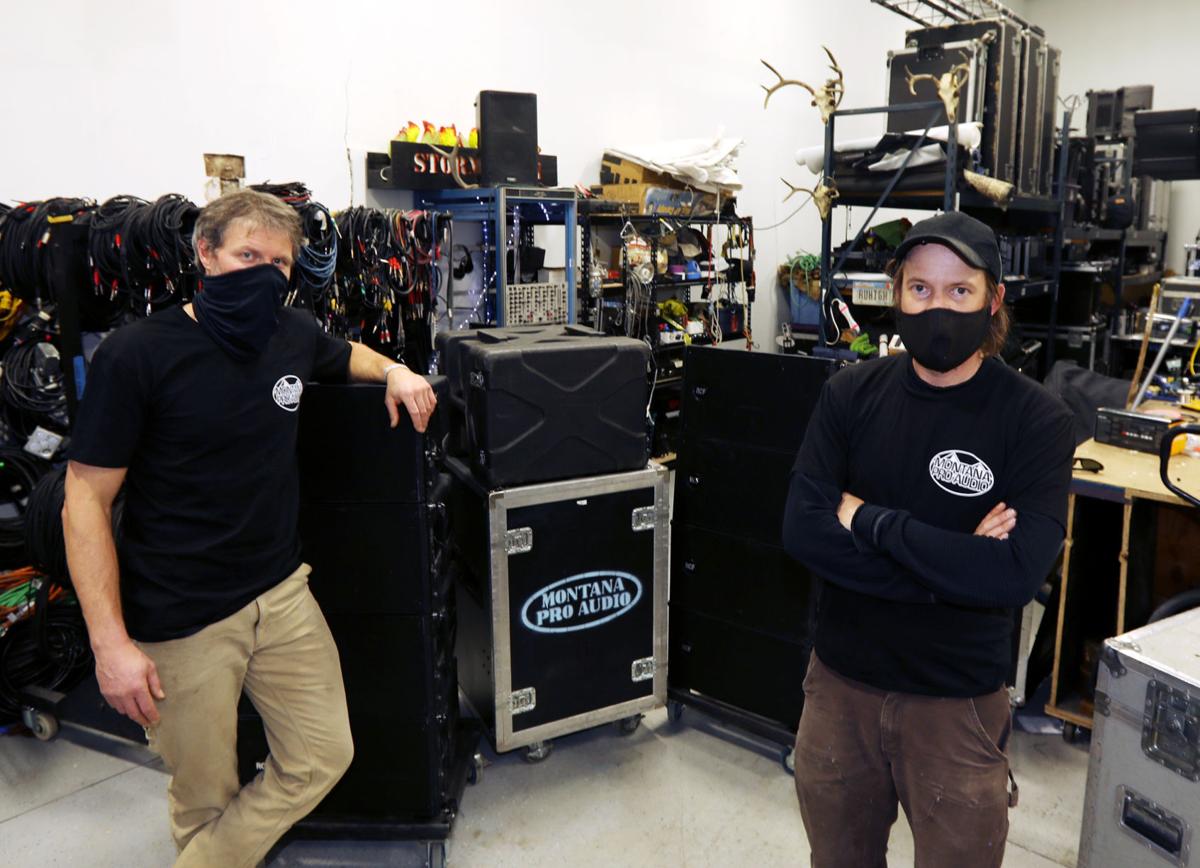 For as long as he can remember, Alex Bruce has made a live show happen on New Year's Eve. This year the co-owner of Montana Pro Audio wasn't running a crew around the stage. There were no lights, sound tests or video to tweak just right. No crowd to please, and no music either.
He sat at home in front of the fire, away from people, and drank a little Scotch.
"It's the weirdest thing in the world," Bruce said. "I've been working in live entertainment since probably before it was legal for me to work."
The music and entertainment industry all but died in Butte during the pandemic. Federal grant money for venues and promoters is on the horizon, but Bruce said the folks who do the behind-the-scenes work have been left out, and face a host of obstacles to bring live events back to town.
While local venues and promoters like Butte's Mother Lode Theatre and the Montana Booking Agency will be eligible to apply for grants from the $15 billion Save Our Stages Act that passed in December as part of the COVID relief bill, Bruce doesn't expect his company to receive any of that funding.
Because they're a vendor, they haven't been eligible for past federal grants to the entertainment industry or the state's live entertainment grants either, Bruce said.
Bruce heads up the live event side of his company. He's happy the money is going back into the entertainment industry, but is worried that won't do enough.
"We're not going to be able to do anything without venues and promoters. Conversely, they're not going to be able to do anything without us," Bruce said. "We all need to work together."
Montana Pro Audio makes shows happen.
The lights, the sound, the video and production — that's what the company brings to stages in western Montana.
Bruce is concerned about where the federal funding will land when live music takes off again.
"My view is, after a year being shut down, I should not have to be in a position to lower my prices. Especially when venues and promoters are getting federal aid," he said. "If they're going to take that money and do the right thing with it, and distribute that money, then I think that's great."
In a cutthroat industry, that's not something you can just count on, Bruce said.
In order to pay their bills during the pandemic, Montana Pro Audio has had to get creative with the other end of their business, which is managed by co-owner Ryan Johnston. They provide technical audio and video installation to clients from Montana Tech to churches, and have found the pandemic has actually opened up some business in that regard.
When businesses were first learning to work remotely, Montana Pro Audio was there to get them set up for remote conferences. A contract for putting in an audio-video system in Helena's public library was advanced because the library took the opportunity to do a full renovation.
They took a contract for work at an amphitheater in Idaho that was only possible because the amphitheater isn't hosting shows. They installed lights in the Montana Tech gymnasium and are helping both churches and yoga studios with the technical means to broadcast remotely.
It's been steady for the five or so people who do the installation work, but for the dozen or so who work summer concerts and other live events —that's another story.
Bruce said he still sent out holiday bonuses, but his employees have had to look for work in construction or go on unemployment.
It trickles down to the folks who provide the tents, generators, fuel, beer, security — even the porta potty and toilet paper.
And the company isn't just missing out on live entertainment, where funding to venues and promoters will help.
"My sound systems and lights and screens go out just as often or more often to live events that have nothing to do with entertainment," Bruce said.
Canceled graduations, fundraisers, conferences, weddings and all hit the company and local economy hard.
"Or god forbid the funerals of these hundreds of thousands of people who have died from COVID — those are live events too," Bruce said.
But for Bruce, there is nothing better than doing all of the work, and then sitting back and watching the headliner come out on the stage.
Still, he isn't jumping the gun to get back to live entertainment, at least not in the current pandemic climate. Especially after what he saw happen at the U.S. Capitol on Jan. 6.
"It just puts us back," he said. "Every time there's a large gathering of people who aren't wearing masks, it's just another setback, another chunk of time where we can't go back to work."
Bruce is supportive of Butte-Silver Bow Health Department restrictions on crowds, and profitable live entertainment requires a crowd.
"The whole point of our live entertainment industry, as far as I can tell, is to create a disorienting environment where people don't have to behave themselves to a degree. The whole idea is to let loose. I have very little confidence that people are going to follow rules. People don't follow rules. Especially if they're drinking," he said. "I find the higher population of the crowd, the lower the IQ."
Any effort to bring back live music has to start with the safety of his employees, Bruce said.
"I have a live event business. I hire human beings and send them out there," Bruce said. "I can't send them to risk their lives."
The same goes with the artists, Bruce said.
"If you're standing in front of a bunch of people with their COVID particle projectors pointed at you, it could be a nerve-wracking situation," Bruce said. "They're selling their ability to perform in person and they can't do that if they're in bad health."
When it does happen, Bruce said the best way to do it will be with small shows in big venues, to provide separation. The scenario presents a dilemma, because it means a smaller profit and high overhead.
Bruce predicted it would also mean higher ticket prices, an obvious deterrent to a population that has undergone a pandemic.
Matt Boyle, who runs Montana Booking Agency in Butte, does stand to benefit from Save Our Stages Act funding. He deeply sympathizes with companies like Montana Pro Audio, and even passed on the first big round of federal entertainment funding because he saw that other folks needed it more.
"Those are the people I'm really feeling for," he said.
In part that's because he runs a successful marijuana dispensary. But he will be applying for a new Save Our Stages Act grant, because it's all about the music.
Normally, he puts on three to five shows a month. Since the pandemic started, he hasn't done any.
"Music is such a big part of my life," he said. "That void is the biggest hurt."
Like Bruce, Boyle is fully supportive of the health department restrictions on businesses, though he feels for those who can't pay their property taxes, and may even be forced to close. At the end of the day though, he said safety takes precedent.
"The last thing I want is for anyone to get sick and die. I want every business to thrive as much as possible, but you can't put any value on a human life," he said.
As a promoter, Boyle is in constant touch with those in the know within the industry. He's heard that venues and promoters might take action to bring back live entertainment in Montana by the fourth quarter of 2021.
"Hearing that quarter four has some momentum behind it, I do have some hope and faith in that," he said.
Small venues around town are also looking to get in on the action. The manager of the Covellite Theatre said the new federal entertainment funding is on the business' radar. Brian McGregor, the owner of the Silver Dollar Saloon, said he plans to look into entertainment specific funding for the first time, as it's been dire straits and his business generates around 50% of its income from live music.
"There's no way around our note or our insurance," McGregor said, adding that the small-business funding he's received just isn't enough. "If they offer it, I'm going to apply for it."