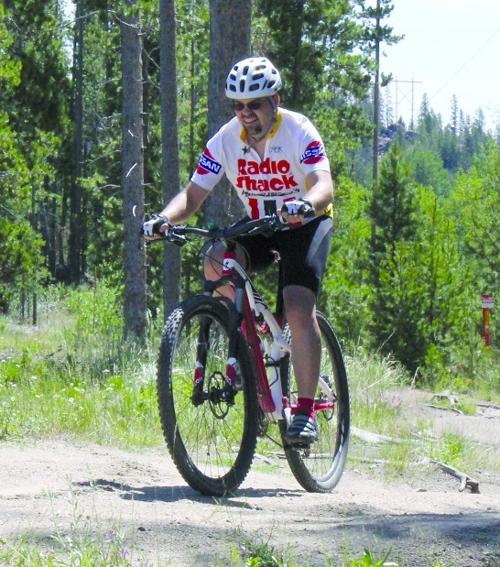 Eric Lapham won't be pushing toward the front of the pack when the gun goes off to start the Butte 100 mountain bike race on Saturday morning.
"There are a couple of us joking about how the gun's going to go off, and we're going to sit here and watch everybody take off," the 39-year-old from Las Vegas said Tuesday at Homestake Pass, where he'd just finished a training ride. "We're hanging back for a couple minutes to let everybody clear out."
Lapham, a Butte native, said his goal is just to finish the 50-mile race, which is one of the two options for the Butte 100. But he said for him that will be an accomplishment because he's coming off a major surgery on his neck. And the 50-mile route will be the first mountain biking race of his life.
The race has given him motivation to get in shape. Lapham said he's been training in sweltering Las Vegas, where he works as a casino shift manager. He said it's 95 degrees at 5 a.m. and his rides are done by 10 a.m. That has limited his training.
"This year's just about finishing for me," he said. "Next year I'll try to be competitive."
On the other end of the spectrum are professional and serious amateurs gunning for the podium.
The Butte 100 kicks off at 6 a.m. Saturday when 90 riders will set off on the 100-mile route. It takes them north from Homestake Pass into the area around Delmoe Lake and winds through the Pipestone area before returning to the pass.
Three hours later, another 160 riders will set off on the 50-mile portion of the race, which goes through the rugged terrain south of the pass, drops into Thompson Park and heads to Basin Creek before bending south toward the Highlands and looping back.
Riders doing the 100-mile competition take the southern loop to complete their race. It's a grueling section made up mostly of
single track that includes 11,459 feet of climb. The 100-mile course totals 17,920 feet of elevation gain.
"Everybody's going to be suffering at some point," Gina Evans, Butte 100 race director, said Tuesday while out inspecting part of the route on her mountain bike.
The race in its sixth year draws top-notch athletes. This year legendary mountain biker Tinker Juarez, 51, will return to defend his title.
Get local news delivered to your inbox!
Subscribe to our Daily Headlines newsletter.