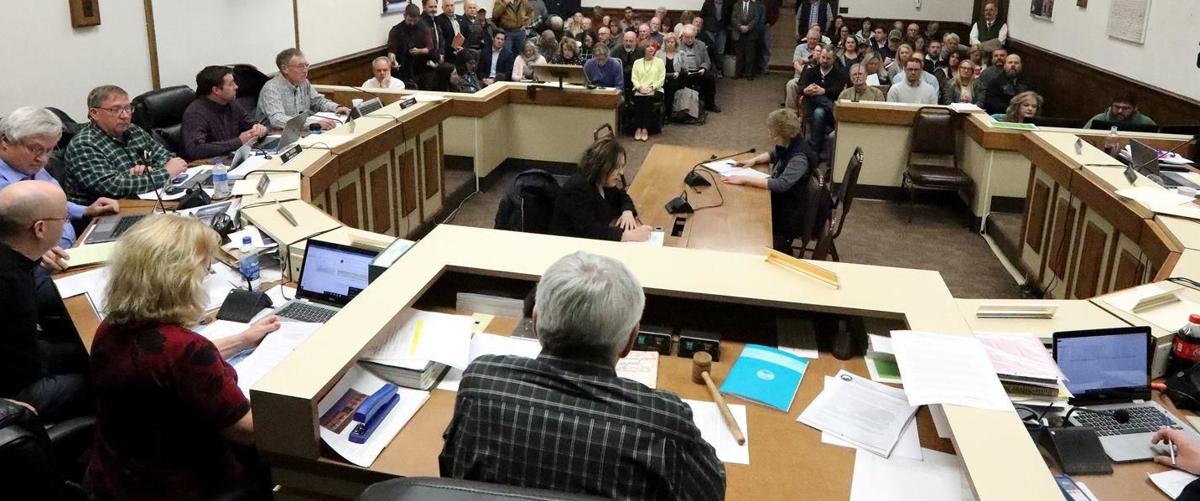 Butte-Silver Bow commissioners have sided with a couple who wants to demolish an old house they own in the Floral Park neighborhood on the Flat.
In a separate vote this past week, they also OK'd what already appeared to be a done deal by "acknowledging" a building official's decision that clears the way for demolition of the so-called Blue Range prostitution cribs on East Mercury Street.
The county's Historic Preservation Commission had blocked both demolitions, saying the cribs were an iconic part of Butte's Red Light District history and the home on the Flat a "contributing factor" to what could one day be an historical district.
The property owners disagreed, and once again there was controversy and confusion over competing ordinances, county departments were clashing once again and commissioners were referees in the latest disputes over demolition.
Like no issue in recent years, commissioners and county officials are frustrated and say the process is broken and must be fixed.
"This doesn't work. So for the love of God, please, let's be smart people and figure it out," said Commissioner Josh O'Neill. "That is my frustration because we're not going in the right direction doing this stuff."
Several commissioners agreed, including John Riordan.
"It seems like basically, instead of working together, or the way the ordinances are connected and all that, there's no continuity to deal with the situations that are brought before us," Riordan said.
J.P. Gallagher, who became chief executive on Dec. 31, says he has been meeting often with other county officials in recent days and is committed to improving the process and making it understandable to the public and property owners.
It was nobody's fault that both demolition proposals had resulted in drawn-out confusion and frustration and everyone had good intentions, he said, but fixes are needed.
It will take time to develop the precise plan, he said, but it will include a "deep dive look" at various ordinances, assurances that steps aren't missed and possibly prioritizing historic properties to be saved before they hit the demolition block.
Above all, he said, everyone in the local government needs to "get on the same page" about their roles and how they communicate.
"The number one thing we have to make sure of is that everyone understands the process within the government, and from there we build out with the public on how that process will work," he told The Montana Standard on Thursday.
Commissioners, as they did two weeks before, spent much of Wednesday night's meeting discussing and debating demolitions.
One involves an old house at 2505 State St. on the Flat that retirees Jennifer and William Mitchell own and want to tear down.
They say the exterior has been modified extensively, the structure needs re-roofing, foundation work, new wiring, plumbing and heating. There are holes in the floor and walls and it's full of hazards.
It is also crammed so close to their house and the neighbor's house, there is no privacy either. The Mitchells want it gone so both properties have bigger yards and more privacy and their neighbors are all for it.
By county ordinance, they had to run the proposed demolition through the HPC first and that board imposed a 45-day delay that also required the Mitchells to advertise the house to see if anyone would move it. The HPC maintained it was in an area "eligible" to someday become an historic district, while saying at the same time the county had no plans on trying to make it one.
Mitchell appealed the delay to commissioners, and after lengthy discussion, they voted 11-0 Wednesday night to grant her appeal. But since the HPC had only issued a stay and not ruled on the actual demolition, County Attorney Eileen Joyce said the matter must go back to the HPC.
Commissioners were allowed to ask the HPC to meet within seven days to reconsider the demolition permit, which they did. But they were not allowed to give a final OK to the demolition until the HPC recommended for or against it. That frustrated some commissioners, including Jim Fisher.
"When we have got people on the historical board or whatever they are making these decisions with contingencies and then sending them to elected officials where we can't make contingencies, (that) is just absolutely crazy," Fisher said.
More debate over the Blue Range cribs building was next, even though that matter, according to the county attorney, had effectively been decided by Butte-Silver Bow Building Official Mike Nasheim.
He declared the building and an adjacent warehouse dangerous on Jan. 12 and the Community Enrichment Department approved an abatement plan by building owner Larry Hoffman and Staack's Motor Sports to demolish all but a side and back wall of the cribs.
The issue has since been batted back and forth between the HPC and the Council of Commissioners, but Joyce says the county's role was settled when Nasheim exercised a public safety provision on Feb. 26. Under ordinance, that does not require HPC or council approval.
Nasheim's decision allows Hoffman and Staack's to proceed with their abatement plan if they still want to while removing any liability the county would have if something bad happened like a building collapse.
Still, the HPC reconsidered the issue Tuesday night and recommended 4-2 that a demolition permit be issued. But Deputy County Attorney Mollie Maffei had already said the HPC had no authority to issue a 90-day stay with advertising requirements, and HPC Chairman Steve Hinick said Nasheim's decision made any further board consideration moot.
All the council was technically authorized to do, Joyce told commissioners, was acknowledge receipt of Nasheim's decision with his evidence, backed by a structural engineer, that it was a dangerous building.
After lengthy debate, the council voted 8-3 to do that. Commissioners Michele Shea, Cindi Shaw and Hattie Thatcher voted against the motion and all others voted for it except Bill Andersen, who was absent.
Shea said she disagreed with the HPC's reasoning in the Floral Park matter and was frustrated with "the way the situation with the Blue Range rolled out." She had hoped some middle ground might be found on it.
She also commended the HPC overall.
"I don't want to vilify our Historic Preservation Commission because I think they are fantastic," Shea said. "I think they are motivated. I think they are very professional."
At Tuesday night's HPC meeting, board member Russell O'Leary said the HPC was not anti-business and anti-development. But, he said, "Our obligation is to help the county guide people's hands to preserve the (national historic) district."
Hinick said he trusted the people of Butte to understand they were not trying to detract from business.
"But we are also trying to promote, and it's part of our mission, conscientious restoration and preservation of our district and of our historic buildings," he said.
But Shea, like several others, said ordinances and the overall process should be reviewed "to see if we can bring some clarity and cooperation back to the table."
"Nobody is working together in my opinion," he told the Standard on Friday. "It's all working against each other and at the end of it, it hurts everyone."
Gallagher has pledged to pursue solutions.
In hindsight, he says, the county should have invoked the public safety exclusion on the cribs back on Jan. 12, when it deemed the building dangerous. That would have ended the county's role and any liability in the matter right there.
He said the property owners were advised to get a structural engineer to inspect the building and render findings, and they had done that. Then it got caught up in a process that was still playing out.
"There is no one-size-fits-all within historic preservation and how we go about things, but we can make it simpler and we need to make it simpler," he told commissioners.
Hoffman told the Standard on Thursday that he and Staack's Motor Sports plan to move forward with the abatement plan, which includes partial demolition. He also said he is pleased that Gallagher is tackling the issue.