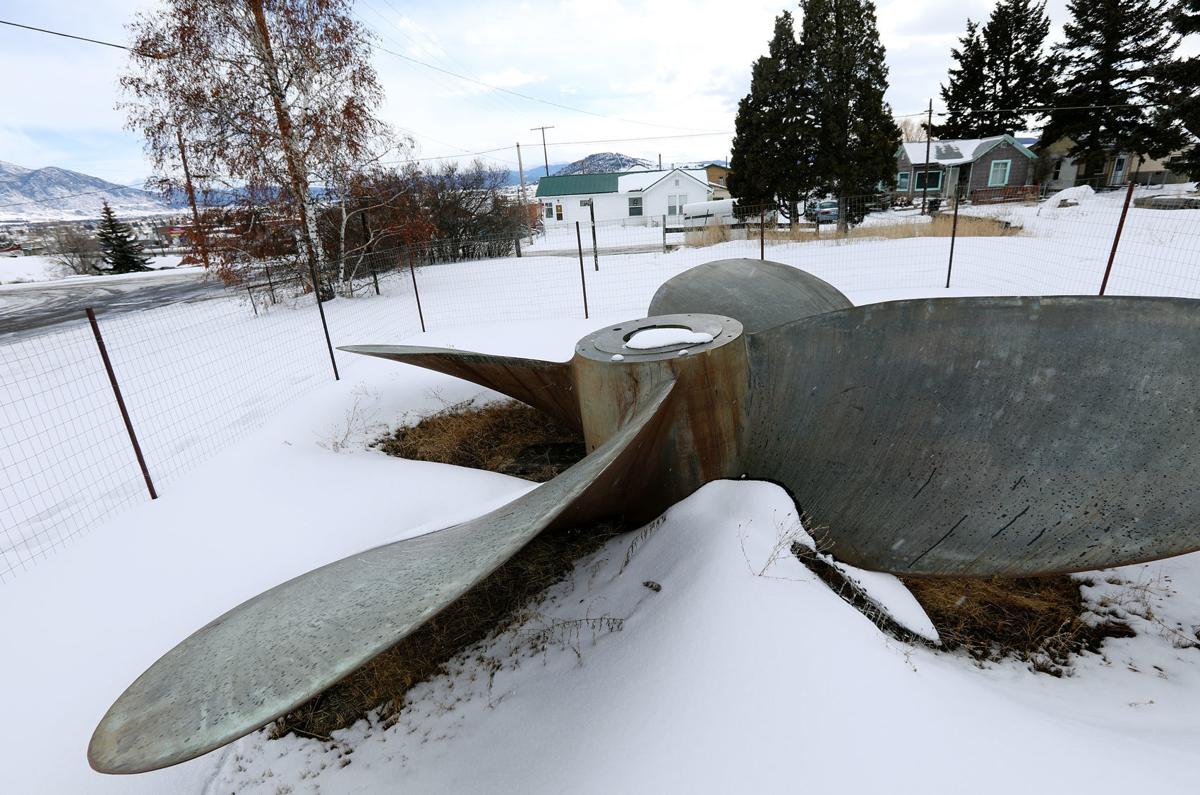 There was a phone call to a Chinese restaurant in Valley City, North Dakota, and another to Granny's Country Store in the tiny Madison County community of Silver Star.
There were questions posed to county Historic Preservation Officer Mary McCormick, Butte High History Club adviser Chris Fisk, World Museum of Mining Director Jeanette Kopf, and longtime local author and researcher Zena Beth McGlashan.
There was a box pulled off a high shelf at the Butte-Silver Bow Public Archives, but it didn't contain answers, and Director Ellen Crain didn't know anything conclusive either.
There was a sign staked nearby, announcing the lot would be sold in a tax deed auction on Feb. 20.
There were discussions with Patsy Coates, who works in the county's lands records office, and Lori Baker-Patrick, the county's treasurer.
There was a walk through knee-deep snow to write down serial numbers and a search of government databases to match them.
There were discussions with neighbors who offered various, conflicting accounts of what it was and where it came from.
But ultimately, after weeks of following tentative leads, the mystery of the massive propeller sitting inside a fence on an empty lot on the 600 block of South Washington Street was solved — or rather, was somewhat solved — through a phone call from Walkerville.
"I don't give out a whole lot of information about it," Todd Steiger said Thursday evening about the propeller before divulging some of that information while also proving that statement true. "I don't really like it publicized. It kind of draws attention."
Here's what he would say.
He bought the propeller "about 18 years ago" through an online government service auction.
At the time, he said, the propeller was housed in Barstow, California, where Steiger said he has never been.
He said moving the 39,937-pound hunk of magnesium bronze from there to here involved some complications. Since the propeller is just less than 20 feet in diameter, it couldn't be transported flat or upright. So he said he had to employ a specialized vehicle known as a "propeller tender" which set the propeller at an angle, allowing it to fit under bridges and on roads.
Once it got to the corner of Washington and Aluminum streets, Steiger said a crane was used to place it on the otherwise empty lot where it now sits.
As for where the propeller was before it was in Barstow and then Butte, the only real clue is stamped on the side, where Steiger said there is an indication it "was rebuilt in some Japanese port in 1945."
As for what specific ship it came from or even what kind of ship it came from, there are clues but nothing remotely conclusive.
Since it was in Japan in 1945, it was presumably used in World War II. And since its serial number ends in "B," Steiger said there was also probably an "A," meaning "whatever it was on, it had two propellers," Steiger said.
"You can probably assume that it was something like a destroyer, but that's just a wild guess," he said.
"But like I say, I have no idea what it went on," he added.
That serial number is a possible source of more information, but Steiger noted that the "number for that is not in any online database."
As for whether it came from the USS Butte or the USS Missoula, as some interviewed for this story said they have heard, Steiger has no reason to believe those claims are true. The Butte wasn't commissioned until 1968 — two decades after the propeller was apparently rebuilt. And while the Missoula did play an important role in the Second World War and was reportedly used in Japanese waters in 1945, Steiger said he has no reason to believe his propeller came from that ship.
As for the sign staked nearby announcing a lot will be sold next week in the county's tax deed auction, that's actually a separate, adjacent, and also empty property that he doesn't own.
As for what he's done with the lot since he's had it, Steiger suggested the only change he's made was adding fencing around the propeller after getting reports that neighborhood kids were playing on it and becoming concerned that it was a "liability issue."
So why did Steiger spend an undisclosed amount of money hauling a nearly 40,000-pound relic nearly 1,000 miles to an empty Uptown lot without even knowing exactly what it is?
Steiger couldn't — or wouldn't — exactly say.
Asked whether it was part of a larger collection, Steiger said, "I have other military surplus, but I don't really collect."
Asked whether it had to do with him perhaps being a Navy veteran, he said he isn't one.
Asked whether he has had a military historian look at it, he said he hasn't.
Asked whether he has specific plans for it, he didn't divulge any.
Asked why he bought it, Steiger would allow only this: "It seemed interesting at the time."
And it remains so, a mysterious relic that seems to do nothing except generate questions.
Get local news delivered to your inbox!
Subscribe to our Daily Headlines newsletter.