Two protesters were arrested Friday as the city of Helena removed a monument to Confederate soldiers that has been in a park in Montana's capital city since 1916.
Trisha Sorenson, 60, of Helena, was arrested Friday morning after refusing to move as the city put up a temporary fence around the granite fountain in Hill Park. Bradley J. Banks, 61, of Helena, was arrested about 1 p.m. after going under the fence and approaching the monument. Police said Banks appeared intoxicated, and both were accused of obstructing police, which is a misdemeanor. 
Calls for the removal of the fountain increased after violence over the weekend, including a death, during a white nationalist rally in Charlottesville, Virginia. Though no official vote was taken, members of the Helena City Commission ordered its removal on Wednesday, citing public safety concerns. 
A handful of people opposed to the removal, including Sorenson, remained in the park through Thursday night. Helena Assistant Police Chief Steve Hagen said police received no calls Thursday night about those in the park, and no laws were broken until Sorenson was arrested. 
"Everything went relatively well," Hagen said after the fountain was cut from its pedestal and lifted onto a trailer with a crane. "People are exercising their First Amendment rights."
About 15 to 20 protesters came to the park Friday, some of them carrying U.S., Montana, Confederate and "Don't Tread on Me" Gadsden flags. Several of them were shouting at city officials, including the police handing out water to both protesters and observers. 
At times, protesters argued with both supporters of the fountain's removal and those who said they had come to watch but did not have an opinion on the fountain. 
Although tempers rose at times and some used profanity, police received no complaints that would lead to citations, Hagen said.  
One of the more vocal protesters, TJ Hintz of Helena, said the fountain is not a symbol of racism or hate, but is part of American history that should not be forgotten. At one point he said the mayor and city commission should be "ashamed."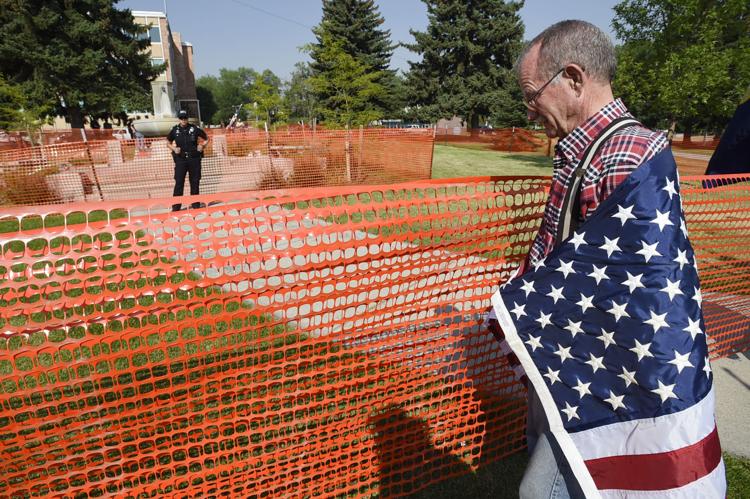 Matt Dellamano, a Helena resident and veteran, said removing the statue is insulting to veterans who fought for their country, regardless of what side they were on.
"This looks like book burning to us," he said. "If you don't learn from history you will repeat it."
But while some people were shouting insults at police and city workers, Dellamano was trying to ease tensions by saying a Buddhist prayer about beauty, compassion and light.
"For me, it's certainly not about hate," he said.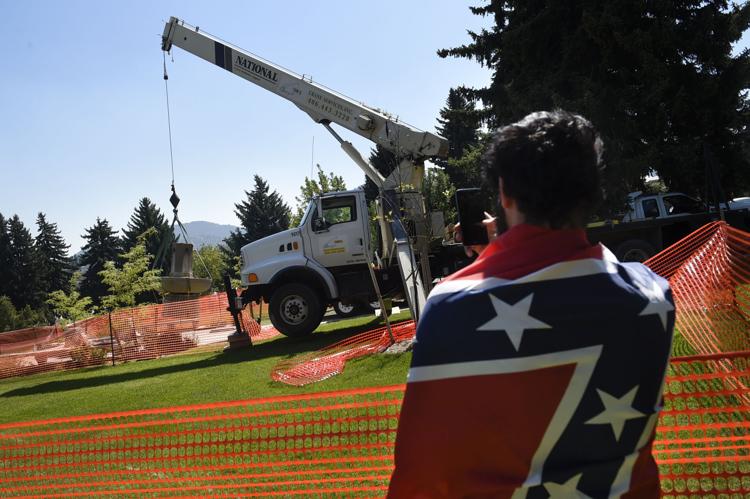 Tony Crew, a Helena resident, said he wanted to see the fountain removed in person.
"Tyranny ... you are watching it unfold right here," he said.
The Independent Record also spoke with multiple people at Hill Park in support of the fountain's removal, but none agreed to be interviewed for this story.
Dan Hall, president of Western Cultural, Inc. in Missoula, has been a historical archaeologist in Montana for 30 years. Reached by phone Friday, he said the fountain needed to come down and that many who protest its removal do not understand the true history behind it.
"When you look at the context, that's when you come to the conclusion that thing has to go."
Hall said the United Daughters of the Confederacy, who put up the monument in 1916, "were very slick" in concealing their mission of spreading the message of white supremacy and Lost Cause beliefs.
"Just the very name 'Daughters of the Confederacy' is a very good slight of hand. Much like the Daughters of the American Revolution, they took that name so they could cash in on their good name. And then they could go be in polite society and they can raise funds and do all these things."
Hall said that the fountain shows how the Daughters of the Confederacy promoted a revisionist history.
"It's ironic when you hear people talk about when you take this monument down you're going to be erasing our history. But is it really a correct history?"
Other advocates of history, including Helena/Lewis and Clark County Historic Preservation Officer Pam Attardo, disagreed with the decision to remove the fountain. 
"When you take that away, it ceases to be a discussion point. It's just settled that it's evil and there's no discussion on the nuances involved in what went into this fountain," she said in an interview earlier this week. 
Helena Mayor Jim Smith made an appearance at the park Friday, talking with city employees and a few protesters. 
Two years ago, city officials decided to install an interpretive sign explaining the origins of the fountain, but that process was stalled by space limitations and ADA requirements for the vision impaired. The language approved for the sign notes the Daughters of the Confederacy "openly supported the early Ku Klux Klan in its mission of white supremacy."
Smith told protesters that the city had made a mistake in not pushing harder to get the sign in place, saying "I bungled the plaque, so we are where we are."
When asked about his reaction to the protest, Smith said he found it peaceful. He said he knew there would be shock waves from Virginia after watching what unfolded there over the weekend. 
"We acted kind of rapidly for city government," he said. "I'd never forgive myself if we had some kind of riot here due to our inaction," clarifying that he did not want to wait and see what would happen if the monument was left in place.  
Hagen said the fences were put up to keep people back from the site, and he wanted everyone to get home safely. 
City officials said the fountain will initially be stored in a city warehouse, but they would not disclose the exact location. They have not yet decide what to do with the monument.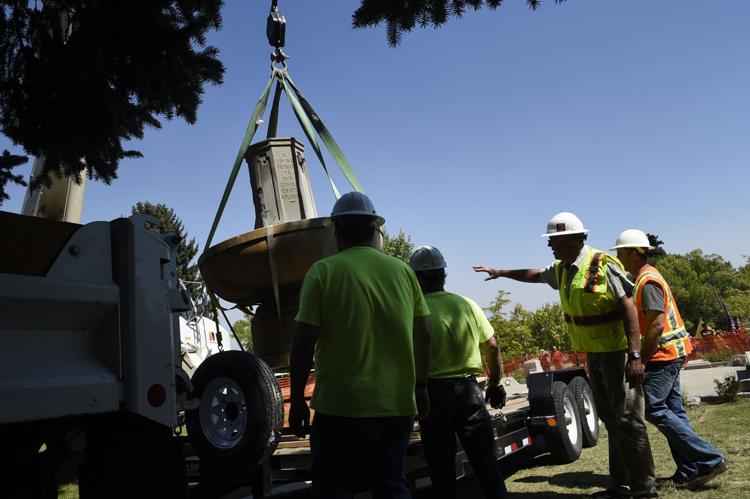 Thom Bridge, Angela Brandt, Tom Kuglin, Erin Loranger and Jesse Chaney of the Independent Record, along with Lee Newspapers state reporter Holly Michels, contributed to this story. 
Get local news delivered to your inbox!
Subscribe to our Daily Headlines newsletter.