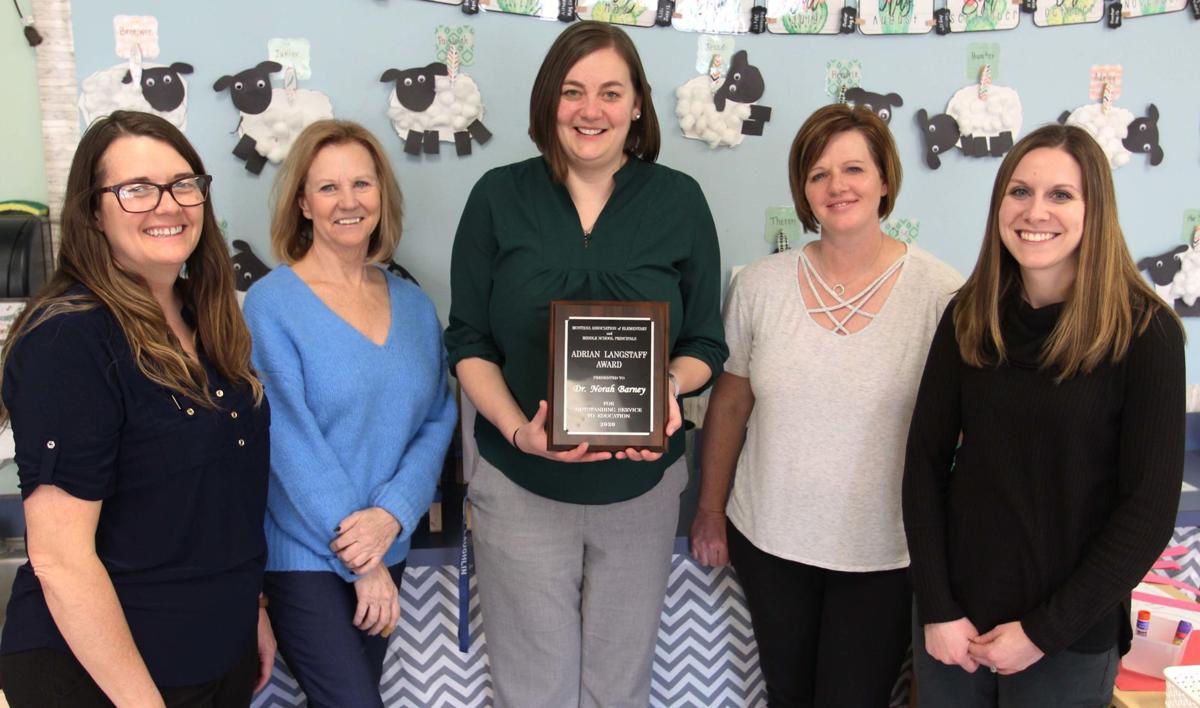 Hiding something from the school principal is no easy feat, especially an enormous surprise, but staff pulled it off when they surprised Norah Barney, principal at Lincoln Primary School in Anaconda, with a special award Monday evening.
Barney was recently the recipient of the Adrian Langstaff Award by the Montana Association of Elementary and Middle School Principals at the annual Montana Principals Conference held Monday at the Fairmont Hot Springs Resort.
The award recipients are nominated by teachers, administrators and community members. It is the "highest recognition" given to a member by the group.
Among those on the Lincoln school staff who nominated her are school psychologist Kim Stoddard, secretary Brenda Walker, intervention teacher Angie Sawyer and preschool teacher Brianna Eamon.
"Honestly, this award is more about the staff than it is about me, because I have a really nice staff that support kids, really loves them and just wants to do what's best for them," Barney said.
Dan Laughlin, assistant superintendent of the Anaconda School District, said it was a well-earned recognition for Barney.
"She's an amazing principal who transformed Lincoln from a low-performing school to a high-performing school," said Laughlin. He said one measure of Lincoln's high achievement and continuous improvement is students'  standardized test scores.
But for Barney, test scores don't tell the whole story of student success.
"We also need to make sure that every year, every kid is growing. Sometimes we forget to look at data like that, so that's a goal we will continue to work on," said Barney. "I think for us, it's just about constantly improving and thinking about how we can continue to help each individual kid grow."
The award states that Barney was recognized for having "led many initiatives tied to the school and district improvement plans that have strengthened the school and community." These initiatives include the parent education classes and parent-night events at the school, "which allow parents and their children to interact in a fun, positive and safe environment."
The organization also awarded Barney for transforming the school "through innovation, creativity and determination." The group also noted that, through Barney's leadership, "students have shown growth according to our data in all areas."
Barney said she models her leadership after a principal she worked under when she was early in her career. Before coming to Anaconda, she worked for a school in Burlington, Wyoming, where she learned the ropes under a principal named Matthew Davidson.
"He's still there, and probably the best administrator I've ever worked with," said Barney. "I think that what I try to do here is modeled off what I saw him do, or what the school staff do and continue to do at that building."
Barney said she really admires Davidson's ability to form "strong relationships with the staff, students and community, as well as his ability to inspire the staff toward greatness with their testing data."
She added that her experience in Wyoming made her realize how important it was to build relationships within the community.
"The principal at Burlington Schools was highly respected within the town and community. He just has integrity and makes decisions that are always about kids," Barney said. "So seeing how he led and how he did things at Burlington, is why I want to move in that direction and be more like him."
Get local news delivered to your inbox!
Subscribe to our Daily Headlines newsletter.