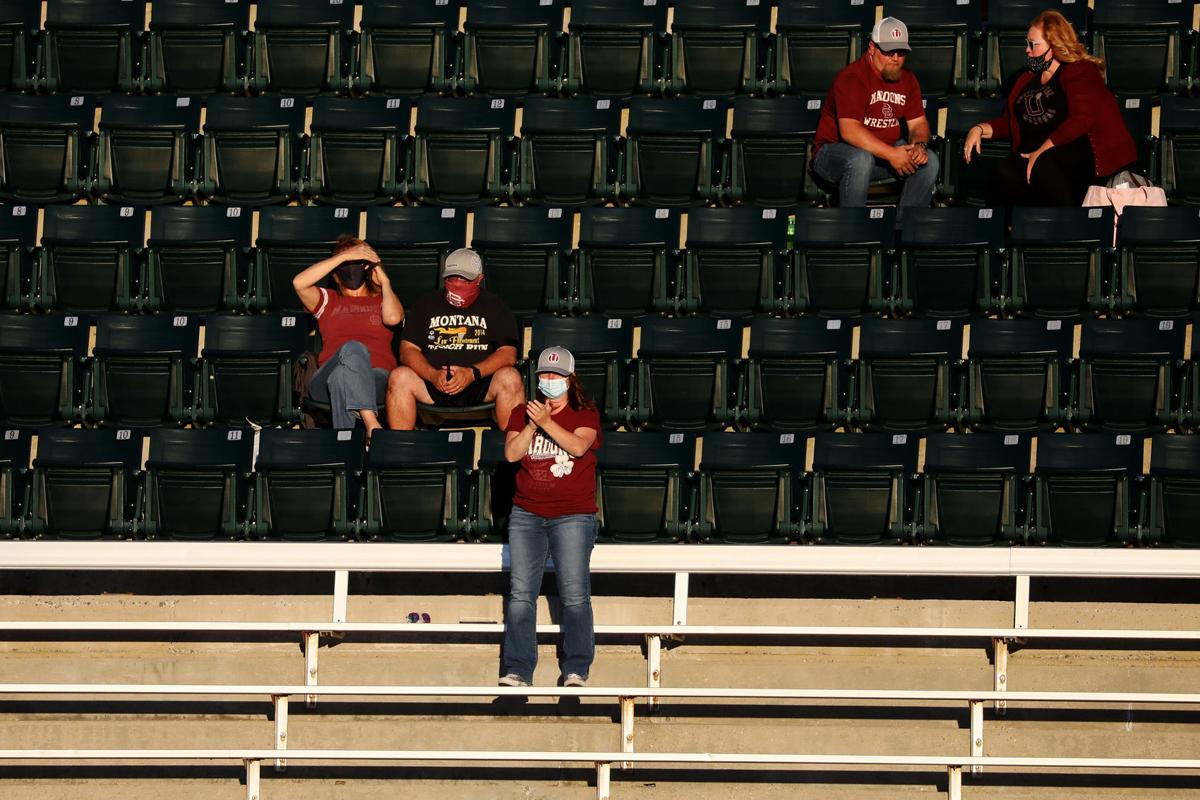 Butte-Silver Bow health officials, under pressure to allow more spectators at high school football games, plan an emergency board meeting Thursday to discuss the COVID-19 policy restricting attendance.
School and health officials had agreed to a policy allowing each football player to give out two tickets to home games for Butte Central and Butte High, and none to visitors. But county Health Officer Karen Sullivan said Tuesday that it's now up in the air.
Sullivan said she's been working weekly with a group of stakeholders since late July to formulate a plan for what football and volleyball games would look like under Gov. Steve Bullock's original emergency order, which limited gatherings to no more than 50 people.
Members of that group, she said, included Butte Schools Superintendent Judy Jonart; Butte High Athletic Director Chuck Merrifield; Don Peoples Jr., Butte Central superintendent and football coach; Chad Peterson, Butte Central's activities director; Matt Stepan, athletic director at Montana Technological University; herself, and John Rolich from the Butte-Silver Bow Health Department.
From that, she said, came the plan that tickets would be limited to two each per suited-up home-team player and Spirit Squad member.
But when Bullock "provided clarity" by saying his order was not intended to apply to schools or school activities, she said, the local health department lost the legal underpinning to enforce such a measure.
Since then, pressure has increased from players' families and others to expand the audience for football games considerably.
"Other jurisdictions have had similar pressure," Sullivan said. "It's varied from jurisdiction to jurisdiction around the state."
As just one example, a group of grandparents wants the spectator policy expanded so they can watch their grandsons play football for Butte High, saying there is space to do it safely during the coronavirus pandemic.
Now, Sullivan said, she understands that the Butte School District is discussing a much more liberal plan that would look more like a usual football crowd at Naranche Stadium. The health board will be discussing the issue at an emergency meeting Thursday, she said.
She said that while "I have no power" to stop what she considers "a potential super-spreader event," she "will not sanction it." But she said it will basically be up to the school district to decide what to do.
The Montana Standard left a voice mail and sent an email Tuesday afternoon seeking comment from Jonart.
Earlier Tuesday, about 10 grandparents of Butte High players discussed their concerns and wishes with county Chief Executive Dave Palmer. He said he would try to set up a meeting with them, Sullivan and Jonart.
The grandparents say Naranche Stadium holds about 5,000 people but under the current policy, only 120 spectators — two per home player — are allowed to watch from the stands.
They say there is safely room for at least 120 more on the home side, plus some for the visiting team, if other precautions such as wearing masks and social distancing between families are followed.
"We have been with these kids their whole life, and it's very important to them and it's important to us that we be there," said JoAnn Barkell, who arranged the meeting with Palmer. Her grandson Dylan Snyder plays for Butte High.
Charlie Anderson, whose grandson Marcus Manson is on the team, noted that Montana is among states with the fewest number of COVID cases and deaths so far and said Naranche is an outdoor venue.
Given those factors, he said limiting spectators to 120 "seems like overkill."
Palmer noted that Sullivan and the local health board are in charge of many COVID-related policies and had agreed to the current policy of two tickets per player.
He said he himself requested the number be expanded because his office had fielded calls from divorced parents with kids on the team.
"That puts a lot of pressure on the kids that are in school to decide which parents get the tickets, whether it's the dad and stepmom or the mom and stepdad," Palmer said. "It created a lot of animosity."
Despite his request, Palmer said health officials were sticking with the current policy.
"They are trying to do everything in their power to keep our COVID numbers low, but at least inside the stadium they can control the crowds better than if it's a large gathering on the south side of the Stadium on Main Street," he said.
Palmer said he understood where the grandparents were coming from.
"They are all good, great Butte people and I think they just want to be able to see their grandchildren play sports," Palmer said, adding that grandparents could exert pressure on the issue.
Sullivan said she was not aware of the meeting between the grandparents and Palmer.
Butte High plays its first home game of the season this Friday when the Bulldogs take on Kalispell Glacier at Naranche at 7 p.m.
The families of Butte players aren't the only ones upset about the current policy here.
Julie Bramlet of Dillon said she and several other parents of Beaverhead County High School football players asked Sullivan to ease the restrictions so they could attend the game against Butte Central at the stadium at Montana Tech last Friday.
The requests were denied, Bramlet said, so she joined her husband, son and son's girlfriend on a sidewalk on Park Street overlooking the stadium to watch the game. A security officer asked them to leave, and when they didn't, a Butte police officer asked them to move and they did, Bramlet said.
Bramlet says the policy is "over the top" and in Dillon, each player can give out four tickets and visiting players are also allowed two tickets.
Sheriff Ed Lester acknowledged that he was at the Central game watching his son play, as was allowed, and he asked an officer to speak to the Dillon folks after security hired by Butte Central told him about the situation.
Butte police had no say in the policy, but under it, tickets were limited to two per Butte Central player and nobody was allowed to watch the game from anywhere outside the stadium, including the hillside along Park Street. Failing to adhere to the policy put future games at risk, Lester said.
"I fully understand all the frustration," he said. "I have a son playing myself. But in the end, we have to think of the athletes. If we want them to have a season, we have to comply with the plans that have been submitted. Until the plan is changed in some way, that's what we have to live with."
Bob Worley, who was among grandparents who met with Palmer on Tuesday, said a revised policy should also allow some visiting parents to attend games.
If a visiting player was injured during a game here, he said, his parents would want to be here and not in a distant town.
Get local news delivered to your inbox!
Subscribe to our Daily Headlines newsletter.