DEER LODGE — Whether it be via Reddit, Cliffnotes or elsewhere, the internet – among other sources – provides students with easily accessible coaching or guidance for the age-old assignment of writing papers. So this year, Powell County High School teacher Sean McConnaha wanted to push his English IV seniors to create something organic.
"Papers, I think, get really formulaic," McConnaha, 33, said Wednesday morning during an interview in his classroom. "Maybe some students have outside assistance, and I just wanted to have them make something of their own."
The class named their collaborative effort "Richest Tailings," a nod to the "Richest Hill'' podcast by Nora Saks and Montana Public Radio.
"Nora Saks gave us permission," McConnaha confirmed.
The audio series narrated by Saks about Butte Superfund, along with Michael Punke's nonfiction work — on the 1917 Granite Mountain mining disaster — titled, "Fire and Brimstone," helped inspire the senior Wardens in their research-based storytelling endeavor covering "the intersection of the history and culture of Butte and Deer Lodge."
McConnaha, a Corvallis High School and University of Montana grad, was able to break the classic mold of an end-of-the-semester paper or essay assignment by utilizing some unused grant materials which were sent to the Powell County literacy board. As part of the board, McConnaha got the OK to take microphones and a sound board for use in the high school's media lab.
"So we got to install some podcasting equipment upstairs," he said.
Once the hardware and software were ready to go, McConnaha and his class had a pitch meeting and decided on various local history topics.
As is the case with journalism at any level, a topic or idea can evolve as research comes together and the story unfolds. Moriah Reich can vouch. Tabbed with reporting on workplace safety, she originally planned on looking into all toxins workers inhaled while in the underground mines.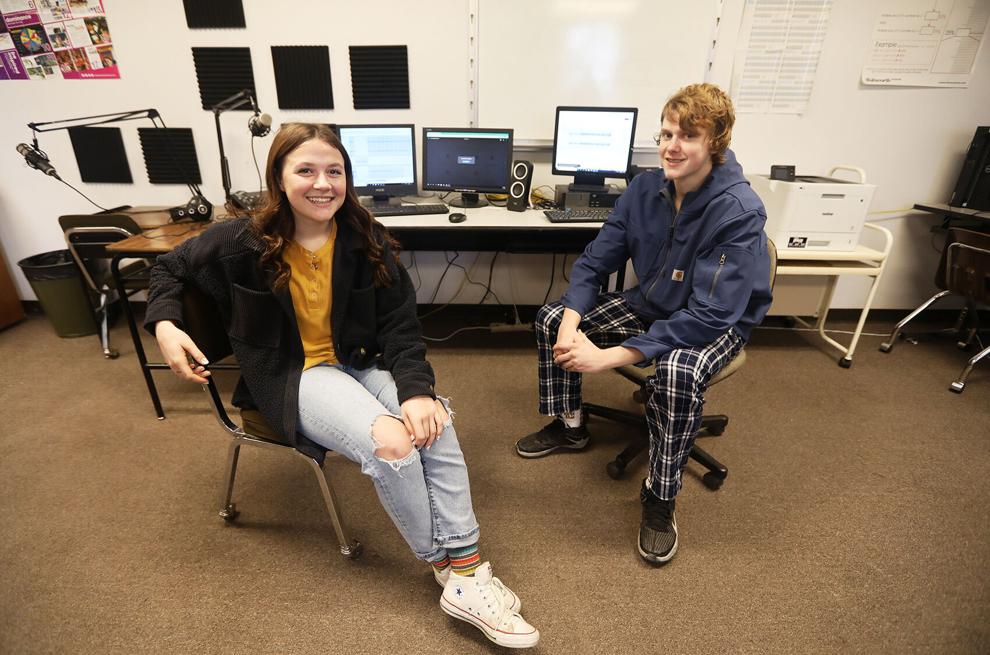 "But there's so many chemicals that miners are exposed to, so eventually I had to narrow it down," she said. "So I just chose silica dust."
Reich, who plans to enroll in nursing school at Montana Tech, interviewed Occupational Safety and Health Administration instructor David Shelton. Reich and Shelton met through an OSHA training course at Powell County High School.
Reich said she enjoyed conducting the interview, especially after she and Shelton developed a rapport. Eventually, she said, it felt like a conversation.
"I think it was pretty great," Reich said. "He was really helpful. And he was really excited to do the interview."
Her favorite part of podcasting, however, was the technical side. McConnaha and members of the Montana Media Lab were there to answer any hardware or software questions while students edited their narration and interviews.
"The Montana Media Lab has kind of been a few different things, and we're right now kind of in a re-visioning process," said Mary Auld, the Lab's assistant director. "But in the past, we've had workshops for adults who are interested in learning about journalism."
Based at the University of Montana, the Montana Media Lab has recently repositioned its focus toward collaborating with teens in rural and Indigenous communities who wish to tell stories with audio journalism.
"I think editing was probably my favorite part," Reich said. "Because we did that for two days with the Montana Media Lab. So that was pretty fun."
Students enjoyed the challenge of learning on the job. Alex Becker said at first the assignment felt more daunting than it actually turned out to be. During Wednesday's interview, Becker was visibly proud of his work and, when asked, agreed to play a clip of his contribution to the podcast that was saved on one of the computers in the media lab.
"I didn't really know what to do at first," said Becker, who will be joining the Marine Corps after graduation. "And then I was able to just start it and figure it out as I went along."
Unlike Reich, Keegan Herrich didn't care for sound editing. He had fun conducting his interview, though, and learning the nuances of when to move onto another question versus when to pause and let his source elaborate.
"At the beginning, it's kind of weird," said Herrich, who will also attend Montana Tech in the fall. "But then as the interview goes on, you get more used to the person and kind of learn like, 'Oh, they're going to keep talking about this one subject. They know a lot more about this than this other question.'"
"I think (the students) had had some kind of idea and then the things that their source said guided the story and gave them further research questions," Auld said while describing what she observed from listening to the interviews.
Becker and Reich did agree on one thing: almost everyone hated listening to their own voice when listening and re-listening to their interviews.
Auld noted that she could see students "lighting up" once they conquered that mental hurdle and began listening to their voices come through the headphones. 
"Richest Tailings" has not been published on a streaming platform. McConnaha said that an outro is still in the works.
Auld added that The Montana Media Lab will be conducting another round of workshops throughout the state during the spring.