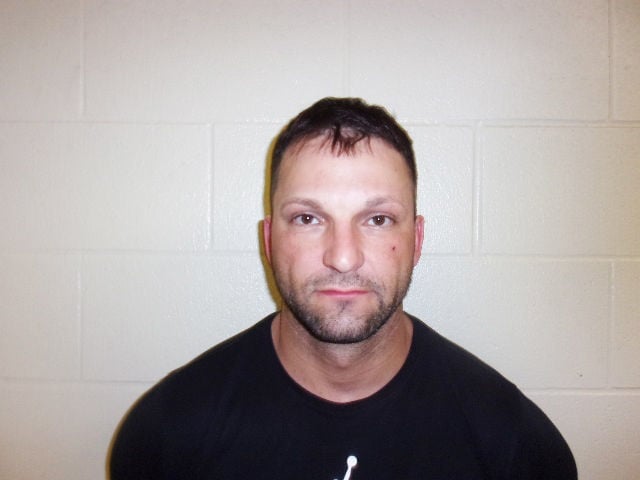 A man illegally entered a home in the 4800 block of Helene Drive early Saturday morning and began shaking a woman while she was asleep in her bed, police said.
When officers arrived, the victim stated that the man was Jacob Adam Cox, 36, of Butte, and she had an active restraining order against him.
The victim told Cox, who had entered the home via the garage door, to leave and when she attempted to call 911, he took her phone and would not allow her to talk. He then grabbed her by the throat, restricting her ability to breathe.
She was able to call 911 remotely and Cox left the residence.
While officers were with the victim, another officer headed to Cox's residence. He was able to locate Cox driving in the area and during a traffic stop, placed him under arrest on suspicion of felony partner family member assault (strangulation), felony aggravated burglary, misdemeanor violation of a protection order, and misdemeanor tampering with a communication device.
Butte residents Jordan Daryl Blandin and Krysta Denise Voorhies, both 28, were arrested shortly after 4 p.m. Friday for two counts of possession of dangerous drugs with intent to sell, felony probation violation and misdemeanor possession of drug paraphernalia.
Voorhies was also arrested for felony use of property subject to forfeiture.
At 2:30 p.m. Friday, officers were called to assist Probation and Parole on a search of a residence in the 400 block of North Washington Street. During the search, several items used in the packing and sale of dangerous drugs were found. The items included scales, baggies, a large amount of syringes, various types of narcotics, and methamphetamine.
Cash was also found in the residence consistent with the sale of dangerous drugs.
At 3:30 p.m. Friday, officers were investigating a hit-and-run on Montana and Iron streets.
While police spoke with the victim, Amber Dawn Ingram, 42, of Butte returned to the scene of the accident. While speaking with an officer, it was determined Ingram may have been under the influence of alcohol.
Ingram refused all testing and was taken to the hospital for a blood draw via a search warrant. Once that was completed, officers transported her to the Butte Detention Center where she was jailed on suspicion of felony driving under the influence (fourth or subsequent offense), misdemeanor contempt warrant out of Butte City Court, driving while suspended or revoked, and traffic violations.
Cindy Alane Charon, 39, was at the Party Palace just before midnight Friday, reportedly continuously screaming at everyone.
When officers arrived, she refused to go home so she was arrested for failure to disperse and misdemeanor possession of drug paraphernalia.
Just after 3 p.m. Friday, a man called the police station to complain that his ex-girlfriend kept driving by his place of work.
Shortly before 10 p.m. Friday, police officers arrived in the 600 block of South Washington Street, on a report of three males being shot with a BB gun while inside a residence. The young men believed someone living in another house in the neighborhood shot at them.
It did appear the three males had been hit, so officers went to the other home and talked to a male and female, both of whom said they didn't do it, nor do they own a BB gun. The case is still under investigation.
A male walking in the area of Excelsior and Chester Steele Park reported at 7 a.m. Saturday that he was approached by another man, who was holding a silver pistol and demanded the victim's ear buds.
The victim handed them over and the man left. Police officers searched the area and could not find anyone matching his description.
A report came in Sunday morning regarding vandalism. A vehicle in the 2700 block of Goodwin had its windows broken out and an outside mirror pulled off.
Officers found a torched 2005 Toyota Corolla behind the Big Butte parking lot at 10:30 a.m. Sunday. They were able to recover a partial plate and the case is still under investigation.
Get local news delivered to your inbox!
Subscribe to our Daily Headlines newsletter.